Kawasaki Z1000SX Review (2017)
"
Beyond doubt, it's the best bike I've ever owned. It may not be the best tourer, the best sportbike or most powerful, but it covers all these bases admirably.
"
What Is It?
The Kawasaki Z1000SX is a super popular sports touring bike and is powered by a Euro 4 compliant liquid cooled 1,043 cc inline four engine, producing 140.1 bhp / 104 kW at 10,000 rpm and maximum torque at 7,300 rpm.
Specs
Seat Height: Average (

815

 

mm / 32.1 inches)
Weight: Heavy (235 kg / 518 lbs)
Economy: Average (45 mpg / 6.3 l/100km / 15.9 km/l)
Range: High (190 miles / 306 km)
Power to Weight: High (0.596 bhp/kg / 0.444 kW/kg)
Top Speed: Very high (150 mph / 241 km/h)
Pros
All round ability
Pannier system
Smooth power
LED headlight
Sounds great
Brakes
Cons
Low clutch biting point
Pillion comfort
Seat comfort
Finish
What Is It Like?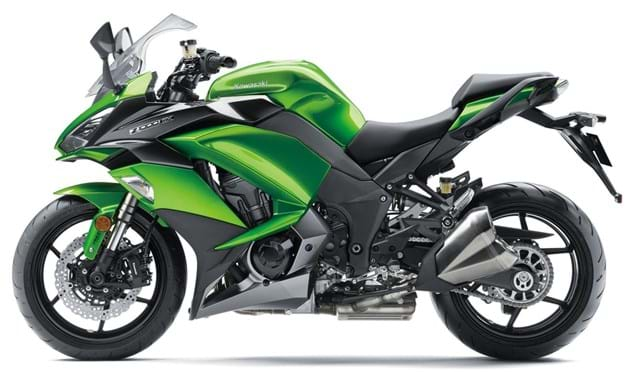 I bought my new Z1000SX last year. Being near Bournemouth I bought it from Bournemouth Kawasaki (superb dealers) and home to Kawasaki's BSB team.
Having had many bikes over the years my last was a VFR1200F and I wanted something that could tour but also cope with the twisties. I test rode a few bikes including the MT-09, MT-10 Tourer (crazy bike but great fun), H2 SX (licence loser) and the SX. Overall the SX was the best for my needs, it fitted the criteria and then some.
Living With It
To me, it looks superb in the classy Emerald Green. I went for the tourer pack with the spacious panniers, but aesthetically I have improved the looks by adding an R&G tail tidy and smoked screen. Being an oddball, I like the look of the standard cans, but they're not to everyone's taste.
The engine is a peach. Smooth, almost turbine like with an amazing top end rush at 7,000rpm that reels the horizon in swiftly. Kawasaki have also waved a magic wand on the airbox, giving an addictive howl. The gearbox with its slipper clutch is positive in its action as is the light clutch.
Being 2018, it benefits from the latest electronic wizardry with cornering ABS, switchable power modes and amazing LED headlights. These are superior to my BMW 5-Series xenons..
So, Any Negatives?
Just a few, but nothing major. The seat isn't great, buy a gel seat, I did and it transforms it.
The pillion perch isn't the best, my wife finds it cramped, so get a divorce and be happy. It feels slightly buzzy, but coming off a V4, perhaps it is me and not the bike. Maybe I'll drop a tooth on the rear as this seems a popular mod, as I'm sure it would pull this with ease.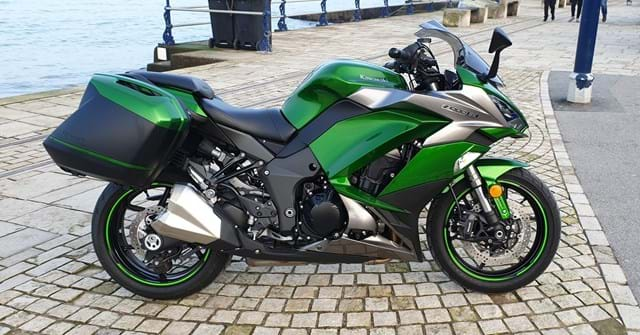 Beyond doubt, it's the best bike I've ever owned. It may not be the best tourer, the best sports bike or most powerful, but it covers all these bases admirably.
There are very few direct competitors, the most obvious being the Suzuki GSX-S1000F however the Kawasaki has a far better pillion perch and hard luggage so makes a sensible tourer. The model is Kawasaki's biggest seller and with good reason. Go buy one, you won't regret it.
- Simon M, 2019
Price Guide
Year
Dealer
Private
Part Ex
Mileage
2019
£9,300
£7,450
£6,500
5,100
2018
£8,400
£6,750
£5,900
4,900
2017
£7,650
£6,150
£5,350
6,700
How to use the price guide
The Second Opinion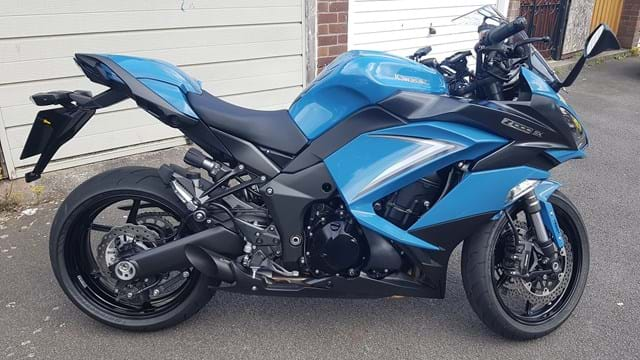 Why The Z1000SX?
My previous bike was a VFR800 and although I loved it, it was just getting to uncomfortable for me which ruled out a new one as my next bike. This left me with two options that I had narrowed down to, the Z1000SX and Ducati SuperSport.
Fair play the Ducati was a nice bike and comfortable but the Z1000SX had the edge in more ways than one. More power, more rider aids and more comfort, in fact as soon as I sat on the Z1000SX it felt right, before I got out of the car park on test ride I just knew it was the one.
What's It Like?
What an outstanding piece of machinery! I'm not the most experienced of bikers only having ridden for three years however I know enough to appreciate just how good this bike is. I have not toured on it yet but will be very soon. One of the things that really attracted me was the way the panniers attach without the need for bulky ugly racks.
In terms of every day riding it's a more than capable sports bike, especially for the road. The power delivery is spot on due to the bhp and torque, even in 6th gear at low speed it picks up and just goes with a twist of the throttle. In terms of handling it just eats the bends, I ride on full power with traction control on level one and never once questioned whether I'll make the next bend.
It also looks beefy which again I loved. I had read that the clutch bite was low and could catch you out, knowing this it didn't catch me out but I see how it could do. The clutch itself is very light and gear change is silky smooth. The brakes are sharp and stop you extremely well.
I am yet to find fault in this bike, first time out in the dark the other night and all I can say is the LED headlights are outstanding.
To Sum Up
This truly is a great all rounder, if you want comfort, power and an option to tour then get a test ride booked. Awesome.
- Ian G, 2019
A Few More Thoughts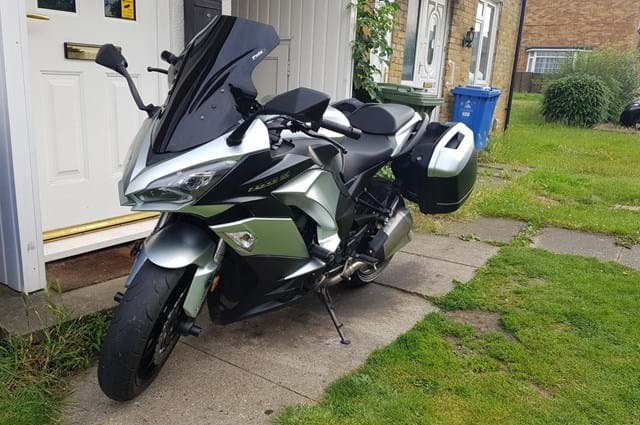 2018 Z1000SX
I bought the bike new and have covered 2,100 odd miles in the couple of months I've had it. After taking it easy and running it in for the first 600 miles, I got to open it up and I've got to say it's got a cracking motor with plenty of low down torque. I use mine for the daily commute to work, which is 60 miles a day. It's good on fuel, until you pick up the pace.
Practicality
The seat is okish, but I wouldn't want to ride any distance on it, unless there was some sort of extra padding. I got my bike with the touring package so I got the side luggage, inner bags, tank pad and universal sat nav mount.
I've found the luggage / inner bags really useful. I can carry all of my work bits (lunchbox, drink etc) and my waterproofs with room to spare. The tank pad keeps the worst of the marks off the tank, but could do with going a little further up the tank. And I've not had any need to use the satnav mount at the moment.
Mods
I've added and changed some bits to suit what I need the bike for. So I've added a Puig double bubble screen, which helps with the buffeting while riding. I've also added some handguards with wind deflectors from Barkbusters to help deflect rain and wind from my hands as much as possible, and to also protect the levers in the event of an accident.
The other also essential bits of kit on the bike are a radiator guard and downpipe grill from R&G, to stop stones from hitting and possibly putting holes in the radiator. To add to that is an R&G frame protector kit so in the event of an accident, I should be able to pick the bike up and ride off, as it should have protected the frame from harm, along with the fork protector kit that is also on it. I've also added some engine cases as well.
I've added Kawasaki's own cotton reels, so I can put the bike on a stand to clean and re-lube the chain and do any adjustments that are needed.
I've also changed the tyres on the bike, from the stock Bridgestone S20's, for the more suitable Bridgestone T31's which makes the bike handle better, and this tyre doesn't square off with the straight line riding that I do a lot off.
I'm hoping to add some different exhausts to it in the future, just because it's a little to quiet for me.
Any Downsides?
There are some downside to the bike. The big one for me is the finish. I've already got metal rub marks showing on my heal plates where my boot has rubbed through the really thin powder coat that it's painted with. So I've made some boot guards to hopefully prevent anymore wear to it.
- David W, 2019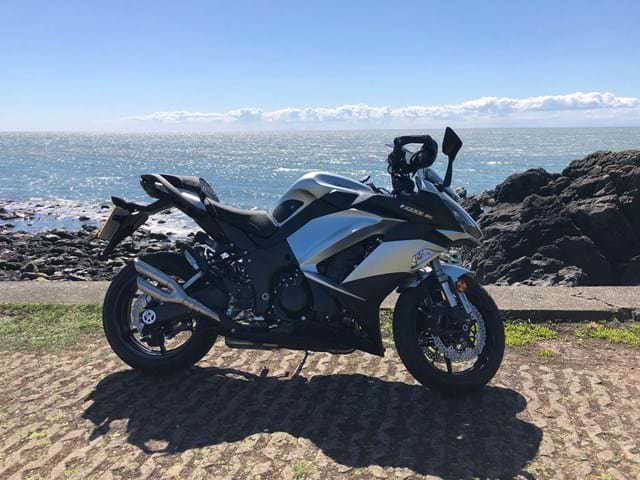 My Experience
Firstly, let me tell you a little bit about myself. I have been riding for almost 15 years. I started off slowly in my riding career; sticking with a 2002 Suzuki GS500 for over 9 years.
I then progressed to a Suzuki SV650, before I moved to in-line 4's and bought my first Kawasaki. My Z 750 R Black Edition was perfect and my riding improved immensely.
However, I required serious spinal surgery, I didn't think I would get back on a bike, but I did. After riding the Zed it became apparent I needed something with a fairing to provide me with some more protection.
The First SX
That's when I discovered the Z1000SX. My first was a 2015 model and I loved it. It was quite highly geared though and so the only modification I made on the bike was the addition of/reduction of a tooth on the sprockets.
I also needed to lower the bike as I am a statuesque 5'3"! The bike was perfect for me and I thoroughly enjoyed riding it. I had the bike for 18 months before I fell in love with the 2018 matte silver Kawasaki produced.
The Second
I bought my brand-new touring edition from AMR Motorcycles (Glasgow Kawasaki) in Renfrew. My god am I glad I changed!
The 2015 was a great bike but the 2018 is unrecognisable. Whatever Kawasaki have done, they have improved the bike tenfold.
Upgrades
It's smoother, the acceleration seems better, the styling is mean (in a good way!). The gears have also been sorted, I can quite easily cruise at 70mph in 5th and forget I have a 6th gear. I was constantly looking for a 7th gear on the 2015.
Even with my back issues, I still suffer greatly, but I can ride this bike all day and I am just the normal amount of sore after a day in the saddle. I can struggle a little to lift the bike when its fully laden with the panniers and luggage, but that's only really down to my inside leg measurement.
Mods
I have lowered the bike as I had with my 2015 model, I have also added handguards, a smoked screen and aftermarket exhausts by Max Torque Cans.
Any Downsides?
The only real negative, for me, nope… I can't think of any!
To Sum Up
My confidence in the Z1000SX has been increased by this particular model, which means my riding confidence has increased. I am in now way John McGuiness, or any other rider you may find inspirational, but I can move and I can handle a bike. A lot of that, I owe to the SX.
This is the best bike I have had; I know my ownership list isn't big, but each bike I rode I knew inside out and I very much look forward to learning about this one!
- Chrissie M, Scotland, 2019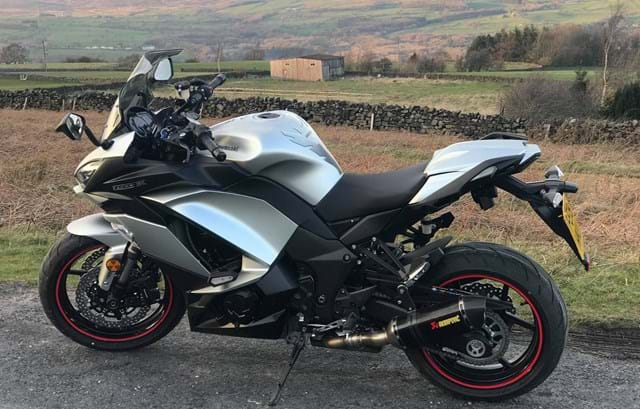 What's Good?
I bought my SX in March 2019. The bike gets a lot of looks and I'm surprised just how much attention I get compared to when I'm on my Honda VFR800 Cross Runner.
The SX has a real deep exhaust note even on tickover. You can literally feel the power this beast has got when sitting at the lights. Open the throttle in any gear and it will fly. It's a pocket rocket. A very well balanced bike that is so easy to manoeuvre you'd not think it weighs 235KG.
What's Not So Good?
My grumbles are that it's not as economical and with a 19 litre tank refuelling is more frequent than my Honda. Position two with the windshield is necessary. Otherwise holding on above the speed limit can be tiring after a while.
Also, I'm looking at upgrading my seat. An hour and a half in the saddle and you'll need a comfort break. Having said that I'd still buy this bike because the benefits definitely outweigh the negatives.
What Have You Changed?
I've put lots of after market accessories on such as body and exhaust sliders, Denali Sound Bomb air horn, Chrome grill protector, heated grips, hand guards, USB charging port and red rim tape. The 2017 model has all the latest electronic gadgets so personally I wouldn't get an older model. Hope this helps you in your buying decision.
- Bill M, 2019
More Info
Check out this video review from TheMissendenFlyer.