Honda VFR800 Review (2014)
"
Trying to keep it smooth on the Winter roads was easy enough, no thanks to Honda's slick gearbox and the V4s' seamless transition into VTEC mode, where it takes off like the Enterprise going into warp mode.
"
What Is It?
The Honda VFR800 is a premium sports touring bike and is powered by a liquid cooled 782 cc V4 engine with variable valve timing (VTEC), producing 104.5 bhp at 10,250 rpm and maximum torque at 8,500 rpm. It has been tuned for improved low-mid range torque.
Specs
Seat Height: Low (

789

 

mm / 31.1 inches)
Weight: Heavy (242 kg / 534 lbs)
Economy: Average (45 mpg / 6.3 l/100km / 15.9 km/l)
Range: High (210 miles / 338 km)
Power to Weight: Average (0.430 bhp/kg / 0.320 kW/kg)
Top Speed: Very high (165 mph / 265 km/h)
Pros
Build quality

Headlight

Handling

Fuelling

Brakes
Cons
On the heavy side

Finicky indicators

Traction control

Switch gear
What Is It Like?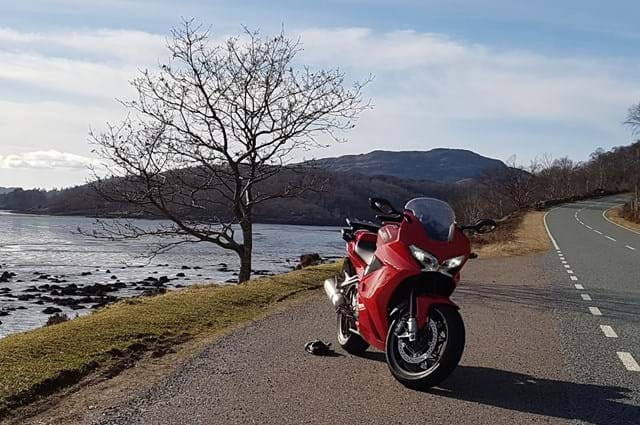 Choosing The VFR
My first encounter with a VFR was way back in 1986. The original, the blue one, that Ron Haslam rode at Donnington Park in the Transatlantic Challenge on a damp Easter weekend, where he managed a third on a bike off the showroom floor.
I've always liked and admired the bike as it developed over the years, having ridden several but never owned one myself. My favourite being the original VTEC up until the end of 2013, when the first pictures of the latest version were released. I was wowed by a mixture of its curves and straight lines which flow along the length giving it that "Italian" sexy look as well as the new look wheels, much slimmer too thanks to the radiator being moved to the front.
In the Winter of 2014/2015 I was in a position to be able to afford a "new" bike and wanted something that would be capable of touring, commuting and a bit of sports riding as well. Something to replace my £250 ZX9R with, something which provided a better pillion capacity as my other half wasn't too keen on being "perched on top of the world" as she put it.
The Test Ride
A 120-mile trip later in sub zero conditions I found myself in possession of a set of keys for the new VFR and a test ride beckoning. It was comfortable enough to sit on from the start and I ventured out onto the back roads of Cumbria for a test ride.
Trying to keep it smooth on the Winter roads was easy enough, no thanks to Honda's slick gearbox and the V4s' seamless transition into VTEC mode, where it took off like the Enterprise going into warp mode. A big difference compared to the early VTEC systems.
The suspension was a bit soggy for my liking, but after a few turns of the preload adjusters it felt and tracked a lot better. Unfortunately it never really felt comfortable on the stock Dunlop tyres but the brakes were superb.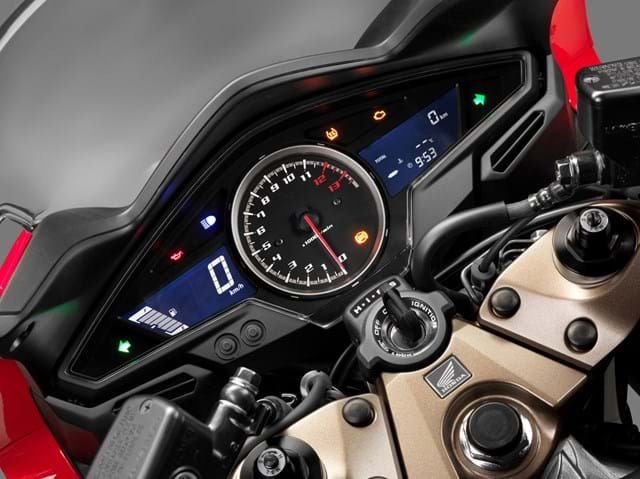 Practicality
In the sub-zero conditions the five stage heated grips were sublime, on their hottest position too warm for -3, but about right on setting three, all controlled by a thumb button mounted in the grip itself.
I like the layout of the dash. There's a nice big rev counter in the middle, in keeping with previous versions and an easy to read speedo to the left with the fuel display to the outside of that. The right side of the dash houses the various odometers and info readouts including the gear indicator, with the area above either side housing the idiot lights. It's all easy to read.
With more snow threatening it was time to head back to the showroom. A chat and a cuppa with the salesman before heading back home in sub-zero conditions. He happened to mention that the demo bike was for sale and I thought about it all the way home, especially those heated grips.
I had convinced myself and a few days later struck a deal. I was to become a VFR owner for the first time. The bike came with 29 litre panniers and I also ordered the 45 litre top box kit to go with them to complete the touring package. I picked the bike up a month later and so began my love affair with the new VFR.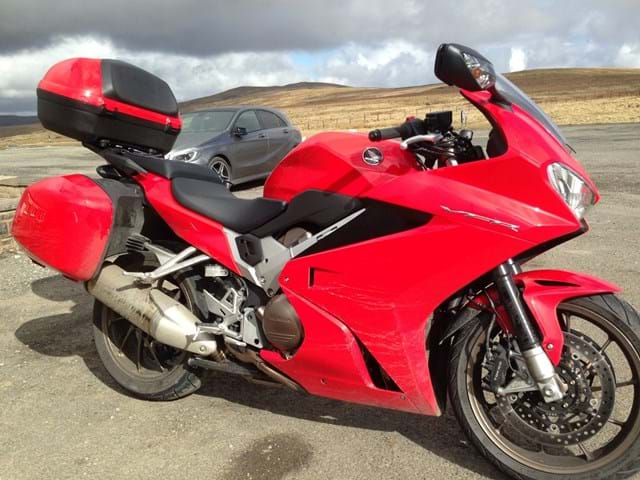 Where Have We Been?
All kitted out with a sat nav and Scottoiler we set off for our first weekend away, spending it touring around the Borders and Northumberland where she coped wonderfully on those country roads.
The next big tour was a month later, France for a week, with a 500 mile trek to the South coast in what turned out to be one of the wettest and windiest weekends for ages, with the rain finally abating as we approached Windsor.
The VFR coped admirably in the conditions fully loaded up although numb bums and wrists were appearing by the end of the day, but that is to be expected covering those distances.
Handling
The bike will happily sit at 70mph all day in top gear and the V4 engine has enough torque to cope with most things without having to go into the VTEC area, which kicks in around 7,000 rpm. Then things start to happen quickly and as I said earlier the transition is seamless now compared to earlier versions, but still gives you that same rush. It much prefers the twisties in VTEC mode.
I find it needs to be pushed around a bit more than my old CBR600, but in the same sense it feels more sedate than the smaller bike. In "take it easy" mode it will cover 200 miles or more before the low fuel light comes on with its 20.5 litre tank.
I will openly admit to finding it difficult taking it easy when on the VFR. Some find the standard seat uncomfortable for them, I find it okay for 300 mile + days, it's adjustable between 789mm / 809mm and both positions are sportier than the outgoing VFR.
Mods
I also find the bars a bit narrow for my liking and feel they could do with being moved out a degree or two as they force your elbows into your sides, but then, I am a bit wider than most riders. I've added ½" risers from Moto Pumps but not noticed that much of a difference.
Whilst on the subject of additions, being in the right place at the right time on that famous auction site I obtained a quickshifter and Akrapovic exhaust, both brand new for what can only be described as bargain basement discounts from a Honda dealers' shop. The exhaust is substantially lighter and sounds way better then the factory fitment even with the baffle still in, plus it looks 100 times better too. The quick shifter is a nice addition meaning no more closed throttle upshifts.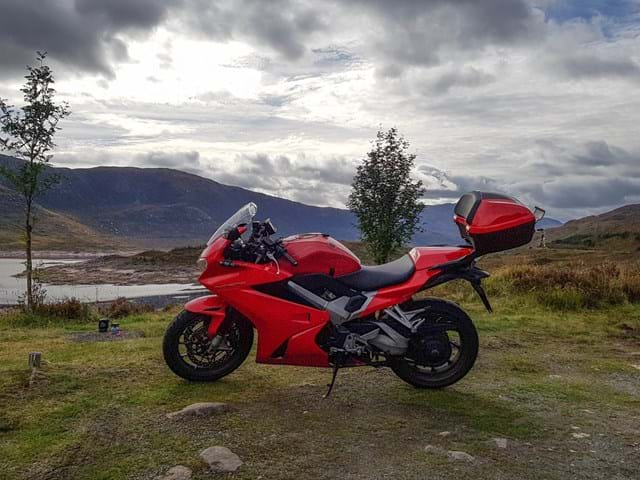 So It's Good Then?
To date I've covered around 24,000 miles on my VFR and still love it. Yes, it has its faults but then again so has every other bike I've owned in the past 34 years.
It looks fantastic, many ask if it's a Ducati only to be surprised when told it's a Honda. Red is the fastest colour. The screen protection is fine, I've tried various others but keep going back to stock. Changing it is a bit of a pain, but easy enough when you have sussed how to do it.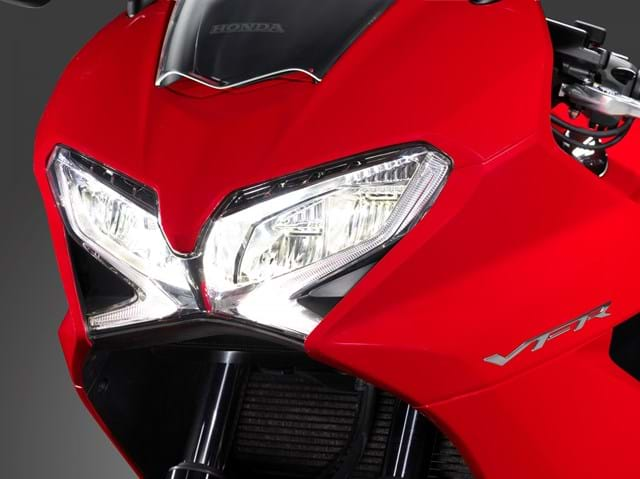 Lighting
The LED headlight, when set correctly, is one of the best I have ever used on my now 50 mile commute, 45 miles of which is on dark twisty Highland roads. The light does cut off as you enter tight bends, which takes a bit of getting used to compared to the spread of a normal light. Sidelights are also mounted in the wing mirrors along with the indicators.
For some strange reason Honda have decided to reverse the indicator / horn layout so you will peep at a few folks till you get used to it and while I'm there, the indicators are self-cancelling. Fine if you're within town limits but as speeds start to rise you will need to hit the indicator button a few times to keep them going. It's most annoying with a 7 second duration above 30mph.
Traction Control
The traction control itself is an on / off affair only. I've only had it kick in on gravel / sand / grass when the throttle was opened a bit too quickly, but never on the open road. All that happens is the ECU detects the speed difference between front and rear wheel and cuts the fuel supply accordingly. It feels like it's running on just three cylinders.
Whilst on that subject, the traction control button looks like an afterthought, attached between the switch cluster and the clutch reservoir.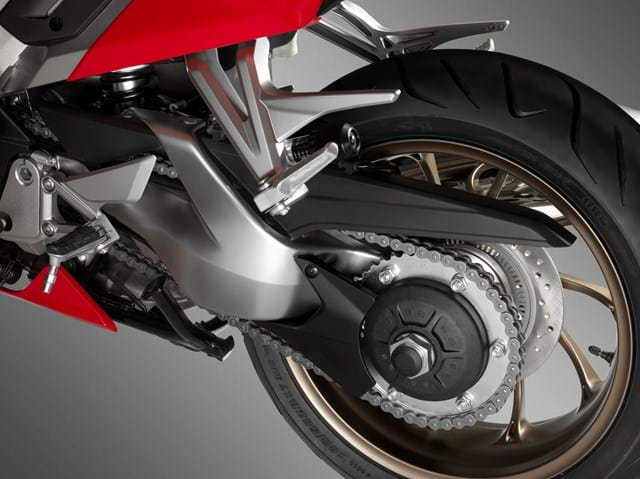 Brakes
The ABS on the other hand I have used several times, which works effectively in conjunction with the radial mounted calipers in all conditions to bring the speed down safely. I think it's the same as the Fireblade of the same era, the 2017 bike shares with the Africa Twin.
Suspension
Up front the forks are 43mm with adjustable preload and damping. The rear has a remote preload and damping adjustment. Take a bit of time setting the suspension up correctly and you will be rewarded.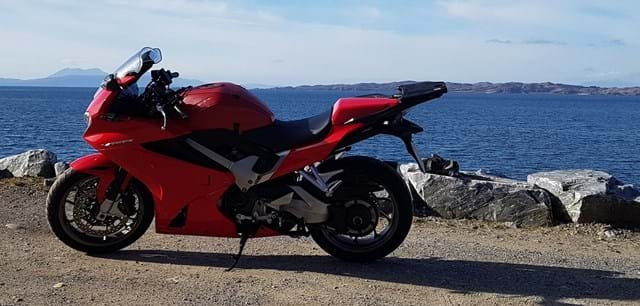 Servicing
I have done all my own servicing apart from the initial two services. It's easy enough to do with the owners' handbook and service manual.
Panels are easily removed and clearance checks are the same as previous model VTEC engine, still within tolerance at 16,000 miles and hopefully at 32,000 miles.
With the Scottoiler fitted the chain has been adjusted three times in 24,000 miles and has still loads of life left. Pad life depends on how you use your brakes with the fronts pads replaced at 16,000 miles and loads left on the rear.
Living with The VFR
My VFR is now only used for pleasure, so days off and holidays in order to keep the mileage down. My average 18,000 mile annual commute is now being split between my car and R1200RT.
The finish isn't too bad either, as someone who lives in the West of Scotland and prefers to ride rather than clean, it is standing up pretty well to what has been thrown at it. In fact, the only casualty so far has been the front cam cover when stones have obviously penetrated through the paint and started to lift it.
In my defence however, it must have happened whilst it was still a demo bike and I always fit a fender extender. Sadly, I didn't act within the two year warranty period so I'm stuck with it. There's one or two chips on the nose cone too.
I also fitted a venture shield kit which is fantastic. Another important addition would be the addition of a radiator guard for the upper radiator which sits just below the headlight fairing in the direct airflow.
The bike comes standard with a pillion seat and grab rails but in keeping with history there's also a rear cowl and panel infills.
It also has a "wave" key that's much sturdier that previous keys. I'm assuming it's harder to get replacements cut due to the different technology involved, so make sure you keep a note of the key number.
The VFR has been updated since my 2014 model, the 2018 model now comes with a power outlet by your left knee and an updated Euro 4 exhaust system.
- Murray B, 2018
Price Guide
Year
Dealer
Private
Part Ex
Mileage
2021
£8,850
£7,100
£6,200
2,100
2020
£8,400
£6,700
£5,900
3,700
2019
£7,950
£6,350
£5,550
5,100
2018
£7,500
£6,000
£5,250
4,900
2017
£7,050
£5,650
£4,950
6,700
2016
£6,650
£5,350
£4,650
8,500
2015
£6,250
£5,000
£4,400
10,300
2014
£5,900
£4,700
£4,150
12,100
How to use the price guide
The Second Opinion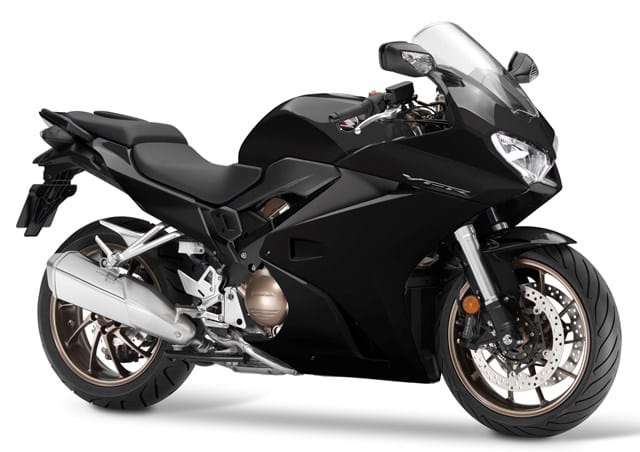 2015 VFR800
Having come from a new BMW F800ST I was expecting to be disappointed at some stage, but nearly a year on and I have no complaints. Quite the opposite as the VFR highlights the BMW's shortcomings.
Suspension
The suspension is modern and after riding 500 miles on the standard settings I took the advice from one of the VFR forums and altered the settings, after which it's been a superb handling machine.
The forks, whilst being a bit outdated, are easy to set up correctly and provide good feedback to the rider. The rear is also very easy to setup and once done gives a very smooth ride.
Tyres
I'm hard on motorcycles and I've treated this relatively gently but I've still laid it over enough to have wear for the full width of the rear tyre, the grip of which is very good.
It's still on the original tyres at 7,500 miles, with the front looking good for the same again, but the rear has about 1,000 miles left on it. That's compared to the BMW needing a new front at 4,000 and rear at 6,000, by which time they were affecting the handling.
Engine
I'm now familiar with the VTEC system and use it as it was designed. It has great torque for pulling away and then the power comes in as you take it past 7,000 rpm.
The free revving nature of the engine above this figure means it can be treated as a real sports bike and responds very well. It's heavier than my CBR600 but not noticeable once on the move. Keep the revs in the VTEC band and the sportsbike performance is there, I've held my own with a bunch of S1000RRs riding at high speed through the Welsh marches.
Brakes
The ABS simply brings the bike to a quick uneventful stop, with no pulses in the levers or the bike. It's very smooth and better than the F800ST.
Lighting
The lights are a revelation, the headlight is bright enough on its own but the addition of the extra lights in the indicator heads provides the conspicuous "triangle of light" referred to in the Police riding manual.
Mods
The only mods I've made are a dark tinted double bubble screen, Ermax hugger, a 12v outlet under the seat for my heated jacket and of course the Akrapovic end can which does make a noticeable difference at lower throttle opening.
Weight
It is a heavy bike but despite that it's easier to put on the centre stand than the BMW. Once used to it I feel as confident wheeling it about as I do one of my trials bikes.
- John C, 2016
Add Your Review
Do you own this bike? We would love to hear anything good, bad, unexpected or that you have changed plus anything that a prospective new owner might find interesting or useful.