Ducati SuperSport Review (2017)
"
Overall I am very pleased with the bike. It's comfortable, easy to ride, handles like it's on rails and it looks really cool.
"
What Is It?
The Ducati SuperSport is a dedicated sports touring bike and is powered by a Euro 4 compliant liquid cooled 937 cc V-Twin engine, producing 113 bhp at 9,000 rpm and maximum torque at 6,500 rpm (80% from 3,000 rpm).
Specs
Seat Height: Average (

810

 

mm / 31.9 inches)
Weight: Heavy (210 kg / 463 lbs)
Economy: Average (55 mpg / 5.1 l/100km / 19.5 km/l)
Range: High (190 miles / 306 km)
Power to Weight: High (0.538 bhp/kg / 0.401 kW/kg)
Top Speed: Very high (150 mph / 241 km/h)
Pros
Nice exhaust
Low weight
Handling
Brakes
Looks
Cons
Wind protection
Panniers
Mirrors
What Is It Like?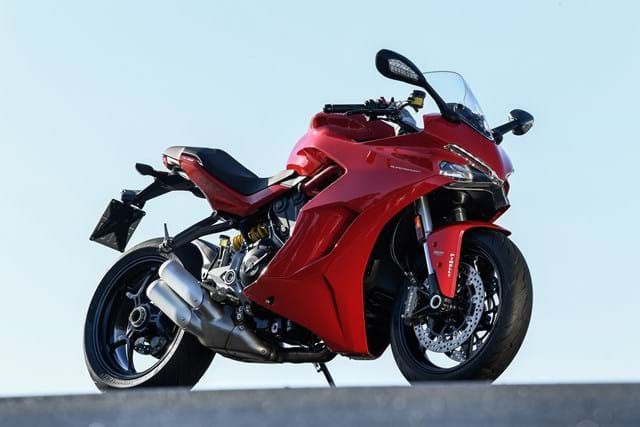 The Upgrade
Having had a Multistrada 1200 for 4 ½ years and with 41,000 miles on it I was looking to change it for a newer bike but being short in the leg would have liked something with a lower seat height. At the Ducati Roadshow at the Green Welly in April, I tried both the Multistrada 950 and a SuperSport S back to back to back. There was no comparison.
Both bikes use the same engine but they are like night and day; the Multistrada was much the same as my old 1200, just as high and just as heavy but with less power. The SuperSport on the other hand was a revelation.
First off it fitted me perfectly, by the time I'd ridden a mile down the road I felt completely at home on it. It felt light and nimble with compliant suspension and superb brakes. I was hooked.
Two weeks later I ordered a new Supersport despite still having to sell the Multistrada. Rather than buying the "S" with its Öhlins suspension and quickshifter gear change I decided to order the base model and spend the extra £1,000 on panniers and heated grips.
First Impressions
I found that for the first couple of miles the clutch dragged and neutral was difficult to find but, as the motor warmed up, neutral selection became easier. Now after more than 2,500 miles I still find the neutral selection can be difficult for the first mile or so but isn't a problem after that.
I also find that from a cold start the first two or three engagements can be snatchy causing me to stall the engine if I'm not careful. I put both of these issues down to oil drag with the self-servo wet clutch when the oil is cold and that will probably improve as more miles are done.
A decent rear hugger is a something that is lacking. The rear number plate sits out on a stalk offering no protection from any water thrown up whatsoever and the hugger is so short that it doesn't even protect the rear shock.
Economy
The engine has three riding modes, Sport, Touring and Urban, although to be honest I have kept it in Sport mode nearly all of the time and have never tried it in Urban.
On a recent European holiday covering about 1,800 miles it averaged 54 mpg although perhaps this might have been improved on if I'd selected Touring mode.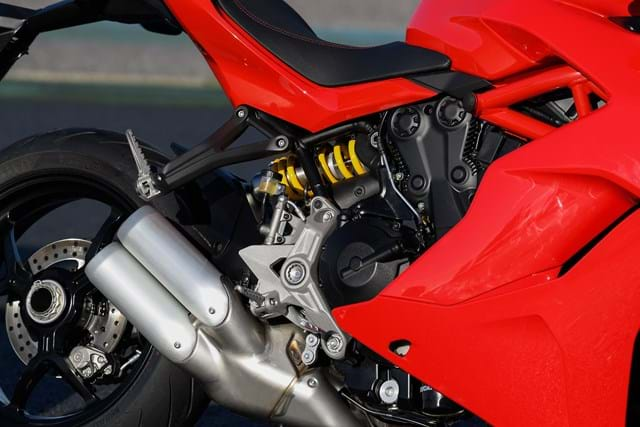 Gearbox
Like most Ducatis it isn't happy below about 3,500 rpm and although it will sit at 30mph at about 3,000 rpm in 3rd gear in town on the open road it is happiest at 5,000 or more. Not surprisingly since peak torque of 97Nm is at 6,500 rpm and the 113 bhp maximum power at 9,000.
So in the twisties I did find myself using the gears more than my mates, one on a Triumph Sprint GT, the other on a Moto Guzzi Stelvio but I love hearing that exhaust note.
Ducati have managed to get this bike Euro 4 compliant but have been able to retain a really nice sounding exhaust that the rider can hear. It also pops and burbles on the over run which may be a result of the secondary air injection system which pumps air into the exhaust to burn off un-burnt fuel.
Braking
The brakes are Brembo with Monobloc M4.32 calipers operating on 320mm discs at the front with a single 245mm disc at the rear with a 2 piston caliper and feel brilliant at all times.
I'm sure the Bosch ABS and the traction control will also be superb but as yet haven't had the need for their intervention.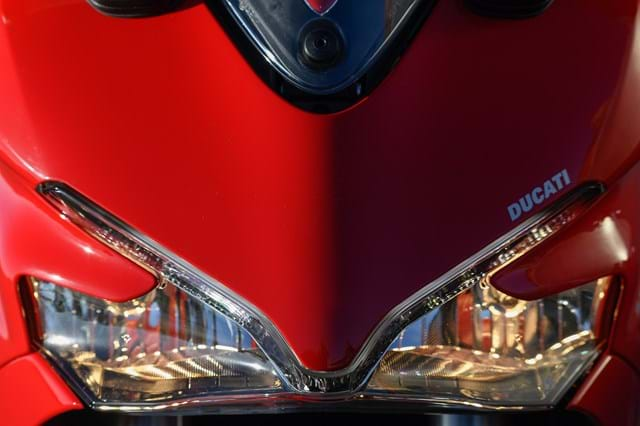 Lighting
Particularly cool is the automatic Daylight Running Light (DRL) function. On start up the very bright LED DRLs come on. If the ambient light gets sufficiently dark the DRLs switch off and dip beam comes on.
Strangely, there is no lighting switch and to get dip beam on manually you have to switch the DRLs off by pressing a button on the right hand switchgear. This switches off the DRLs and activates low beam. If the DRLs are on the dipswitch switches between DRLs and high beam.
Comfort
The seat looks good and is reasonably comfortable for 130 – 140 miles between stops for refuelling and although the tank is only 16 litres it is good for about 140 miles before refilling, although this will depend on how the bike is ridden.
The ergonomics are good, reminding me of the old carbed SS models of the '90s and my old ST4s, although slightly more towards sport than touring.
The height adjustable screen works well for me providing a reasonably quiet ride in clean air, unlike the Multistrada which was noisy with a lot of turbulence.
Finish
The finish on the bike is superb but is let down by decals which are not lacquered over. I managed to mark the left hand tank decal with the zip on the jacket when manoeuvring the bike when it was fully laden.
How much did Ducati save by missing out a final coat of lacquer? I'd rather have paid the extra tenner.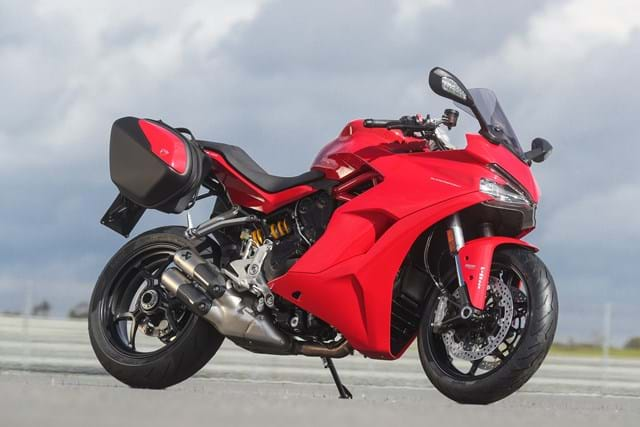 Storage
The panniers were a big disappointment. They don't fit integrally to the bike and require a subframe for mounting, which is not very pretty when the panniers aren't fitted. Fortunately it is easily removed with only 6 bolts securing it.
The panniers themselves are made by Givi and use their Easilock system but are only 25 litres capacity and they are not up to much. They don't close securely but simply zip together with an expandable section in the middle. Consequently they don't provide any real security as they could be slit open with a knife and Ducati don't even provide locks for the zips. I had to buy a couple of suitcase locks for them.
Worse they aren't even waterproof and the waterproof covers that are provided with them only partially cover them so water is going to get in anyway. At over £900 they cost about 50% more than the panniers for the Multistrada and they are poor value for money
To Sum Up
Overall I am very pleased with the bike. It is comfortable and easy to ride, handling like it is on rails and it looks really cool. But why oh why did Ducati penny pinch with the panniers and no lacquer topcoat?
Good points
Great looks
Handling and low weight
Brakes
Bad points
No lacquer top coat over decals
Poor value panniers
- Derek B, 2017
Price Guide
Year
Dealer
Private
Part Ex
Mileage
2020
£10,600
£8,450
£7,400
3,700
2019
£9,400
£7,550
£6,600
5,100
2018
£8,650
£6,950
£6,050
4,900
2017
£8,300
£6,650
£5,800
6,700
How to use the price guide
The Second Opinion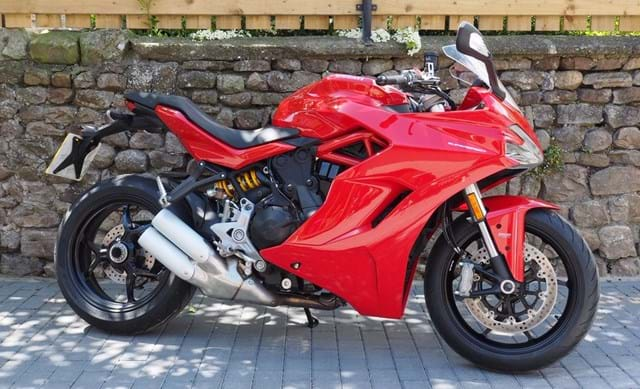 SuperSport 2017
Bought new in June 2017 from Ducati Leeds, now covered 7,500 miles. The bike is original spec bar a Ducati Quick Shifter (DQS) fitted pre-delivery, and Michelin Road 5 rubber replacing the OE Pirellis.
I've been riding four years, having started aged 66 and the Ducati is my second bike. I'm short - 5'6", 30" inside leg so seat height was important and, at 810 mm, I can get both feet flat on the ground.
The ergonomic triangle suits my height and reach perfectly, the raised clip-ons mean no undue pressure on the wrists, the footpegs are relaxed and the seat is comfortable for all-day rides. Pillion seat is minimal, but not uncomfortable with well placed pegs and underseat grabs.
Sports
Ducati describe the SuperSport as a Sports Tourer, so there are two distinct sides to its personality. On the twisty roads where I live in the Yorkshire Dales the bike is a joy. For a machine which feels so stable, it is remarkably agile, easily flickable through corners and with Ducati's trade-mark grunt on the exits.
It's here (and on roundabouts) where the DQS earns its corn; I highly recommend adding it to the standard model (it's factory fitted to the S). Mine took a while to bed in, throwing up false neutrals, but persevere, it's worth it. I keep the TC setting fairly high for this kind of riding; its intervention on wet leaves or road paint is instant, proportionate and reassuring. All round, a deeply rewarding Sunday-morning-burn kind of a bike.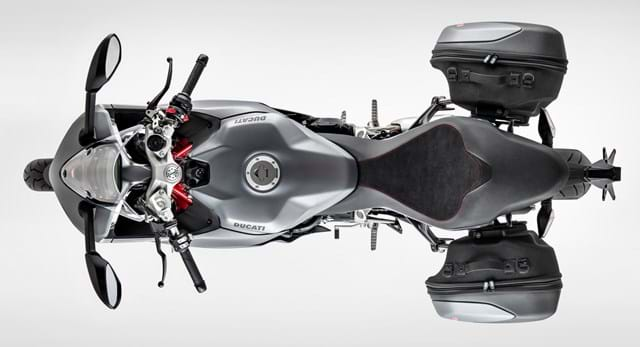 Touring
The SuperSport also tours. After 2,700 miles around Europe I would have no hesitation in getting back on and doing it all again. This is a great bike for a long day, reassuringly planted, lashings of power, a comfortable seat, nice riding position and a joy growling along at Autoroute speeds.
Wind and weather protection is, of course, a compromise; it's not a Gold Wing but, with the screen set to the high position, hunkered down on the tank, elbows and knees tucked in, it offers at least some protection. Underseat webbing loops match the Kriega system; I did the Europe trip with a US 40 Combo plus a small day pack clipped on top, and a mini-tank bag, 50 litres in all. Touring with a pillion and you're probably looking at Ducati panniers at a grand a pair.
In towns or in traffic, as well as in the rain, I tend to flick down to Urban riding mode. The bike can be a bit of a pest in queues, snappy and bad tempered. The mode switch calms it down and takes seconds to engage on the fly.
Any Downsides?
Two reservations: the mirrors vibrate at speeds over 50 mph and are pretty useless at 70. I know it's a big twin etc, but I'm sorry Ducati have not done better with this. Likewise, neutral is pretty elusive with the engine running which is a pain at traffic lights. Eighteen months have seen some improvement.
To Sum Up
In summary, Ducati have certainly delivered on their promise of 'sport made light' with a Sports Tourer which genuinely does both. Probably slightly edged towards the sport, but no slouch in the mile-munching stakes either and, of course, it hardly needs me to say; drop dead bloody gorgeous!
- John J, 2018
Add Your Review
Do you own this bike? We would love to hear anything good, bad, unexpected or that you have changed plus anything that a prospective new owner might find interesting or useful.
More Info
Check out this video review from chaseontwowheels.