Honda CB500X Review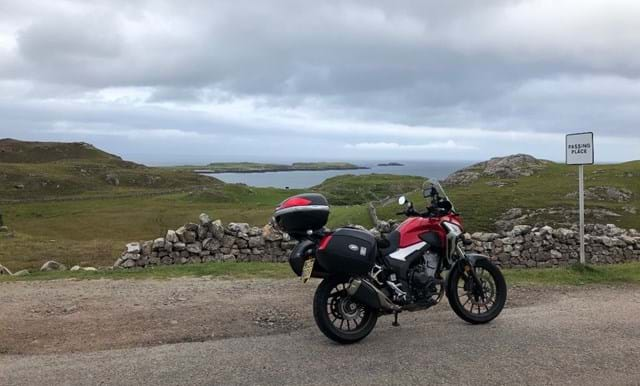 The 2020 bike, near Durness, the very North West of Scotland on the NC500
" Of all the bikes that I have owned in over 57 years I have never ridden anything that is so all-round "right". "
✓Economy, riding position, value, gear indicator, protection, handling, smooth power
×Non TFT dash
What Is It?
The Honda CB500X is an A2 friendly adventure style bike and is powered by a Euro 4 compliant liquid cooled 471 cc parallel twin engine, producing 46.9 bhp / 35 kW at 8,600 rpm and maximum torque at 6,500 rpm.
Launch RRP: £6,070
Top Speed: 110 mph / 177 km/h
Economy: 85 mpg / 3.3 L/100km
Range: 330 miles / 531 km
Seat Height: 830 mm / 32.7 inches
Wet Weight: 197 kg / 434 pounds
Power to Weight: 0.239 bhp/kg / 0.178 kW/kg
What Is It Like?
About me
I've been riding since 1963 and have had twenty-two bikes, including those I own now. At seventy-four years of age I don't know how many years I have left but enjoy my riding more than ever. The CB500X is a big reason for that.
Like most of us I expect, for many of those years it was all about having the biggest and the fastest bike and getting close to shortening my life, with one extreme accident (not going fast) that left me with life-long consequences that I have managed successfully.
I was always a Norton man with a Dominator 99s, 650SS and Commando 850s, but also Kawasaki Z750B Twin, Yamaha FJ1200A, then mostly Hondas with VFR800s and 1200s and a 2015 Crossrunner followed by a life-changing experience when I rode a CB500F. I was amazed by just how light and lively it was while still being fast enough to lose your licence and cruise comfortably at legal motorway speeds.
Looking at the trend with bigger, more powerful and heavier machines with, in practical terms, unusable performance and needing electronic gizmos to tame them and make them safe, I thought it was time for sanity to set in and bought a new CB500X in 2018.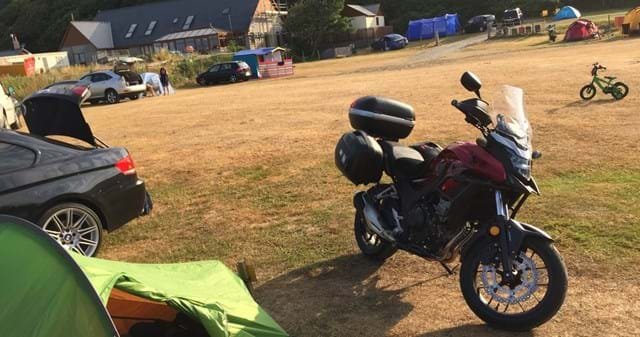 The 2018 model
It's about much more than being macho. Suddenly it was so much fun to ride that I just wanted to get on it and go places. It was light and manageable to ride but also importantly, easy to handle manually when off it, in and out of the garage, using the centre-stand etc. Coming only three years after selling my 2012 VFR1200, the difference really was noticeable!
Depending which leg I stand on (accident consequence) I'm 5'7' or 5'8" and not particularly long in the leg. I had found the Crossrunner a bit high in the seat and that was exacerbated by the weight of the bike, although it was manageable. There's not much difference in the height of the CB500X but because of the low weight and not being top-heavy, I was immediately at home on it.
On the road it was very lively and it felt as though it had more than 47 bhp going for it. I think that is because Honda have set it up to optimise the power in the mid-range, which in real terms is where you are most of the time, so it feels like a bigger bike in that sense.
In spite of the "Adventure" label, it also handled extremely well on the road and felt secure in all conditions. The brakes weren't going to throw you over the handlebars but were more than good enough, even with the bike loaded up.
It also became clear quickly that it was extremely frugal on fuel, with consumption regularly in the eighties and even touching 90 mpg in some slow local work. With 17.5 litres of fuel there was serious range available and the bike was comfortable enough to use it.
I got in the 600 miles up to first service in two weeks, including a long weekend camping and touring in Wales, the first photo below is of the bike in Barmouth. I realised then that it was actually better than a larger, heavier bike for touring like this and even on the fast road bits going there and back, keeping within the 6,000 rpm (break-in) limit, cruising at 70 mph was easy and when I got home, the average mpg was 82. Pretty good, I thought.
After that I fulfilled a long-held ambition to ride to Orkney and see Scapa Flow. I did that over 8 days, including a ferry trip from Orkney to Hoy and getting in the Lake District on the way back. I did over 1,400 miles, some of it in foul weather. Even with the long motorway work, fuel consumption was 77 mpg. No oil was used and the chain didn't need adjustment. The ScottOiler 'E' probably helped here, I swear by them. Here's the bike heading North in the Cairngorm National Park.
Although technically retired, I still have some work commitments and a busy family life, so don't use the bike daily. My mileage tends to include a lot of distance work.
In 2019 there was a lot going on with my son getting married etc, so it wasn't until September that I managed to get away for a week to Brittany and the French West coast, old haunts that I first toured on a Commando 850 in 1975. Because I sailed overnight from Plymouth to Roscoff, I had a 200 mile trip to the overnight ferry, although I came back the shorter way from Caen to Portsmouth, then 150 miles home. I spent three nights on the Quiberon peninsular and toured Brittany from there, then three nights in Royan, Golfe de Gironde, before heading back with an overnight in St. Malo.
Covering that much ground meant a lot of motorway work and some French Péage at 130 kph, 80 mph, so when I got home the overall fuel consumption was 73 mpg. Even so, it was clear that the bike had a useable 300 mile tank touring range. Once again, no oil was used and the chain still didn't need adjusting!
Upgrading to the 2019 model
During 2019 the up-dated CB500X was introduced and the immediately excellent road test reports made it clear that Honda had done some serious work on the bike, so I test rode one. I was impressed that something already so good could be further improved.
The increased mid-range power was noticeable, the already smooth engine felt even smoother, the larger front wheel and different riding position made the handling even more secure, the slipper clutch and revised gearbox internals had made the previous averagely good transmission light and effortless.
At first, I was concerned about the slightly increased seat height, but as Honda had claimed, it was offset by the narrowing and re-profiling of the seat at the front. The bike felt even slimmer than before but I found it no less comfortable, in fact the slightly more upright, further back riding position was an improvement. However, with my existing bike still being only a year old and as new, I decided to delay the decision for a while.
Over the winter I thought it through and in spring this year did an exchange deal with the excellent Sutton Motorcycles for a new 20 bike. However, Covid-19 intervened and I wasn't able to collect the bike until June instead of the intended date in March. In the meantime, I carried on riding the 18 bike when I could and wondered if I was spending my money sensibly!
When the day came and I rode off on the new bike I knew that it was worth waiting for. It really is excellent. The engine is uncannily smooth yet sounds great. I see no need for a noisier aftermarket can.
The 18 bike had a slight rough patch at exactly 67 mph indicated in sixth that was of no consequence, but this has gone completely and the bike is virtually vibrationless throughout the rev range. Not that I need to explore that much because the mid-range is that strong, I tend to change-up quite early. If you do want to take it towards peak revs in the gears though, it gets moving very well and sounds great!
The most surprising thing is that the improved engine characteristics have further significantly improved the fuel consumption! From collection I noticed immediately that I was getting in excess of 90 mpg, 93/94 being common. I experimented with some careful riding to see what I could get and saw 103 mpg! I know from other owners of the 19/20 bikes on the CB500X UK owners web-site that my experience is normal, some do even better.
I managed to get a week away in late August and headed for Scotland. The plan was to go up the West coast, do the NC500 for most of the way, then come back down the Great Glen and Glencoe, with an overnight in the excellent Buccleuch Arms in Moffat on the way home. I did exactly that, with pre-booked accommodation in Inveraray, Kyle of Lochalsh, Bettyhill and Fort Augustus . The ride took in the Mull of Kintyre, Skye, NC500 right up to Durness, across to Thurso, Dunnetts head, John O'Groats, Wick, Inverness, the Highland Trail and Cairngorms National Park, Forts Augustus and William. Glencoe was passed through in both directions, on the way back in a gale force wind with horizontal rain.
One of the amazing things that both bikes have in common is that even with loaded panniers and top box, they seemed unaffected by side-winds. It was that bad on the A74 down to Moffatt that an Eddie Stobart lorry went on its side in the treacherous wind and rain conditions, I had no problems at all. Once again, no oil had been consumed and the chain didn't need adjusting. ScottOiler 'E" again! Hosed it down and ready to go.
When I arrived home having been away Wednesday to Wednesday, average fuel consumption was 84 mpg. At 70/75 on the motorway it is doing 70/72 mpg. Off the motorway it is frequently doing 90 plus mpg and that was the case on the many miles of single-track roads with passing places on the NC500. An easily achievable 300+ mile touring tank range.
To sum up
I think that of all the bikes that I have owned and ridden in over 57 years I have never ridden anything that is so all-round "right". It really does make you realise that being blinded by levels of power and speed that you frankly can't use isn't necessarily what motorcycling is or should be about.
I can't honestly say that with the increasing restrictions that we suffer on road use that when on bikes with 150+ bhp I have actually been getting anywhere quicker than I was when I first toured Scotland on a Norton Dominator 99 in 1968 when the roads were a far nicer place to be than they are today.
After I got back from this trip, I reflected on what difference there would have been if I had spent an affordable £15,000 or so on a BMW GS or similar two-wheeled pantechnicon. I'm certain I wouldn't have gone any further or much quicker, would have used twice as much fuel and worked a darned sight harder than with the light and handy CB500X. What is the point?
I haven't mentioned off-road ability because it's not what I particularly do, the remaining physical damage from many years ago makes me very cautious about falling off! However, when I have been faced with unavoidable mud and gravel, both bikes feel very safe and it is clear from the Facebook pages that some use them for serious off-roading, particularly the 19/20 bikes and those with the very effective Rally Raid conversions.
A bike for all-seasons, to go any distance, anywhere, any-time with complete reliability and at not much cost in the process? I wouldn't swap the CB500X for anything else.

- Colin L, 2020
Price Guide
Year
Dealer
Private
Part Ex
Mileage
2021
£6,200
£5,000
£4,350
750
2020
£5,550
£4,450
£3,900
2,100
2019
£5,050
£4,050
£3,550
3,700
Gear
Parts & Accessories
The Second Opinion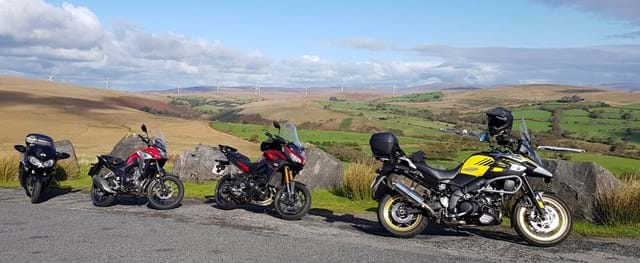 Choosing The X
After a break from biking of around six and half years I had seen a CB500X and decided after sitting on it that it was the right bike for me. My other bike had been a CB600 so I knew it had to be Honda but I wanted a better seating position for longer riding as my partner also had an adventure bike and we plan to do lots of abroad trips.
Fast forward twelve months and he says would you like a brand new one, well what woman is going to say no? So that is how my baby came home and complete with my very own number plate including the CBX letters. My dealer at Honda arranged having my seat shaping changed as the new one for 2019 has a bigger front wheel and it made it just a tad too high for me to touch the floor comfortably.
First Impressions
Entering riding into Winter was a short sharp shock but as with the older models I have enough protection from the elements being five foot five.
The bike handles very well considering the weather we have here in Wales, most miles have been done in damp conditions.
Handling
The engine is quiet, gear changes are super smooth and the bike as a whole feels very balanced and road holding is good on the factory supplied tyres.
I have not tested the off road capabilities of the bike yet but I am sure it will handle well, I don't suppose the farm driveway to feed the horses classes as off road!
Brakes
The braking system is as you would expect of ABS and stops you in a controlled way even in an emergency. After the initial first service this bike only improved and seems more responsive.
To Sum Up
I am looking forward to longer rides in the Spring and have already booked trips to Ireland and France to our friends.
My final words on this bike are wow I never thought I would enjoy biking again but this bundle of fun is just making me grin from ear to ear each time I ride it.
A super mid range all rounder that does 83 mpg on average to the gallon what is there not to like, even my partner nearly bought one but decided on it's bigger brother, the NC750X.
- Paula W, 2020
Add Your Review
Do you own this bike? We are after anything good, bad, unexpected or that you have changed plus anything that a prospective new owner might find interesting or useful.