Honda CB500X Review (2013)
"
Over 6 months and 3,000 miles it's been through all weathers for fun and has been as versatile as a Swiss Army knife. It's a fantastic first bike.
"
What Is It?
The Honda CB500X is an A2 friendly adventure style bike and is powered by a liquid cooled 471 cc parallel twin engine, producing 46.9 bhp at 8,500 rpm and maximum torque at 7,000 rpm.
Specs
Seat Height: Average (

810

 

mm / 31.9 inches)
Weight: Average (195 kg / 430 lbs)
Economy: Very good (80 mpg / 3.5 l/100km / 28.3 km/l)
Range: Very high (300 miles / 483 km)
Power to Weight: Low (0.241 bhp/kg / 0.180 kW/kg)
Top Speed: High (110 mph / 177 km/h)
Pros
Riding position
Economy
Handling
Brakes
Value
Cons
Nut cracking seat
Suspension
What Is It Like?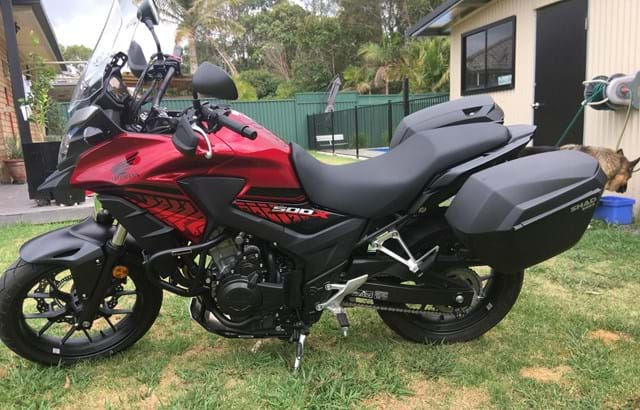 Choosing The CB500X
I was at that new level of riding and looking to upgrade from my first bike, a Honda CB300R naked, to a bike more suited to touring as well as a commute.
My husband is an adventure bike owner of a very nice 2018 Triumph Tiger 800 XCA and this made me decide to purchase an adventure style bike. As with most adventure bikes they are too big and heavy for someone of my build and height. I struggle to reach the ground on most.
My local dealer happened to have a black one on display. I was not able to test ride as the seat height was not low enough, so it was a case of sitting on the bike, getting in a riding position on the tip of my toes, rocking forward and back, side to side.
Although a novice rider I am a big Honda fan after owning the CB300R and seeking advice from other very experienced friends, I decided the CB500X would be the one for me. My Candy Chromosphere Red bike arrived six weeks later and what a stunning colour!
Lowering The Seat
Honda lowered the front forks and my local dealer used a Karooztune lowering link, dropping it 30mm. After the run in period the additional sag made it sit at the perfect seat height for me being 161cm tall.
I was very comfortable with this bike from the first ride and it didn't take long to adapt to the performance improvement over the CB300R.
Protection
The fairing works extremely well with virtually no wind around my legs and upper body.
I always have the windscreen on the upper setting but if you are taller than me you would need an after market screen, as you would get buffering around your helmet.
Handling
The CB500X is quite versatile form tarmac to gravel, although the Dunlop tyres are obviously mostly suited to tarmac. I found letting them down 6-8 psi gives the bike a whole different feel.
Traction and handling improves immensely when riding on gravel or green lanes. This bike is not for the rugged beaten up tracks however it has taken me on some serious off road tracks with no problems.
On the tarmac it rides smoothly and handles very predictably. The very responsive motor is well grounded and has a low centre of gravity.
Brakes
The ABS brakes work a treat pulling you up very quickly to a stop. Getting up to speed is not a problem and it has plenty of grunt. Well for me there is plenty of go in her coming from a 300 single!
Comfort
I find the seating to be very comfortable, definitely no discomfort when travelling longer distances. The riding position is nice and upright allowing you to be in that relaxed state with the arms and upper body.
To Sum Up
I am a small-framed 52kg female, I can handle this bike confidentially and the weight is not an issue. This really is a beautiful bike, thank you Honda!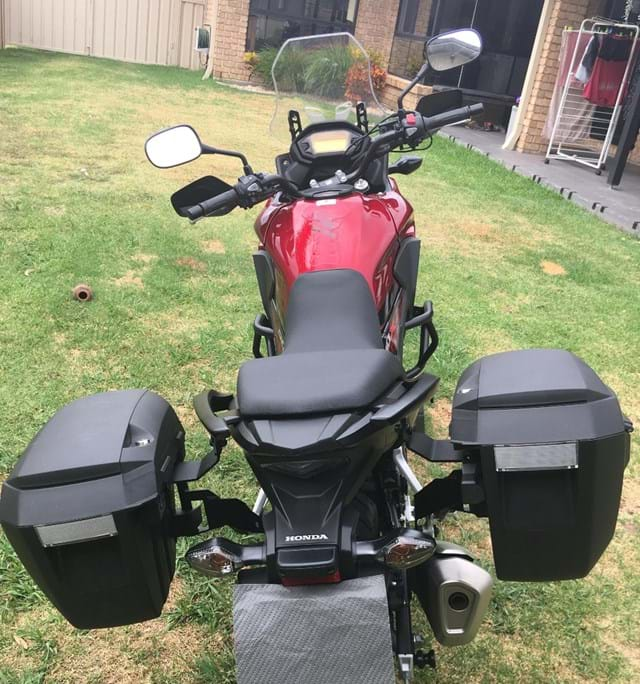 Mods
Honda Hand Protectors
Honda Heated Grips
SW Motech Bash Plate
SW Motech Engine Crash Bars
Honda Radiator Guard
23 litre Shad Panniers
Givi Tank Lock Bag
Next To Add
Stedi Spot Lights
Searching for suitable Toothed Foot Pegs
Cruise Control
- Lois C, 2019
Price Guide
Year
Dealer
Private
Part Ex
Mileage
2018
£4,900
£3,950
£3,450
4,900
2017
£4,600
£3,700
£3,250
6,700
2016
£4,300
£3,450
£3,000
8,500
2015
£4,000
£3,200
£2,800
10,300
2014
£3,650
£2,900
£2,550
12,100
2013
£3,300
£2,650
£2,300
13,900
How to use the price guide
Related Bikes
CB500X (19 On) - New version with 19" front wheel, assist / slipper clutch, new dash, improved mid-range and better economy.
CB500F - Essentially the same bike without the tall screen and long travel suspension.
The Second Opinion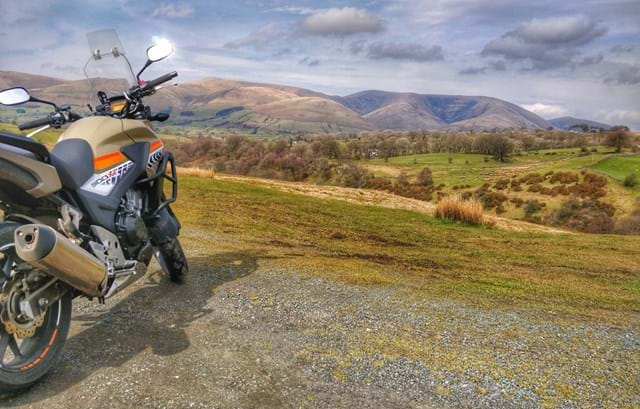 What's It Like?
Good value and as versatile as a Swiss Army knife. I've now had my 2016 CB500X a little over 6 months and covered 3,000 miles through all weathers for fun and function. The little CB has so far proved itself to be a fantastic first bike and a brilliant step into the world of big bikes.
I bought my CB with just over 2,000 miles on it from a friend who, unlike some of the bike media, had nothing but good things to say about it. I'm glad to say he was right and much of the media's complaints have in my experience been proved wrong.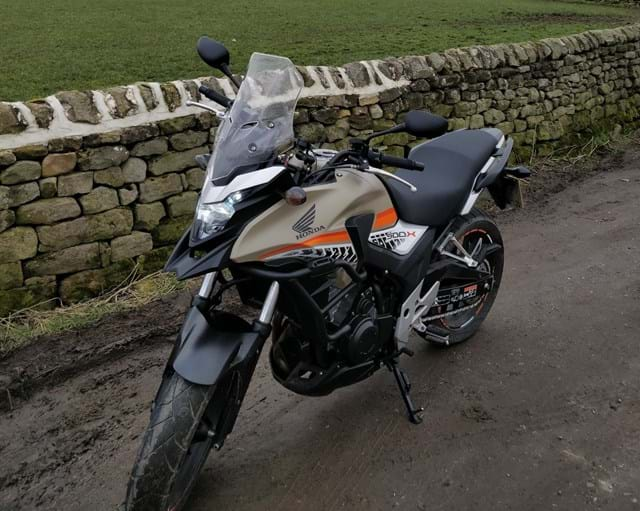 Handling
I've found the bike to be super versatile, handling every kind of riding fantastically well. On the daily commute it couldn't be much better, it's comfortable and easy to ride providing a great balance of power and efficiency.
I've averaged 82mpg throughout my ownership. The height and width make the bike perfect for filtering through challenging traffic scenarios and whatever the weather the LED headlight and general presence of the bike really help with being seen.
It's also been a great companion on fun spirited rides through the countryside. When pushed the I've found the CB to be responsive and forgiving, tackling twisty country roads carrying pace well and handling the often poor road conditions with ease.
Power
It's engine capacity is all usable so you feel like you really get to push towards the bike's limit, unlike bigger bikes that rarely get beyond their mid-range. It has even proven to be comfortable for big mile motorway cruises sitting happily at speed for hours at a time without excessive vibration and with plenty of power to overtake and pick up pace where necessary.
Mods
The 2016+ model comes with a few changes over the original, which means I've not had to change much, however I did add some engine bars for protection, a fender extender and rear hugger. The latter two are very worthwhile as the front of the engine block is a real crud catcher as is the rear shock.
I have also fitted a spoiler to the top of the screen as even at it's highest setting I was getting more buffeting than I'd like. I'm 5"9 by the way so not overly tall.
Comfort
I personally have found the riding position and seat comfort to be perfect, no complaints there at all even after 6+ hours in the seat.
Looking After It
The bike has been super reliable and easy to maintain, so far needing nothing more than chain lube and a good clean here and there. It has typical Honda build quality and with a just a little TLC it looks as good as new even with a punishing all weather commuter life.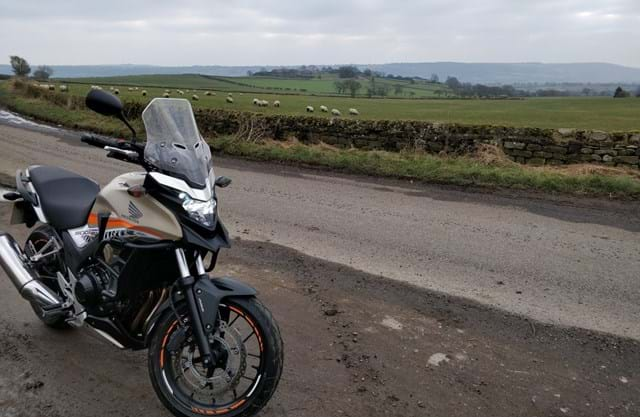 Storage
The under seat storage is surprisingly big and I manage to get a large disc lock, thick D-lock and a few odds and ends under there, although the seat takes some serious practice to quickly remove and refit.
The official (and aftermarket) luggage is expensive but the pillion seat and handles are a great spot to tie down large bags and loads as proven by an industrial coffee machine, 18 year old cruiser wheels and the many other items the little CB has successfully carried for me.
To Sum Up
I would highly recommend the CB500X and there is very little I'd change about it. The bike has tackled everything I've thrown at it with ease and given me very little reason to ever want to replace it as my daily bike. Top job Honda.
- Ben C, 2018
A Few More Thoughts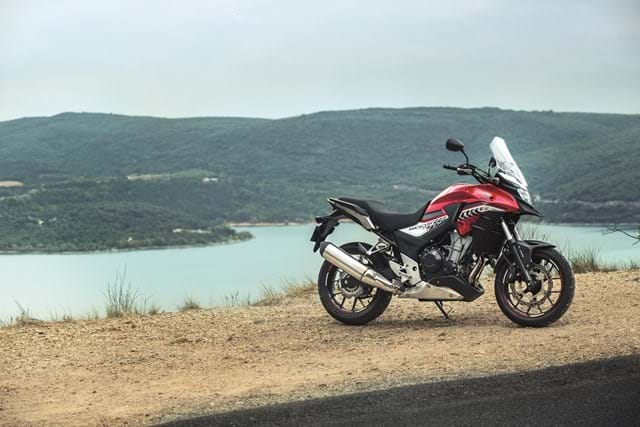 Choosing The CB500X?
I bought the CB500X after I researched it to death reading every review on the web about six times. Almost all said it was a great bike in its own right, especially for the price, and a brilliant commuter.
So I bought one new without test riding it first - maybe a mistake. I chose the X version over the F for its more upright riding position, larger fuel tank and small adjustable screen.
What's Good?
Fantastically economical, average 75 mpg. I could get 300 miles out of a tank if I could live with the low fuel warning flashing for the last 30 miles or so. Very smooth motor. A doddle to ride and fun out of town.
What's Not So Good?
Seat slopes forwards, combined with the jiggly ride over city streets means you slide forwards and your pants start squeezing your (blokes) privates.
6 speed gear box is a pain in heavy traffic, even if I skip gears. The motor was extremely sensitive to the throttle and took a lot for to get used to after the old school Suzuki DR650 I had before.
- Magnus, 2017
More Info
Check out this video review from CagerOnTwoWheels.