Suzuki V-Strom 650 Review
What Is It?
The 2017 Suzuki V-Strom 650 is a mid-range adventure bike which first launched in 2004 and was updated in 2012.
Engine: 645 cc V-Twin, 70 bhp
Economy: 55 mpg, 240 miles
Seat Height: 830 mm
Wet Weight: 213 kg
RRP: £7,400
| | | |
| --- | --- | --- |
| What Is It Like? | | ★★★★★ |
| | |
| --- | --- |
| ✓ | Good all-rounder, great headlight |
| | |
| × | Tools to adjust the screen, brakes |
At the beginning of May this year I paid a visit to Saltire Motorcycles in Edinburgh, my local Suzuki dealer. It was time for a new bike and the Suzuki V-Strom was one of the bikes on the candidate shortlist. I asked to test ride one and having signed the relevant paperwork and produced my driving licence, I took bike out for a couple of hours.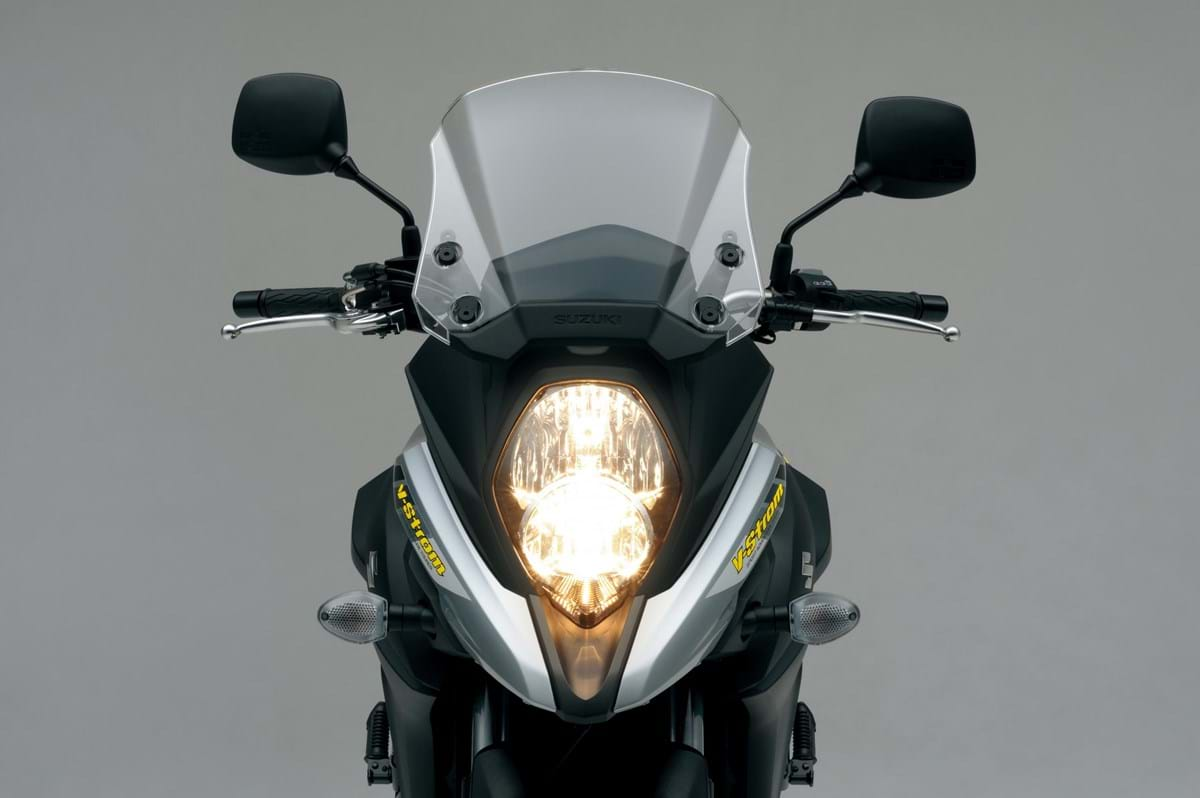 I loved the 'updated' look of the 2017 model V-Strom 650 but did not like the dual headlight of the second generation DL. It was enough to put me off even trying one in the past... I was pleasantly surprised that the basic model had things like a gear indicator, traction control, 12V socket, rear shock preload adjust, rear rack and Low RPM Assist included as standard! The latter basically raises the idle speed, when the clutch is engaged to prevent low speed stalling – very handy on those pesky hill starts!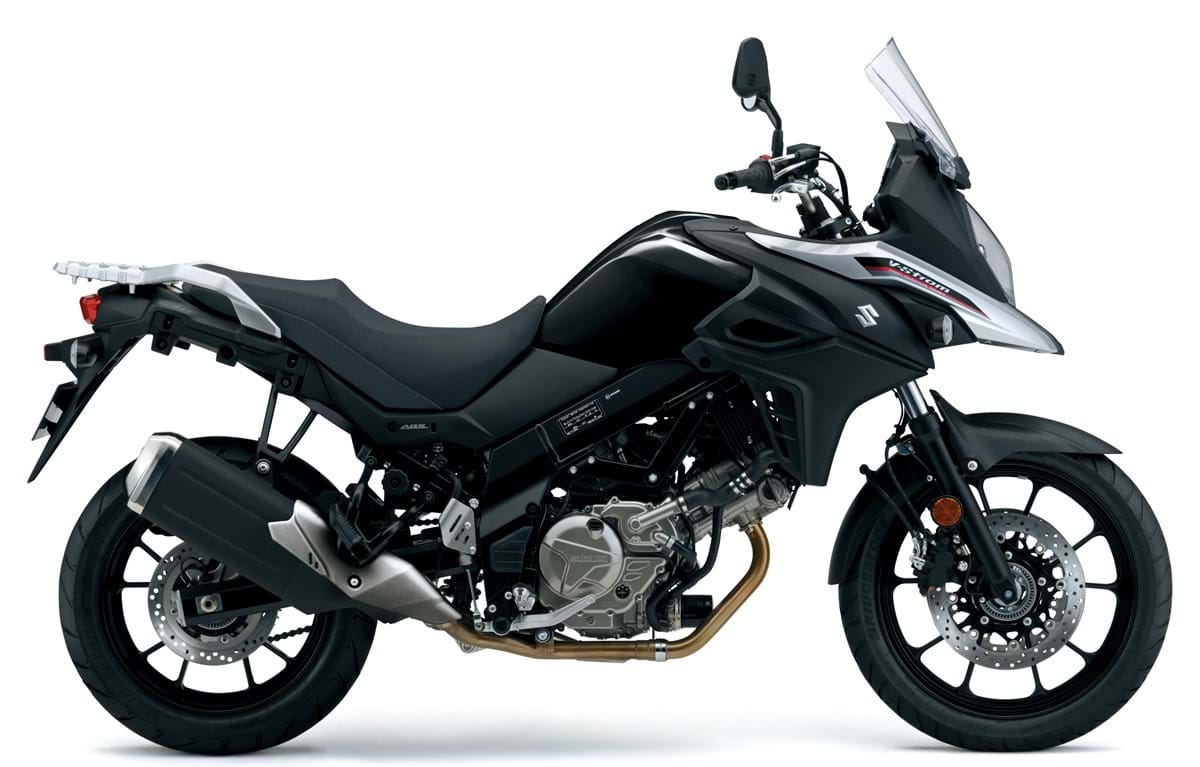 The 645cc V-Twin engine wasn't a surprise in any way and I mean it in a positive way. These engines have been around for a while and are considered 'bulletproof'. My first impression - smooth, punchy and sounds great even with the stock exhaust. Having ridden a NC750X DCT for nearly three years I was curious to try a 'manual' gearbox. Again, my first impression was very positive - the gearbox was quiet and smoother than all the bikes I've owned in the past. The bike seat was wide and extremely comfortable, riding position upright and commanding. I knew immediately that I would be comfortable on this bike going the distance. I could not say the same thing about my NC...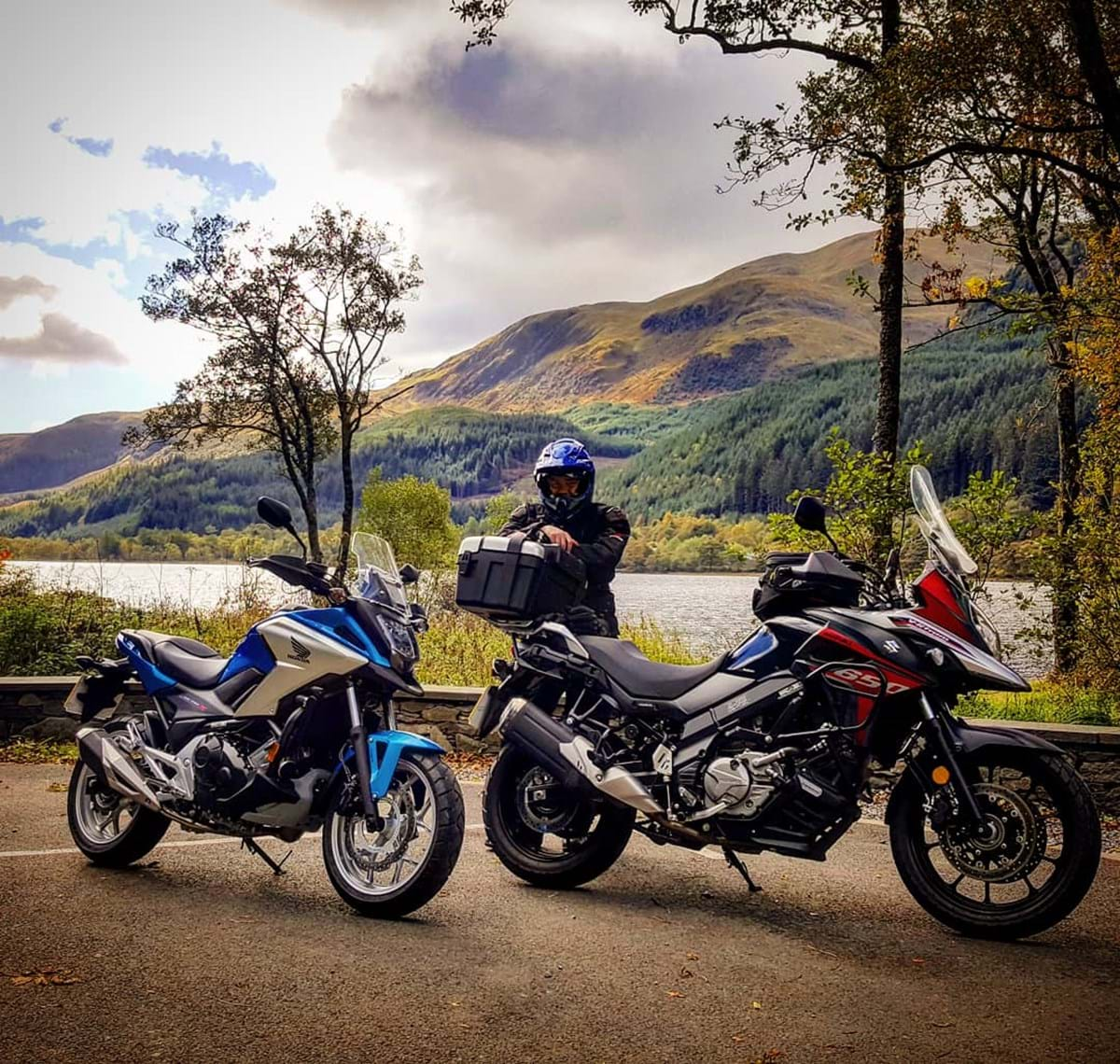 The bike looked and felt a lot bigger than what it was, a 650. Despite it's physical size and street presence, I did not feel that it was underpowered in any way. Quite the opposite. There is plenty power and and torque not just to commute, cruise or long distance tour. You can actually have a lot of fun on it on twisty roads.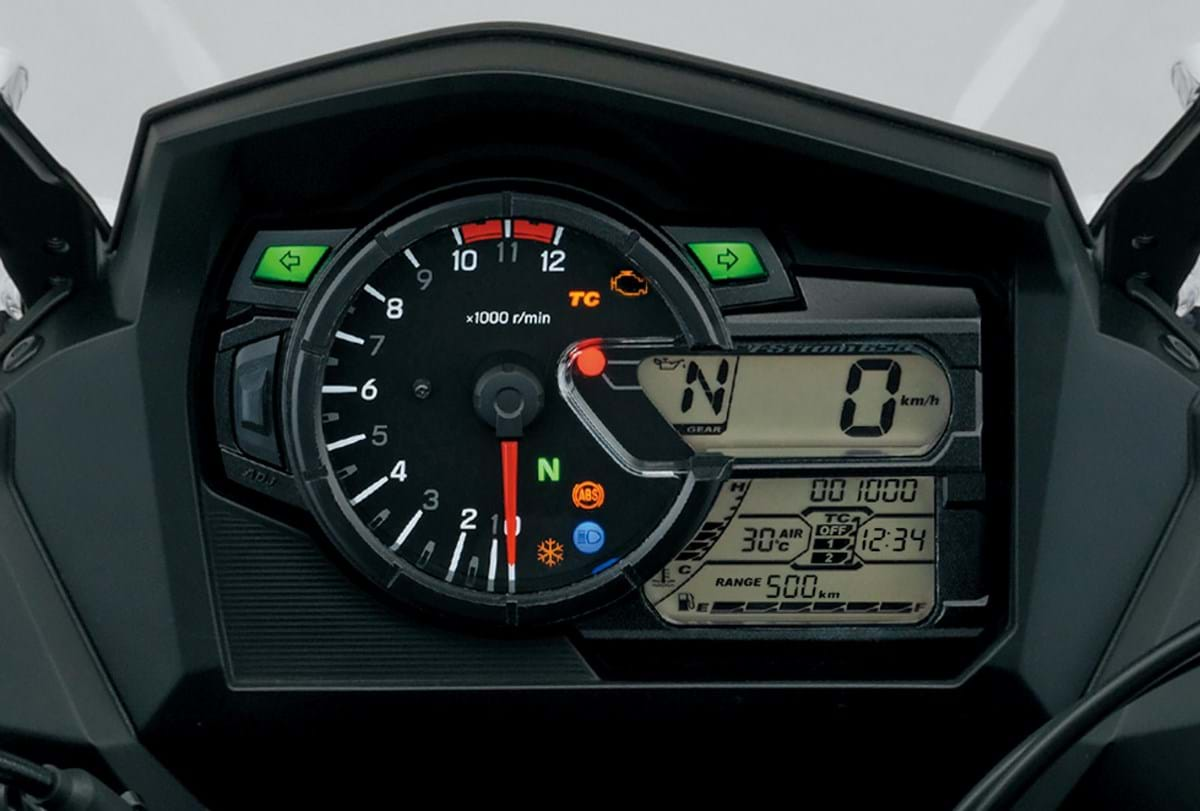 After only about 10 minutes into my test ride, I was sold. I absolutely loved the bike. I came back to the dealership with a massive grin on my face and now it was only a matter of choosing the right colour. I was torn between Black and Yellow but the fact that Saltire had one black one in stock made my decision a lot easier.
I took advantage of two promotions running concurrently and managed to get hand guards, belly pan/under-cowling, centre stand, Monokey plate carrier for the rear rack, engine guards, a set of decals and tank protectors at no extra cost. Get in!!
Since picking the bike up at the end of May I have also purchased a Givi rear hugger, AirFlow screen and extra luggage, including a Givi tanklock tank bag, Givi trekker top box and pannier set and a 70L Oxford dry bag. I have done numerous trips to the Scottish Highlands and most recently the Outer Hebrides. I am planing a 3 week trip around Europe next year.
I absolutely love my V-Strom, it really is the best bike I've ever had and it made me fall in love with the open road again...
..And see that grin on my face after the test ride a few months back? It's still on!
- Matt J, 2018 (Follow Vstrom_Matt on Instagram)
Price Guide
| Year | Dealer | Private | Part Ex | Mileage |
| --- | --- | --- | --- | --- |
| 2017 | £5,900 | £4,700 | £4,100 | 3,700 |
| 2018 | £6,400 | £5,150 | £4,500 | 2,100 |
| 2019 | £7,000 | £5,650 | £4,950 | 800 |
The Second Opinion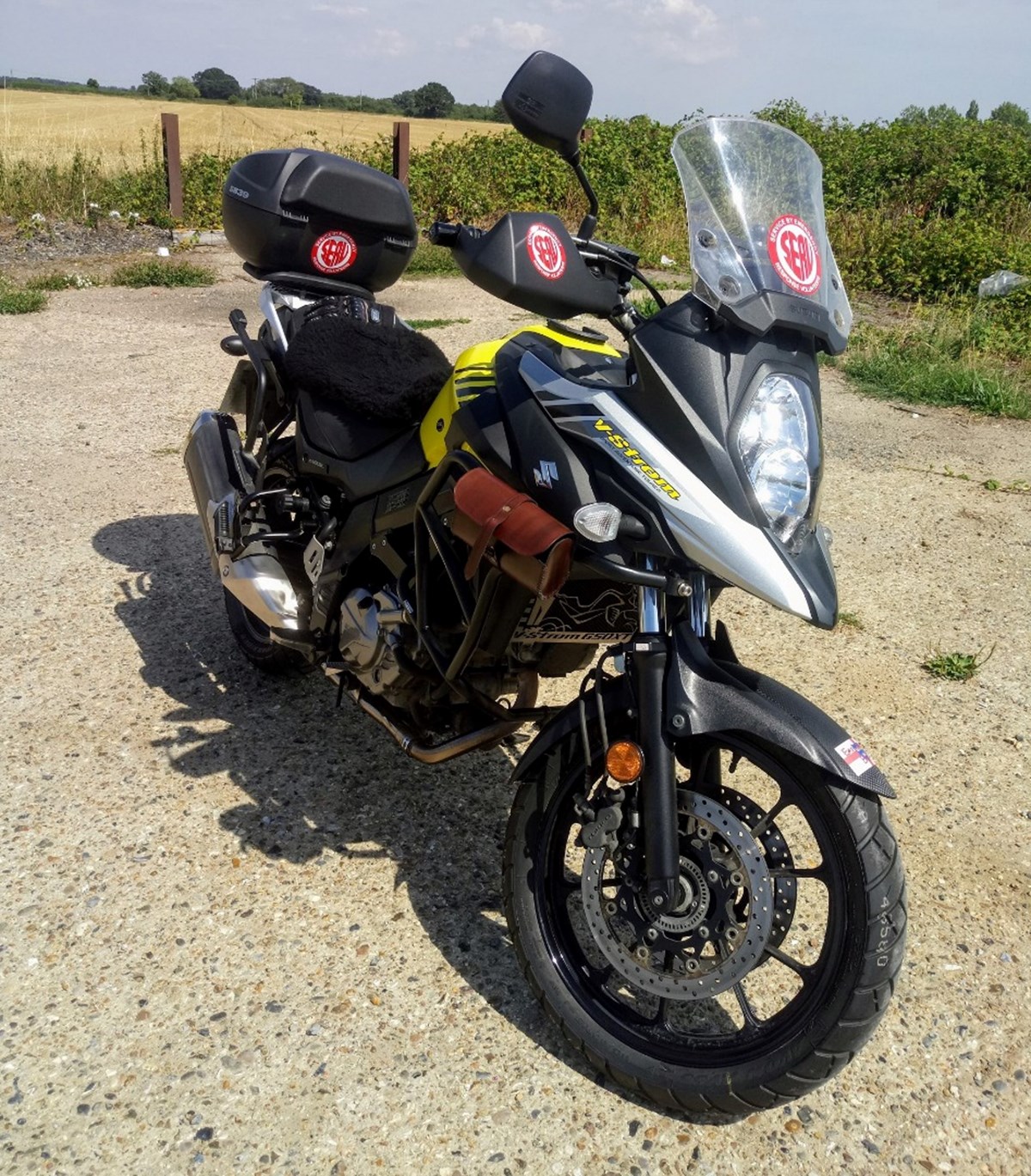 I've had the Suzuki V-Strom 650 2017 for eleven months now. Absolutely hated the battle wings that came with the bike, changed to Avon trail riders. Now the bike handles really well in the wet.
I bought the basic DL650 but I've added crash bars from HEED for about £180, a centre stand, Shad topbox and panniers. 7,100 miles in eleven months, no problems so far.
Did a tour of East Anglia and managed 66 miles to the gallon (well that's what the trip meter said). The standard seat is comfortable for long days in the saddle. Night riding is brilliant and I'm always getting flashed by car drivers, as they think I'm on full beam. So I flash them back they just so they know I wasn't.
On the twistys I can keep up with my mates who are on Fireblades. Can't touch them on a straight road (maybe the 1000 would). The breaks are not the best, have to start breaking little earlier than I did on the Versys I had. For an all rounder this bike is a cracking little bike for every day use.
- Steve A, 2018