Moto Guzzi V85 TT Review (2019)
"
It's pretty to look at with a sense of being alive compared to the generic and sterile adventure bike competitors.
"
What Is It?
The Moto Guzzi V85 is a premium shaft driven adventure bike and is powered by a Euro 4 compliant air-cooled 853 cc transversely mounted 90° V-Twin engine, producing 79.1 bhp at 7,750 rpm and maximum torque at 5,000 rpm (90% from just 3,750 rpm).
Specs
Seat Height: Average (

830

 

mm / 32.7 inches)
Weight: Heavy (229 kg / 505 lbs)
Economy: Average (55 mpg / 5.1 l/100km / 19.5 km/l)
Range: Very high (280 miles / 451 km)
Power to Weight: Average (0.345 bhp/kg / 0.257 kW/kg)
Top Speed: High (110 mph / 177 km/h)
Pros
Cool LED running light
Build quality
Suspension
Character
TFT dash
Handling
Comfort
Brakes
Looks
Cons
High centre of gravity
Needs a front hugger
Can get hot in traffic
Gearbox
Screen
What Is It Like?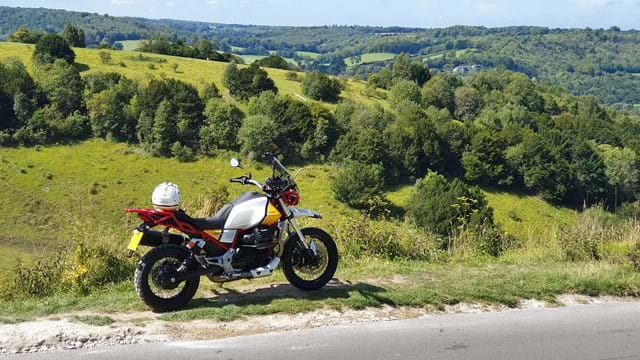 Why I Chose The V85 TT (2019)
After the last 10 years on Harleys, I decided I needed something a little different, but which still had that soul and classic look I love. Something a little more modern feeling with brakes and suspension that worked.
Most adventure bikes look dull, designed by a committee with a modern, staid look. Not this one.
Chassis And Suspension
Its 80s looks and build quality are great with lovely attention to detail. The suspension feels comfortable, very smooth and compared to my previous bikes is very plush. Its nimble, lightweight with the Michelin Anakee tyres having plenty of grip.
Engine And Gearbox
The oil cooled V-Twin engine is a huge reason to love this bike. The best way to describe it is it feels mechanical and alive like a Harley but smoother, quicker and more modern.
The gearbox is smooth however doesn't like changing until it's warm and needs to be at least 4,000 revs when shifting to avoid clunks changing up.
Brakes And Fuel Economy
The Brembo brakes are simply amazing on the V85. Powerful but not startling with good feel. Fuel economy is good and I get around 260 miles to a tank.
Equipment
Cruise control and TFT dash are simple, intuitive and work well. Three engine modes (rain, road, off road) are distinct and simple.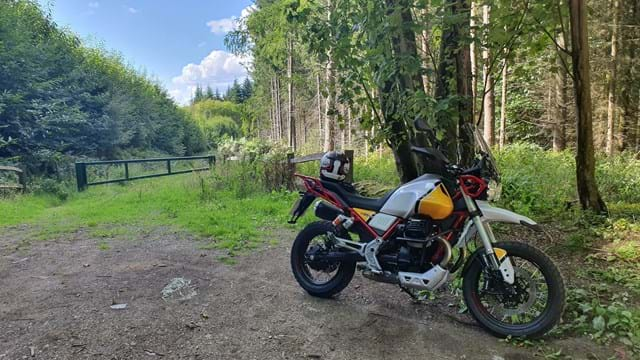 Any Downsides?
It doesn't like traffic. If it sits in it for long periods it starts to overheat so it's not ideal for London commuting.
Would I Change Anything?
Well it's in dire need of a front hugger as the high front mudguard is useless. Luckily an Aprilia Caponord one bolts straight on. The standard screen is also for aesthetics only and if you're touring, you'll need something bigger.
To Sum Up
It may be due to the fact that I've just hit the big 40 that the 80's looks really appeals to me. It's minimalist, unfussy and well thought out.
It's pretty to look at with a sense of being alive compared to the generic and sterile adventure bike competitors. It's very well built but does have its quirks and Italian temperament (in heavy traffic) but that's part of its charm and what you sign up for with a Guzzi.
Go and find a decent dealer and try one – you'll be pleasantly surprised.
- Roland S, 2019
Price Guide
Year
Dealer
Private
Part Ex
Mileage
2022
£11,900
£9,550
£8,350
1,200
2021
£9,700
£7,750
£6,800
2,100
2020
£8,950
£7,200
£6,300
3,700
2019
£8,250
£6,600
£5,750
5,100
How to use the price guide
The Second Opinion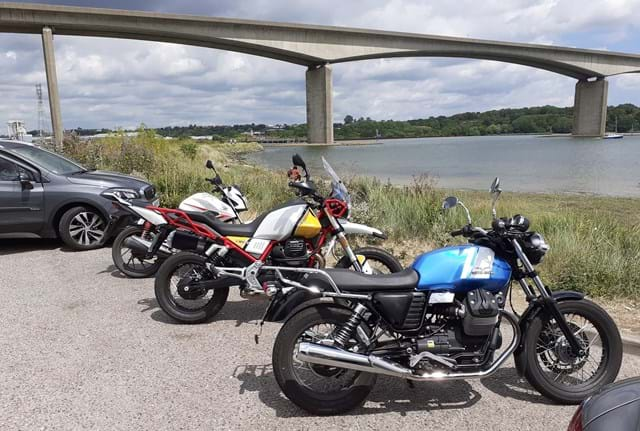 About me
I'm a 60 year old male, 6'1". A born again biker, who rode back in 70s and came back to it a few years ago.
Why did you choose it?
I chose the V85 TT as I wanted to tour, and my Honda NC750X was a great bike, but lacked the capacity for long runs in comfort.
What is good about it?
Build quality, comfort, presence on the road, king of the A road.
What could be improved?
It's a bit cumbersome in town. For me - purely personal taste - the centre of gravity was too high by comparison to the NC750X.
I've also subsequently ridden a Yamaha Tracer and that also felt lighter and better suited to smaller roads.
The said, the V85 TT was supremely happy on major roads. In the end, accepting that touring was less likely in the Covid era, I traded it in for a V9 Bobber, and haven't looked back.
What's the economy like?
Around 60 mpg, ridden conservatively.
Any mods or upgrades?
Guzzi crash bars and touring screen - both essentials but expensive.
How is the engine?
A little disappointed that, for a big twin, there really wasn't much power under 3,000 rpm. It also gets very hot after a while. However, it pulls like a train on the open road.
How does it handle?
As I've already said, I felt king of the road on trunk roads, but never really felt confident to throw it around the bends. This may reflect on the adventure tyres, or of course my riding style.
What are the brakes like?
Superb brakes- especially the rear, a revelation after the Honda.
Is it comfortable?
Very comfortable: one GS rider described it as "a sofa".
How reliable have you found it?
No problems at all.
How would you sum up the model?
Superb, eye-catching tourer, long legged and comfortable, but for me limited on smaller roads.
- Trevor S, 2020
A Few More Thoughts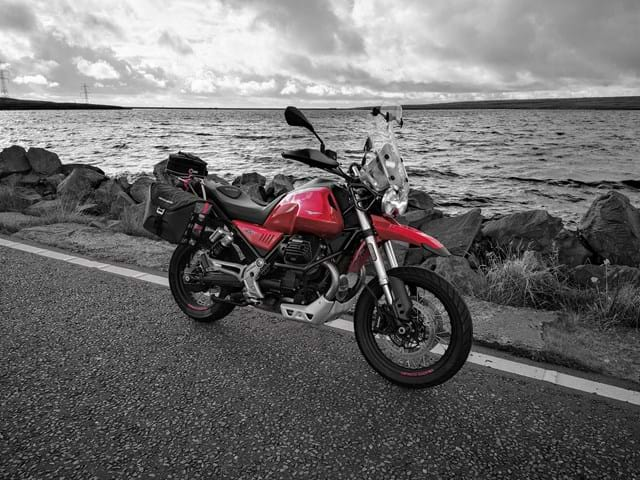 About me
I'm a male in my mid 50s, 178 cm (5'10") tall with a 32" inside leg and around 85kg ish -  pretty average really. Oh, I'm losing my hair and what's left is going grey 🙄
I've been riding motorcycles since my mid teens, firstly trials riding on a friend's land and then on the road. I've ridden as part of my work, on and off road, and I'm fortunate that I've had quite a bit of training to do that.
I've owned about a dozen different bikes, trials, trail, road, adventure and scooters.
Why did you choose it?
I was looking for a do it all kind of bike. Mostly road riding, commuting and touring, but capable of a little light off road too.
I like different. I'm not one to follow the crowd, and the V85 certainly fits that bill. I also know you don't need a huge engine, a tonne of power and warp factor speed to have fun on a motorcycle.
What is good about it?
It is absolutely the do everything bike I was looking for. It's got character in bucket loads, from its quirky looks to its throbbing and dare I say it, basic V twin engine and everything in between.
I've never ridden a bike that makes me grin anywhere near as much as the V85. It's an all day comfy mount, one or two up. My wife, who doesn't do motorcycling, spent 8 hours on it and said she could have carried on.
It has sufficient weather protection with the taller screen and a riding position that just feels so natural. It's also shaft drive, so no messy chain to lubricate or adjust.
What could be improved?
Okay, so it's not perfect, but I've yet to come across a bike that is. It should have tubeless rims, but doesn't, (come on Moto Guzzi), the gear indicator doesn't display which gear you're in when you pull the clutch in (I never use it anyway) and it's had a few recalls for loose fixings, electrics, software and oil seals.
That said, it is a brand new model and so some teething issues are to be expected and they've all been sorted free of charge.
The TFT dashboard could be a little larger and the Bluetooth connectivity (MIA) should come as standard, but it's a £120 add on.
I'm being a bit picky really, and while the above doesn't bother me, some find them really annoying.
What is the economy like?
The V85 has a huge fuel tank at 24 litres and that's good for over 250 miles, easily. Around town 50 mpg is easy to achieve and even on a spirited back roads blat you still achieve that.
Motorway cruising will give you up to 60 mpg if you stay legal with your speeds, but push on to 80 mph+ and you'll see the mpg drop to low 40's.
Any mods or upgrades?
Engine protection bars are a must. Those cylinder heads need protection just in case you lay it down.
For decent weather protection you need a taller screen, especially with UK weather.
A centre stand - doesn't come as standard on most versions.
Luggage?... Personal choice really
How is the engine?
It's not going to blow your socks off. Sure, there's quicker more powerful 850 cc bikes, but this engine oozes use ability and character.
It pulls from very low revs and just keeps going and going. Unless you need more power to make up for a lack of skill, it's more than adequate. It's a bike you need to ride using the gears properly to get the best out of it.
How does it handle?
Superb! To look at this bike you wouldn't think it could handle as well as it does. You can really throw this bike around and it doesn't throw up any nasty surprises. It's very sure footed and inspires confidence (notch up the rear suspension a couple of clicks).
What are the brakes like?
Some riders have said they don't think the rear brake is much good, but I've found both brakes work perfectly well. Progressive and smooth, predictable and with plenty of feel.
Is it comfortable?
As I've already stated, it's all day long comfortable. I've spent many long days in the saddle and never felt like I've wanted to get off.
I tend to ride in 2 hour / 120 mile stints, usually because I need to pee then anyway.
How reliable have you found it?
So far she's not let me down. I've had an oil temperature warning message which it's on a recall for, but that's it.
What's the servicing frequency and cost like?
12 months or 6,000 miles. Pretty average really.
My above service cost £230 via Moto, Sheffield. That's more than I'd hoped to pay, and I've heard some pay much more and some pay a little less.
To sum up
If like me, you yearn for something different, an all rounder of a bike that's full of character, then this could be the bike for you. If what you want is balls out speed and power from one of the big 4 motorcycle brands, then look elsewhere.
This is a bike that is much greater than the sum of its parts. On paper, looking at the spec sheet, it might not peak your interest, but just go and test ride one. You'll see what I mean and just how capable this bike is.
Oh, and when you manage to get rid of the daft grin it leaves you with, get your money out and buy one so you don't have to stop grinning 😁
- Nowta Proov, 2020
More Info
Check out this video review from TheMissendenFlyer.