Suzuki SV650X Review (2018)
"
It looks cool enough that at the local biker caff people offer up compliments, it rides well enough to really get a wriggle on scratching down the back roads and it's confidence inspiring on less than perfect terrain.
"
What Is It?
The Suzuki SV650X is a cafe racerised version of the naked SV650 and is powered by a liquid cooled 645 cc 90° V-Twin engine, producing 75 bhp at 8,500 rpm and maximum torque at 8,100 rpm.
Specs
Seat Height: Low (

790

 

mm / 31.1 inches)
Weight: Average (198 kg / 437 lbs)
Economy: Good (60 mpg / 4.7 l/100km / 21.2 km/l)
Range: High (190 miles / 306 km)
Power to Weight: Average (0.379 bhp/kg / 0.282 kW/kg)
Top Speed: High (130 mph / 209 km/h)
Pros
Balanced in corners
Responsive power
Riding position
Great value
Looks
Cons
Low speed throttle response
Basic dash
Seat
What Is It Like?
Okay, so let's set the context. I'm about 5ft10, have been riding for roughly 20 years, am a fan of Japanese in line fours (in fact I race one at club level), I've been an all-weather commuter and a fair weather rider.
My first bike was a GT200X5 with a holed piston I bought from a neighbour for pennies. I once had so little money an old £50 CX500 was my only form of transport and I pretty much lived on baked beans.  I've had two strokes, twins, scooters, classics, sports bikes and uprights. I've ridden the Isle of Man TT course on Mad Sunday, I've done Euro track days, wheelie school, bikes shows, dyno days and motogymkhana. I've had a go at most things, some of which I liked and others I didn't.
Oh, and the last thing that may, or may not be important to know, I'm a woman. Whilst being female may not be an important detail to some, I feel this adds to you understanding my perspective when reviewing the SV.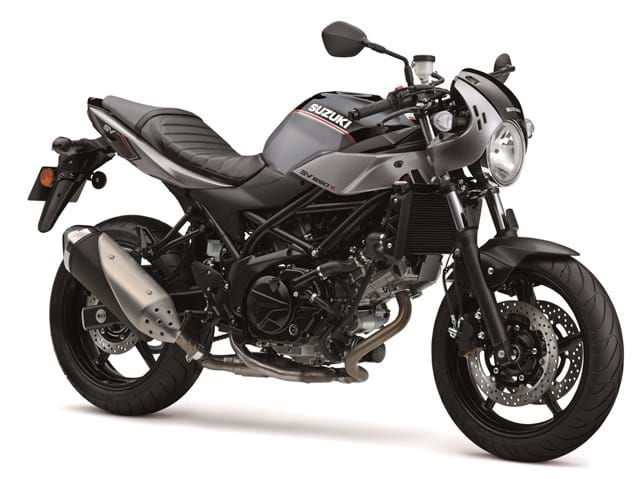 Why Did I Buy The SV650X?
I'm a lucky gal. I own a GSXR1000 of the K9 variety. It's a rocket ship. The problem is that a million years ago when I bought my very first real sportsbike (a 2004 GSXR600) opportunities to get out and really enjoy it were plentiful. Get an early start on a Sunday morning and the roads were all mine. A full day out on the bike was enjoyable, there were fewer cars, fewer caravans and fewer speed cameras!
Roll forward a couple of years and I had moved on to a 2006 GSXR1000 (the famous K5/6) and my Summers became a blur of track days and road rides with like minded friends. There were more cars and more caravans out there but you could still have fun.
Fast forward quite a bit and here we are in 2019. I've had a GSXR1000 in my garage now longer than I've owned my own home, and the GSXR is now a 2009 K9 version. The problem is, although I love the GSXR and will never be without one, the desire to get out an use it had dwindled away.
There are so few opportunities to get out and stretch it's legs. Increased traffic on the roads, I have more than one friend who has hit a car recently, more people staycationing in the UK means that the numbers of caravans on my favourite routes in the south West has soared, more speed restrictions, poorer quality roads and the police have moved on from a friendly chat to an impersonal speed gun and a court summons through the post approach.
In a conversation one evening with my husband, it turned out that he was feeling the same. The fun had gone out of road riding, and the most fun either of us had on a road bike was taking my Honda Lead (a little SC100 scooter) out to fetch parts when working on the race bikes. The decision was made to look for two road bikes that we could have fun on without risking licences or lives.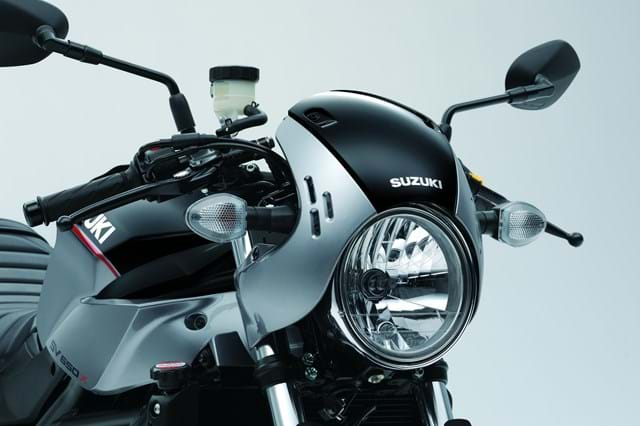 What Do You Get?
I bought the 2018 SV650X which is the café racer styled version. For a small amount of extra dosh you get lower clip ons bars, a funky headlight cowl with black fly screen, the taller seat, an array of black footpegs / levers and a cool retro silver and black paint job.
I did enquire about fitting the clip ons to a standard SV650, the blue and white really took my fancy, but to add the parts was pretty cost prohibitive, as there would be a need to replace a lot more than just the bars such as brake lines etc.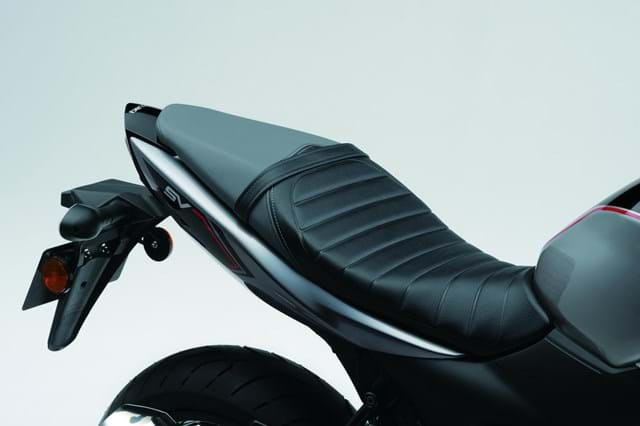 Seat
The seat is comfy at first, remember I'm used to a postage stamp to sit on, but the edges of the seat are steep and after a full day of riding the edge of my butt can get reasonably sore. It's as if it's not quite wide enough for my lady shaped ass.
Longer trips on dual carriageways or motorways result in dead bum syndrome, however keep to the back roads and this isn't such an issue. The seat height itself isn't too high but could still be a little tall for very short riders. Lowering kits are available.
The seat is a complete pain to refit once removed for access and so far I haven't quite got the hang of it. Underseat storage is reasonably disappointing as there is a lot more already under there than you would expect. However I managed to get my disc lock bag in and there is just about room for the house keys and a small wallet. It's no SRAD, so no room for a pack of beer!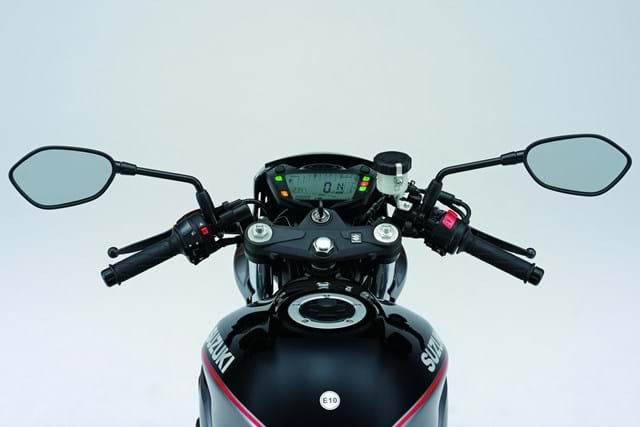 Riding Position
The bars are in a great position, not giving you a completely sportsbike hunch, but not fully upright either. It's a good compromise, giving you the ability to really hunker down in to the bike when travelling at pace without being a total killer through town.
The small headlight cowl and fly screen do a really great job. I dallied with a Tuono a few years back and realised what it was like to have absolutely zero wind protection at 130mph. It felt like my eyes had turned to jelly and I quickly sold the Tuono before my neck muscles started to grow to compensate the drag.
Tuck down behind the screen on the SV and although not perfect it will give you enough protection that you can see where you are going.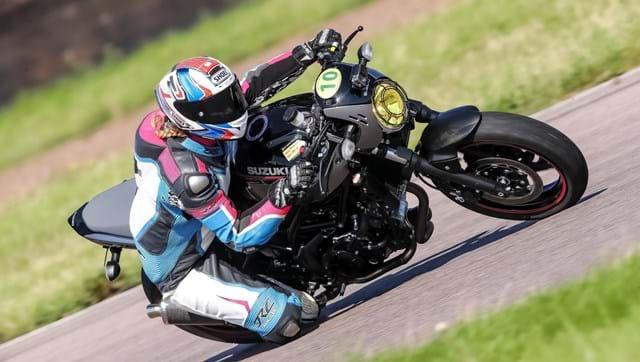 Pete Wileman Photography
Suspension
The suspension is absolutely fine, although a bit bouncy on the front with factory settings. I've read a lot of comments about how others feel the front is too soft, but this is really easy to sort with a quick suspension set up that a local dealer can do.
In all honesty a suspension set up is something everyone should do on a new to them bike. Having the front adjusted on my SV has removed the dive under braking and made it a lot more stable in the corners.
Brakes
Brakes are good, not GSXR good, but I would have full confidence in them on a track day. I have only experienced the ABS once, which was when the front hit a pot hole under braking and it wasn't obtrusive.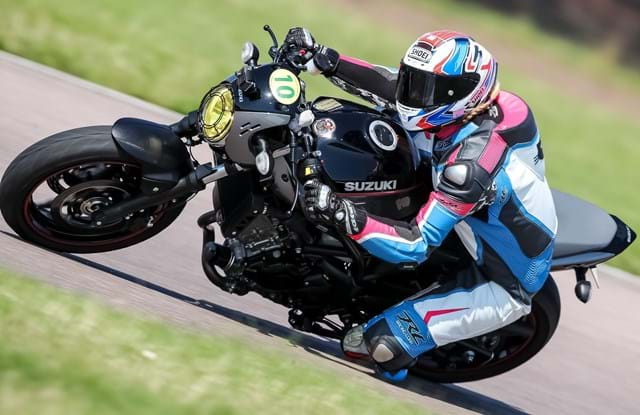 Pete Wileman Photography
Handling
The handling is excellent and one of the main reasons I bough the bike. Out in club racing land the SV is all over the paddock in the twins class and I'm not surprised. It's light, flickable and turns in with an almost telepathic connection.
Engine
The engine is surprising. I am not a fan of big twins, they are lumpy, have too much engine braking for me and are just hard work. The little 650 though is smooth, still has a good twinny exhaust note (with an aftermarket can of course) has a decent amount of engine braking without being an on off switch and feels more user friendly than a big cc twin.
Out on the road it's not fast compared to a litre sportsbike, but find some twisties and a well ridden SV650 will definitely given them a run for their money. The big difference being that whereas on a 1000cc sportsbike you'll be watching for the rozzers, on the SV you'll be giggling in your lid as to how much fun it is.
Finish
Fit and finish overall is standard Suzuki. Expect bolts to go fuzzy if you plan on keeping the SV outside and invest in a good cleaning kit and a can of ACF50.
To Sum Up
The SV650X does exactly what I wanted it to do. It has given me back that desire to get out on the roads again. It looks cool enough that at the local biker caff people offer up compliments, it rides well enough to really get a wriggle on scratching down the back roads, it's light enough to manoeuvre on my own and it's confidence inspiring on less than perfect terrain.
If you are so inclined you can buy bolt on parts and race bits to make it totally unrecognisable as an SV, it's been around for years in one guise or another so there are lots of clubs and groups to join, and it's cheap.
In fact it is unbelievably cheap for such a capable, fun and appealing bike. I love my SV650X and reckon it's a cracking bike for any adventure. Next adventure for me, is getting it out on track!
- Gemma V, 2019
Price Guide
Year
Dealer
Private
Part Ex
Mileage
2022
£6,700
£5,400
£4,700
1,200
2021
£5,950
£4,750
£4,150
2,100
2020
£5,600
£4,500
£3,950
3,700
2019
£5,200
£4,150
£3,650
5,100
2018
£4,700
£3,750
£3,300
4,900
How to use the price guide
Related Bikes
Suzuki SV650 - The standard naked bike the X is based on, with a more relaxed riding position, higher bars and no headlight fairing.
The Second Opinion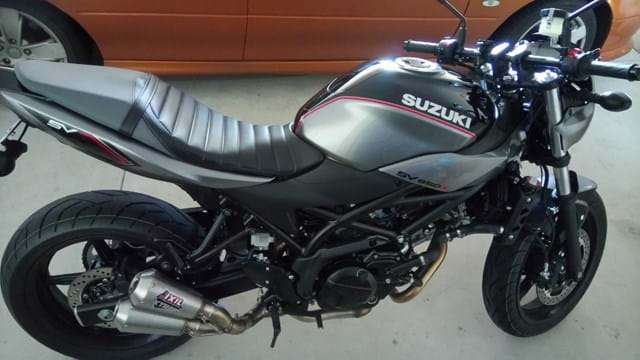 The Good
Very responsive power and torque
Confidence inspiring stopping ability
Seat is wide and surprisingly comfy
Rider friendly and balanced in corners
Minimal vibration through the frame
190 miles per tank with motorway riding
The Bad
Throttle can be a little touchy at slow speeds
Clutch is a bit strong but usable
Mods
Ixil twin can exhaust
Drag bar conversion and fender eliminator
- Lawrence S, 2018
Add Your Review
Do you own this bike? We would love to hear anything good, bad, unexpected or that you have changed plus anything that a prospective new owner might find interesting or useful.
More Info
Check out this four part video review from Bike World.