Kawasaki Z H2 Review (2020)
"
The Z H2 is a true 200 bhp rocket ship that offers the confidence to be ridden by a novice. A engineering masterpiece that Kawasaki should be proud of.
"
What Is It?
The Kawasaki Z H2 is a premium naked bike and is powered by a supercharged Euro 5 compliant liquid cooled 998 cc inline four engine, producing 197.3 bhp at 11,000 rpm and maximum torque at 8,500 rpm. Ram air adds another 10 bhp on top.
Specs
Seat Height: Average (

830

 

mm / 32.7 inches)
Weight: Heavy (239 kg / 527 lbs)
Economy: Average (45 mpg / 6.3 l/100km / 15.9 km/l)
Range: High (190 miles / 306 km)
Power to Weight: Very high (0.824 bhp/kg / 0.615 kW/kg)
Top Speed: Very high (185 mph / 298 km/h)
Pros
Loads of smooth power and torque
Quickshifter
Suspension
Handling
Comfort
Brakes
Cons
Looks divide opinion
Huge exhaust
Hard seat
Heavy
What Is It Like?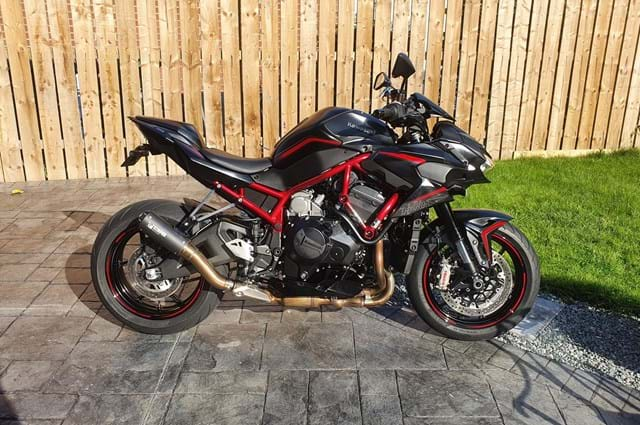 About me
I'm a 38 year old male, 6ft, who has been riding for about 12 years and had around 15 bikes.
Why did you choose it?
Supercharged performance
Build quality
Great specification
Comfortable position
Attractive price
What is good about it?
Acceleration is phenomenal
All day comfort
Reasonably economical compared to similar bikes
Quickshifter is one of the best
What could be improved?
Separate adjustments on the traction control, ABS and throttle response. Not pre determined modes.
It would be nice having wheelie control alongside the traction control like my Tuono.
Heated grips should be standard or at least a reasonable asking price, not £400 fitted.
The stock seat is a little too thin.
What is the economy like?
One of the best bikes for economy that I've owned. Cruising motorway you will see 150 miles to a tank before reserve. Fun twisty roads you will get 120 miles.
Any mods or upgrades?
I've upgraded to the comfort seat, which is a big improvement with only a slight gain in saddle height. It makes 8 hour rides more comfortable.
A DNA racing air filter for more noise and power gains to go along with the Scorpion red power exhaust, which removes the second cat and also helps shave 8 kg of unnecessary weight.
I'm planning the ECU remap to 240 bhp at the wheel next year along with an upgraded performance rear shock.
How is the engine?
It's the most flexible, powerful and smoothest engine I have ever tried. I've owned 170 bhp V-Twins, 200 bhp V4s and 170 bhp inline 4s.
This engine is a masterpiece. You can pull away in 6th at 30 mph without it hesitating. It has the same low down grunt as my 2020 Super Duke R. The same mid range as my 2019 Tuono Factory V4 and the same searing top end power of the Ducati Streetfighter V4.
Power is almost instant like an electric motor and it builds with very little friction getting in the way. There's sufficient engine braking when coming off the gas, without it being too intrusive.
It's worth revving higher for more power as it's very rewarding and not making you want to short shift all the time. Midrange grunt is the party piece.
How does it handle?
On the road absolutely fantastic. It soaks up bumps and imperfections on the road very well which makes it a great cruising machine. It makes my 2020 Super Duke R feel harsh.
There's enough adjustment in the suspension to dial in fast road handling if needed. I've lost traction 3 times on the rear when powering out of a corner, mostly due to the extreme power and the road conditions. An improved shock wouldn't have prevented this.
The bike's extra weight helps it feel more plush on the road, like driving a posh German car over a cheap French one.
I've never got myself into trouble on the corners with this bike. It always goes where I tell it to go and can hold a line perfectly either when going fast or going slow.
I did some back to back testing in the Cairngorms with my 2019 Tuono Factory and the  H2 impressed me with how well it performed A to B against the Tuono's electric Ohlins.
It doesn't squat too much under acceleration and doesn't dive under braking. I've never felt it understeer and the front feels very confident.
I might try some S22 tyres next time around as I'm very confident on them being sticky from my Super Duke R.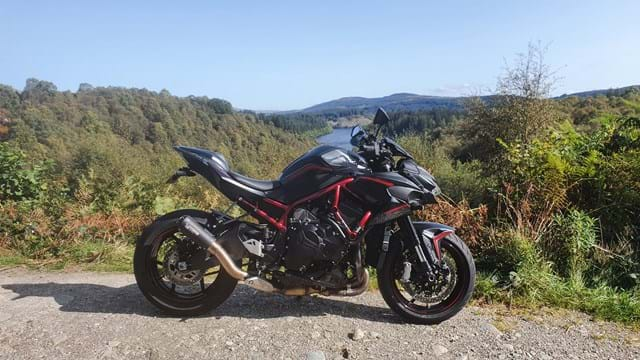 What are the brakes like?
They are more than adequate for the bike's power and weight for fast road use. Almost over engineered.
I've never had brake fade and I like to trail brake often. The few times I've had to brake very hard the bike slowed down without drama, with the ABS bringing me to a safe speed without feeling it intervene too much. The rear brake actually works, unlike some bikes.
There's a smooth action when applying pressure to the front. The bike can feel like it'll almost flip itself if grabbing a huge handful as there's just so much braking force and grip in the tyres.
Is it comfortable?
I was getting an aching bum after 2 or 3 hours on the saddle over fast Scottish country roads. I'd need to fidget and try work off the numb bum.
The problem is the foam is quite thin where the plastic bungs are located, just beneath the pointy bits of your bum. I changed it to the comfort seat and it's a world of difference. No aches at all after 8 hours of fast riding.
I did have to get used to the different angled handlebars compared to my other bikes. They seem a bit more curved than flat but once used to them it has never been a problem.
I've got slipped discs in my lower back and a fused disc in my neck. Often I get aches and pains sat on my sofa or car or on other bikes like my RSV4 or even my Tuono (until I raised the handle bars) but on the Z H2 I've never had any problems with my back, knees or wrists. My knee position is relaxed but it sacrifices ground clearance for maximum lean compared to super sports bikes.
How reliable have you found it?
I've not had any problems to date. The bike had its first service done at 600 miles, has always started and never had a problem to report.
What's the servicing frequency and cost like?
Dealers are willing to negotiate on servicing. I paid £120 for my first service at the dealer I bought it from and he offers discount on parts.
600 miles is the first service then yearly after that. Reasonable future service costs considering its got 200 bhp and is supercharged. It's about £20 more expensive to service compared to a ZX-10R and no more expensive than other bikes it competes with.
To sum up
I've owned all the super nakeds of late and I've test ridden all the bikes that I refused to want to own.
This is a clear winner in my eyes. A true 200 bhp rocket ship that can offer the confidence to be ridden by a novice. It can blow your socks off giving the beanstalk and can offer real comfort when others will cripple you.
It has the performance to keep up with and excel against the competition on the road. The Z H2 has so much character that I want to take it out over the other bikes in my garage.
A true engineering masterpiece that Kawasaki should be proud of. There's nothing else out there that can offer this unique supercharged performance like the Z H2. It sounds immense with the Scorpion when accelerating and the chirps of the supercharger when coming off the gas is addictive.
- Mark MC, 2020
Price Guide
Year
Dealer
Private
Part Ex
Mileage
2022
£16,000
£12,850
£11,250
1,200
2021
£15,550
£12,450
£10,900
2,100
2020
£13,650
£10,900
£9,550
3,700
How to use the price guide
Related Bikes
Kawasaki H2 SX SE - Faired sports touring version with single sided swingarm and cornering lights.
The Second Opinion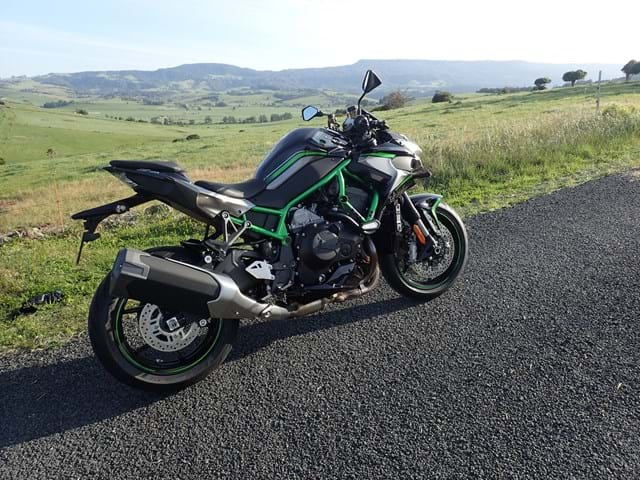 About me
I'm a 67 year old male, 180cm, with roughly 50 years of riding experience. At least 40 bikes owned in that time.
Why did you choose it?
Having owned many high performance bikes over the years, but recently moving to less powerful bikes, I considered going for power again. I test rode a lot of bikes then tried a couple of versions of supercharged Kawasaki's and was hooked.
What is good about it?
Breath taking power, quite comfortable and it fits me very well. It's very easy to ride at legal speeds too which is useful.
To my eyes looks quite good and has a real presence when out in the open. It's only ugly in pictures and inside. 
What could be improved?
Maybe offer a higher priced version with more upmarket suspension too. As is, this variant is very well priced for what you get.
What is the economy like?
It's getting better as I put more miles on it. Between 5.2 and 6.4 litres per 100k so far (44 - 54 mpg). At last fill displayed range was over 250 km / 155 miles and I'm happy with that.
Any mods or upgrades?
Radiator guard
Heated grips
Auxiliary power plug
Rear bobbins
Frame sliders
Comfort seat
I haven't changed the exhaust yet as I do not want to attract unwanted attention on a bike this fast.
How is the engine?
Extremely smooth, massive torque, near perfect fuelling...power is phenomenal.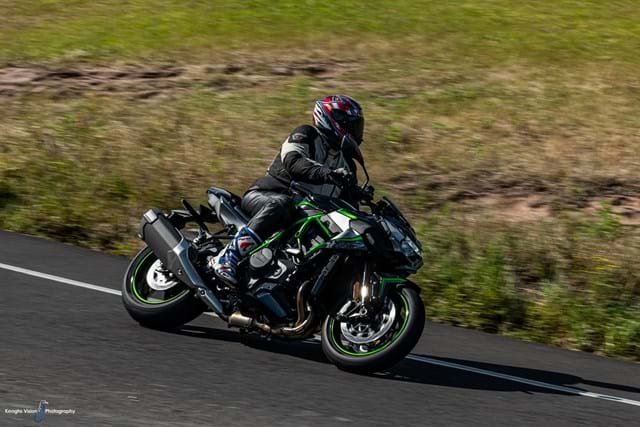 How does it handle?
When moving, this bike feels light and flickable. Very stable and handles even better as you go faster.
The front suspension is super and back shock works better than many of the reports I have read. The roads I mostly ride are quite bumpy.
Hope to do a track day later this year to see how it fares in that environment.
What are the brakes like?
I love the brakes. Gentle initial bite , progressive power and lots of feedback. You notice the bike's weight only when braking hard into downhill corners.
Is it comfortable?
Yes, it fits me well. On the demo bike I did not like the way my knees dug into the bikes frame, however, fitting the accessory comfort seat lifted me about an inch and my knees now fit where I like them to be.
How reliable have you found it?
No problems so far. Quality appears to be first rate.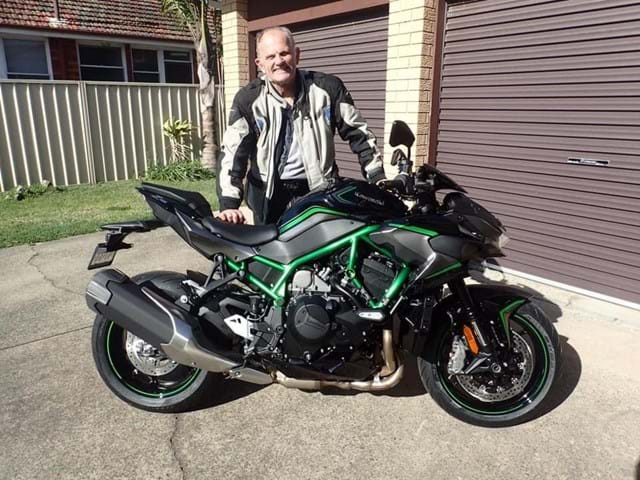 To sum up
The Z H2 is pleasant to ride then when needed, or when you choose to, it transforms from a friendly Labrador to a Rottweiler. It has increased my bodies production of adrenaline by a large degree.
- Peter M 2020
Add Your Review
Do you own this bike? We would love to hear anything good, bad, unexpected or that you have changed plus anything that a prospective new owner might find interesting or useful.