Kawasaki H2 SX SE Review (2018)
"
It's not until you ride one, then look back at it with a wry smile and think to yourself, it's a wolf in sheep's clothing.
"
What Is It?
The Kawasaki H2 SX SE is a top of the line sports touring bike powered by a liquid cooled 998 cc inline four cylinder engine, producing 197.3 bhp at 11,000 rpm and maximum torque at 9,500 rpm. Like the ground-breaking H2 the engine is supercharged, adding around 10 bhp with ram air.
Specs
Seat Height: Average (

835

 

mm / 32.9 inches)
Weight: Very heavy (260 kg / 573 lbs)
Economy: Average (45 mpg / 6.3 l/100km / 15.9 km/l)
Range: High (190 miles / 306 km)
Power to Weight: Very high (0.758 bhp/kg / 0.565 kW/kg)
Top Speed: Very high (185 mph / 298 km/h)
Pros
Supercharger sound
Smooth power
Quickshifter
All the toys
Looks
What Is It Like?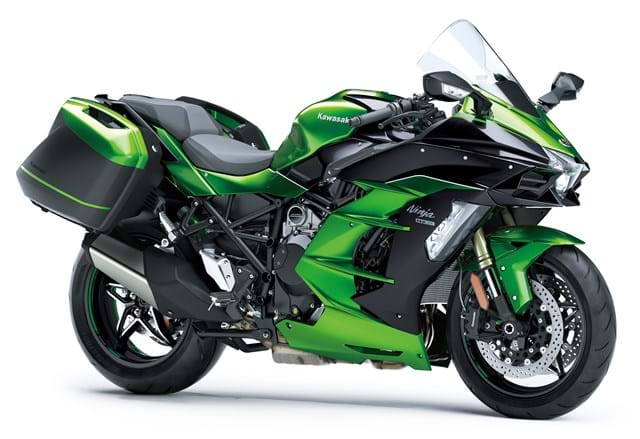 Choosing The SX SE
I purchased my H2 SX in May 2018, trading in what turned out to be a very unreliable BMW K1600GT. I had not initially considered swapping bikes having owned the BMW just 14 months but after an extended test ride I thought this would be a good stable companion to my ZZR1400.
I was sold, the rest is history. One year on, with 2,800 miles on the clock and a trip to France for the D Day beaches under its belt it's due the annual service this Friday.
Suspension
I am a rider that appreciates the benefits of learning how to set up the suspension on a bike and past experience had taught me that stock settings were not suitable for all riders but were a good starting point all the same.
Given I am tall, lanky and probably heavier than other riders my first tasks were setting up the suspension on the bike, measuring static sag and adjusting rebound and damping for my kind of riding so that I had confidence in the bikes handling on the UK roads.
I found the stock suspension settings on the bike far too harsh, overly firm and I was feeling it though my wrists and arms more than I would expect. However, after some changes to front and rear the bike is now set up and I have a lot more confidence in the feedback, especially from the front end.
There is no semi active suspension on the early 2018 models but if you are like me and like to set it up yourself then that's not an issue. However, if you wish to have the ease of the bike doing it all for you, throwing your leg over and just riding there is now the SX SE+ complete with semi active suspension.
What's Good?
Well for me it's a striking looking bike that always draws in a crowd when you pull up and park, there are always admirers and lots of questions to answer.
It's not until you ride one and then look back at it next time with a wry smile and think to yourself, it's a wolf in sheep's clothing.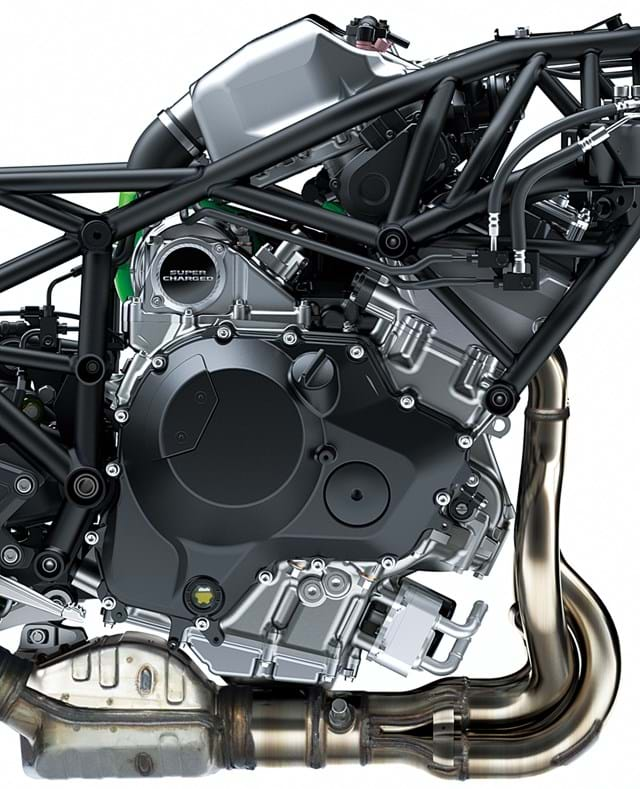 Engine
Its sublime, silky smooth, and pulls through the gears gaining pace with ease. Before you know it you need to ease off or risk some points on your license.
The supercharger can be heard chirping away from time to time and it's a reminder its waiting on command to deliver when needed. The quick shifter is probably one of the best I have ever used, again smooth between gears either when pushing hard or when touring where the engine is under less load and you are in cruise mode.
Reliability
For me I have no complaints, everything is as it should be but I have seen the occasional error codes reported from fellow riders, this mainly seems to be a fuelling error code caused by poor quality fuel that can be reset or will clear itself at next fill.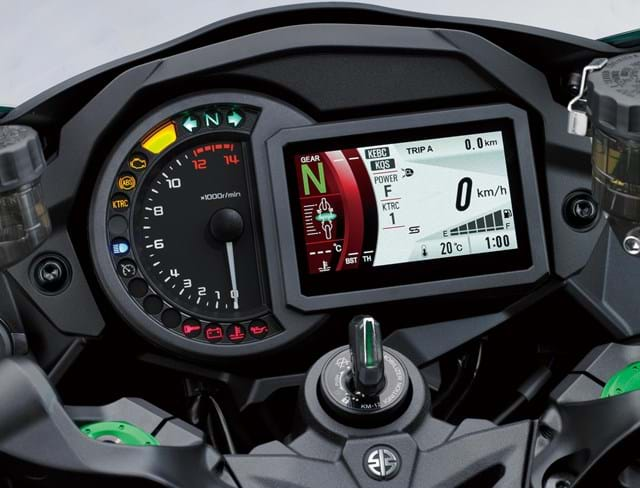 Equipment
There's all the usual power modes on the Kawasaki H2 from low to high, three traction control settings and even launch control, although I have never bothered with this function myself.
The TFT dash is clear and easy to read with the ability to flick from white to black backgrounds and back again on the move. There is a selection of different displays to choose from, touring mode, sports mode etc although these are best selected while stationary.
There is also a lean angle reading thrown into the TFT display, heated grips for those cooler mornings, cruise control for any long motorway stints and cornering lights.
The screen for me is fine, I take a lot of the airflow onto my shoulders, but a shorter rider may experience additional buffeting around the head.
I've not toured two up on this bike, partly because I'm not sure my wife would find the rear seat comfy for miles on end and the panniers are easily filled, especially if you want to pack some tools and repair kit for the roadside.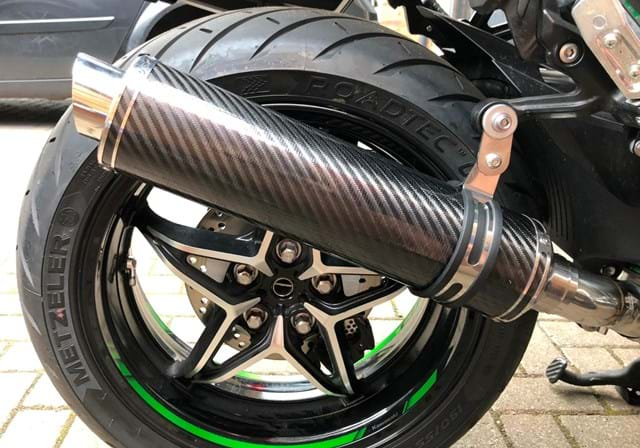 Tyres
My first change to the stock bike post collection was the tyres. I never really warmed to the standard Bridgestone S21's that came with the bike, especially when cold and the rear started to square off far too early for my liking so it was not long before I opted for a new set of Metzeler 01's with the harder centre for touring without losing the edge feel when you come to the twisties.
The tyre is not to everyone's liking, but I stuck with the next generation up from the Z8's running on my ZZR as I personally like the feel they give on the road. It also inspired even more confidence in the front end once up to temperature but a lot of other H2 riders have opted for the P5's, the feedback from others has also been very positive.
Mods
It was not long before I was looking at what options there were for the bike, shortly after the initial 600 mile oil change. So, it's a touring bike right over a sports bike?
The first item on the shopping list was a new sat nav, I had sold my old device that was only compatible with my last bike but wanted to have a device to use with all the base camp files I have created and will continue to create so I opted for the Garmin 595LM device, it's the base version of what BMW provide in their range only cheaper and it's easier to get additional mounting extras if needed.
Extra's never stop at one item, do they? Of course they don't but as the bike was new to the market the extra's produced by some well-known motorcycle brands were playing catch up, so I had to play the waiting game. That waiting game resulted in a Scottoiler being ordered and installed just behind the left hand side fairing, love them or hate them for me they help with prolonging the chain life and for me with thousands of miles of touring in all-weather it's a bonus to have one fitted and one less thing to worry about.
Next came the tail tidy and after-market can from SP engineering in Frome, great value and quality products. The stock end can weighs a lot, so I could not wait to get it off for a lighter alternative and to be honest the alternative sounds better too.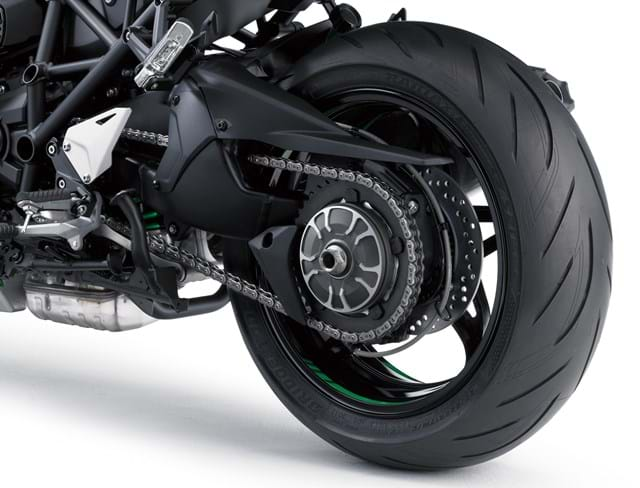 What do I like
That supercharger chirping away all day
Handling (now new rubber and suspension is set up)
The smile it puts on your face
What I don't like
Only the heated grips button is back lit
OEM crash protectors look and feel cheap
OEM seat is not the comfiest
To Sum Up
It's a Tourer not a Sports bike, it just goes like a sports bike.
- Richard H, 2019
Price Guide
Year
Dealer
Private
Part Ex
Mileage
2021
£17,300
£13,850
£12,100
2,100
2020
£16,750
£13,400
£11,750
3,700
2019
£15,300
£12,250
£10,750
5,100
2018
£13,000
£10,400
£9,100
4,900
How to use the price guide
Related Bikes
Kawasaki H2 SX SE+ - Higher spec version with fast electronic semi-active suspension, special paint and Brembo Stylema calipers.
The Second Opinion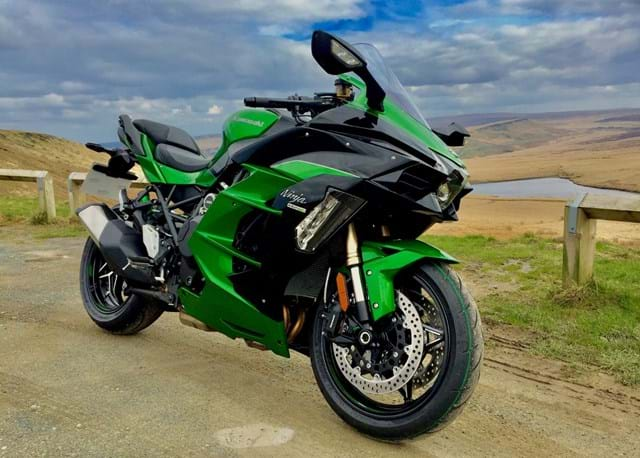 Moving Up To The SX SE
I picked up my new H2 SX SE about midday.... and didn't return home till 8.30pm! Having had a few Kawasaki's in the past, like the ZXR750 H2, ZXR750 L1 and my last bike a GTR1400 I was used to the Kawasaki feel and didn't deem that a test ride was necessary......and I was right all expectations were exceeded. The GTR1400 was a great bike, reliable and comfortable but just a bit to heavy.
First Impressions
Once aboard the H2 SX SE the lack of weight immediately instilled a lot of confidence and throttle response was instantaneous ..... the grin was getting broader than my helmet was allowing!
The 600 mile run in period states a maximum 4,000 revs to allow everything to bed in.....but there are varying schools of thought on how a motorcycle should be run in....I have opted for a mediocre approach.....not to light and not redlining.
Equipment
For me the highlight is the chirping of the supercharger as it breaks the sound barrier. The cornering lights are an interesting addition and certainly do their job albeit to the bewilderment of other motorists.
Heated grips work progressively enough for me wearing Held Air N Dry gloves....even having to turn down from the maximum setting as they were getting too hot.
The TFT dash is a delight with many different configurations that should suit both the sports rider and tourer alike. The side stand lug, for kicking down, seems quite small but you soon get used to it.
Cruise Control
The GTR lacked a cruise control to which I added a Kaoko throttle lock which sort of resolved the issue.....the H2 SX SE has a factory fitted cruise control that works perfectly, maintaining the preset speed and it's easily adjustable from the left hand grip. A centre stand is fitted and after the GTR it's easy to use. There is even room under the rear seat for two disc locks.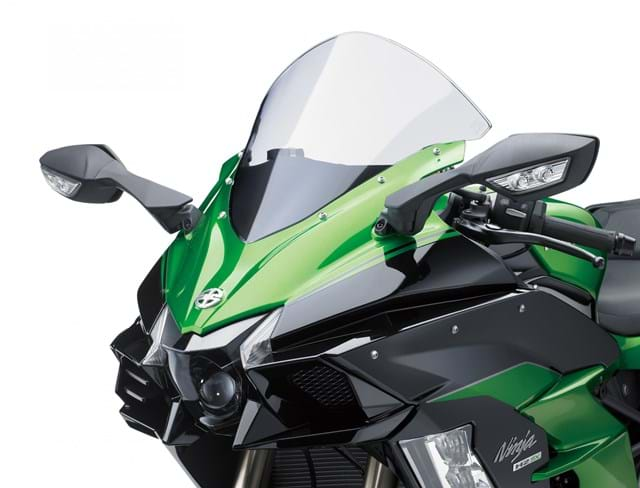 Screen
The screen provides adequate protection as the riding position is more sports orientated than touring...although the addition of either a screen deflector or a larger double screen may provide more protection if required.
Quickshifter
The quickshifter both up and down is perfect but requires a firm action when going down....it will blip between downshifts.
Brakes
After coming from the GTR with linked brakes, the rear brake of the H2 SX SE seems quite lame but is getting better as the miles mount up so could be just down to bedding in. 
Economy
I haven't as yet done enough mileage to quantify the fuel economy, as the run in period is only just over, but there are forum reports of 200 miles a tank albeit with a conservative wrist! The Bridgestone T31's work adequately once sufficiently warmed.
Overall extremely happy.
- Trevor K, 2018
Add Your Review
Do you own this bike? We would love to hear anything good, bad, unexpected or that you have changed plus anything that a prospective new owner might find interesting or useful.