BMW K1600B Review (2017)
"
It has all the power you could want, brilliant handling and can get you across continents more comfortably and faster than pretty much anything else.
"
What Is It?
The BMW K1600B is a premium touring bike with all the toys and is powered by a Euro 4 compliant 1,649 cc inline six cylinder engine, producing 158 bhp at 7,750 rpm and maximum torque at 5,250 rpm.
Specs
Seat Height: Low (

780

 

mm / 30.7 inches)
Weight: Very heavy (336 kg / 741 lbs)
Economy: Average (40 mpg / 7.1 l/100km / 14.2 km/l)
Range: High (230 miles / 370 km)
Power to Weight: Average (0.470 bhp/kg / 0.351 kW/kg)
Top Speed: Very high (160 mph / 257 km/h)
Pros
Makes it easy to cross continents
Excellent comfort
Smooth power
All the toys
Handling
Brakes
Cons
Big and heavy
Low speed lag
A bit floaty
Rear brake
Audio
What Is It Like?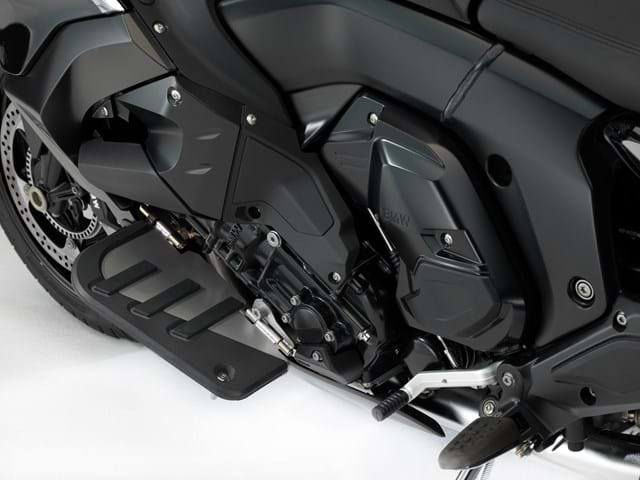 The K1600B
There's no getting away from it - the K1600B is a large motorcycle in every sense. Physically imposing, pulled by an immense six-cylinder engine and fully loaded with all the equipment BMW thinks you are going to need to spend many hours in the saddle.
If you like your bikes both big and powerful, this has a lot going for it. Especially if you want something almost no-one else has got and you don't mind being asked if you're Batman all the time.
Power
On the road, it feels very different from most bikes. There is enormous power, BMW claim 160 bhp, which is delivered in exceptionally smooth fashion from the six cylinders through the shaft drive to the rear wheel.
Acceleration isn't quite rocket-ship but it's enough to make you realise you need to hang on if you really crack the throttle in third. Or fourth. Or fifth. There's enough to get the front wheel off the ground if you're so inclined.
Strangely, though, it doesn't generate the same excitement you might get from many other bikes, probably because it is so smooth that it does feel a bit characterless.
Low Speed Lag
One thing you don't get used to is the throttle response at low revs though. There are plenty of reports around the web of 'lag' when you open the throttle from idle. I didn't really notice this on my test ride so I dismissed these as just your standard moans but the more I miles I do, the more I am aware of it.
Even in 'Dynamic' mode, which my bike has been in since it past the running-in mileage, there is definitely a pronounced lag between twisting your wrist and the engine getting its first injection of fuel. It's not unsafe and it isn't going to leave you behind anything coming off the lights for more than a second or two but it's not what you expect from a bike with 160bhp.
Suspension
On motorways it feels slightly disconnected from the road, giving you very little feedback. This might be due to the Paralever suspension, but it's not a feeling I had on my previous BMW - a R1200RT from 2014.
Maybe it's what K1600 riders want but to me it's disconcerting. It feels like you're floating rather than riding and when you get a bit of turbulence-induced wobble, it's as if something's loose between you and the road. You do get used to it though.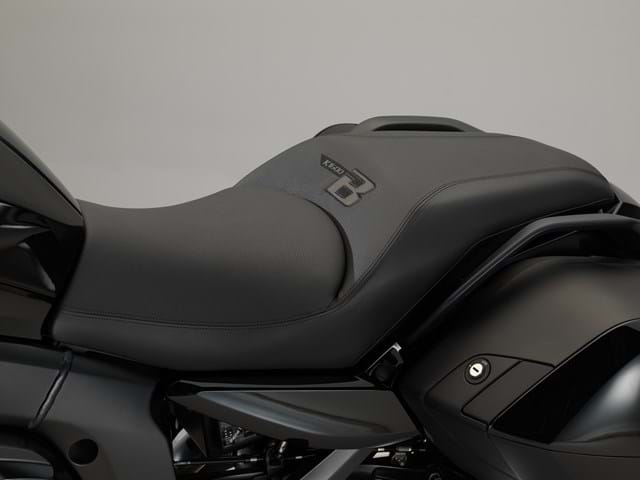 Handling
Tackling bends is a similar experience. This thing can get down low and power round anything. The weight and the low centre of balance mean terrific grip and confidence so you can swing round sweepers and hairpins easily without losing your line. But once again, the bike feels like it's gliding rather than hustling. It's very comfortable, and it's very secure, but somehow it's not very involving.
The bike makes everything very easy but is that always what you want from a motorcycle? I can easily keep up with most sports bikes but I suspect the sports bikers are having more fun than me.
On the other hand, I can do well over 220 miles without needing to stop for fuel or because my bum's gone numb. I've also navigated some of Wales's narrowest roads totally happily - single tracks with grass growing down the middle are no problem and the unobtrusive traction control even keeps me happy on gravel surfaces.
Brakes
The brakes can drag you back to sensible speeds with ease. They're linked via the front brake lever and can stop you from three-figures to zero with just two fingers.
They're not linked via the rear pedal, though, and if you use that on its own there's a weirdly long travel before you get much effect and even then it's a bit gutless. You're not going to want to trail the rear brake very often.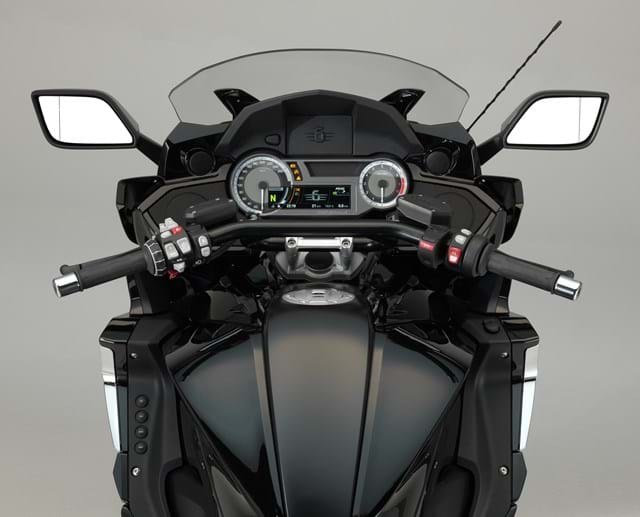 Equipment
There are plenty of toys to stop you getting bored - rider modes, suspension settings, on board computer. The BMW audio package gets you a really half-hearted FM only radio. The radio can't be connected to your phone with Bluetooth, although there is an audio-in port in the right pannier for a wired connection and it has a very unreliable Bluetooth connection to your helmet comms.
Streaming the bike's radio to my helmet speakers works fine for a few seconds then dissolves into completely broken and garbled rubbish and no amount of repairing and firmware updating has improved it. I suppose you could just use the bike's speakers but they're not practical over about 30 mph.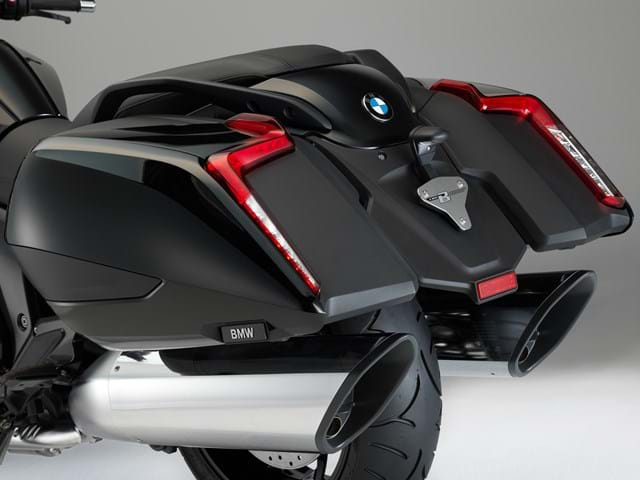 Storage
Other niggles - for such an enormous bike that is intended for touring, there's not much actual luggage capacity. The panniers are okay but not huge. You certainly aren't going to get any camping gear in them but it's fine if you're using hotels so all you need are clothes and a toothbrush.
Most annoyingly, there are no storage spaces in the cockpit area at all. If you want somewhere to put your sunglasses, passport, Eurostar ticket and phone you'd better be wearing a jacket with decent pockets.
To Sum Up
Would I buy another one? Well, this bike is exceptionally capable. It has all the power you could want, brilliant handling, and can get you across continents more comfortably and faster than pretty much anything.
When you get to those mountains it'll pull you up to the top as quick as you want to go and you'll probably be the only person riding one when you get there. But it might not excite you very much in the process.
Add to that the other quirks and compromises and I don't think it's something I would spend twenty grand on again. Maybe decide whether you want a cruiser or a luxury tourer and buy that, instead of something that's a bit of both.
- Duncan S, 2018
Price Guide
Year
Dealer
Private
Part Ex
Mileage
2021
£17,950
£14,350
£12,550
2,100
2020
£16,300
£13,050
£11,400
3,700
2019
£15,100
£12,050
£10,550
5,100
2018
£14,300
£11,450
£10,000
4,900
2017
£14,050
£11,250
£9,850
6,700
How to use the price guide
Add Your Review
Do you own this bike? We would love to hear anything good, bad, unexpected or that you have changed plus anything that a prospective new owner might find interesting or useful.