Lexmoto Titan Review
" I would recommend this bike to anyone new or old to biking as it's a great commuter bike. "
✓Value for money, road presence, brakes, storage, economy, easy to work on
×Range, headlight, slightly under powered
What Is It?
The Lexmoto Titan is a budget learner friendly scooter which replaced the Lexmoto FMS. It's powered by a Euro 4 compliant air-cooled 125 cc single cylinder four stroke engine, producing 7.2 bhp / 5 kW at 7,500 rpm.
Launch RRP: £1,400
Top Speed: 60 mph / 97 km/h
Economy: 90 mpg / 3.1 L/100km
Range: 110 miles / 177 km
Seat Height: 780 mm / 30.7 inches
Wet Weight: 118 kg / 260 pounds
Power to Weight: 0.059 bhp/kg / 0.044 kW/kg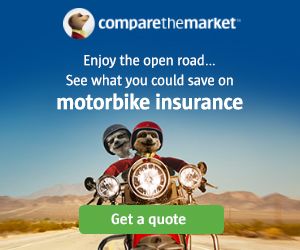 What Is It Like?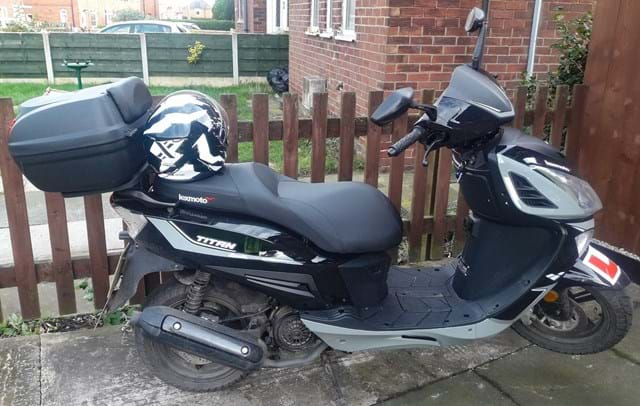 About Me
This is my first bike as I've just passed my CBT and I'm loving it!
What's Good?
The bike is a great size, I'm 5ft 8 and I'm not quite touching flat footed. The dashboard is basic / analogue but has all the info you need.
It has a good road presence and rides really well, the dual braking system is great and helps it feel stable. The bike has good under seat storage and space for a back box.
Any Downsides?
If I could change anything I'd have a bigger fuel tank and the high beam doesn't quite shine right, but this may just be my bike.
To Sum Up
I would recommend this bike to anyone new or old to biking as it's a great commuter bike, it handles city traffic with ease and the price is fantastic for a new bike.
I would always recommend buying it from a garage / dealer you can get along with as with all 125cc bikes the service intervals are quite close.
- Andy MP, 2019
Price Guide
Year
Dealer
Private
Part Ex
Mileage
2017
£950
£750
£650
4,300
2018
£1,000
£800
£700
5,100
2019
£1,100
£900
£800
3,700
2020
£1,300
£1,050
£900
2,100
The Second Opinion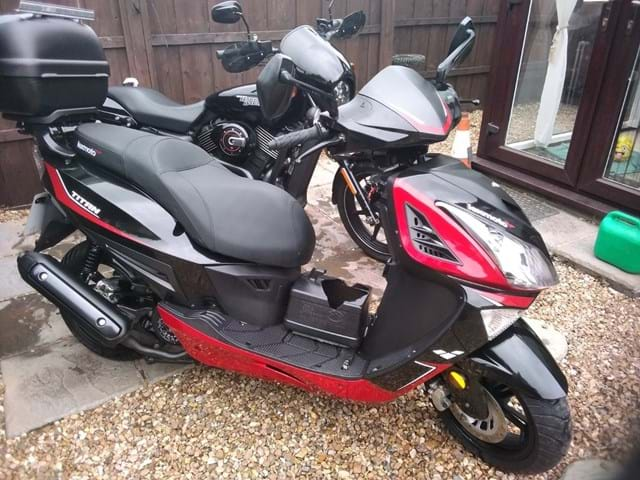 Lexmoto Titan 125cc (2020)
About Me
I'm a retired (early) male biker who is out every weekend somewhere. I have over 45 years experience on bikes and ownership of about 25. Service and repaired myself.
Why did you choose it?
Value for money - I wanted a cheap 'runaround' to save putting miles on my Harley Davidson.
I use it a lot to go fishing and it carries me and my tackle at the speed I need without any effort on the part of the bike or me.
With around 90 mpg and cheap insurance it's really a joy to own. Plenty of underseat storage and also a handy lockable 'glove box'.
I did a bit of research and found it has many of the components that are on the bigger, more expensive bikes. Why pay hundreds of pounds more for the same things?
What is good about it?
Is a basic bike with a good engine and equipment for the money. Does not have all the mod cons like a digital fuel gauge, clock etc. but are these really needed when all you are doing is a short commute / hop?
It starts first touch every time and runs smooth. The engine is easy to work on due to the removable access panels - valves can be adjusted in about 10 mins which can be a problem on some smaller bikes with restricted access.
What could be improved?
I guess some would like more speed but after all it's a 125 cc so you should know what you are buying.
Some of the plastic panels look quite 'fragile' and if you intend to work on it yourself you will need to know how to remove them without just tugging which WILL damage them.
What economy are you seeing?
Around 90mpg without trying too hard.
Any mods or upgrades?
I have put a box on to carry bits and pieces.
Also brought a Lextek alarm which you just plug in. It offers an immobiliser and alarm as well as a 'remote start' - which I cannot understand the reason for? I always use a battery tender as I like my bikes to be 'battle ready'!
Engine
It's powerful enough for commuting or just skipping from town to town - haven't tried it on a long run over 50 miles but no reason why it should not perform well as it's air cooled with fan assist. Would not hesitate doing a 100 mile + journey if I needed to.
Handling
No issues whatsoever once you put the springs to the setting required - being 90 kg for me that's the highest point.
Brakes
Dual braking is standard so stopping quickly creates no issues.
Comfort
Spot on for a solo rider - might be a little cramped 2 up but that's not likely to happen with me.
Reliability
No issues but if there were any parts are readily available, cheap and easy to install.
How would you sum up the model?
Excellent value for money.
- John B, 2020
Add Your Review
Do you own this bike? We are after anything good, bad, unexpected or that you have changed plus anything that a prospective new owner might find interesting or useful.