Vespa GTS300 Review (2008)
"
The handling is great, it takes pot holes in its stride, the tyres hold the road around corners at any speed and if you need a little help from the ABS and traction control they're spot on.
"
What Is It?
The Vespa GTS300 is an A2 licence friendly retro scooter and is powered by a Euro 3 compliant liquid cooled single cylinder 278 cc four stroke engine, producing 21.2 bhp at 7,600 rpm and maximum torque at 5,000 rpm.
Specs
Seat Height: Low (

790

 

mm / 31.1 inches)
Weight: Average (158 kg / 348 lbs)
Economy: Good (65 mpg / 4.3 l/100km / 23.0 km/l)
Range: Average (140 miles / 225 km)
Power to Weight: Low (0.133 bhp/kg / 0.099 kW/kg)
Top Speed: Average (82 mph / 132 km/h)
Pros
Performance
Handling
Comfort
Looks
Cons
Underseat storage
Check for rust
Small wheels
Top speed
What Is It Like?
My Experience
I have been riding Vespas for 35 years for pleasure and commuting. I've actually lost count of how many scooters I have owned in this time, but this is my 5th Vespa GTS with a mixture of 250cc -300cc. I picked up my white GTS HPE from Dyrons in Leeds (fab staff and shop).
First Impressions
The 15 mile ride back home to York could not have been more enjoyable. The smile on my face got bigger and bigger and if I wasn't committed to a prior engagement I don't think that I would have stopped riding it until it was empty.
This scooter is fantastic - from the instant response from the throttle no matter what speed range, like it's got a turbo, straight up to the limiter on the speedo.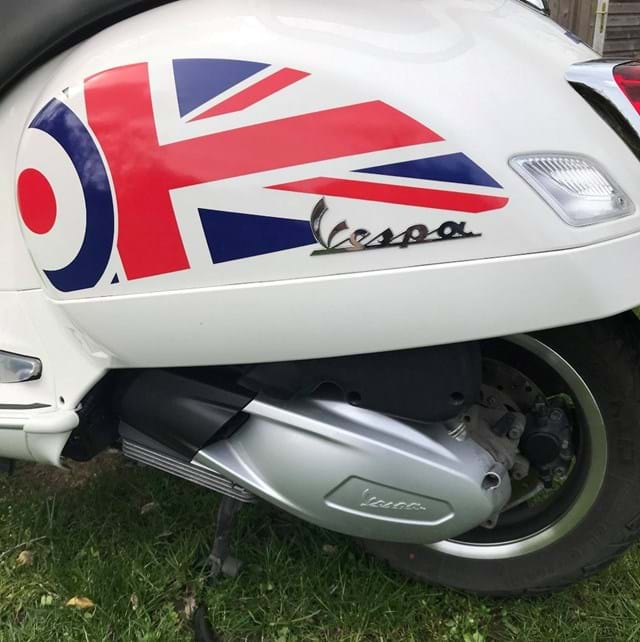 Handling
Vespa claim a 12% power increase but it feels like a lot more. The handling is great, with no 30 mph speed wobble like its predecessors, it takes pot holes in its stride, the tyres hold the road around corners at any speed and if you need a little help from the ABS and traction control they're spot on.
It's got a new front end which includes a new horn casting, which is a 946 lookalike, smaller mirrors but they still do the job and a totally new HPE engine which stands for High Performance Engine. It sounds different to the old engine and runs so smooth.
Comfort
The seat is comfy so I am looking forward to long summer rides and the under seat compartment holds an open face helmet with room for gloves and scarves. Inside the tool box it has a USB point which will come in handy for charging my phone.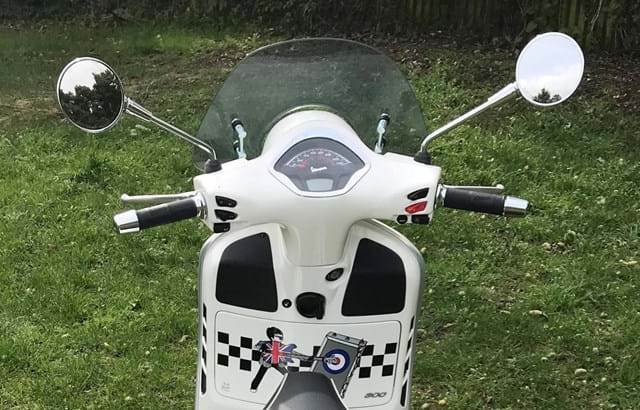 Any Downsides?
The only negative I have, yes there is one, is that the fuel tank is smaller at 7 litres. The old models were bigger but I am getting 115 miles to a full tank.
To Sum Up
I have covered 500 miles now and overall this scooter, in my eyes, takes over from its predecessors - the Mods' rally 200 & scooter boys' favourite P200. I think it's the best Vespa scooter out there! Well done Piaggio.
- Gary WB, 2019
Price Guide
Year
Dealer
Private
Part Ex
Mileage
2021
£5,300
£4,250
£3,700
2,100
2020
£4,900
£3,950
£3,450
3,700
2019
£4,550
£3,650
£3,200
5,100
2018
£4,200
£3,400
£2,950
4,900
2017
£3,900
£3,150
£2,750
6,700
2016
£3,650
£2,900
£2,550
8,500
2015
£3,400
£2,750
£2,400
10,300
2014
£3,200
£2,550
£2,250
12,100
2013
£3,000
£2,400
£2,100
13,900
2012
£2,850
£2,300
£2,000
15,700
2011
£2,750
£2,200
£1,900
17,400
2010
£2,650
£2,100
£1,850
19,100
2009
£2,600
£2,050
£1,800
20,700
2008
£2,550
£2,050
£1,800
22,300
How to use the price guide
Related Bikes
Vespa GTS125 - Closely related learner friendly model.
The Second Opinion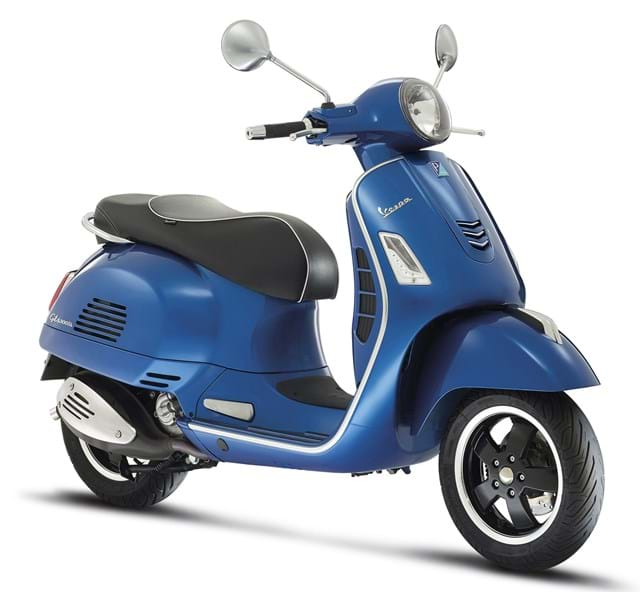 Any Rust Issues?
The Vespa GTS300 is a great all round scooter with comfort, reliability and also economy. Some say the biggest problem is the rust factor, but for me personally I've not had this problem. I've had a 2007 model and a 2015 model with no rust issues at all, so mine must have been a Monday morning shift on the paintwork rather than a Friday afternoon lol!
What About Wobbles?
Then there is the "death wobble". You may wonder what that is, well it's a wake up call riding at low speed when you feel the handlebars shaking violently! I did have that on my 2007 model but not on my 2015 model and I noticed a different set up on the front shock absorber which must have fixed the issue.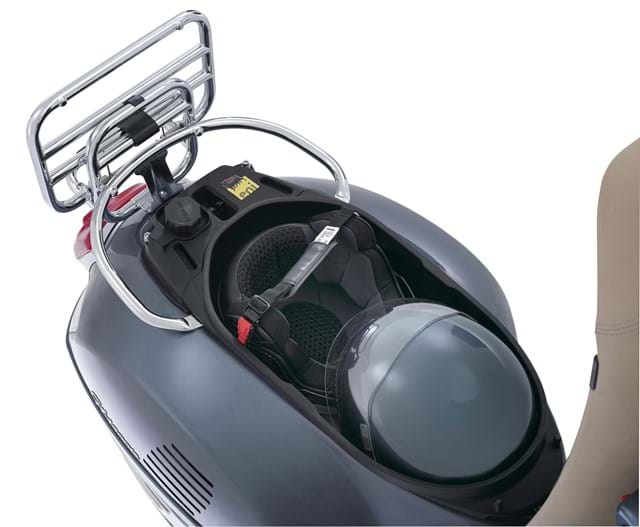 How Is The Storage?
It's quite good under the seat, but there are only a couple of open face helmets that will fit under the seat, so ask about which will fit before buying.
Comfort
My wife and I can ride all day long on the GTS with no issues at all. It is effortless riding and has great power delivery two up.
To Sum Up
I would recommend a GTS to anyone, but make sure you have a good look underneath for the dreaded rust, especially by the battery tray and the seams along the front. I hope this helps any one wanting to buy one.
- Martin R, 2019
A Few More Thoughts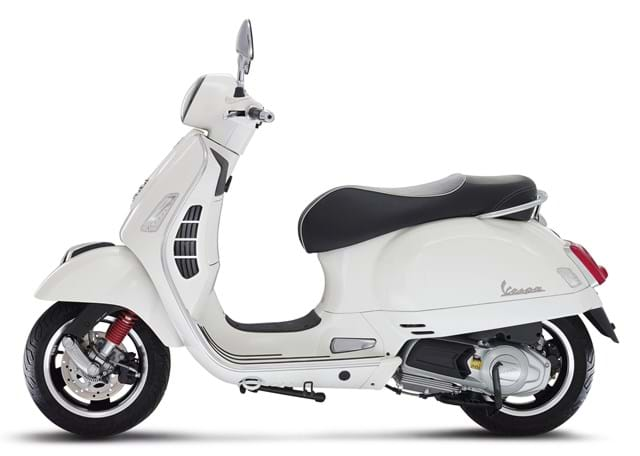 Why The GTS300?
The 2017 Vespa GTS 300 Super is a practical and reliable scooter with classic Italian style. I must confess when it comes to scooters my opinion is a little divided. It's not that I don't like them, I do very much but quite often I feel that they could offer a bit more for the price. Many do seem overpriced for what you do and don't get!
The GTS 300 really stood out for me firstly because of the price. At around £5,000 for the Super I feel it represents quite reasonable value for money.
The second reason it stood out is the classic Italian styling. Now I'm not necessarily against the sporty styling of most modern scooters, in fact some look quite good, but some of the essence of what a proper scooter is seems to have been lost with them. The Vespa by contrast is true to its roots giving it an appearance of pure style and sophistication.
Engine
While the styling is unmistakably classic the engine is modern and up to date. The Euro 4 compliant 278cc liquid cooled engine produces 22bhp and 22.3nm of torque, more than enough to propel the scoot to around 85mph with a comfortable cruising speed of around 70mph.
Equipment
The Vespa isn't without modern safety features either. Featuring both ABS and traction control alongside an upgraded front fork with a two-way pivot.
The up-rated front suspension makes a noticeable difference to the handling when compared to the older 250cc model.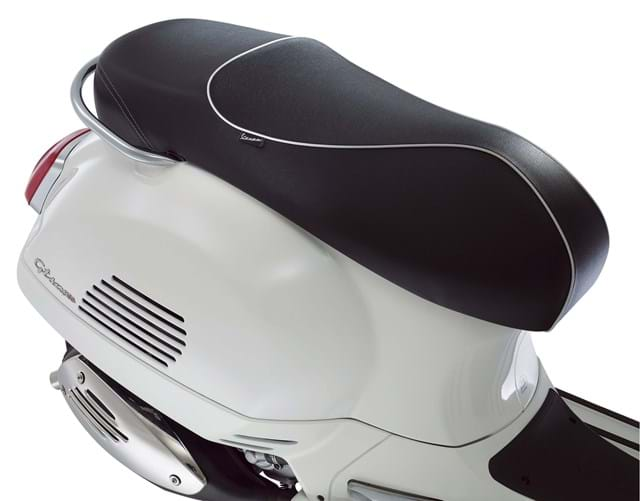 Handling
When riding along I felt quite at home on the GTS, the seat is very comfortable and there is plenty of leg room even if you're a bit on the tall side.
There was something of a grown up feel to the Vespa as well compared to other scooters I have owned or ridden. I found the power to be quite acceptable and breaking reassuring enough. Town and twisty country lane riding is a pleasure and while the fuel tank is quite small I got the feeling that long journeys would be entirely possible and comfortable on this scoot.
Storage
It would of course be a sin to talk about a scooter without mentioning storage. The Vespa features under seat storage, as you would expect, but this isn't the biggest space in the world only having room for an open face helmet at best. It's still big enough to carry your bag and some other bits though.
There is also a glove box which again is a bit small, mostly due to the radiator and fuse box but you do get a USB charging point so that's a plus. A bag/helmet hook can also be found at the front of the bike which is sturdy enough as long as you don't hang anything too heavy from it.
Finally, there is also a fairly sturdy rear rack to which you can strap a decent size bag or fit a top box. An official colour matched Vespa one is available.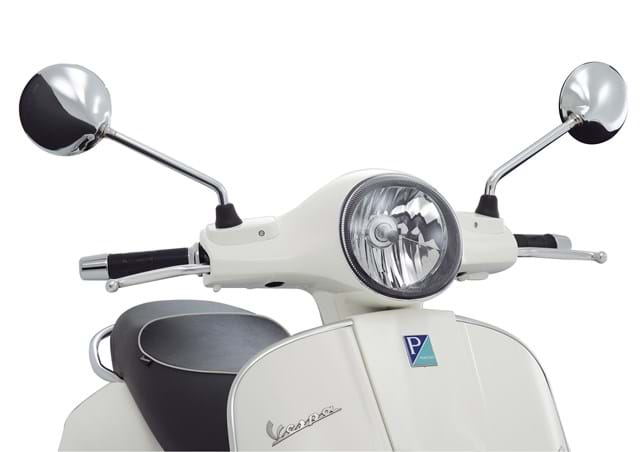 Finish
Body work wise the Vespa is mostly metal apart from a few small plastic bits. This means it is quite solid however keep an eye on the bottom front panel behind the wheel as this is a known rust point. Overall build quality in my opinion is very good.
To Sum Up
Overall I was impressed by the Vespa. The style, comfort and surprisingly good handling, along with the reasonable price tag, make it a good option for someone looking for a daily commuter that has enough power to take on the odd longer journey at the weekend. I also love the fact that it doesn't try to be anything other than what it is, a scooter and a good one at that.
- A Very British Biker, 2017
More Info
Check out this video review from A Very British Biker.