Triumph Speed Twin Review (2019)
"
This is much more bike than I ever thought I would own or ride, but I couldn't be happier with it. From the standpoints of looks, performance and comfort this is by far the best.
"
What Is It?
The Triumph Speed Twin is a retro style bike and is powered by a liquid cooled 1,200 cc parallel twin engine, producing 95.9 bhp at 6,750 rpm and maximum torque at just 4,950 rpm.
Specs
Seat Height: Average (

807

 

mm / 31.8 inches)
Dry Weight: Heavy (196 kg / 432 lbs)
Economy: Average (50 mpg / 5.6 l/100km / 17.7 km/l)
Range: High (160 miles / 257 km)
Top Speed: High (120 mph / 193 km/h)
Pros
Lighter than the T120
Low down torque
Well balanced
Looks great
Cons
Needs a tail tidy
Still quite heavy
Wind protection
Range
What Is It Like?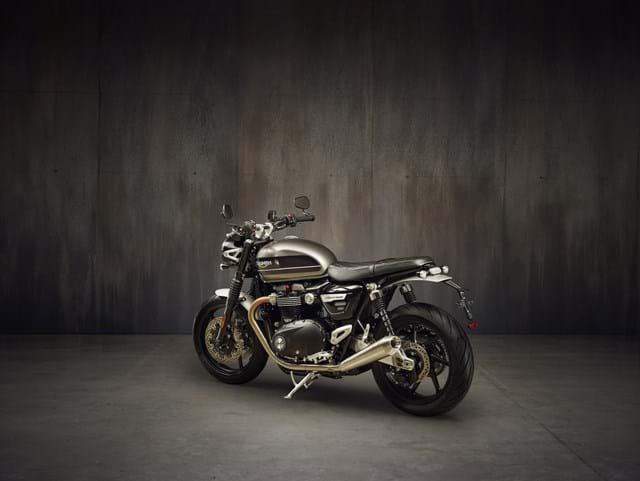 My Triumph Speed Twin And My Soul Mate!
Before I begin telling you my opinion about the 2019 Triumph Speed Twin I bought a few months ago, you should know a couple of things about me.
Firstly, I know nothing about mechanics, engineering, or about motorcycles in general! I am simply a normal person who has been riding for a large part of their life. We'll not say how long!
Secondly, I am female. I'm 5'7" and by no means a delicate, shrinking violet, but I definitely don't have the upper body strength of your average man. This is relevant as this is a bigger bike than I'm used to riding. My aim here is to provide an honest, average person's assessment of Triumph's latest addition to their Bonneville range.
My Background
Let's clear something up from the beginning here, just so we're on the same page: I LOVE THIS BIKE! I have been riding since I was 17 years old and I have owned several bikes over the years, including a Honda CB550, a Kawasaki GPZ600R and a Suzuki SV650.
Right before the Speed Twin, I owned a 2014 Triumph Street Triple. I had always been fascinated by Triumph and was very excited about their resurgence in the last decade-plus. I liked my Street Triple, but I never quite felt safe or comfortable on it. I assumed this was my problem, not the bike's, but it took a little enjoyment out of riding.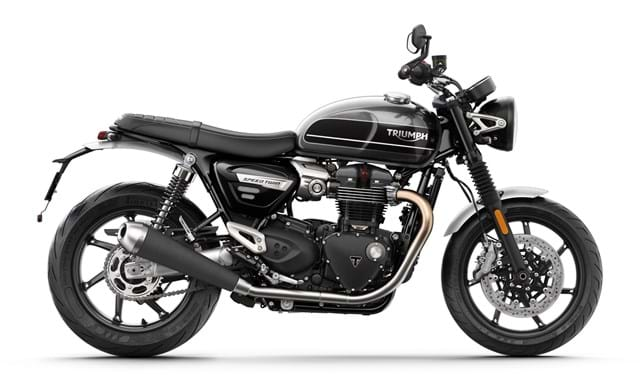 The Test Ride
I wasn't looking for a new bike, but my husband conspired with our favourite Triumph dealer and arranged for me to take a Speed Twin out on a test ride. This is a sizeable bike. It has a 1,200 cc engine, which was intimidating to me at first. It is quite weighty, but it is not too high and I can put a good amount of my feet down on both sides.
The bike is so well balanced that it doesn't feel too big at all. It is definitely a substantial machine, but it just feels solid…and it feels safe. I began falling in love with the model on that test ride. On my drive home from the dealership, I did some research on the model and found nothing but good, early reviews.
The bike comes in three colours, silver & black, red & black and black. They are all spectacular! I chose the black & silver version, and was thrilled when my new bike was birthed at the dealer mere days later.
First Impressions
I had to wait over a week to pick it up – which was torture! I've had this beautiful machine for just over three months now and I've put just under 2,000 miles on it. Plus I wanted to get a real feel for the bike before writing this review and I think I've done this now.
The most important thing which comes to mind when I think about my Speed Twin is how safe I feel. I am not sure why I didn't quite connect with my previous bike, but I sure as heck meshed with this one.
I also trust it implicitly, which is important to me as a "just average" rider. I have experience, but no specialised training. I have never felt as safe as I do on this bike and I have hit some just awful weather and road conditions.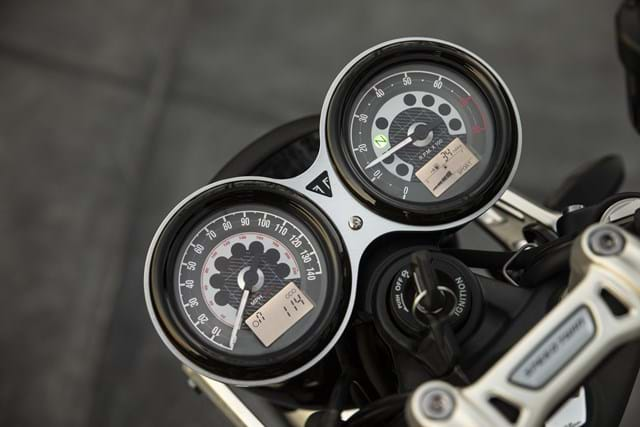 How Does It Handle?
In our first 2,000 miles together, we have ridden up mountains, around some lovely forest-lined roads, and in backed-up, frustrating traffic. We have experienced heat, rain, torrential downpours, massive thunder and lightning storms, hail, and even snow.
The bike has three riding modes (road, sport, and rain), which can be changed while riding. I can feel the difference between each mode as soon as I change it.
To me, sport mode loosens up the back end and rain mode tightens it up. I haven't used sport mode very much, as I'm not that type of rider, but I have relied on rain mode a lot in the adverse weather. The dealer told me it reduces the amount of power to the back tyre, stopping it from digging into the road as much as the other modes. Whatever is happening, it works.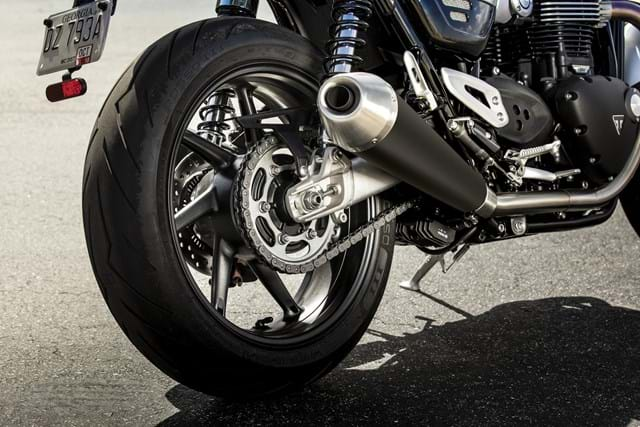 Riding Modes
Last weekend we went out for a long ride (my husband has a 2017 Triumph Bonneville T100). We hit about five miles of grooved highway where the top of the road had been carved off, leaving deep lines in the direction of travel. It was also super gravelly. I dropped the ST into rain mode and instantly felt safer. The tyres were amazing and I didn't feel any looseness in either wheel at any point.
Later in the road we hit extreme heat (still perfect riding, back in road mode now), then hit torrential rain and lightning storm while riding windy roads through National Forest. Again, I dropped the ST back into rain mode and the bike handled flawlessly. Through standing water, water running across the road, and on the wet, twisties this bike was magical.
While the experience was pretty awful at the time, it only increased my confidence in my Speed Twin and cemented our soul-connection.
What's Not So Good?
I am not blind to the few faults this bike has, of course. It came with an ugly piece of plastic which connected the license plate and my husband changed this out for a Tec Bike Parts tail tidy. This looks 1,000 times better.
There is very little protection on the rear end of the bike from rain / dirt coming up off the road, though, so be prepared to end up with some of that up your back. Tec Bike Parts were great to deal with and will ship from the UK to the US if the part is not stocked stateside. It took no time at all, and the customer service was marvellous.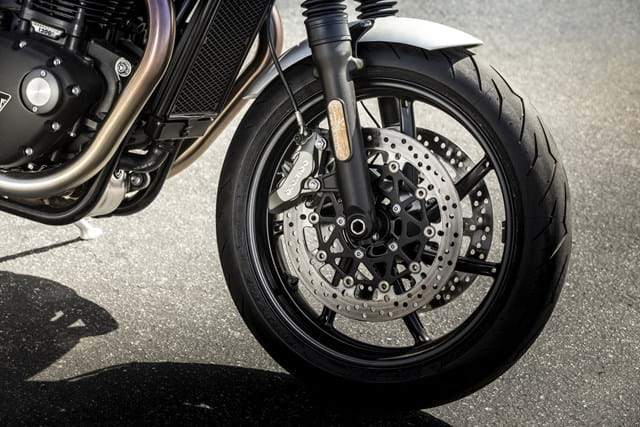 Any Other Issues?
I have heard complaints about the front brake squeaking at low speed and I just experienced it for the first time this weekend. I tend to rely more on my rear brake at lower speeds, however, so this hasn't been a big concern for me.
Also, the bike runs very hot, especially on the right side of the engine. This helps dry your jeans on those wet rides, but stinks in traffic! I am not sure if this is part of the radiator recall which is being rolled out slowly, but it sure is warm at times.
The only other issue I have had is with the wind. The bike has a lot of power and some wonderful acceleration. I'm told this can lift the front tyre off the road at times, but I've never experienced that. I like that the acceleration is very forgiving at low revs, and still responsive at high engine revs.
What I didn't like was the wind hitting me right in the chest when I accelerated hard. At times, it felt like I was hanging on for my life when pressing on, or when riding at 60-70 mph. It was not super fun.
My husband did some research and we chose to put a Dart Classic windscreen on the bike. Again, this part came super quickly from the UK, and the difference was immediately obvious to me. The wind is no longer a factor for me, and the longer, motorway based rides are back to being fun. It also looks great with this style of bike, which was super-important to me.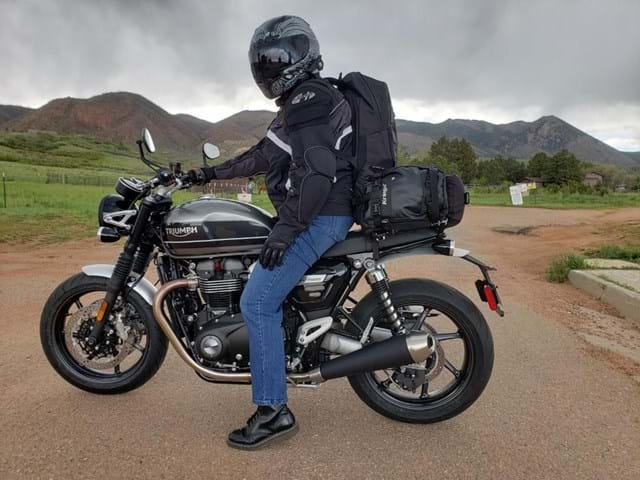 Comfort
As is no doubt obvious to you at this point, I am completely enamoured with my Speed Twin. Above everything else, this thing is plain beautiful. Whichever colour is your personal choice, the ST is a beast of a machine. It looks more sporty than my husband's T100, and more mean, too!
The seat is angled down a little and it seems to me like the tank is, too. The riding position is more of a lean than the traditional Bonneville models and the Street Twins I have sat on, but it is comfortable on long rides.
I've spent days with 7 or more hours on the seat and I don't feel the pain in my elbow I used to get with the Street Triple. The seat, or perhaps my behind, took a little breaking in, but it's perfectly comfortable to me now. We add some Kreiga brand bags when we go out of town and wearing a backpack is also not a problem.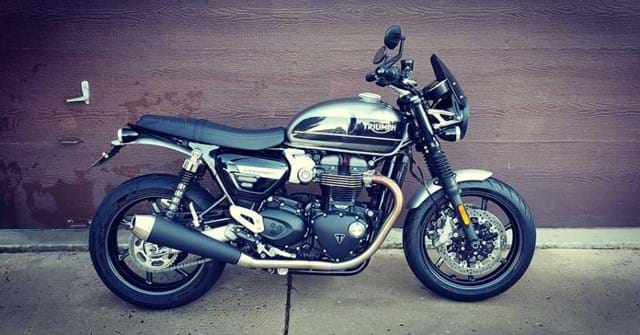 To Sum Up
My overall feelings about my 2019 Triumph Speed Twin are nothing but positive. My husband jokes that I can't help smiling whenever I talk about my bike, and he's right! Just look at it…it's beautiful!
This is much more bike than I ever thought I would own or ride, but I couldn't be happier with it. From the standpoints of looks, performance, and comfort, this is by far the best motorcycle I have ever owned or ridden.
If you are on the fence about taking one of these out for a test ride, definitely give it a shot. Just be sure you are pre-qualified for that bike loan first, as you will be taking it home with you. You, too, will find your soulmate in a Triumph!
- Kerry L, 2019
Price Guide
Year
Dealer
Private
Part Ex
Mileage
2020
£9,700
£7,750
£6,800
3,700
2019
£9,050
£7,250
£6,350
5,100
How to use the price guide
Related Bikes
Triumph Bonneville T120 - Closely related classically styled bike with the High Torque version of the 1,200cc engine and similar neutral riding position.
Triumph Thruxton R - The cafe racer which shares the same High Power version of the engine.
Add Your Review
Do you own this bike? We would love to hear anything good, bad, unexpected or that you have changed plus anything that a prospective new owner might find interesting or useful.
More Info
Check out this video review from Captain Rambunctious.