Triumph Bonneville T120 Review (2016)
"
I absolutely love the bike. It's low and just feels so manageable that its weight is never an issue. The engine is lovely, gearbox and clutch the best I've come across, comfortable and build quality is very good.
"
What Is It?
The Triumph Bonneville T120 is a retro style bike and is powered by a Euro 4 compliant liquid cooled 1,200 cc parallel twin engine, producing 79 bhp at 6,550 rpm and maximum torque at just 3,100 rpm.
Specs
Seat Height: Low (

785

 

mm / 30.9 inches)
Weight: Heavy (239 kg / 527 lbs)
Economy: Good (60 mpg / 4.7 l/100km / 21.2 km/l)
Range: High (190 miles / 306 km)
Power to Weight: Average (0.331 bhp/kg / 0.246 kW/kg)
Top Speed: High (120 mph / 193 km/h)
Pros
Low down torque
Economy
Comfort
Finish
Looks
Cons
Low speed fuelling
On the heavy side
Range
What Is It Like?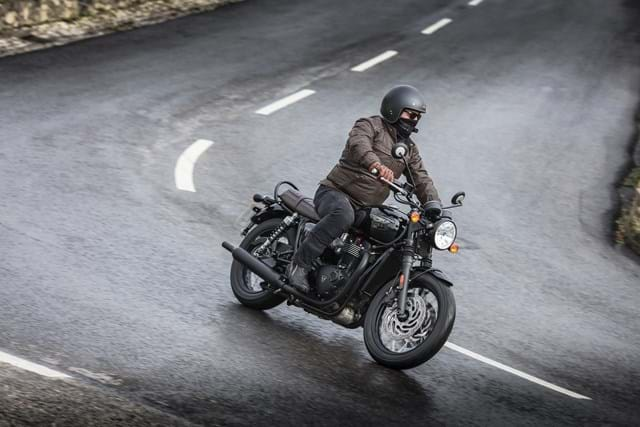 Choosing The T120?
First off I must say I have been a Triumph fan since 1976 when I had my Honda 250 and the Triumphs would roar past. I bought a new T140v Bonny in 1978 from the dealership in Codford St Mary as I was stationed with the British Army in Bulford at the time and I had this bike for 19 years.
I sold it because I wanted something more modern. Having had only three Japanese bikes since, two I still have, when I first saw T120 I knew I wanted one. I picked it up on the 3rd of September and took it back on the 16th of September for its first 500 mile service.
So far I am thoroughly enjoying being back to my roots with my first big modern bike.
What's Good?
What I like about this bike is the light weight and very easy handling. Others say it's heavy but then I have the Triumph 1200 Explorer and a Kawasaki ZZR1400. If I was going on a round the world trip I would take this over the others but would definitely have to carry a fuel can.
The Explorer is only a road machine and has been heavy and not stable on the little gravel tracks in the woods here while the T120 has been more sure footed due to its lighter, lower weight.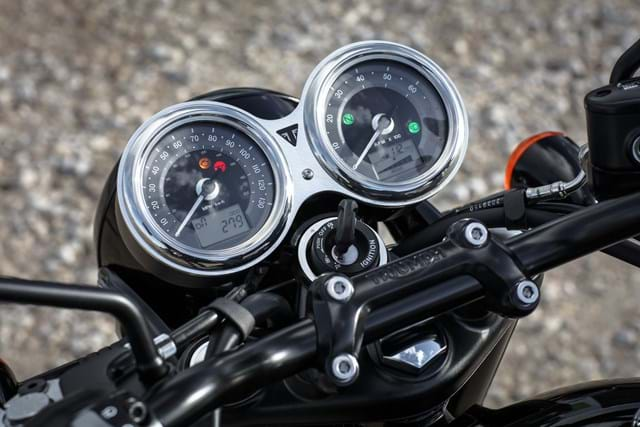 Mods
After a bit of research I bough some Remus silencers. I really like the style of the stock silencers but the sound is too stifled and I was going to get the Triumph upgrades but two dealers I spoke to said that they wouldn't sound that different.
They do sound better and quite loud with the baffles out, louder than when I ran for a minute with no silencers on at all. I now have the baffles fitted as it sounds nice without having a chance of being pulled over.
I also polished the engine cases. At first I liked the matt look but after a wash they end up with stains, so out came the Auto-sol and a short while later nice shiny cases. I will have to get better rear shocks as at 94 kg and with my wife riding pillion they don't do a very good job.
With just an Allen key you can adjust the preload on the rear shocks. This was easy and I set it to max as it kept bottoming out, just be careful as I went slightly past max and there is nothing to stop it going too far. The other good thing is the drive chain can be easily adjusted with a couple of spanners.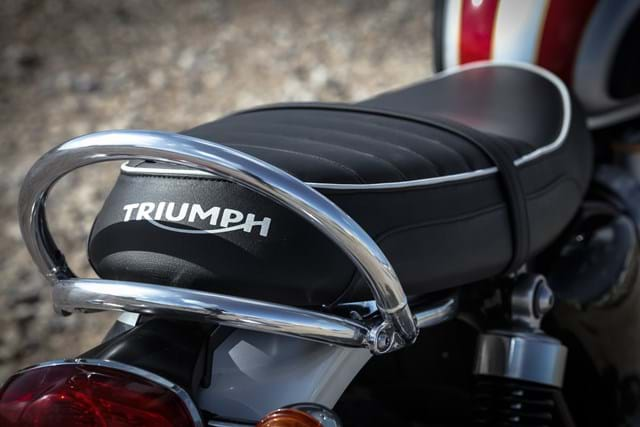 Seat
Last year I was looking for a different seat as the standard one is quite thin and a bit uncomfortable after a while. I found a genuine Triumph T100 seat which is very nice and not too much of a problem on 7 hour trips, so that gets a 10/10. No tools needed to fit it either just put in the key, remove the seat and fit the new one.
Mirrors
There has been mention of the mirrors being useless but I have found them to be okay without vibration, although the view could be better. I had always planned for bar end mirrors but not found the ones I want yet. I like the Triumph option but they are fixed and I want the ones that fold in for parking.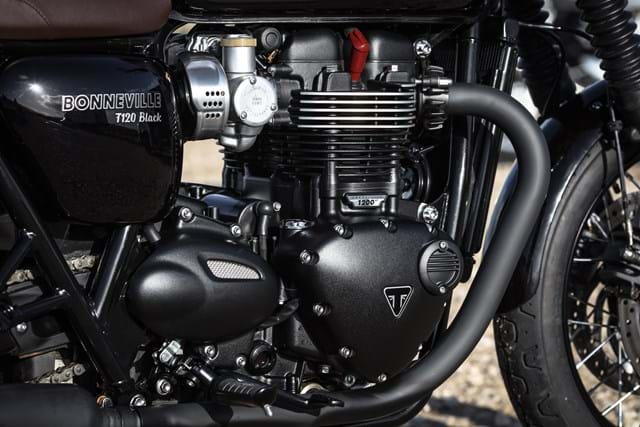 Any Issues?
In 2017 I only did just under 2,500 miles for the year, as I have the other bikes as well and I did have the recall letter in May for the wiring so that was done with no problem.
The highlight of the year was going to the ex trip-Days Club of Newchurch in Austria. I wanted the Triumph wax cotton panniers for the trip but could not find any for months and with time getting close Triumph said they would have them in stock in time. So I ordered the SW-Motech Legend Gear side bags and we set off for four days away.
It was on this trip I found the first failing and that was range. The tank was full and said 112 miles range but I wasn't paying attention to the fuel gauge and when the fuel light came on we had only done 70 miles at motorway speeds. Panicking I had to turn off to find a fuel stop, after that we made sure we stopped every hour and topped up.
The only other niggle is the front brakes make a noise when braking hard which I mentioned at the later service but nothing found.
Running Costs
The only surprise is the cost of the service at £176, seeing as I provided the Castrol oil. I mean its just an oil change and some basic checks that should take no more than an hour. I can get a 4 litre bottle for £28 when on special offer so buy 4 or 5 at a time as I have four bikes.
- Marc S, 2018
Price Guide
Year
Dealer
Private
Part Ex
Mileage
2020
£9,750
£7,800
£6,850
3,700
2019
£9,300
£7,450
£6,500
5,100
2018
£8,800
£7,050
£6,200
4,900
2017
£8,350
£6,700
£5,850
6,700
2016
£7,900
£6,350
£5,550
8,500
How to use the price guide
The Second Opinion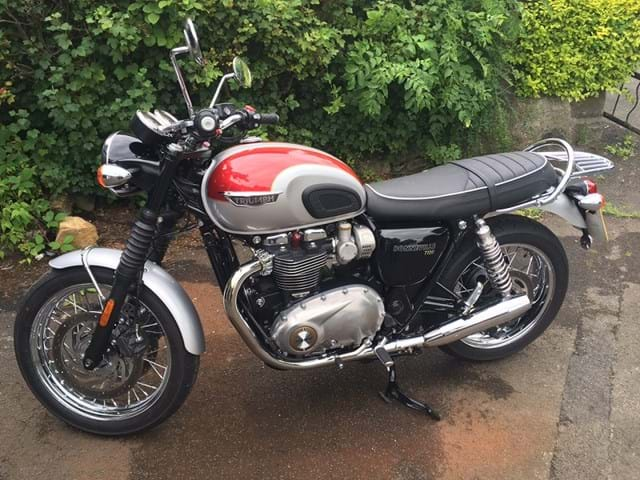 What's Good?
I got this 2016 bike from the newly established Newcastle Triumph and they were great. I absolutely love the bike.
It's low and just feels so manageable that its weight is never an issue. The engine is lovely, the gearbox and clutch the best I've come across, it's comfortable and build quality is very good. This is the 7th modern Triumph I've owned together with some seventies Italian and Brit stuff.
Mods
A few things but it's down to me rather than shortfalls with the bike. Being heavy and especially occasionally two up, hence not a Thruxton, the rear shocks were struggling so I invested in Hagon nitro shocks which improved things immensely and later put in some TEC progressive fork springs which smoothed the front out nicely.
I liked the look of the stock exhausts but not the sound so a pair of Remus cans were added with the baffles out - just right and not over loud.
A small 260mm Triumph fly screen helps with the wind blast and a compact racing Scottoiler fits behind the side panel and has meant no chain adjustments in 3,500 miles.
A sump guard and soon to be added mudguard extension should keep the cow muck from cooking on the catalytic converter and a Triumph Chrome rack and grab rail adds practical style.
What's Next?
On the Christmas list are some Chrome trim bits and bar ends as the mirrors could be better but aren't bad or vibrate as such. I'm debating panniers, either a fitting kit for my Motech blaze set or do I go for more retro looking ones...
Any Downsides?
A little bit more horsepower would be nice, who knows if remapping might become available for it.
- John T, 2016
A Few More Thoughts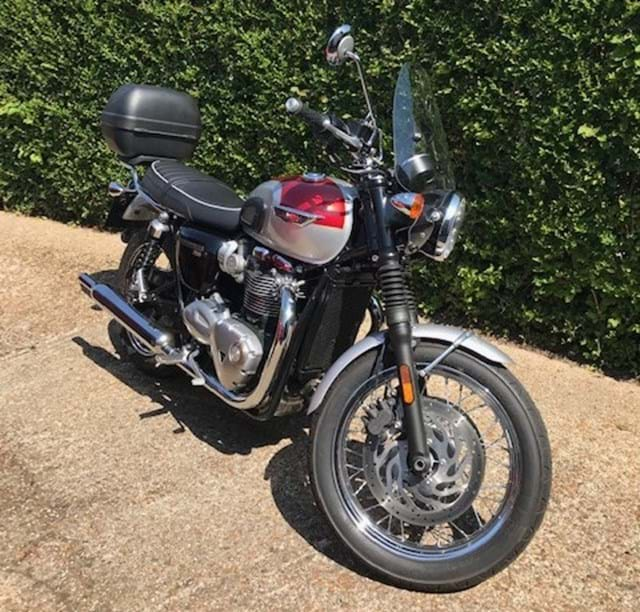 Triumph Bonneville T120 - 2016
Tell us a bit about you
I'm a 68 year old male, 5' 7" and I have been riding since I was 17. I had 'time off' for kids etc, then got back into bikes in my early 50's. I've owned a variety of bikes ranging from a Harley to a Fireblade.
Why did you choose it?
My mind said still a youngster, my body said 'you need something more age appropriate' and my back / wrists agreed.
What is good about it?
Laid back
Relaxing
Effortless
Comfy
What could be improved?
Low speed fuelling gives a jerky experience. I looked at the various forums and have fitted a 'power plug', this has significantly improved the problem. Mirrors do not give a great view.
Any mods or upgrades?
Many owners seem to 'de cat' for improved breathing, I may look at this in the future. Otherwise, it has a rack and Triumph top box, together with touring screen.
What is the economy like?
Very good. It averages mid 50's and low 60's on a run.
How is the engine?
Good range of low down grunt and effortless, but twist the throttle and she 'goes'. As previously mentioned, the low speed jerkiness is annoying.
How does it handle?
Very stable and secure. I came from a Honda sports bike and the T120 seems to take twistie's better.
What are the brakes like?
Front brake performance could be better, it's a hefty old beast to stop. I might look at options for differing pads to see if that improves things.
Is it comfortable?
So far yes. It has standard seat, which I have found perfectly okay and the relaxed riding position is great.
How reliable have you found it?
I've only had the bike three months, but so far, no problems.
To Sum Up
The Triumph T120 is a gentleman's bike, with the occasional devil apparent.
- David B, 2021
More Info
Check out this video review from TheMissendenFlyer.