Kawasaki Z900RS Review (2018)
"
I absolutely love this bike. I've always said that, if a bike makes you smile when you see it, then it's the right bike for you and this Z makes me smile every time I sit on it.
"
What Is It?
The Kawasaki Z900RS is a retro style bike and is powered by a Euro 4 compliant liquid cooled 948 cc inline four cylinder engine, producing 110 bhp at 8,500 rpm and maximum torque at 6,500 rpm.
Specs
Seat Height: Average (

835

 

mm / 32.9 inches)
Weight: Heavy (215 kg / 474 lbs)
Economy: Average (50 mpg / 5.6 l/100km / 17.7 km/l)
Range: High (190 miles / 306 km)
Power to Weight: High (0.512 bhp/kg / 0.382 kW/kg)
Top Speed: High (140 mph / 225 km/h)
Pros
Smooth power
Handling
Comfort
Looks
Dash
Tyres
Cons
Rubber hoses
Tyre valves
Exhaust
What Is It Like?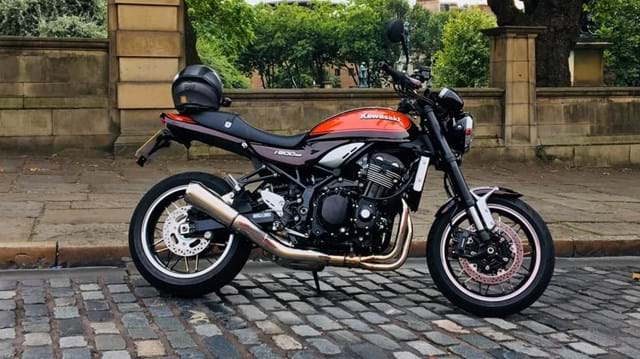 What Reaction Does It Get?
I bought my Z900RS on the 1st August 2018 and to-date have covered a little over 6,000 miles. I generally ride alone but when I do ride with my friends, it's the bike that gets all the attention when we stop. Older people stop and reminisce on their bike from the 70s and younger people ask is it quick. The answer is yes!
How Does It Handle?
This bike will do everything you want a bike to do, it delivers power smoothly, handles very well and the seating position is neutral. The build quality is superb with some very well thought out details, the instruments are a nod to the clocks of the original Z with a lovely digital display in between the analogue dials.
The Dunlop tyres are very good in all conditions, I feel confident in the wet on them and at the next tyre change will almost certainly put the same tyre on again.
Any Negatives?
I was surprised to find the braking system has rubber flexible hoses, probably to keep costs down. In the short term this isn't an issue, but sometime in the future I'll be changing them. Also the tyre valves need to be angled to make it easier to inflate the tyres.
To Sum Up
I absolutely love this bike and I have always said that, if a bike makes you smile when you see it, then it's the right bike for you. This Z makes me smile every time I sit on it.
- Richard E, 2018
Price Guide
Year
Dealer
Private
Part Ex
Mileage
2022
£11,050
£8,850
£7,750
1,200
2021
£10,050
£8,050
£7,050
2,100
2020
£9,600
£7,700
£6,750
3,700
2019
£9,150
£7,300
£6,400
5,100
2018
£8,700
£6,950
£6,100
4,900
How to use the price guide
Related Bikes
Z900RS Cafe - "Cafe Racerised" version with a headlight fairing, lower bars, lower mirrors and pillion seat hump.
The Second Opinion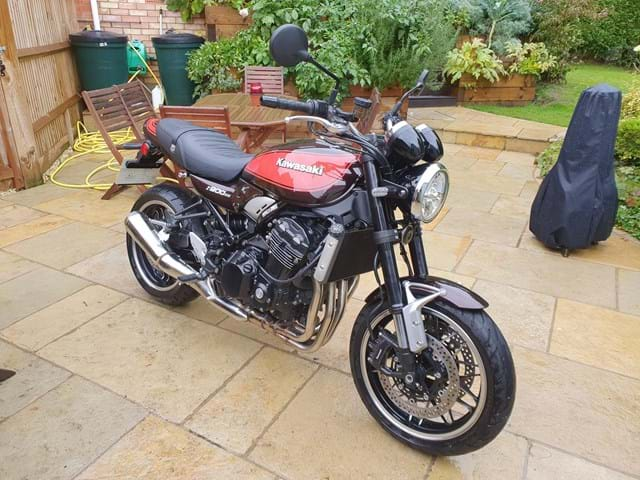 Tell us a bit about you
I'm a 60 year old male, 5'10, who has been biking since 1976 and owned 10 bikes.
Why did you choose it?
Retro back to basics proper biking with all the benefits of current technology
Gorgeous looks
Great sound
What is good about it?
This bike brings back the joy of proper biking. It's a joy to ride in all weathers you might be out in, it is very confidence inspiring even in heavy rain and I've never felt it twitch once with level two traction control selected.
What could be improved?
As this bike is aimed at older bikers larger text and symbols in the LCD part of the dash would help. Also an option to select a larger digital speedo would be great.
What is the economy like?
I am getting 52 mpg but it's not quite run in yet.
Any mods or upgrades?
I like the bike just as it is but will probably fit the Kawasaki radiator guard when it is available and heated grips.
How is the engine?
The engine is superb with strong torque, smoothness and blistering performance should you want it.
How does it handle?
The handling is light, nimble and it feels much lighter than my other 189 kg bike. It is very stable and the stock settings work well with my 80 kg weight.
What are the brakes like?
Strong, progressive and smooth. I also quite like no squeaks, unlike a British bike I rode recently.
Is it comfortable?
Very comfortable seating position with a well padded seat, no aching butt or numb hands on this bike.
How reliable have you found it?
So far okay and I'm not expecting any issues.
What's the servicing frequency and cost like?
Kawasaki servicing costs seem quite expensive, but most of what needs doing I can do myself.
How would you sum up the model?
A great easy to ride bike that is definitely grin inducing. This is a bike I just keep riding a bit further on.
- Steve P, 2020
A Few More Thoughts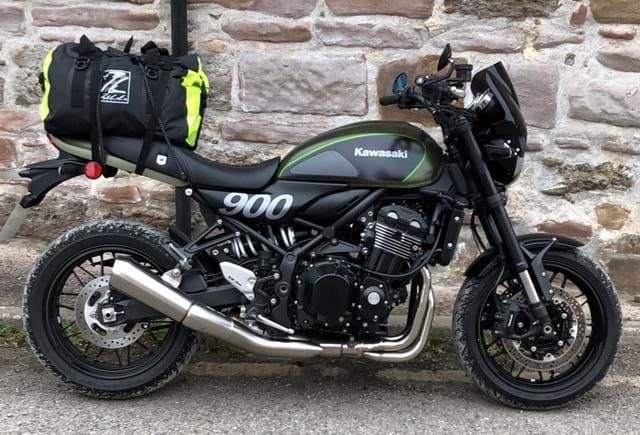 First Impressions
I bought the new Z900RS (covert green) back in April as a brand new bike trading in a 2016 ZX-6R. Initially I was sceptical of the bike but the second I saw it in person my opinion changed as it's stunning to look at.
It only took a 30 minute test ride to decide to make the swap. Everything I expected it to be like in terms of handling, comfort, speed etc it surprised me by being better in every aspect.
The NC500
Having done the initial 600 miles and having its first service I've taken it up to Scotland to do the NC500. The trip was amazing, the bike was brilliant and strangely so was the weather! Twisties, straights, casual riding, it can do the lot with ease. So much so I'm even considering taking it on track....
Any Mods?
I've swapped the original mirrors for bar end mirrors purely down to preference, but the original mirrors are really good! I put a screen on just for the NC500 and have since removed it.
I also purchased the lower seat which is great for a day out however if I was to do a long trip away again I'd put the original seat on as the lower isn't comfy enough. With it being a new bike and the type of bike it is I expect to see so many different / custom variants in the near future.
To Sum Up
Would I recommend it? 110%. People think it's an 'old mans' bike but it really isn't, I was 26 when I bought mine and haven't looked back.
- Sam B, 2018
More Info
Check out this video review from TheMissendenFlyer.