Kawasaki Z900RS Review
✓Looks, smooth power, dash, tyres
×Exhaust, tyre valves, rubber hoses
What Is It?
The 2018 Kawasaki Z900RS is a retro style bike with a cool dash which looks retro from afar but actually has all the modern bits you would expect on a small LCD screen between the two clocks.
Engine: 948 cc Inline Four, 110 bhp
Economy: 45 mpg
Range: 170 miles
Seat Height: 835 mm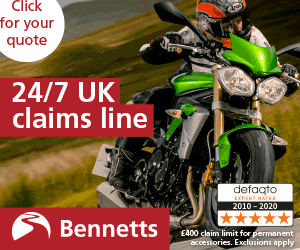 What Is It Like?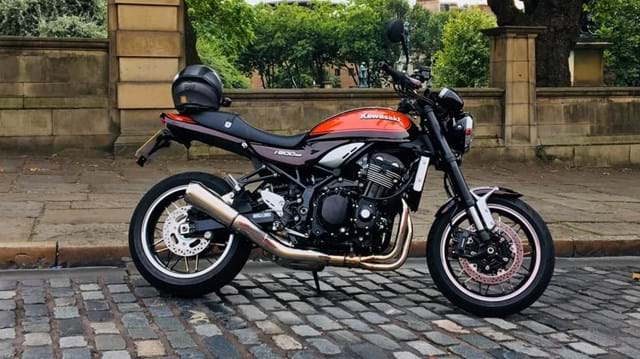 What Reaction Does It Get?
I bought my Z900RS on the 1st August 2018 and to-date have covered a little over 6,000 miles. I generally ride alone but when I do ride with my friends, it's the bike that gets all the attention when we stop. Older people stop and reminisce on their bike from the 70s and younger people ask is it quick. The answer is yes!
How Does It Handle?
This bike will do everything you want a bike to do, it delivers power smoothly, handles very well and the seating position is neutral. The build quality is superb with some very well thought out details, the instruments are a nod to the clocks of the original Z with a lovely digital display in between the analogue dials.
The Dunlop tyres are very good in all conditions, I feel confident in the wet on them and at the next tyre change will almost certainly put the same tyre on again.
Any Negatives?
I was surprised to find the braking system has rubber flexible hoses, probably to keep costs down. In the short term this isn't an issue, but sometime in the future I'll be changing them. Also the tyre valves need to be angled to make it easier to inflate the tyres.
To Sum Up
I absolutely love this bike and I have always said that, if a bike makes you smile when you see it, then it's the right bike for you. This Z makes me smile every time I sit on it.
- Richard E, 2018
Price Guide
Year
Dealer
Private
Part Ex
Mileage
2018
£8,550
£6,850
£6,000
3,700
2019
£9,300
£7,450
£6,550
2,100
2020
£10,600
£8,500
£7,450
1,100
Related Bikes
Z900RS Cafe - "Cafe Racerised" version with a headlight fairing, lower bars, lower mirrors and pillion seat hump.
The Second Opinion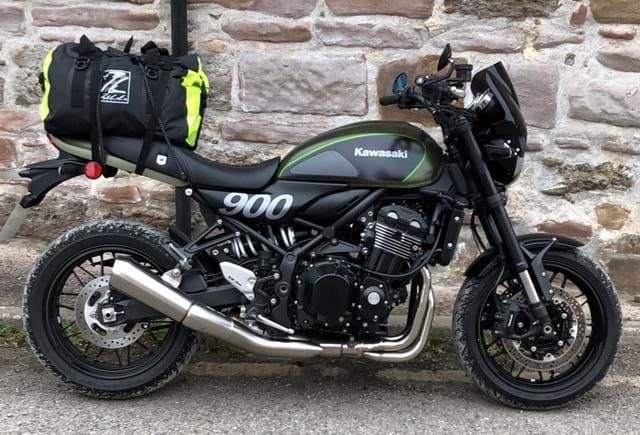 First Impressions
I bought the new Z900RS (covert green) back in April as a brand new bike trading in a 2016 ZX-6R. Initially I was sceptical of the bike but the second I saw it in person my opinion changed as it's stunning to look at.
It only took a 30 minute test ride to decide to make the swap. Everything I expected it to be like in terms of handling, comfort, speed etc it surprised me by being better in every aspect.
The NC500
Having done the initial 600 miles and having its first service I've taken it up to Scotland to do the NC500. The trip was amazing, the bike was brilliant and strangely so was the weather! Twisties, straights, casual riding, it can do the lot with ease. So much so I'm even considering taking it on track....
Any Mods?
I've swapped the original mirrors for bar end mirrors purely down to preference, but the original mirrors are really good! I put a screen on just for the NC500 and have since removed it.
I also purchased the lower seat which is great for a day out however if I was to do a long trip away again I'd put the original seat on as the lower isn't comfy enough. With it being a new bike and the type of bike it is I expect to see so many different / custom variants in the near future.
To Sum Up
Would I recommend it? 110%. People think it's an 'old mans' bike but it really isn't, I was 26 when I bought mine and haven't looked back.
- Sam B, 2018
More Info
Check out this video review from TheMissendenFlyer.
For more reviews and launches check out BikeSocial.