Yamaha YZF-R1 For Sale
The 2004 Yamaha YZF-R1 is a dedicated sports bike and is powered by a 998cc inline four engine which puts out 172bhp. It was originally launched in 1998 with updates in 2007, 2009, 2012 and 2015.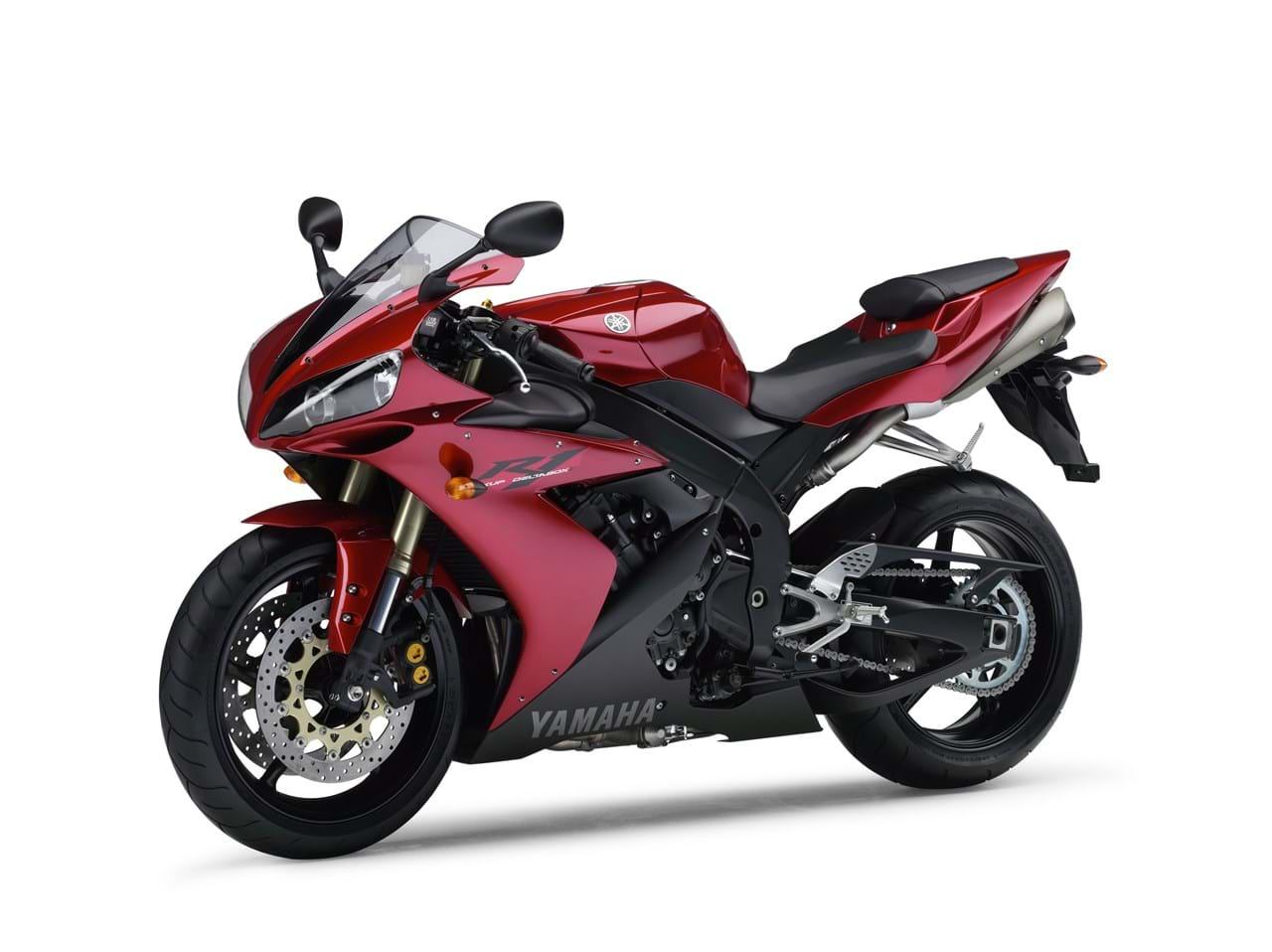 What Is It?
Usable power, great handling, very fast, looks great, build quality
Suspension, gets hot in traffic, budget for a power commander
The 2004 bike was a complete re-design and notably the first time a 1:1 power to weight ratio has been achieved on a production machine i.e. 172bhp:172kg dry weight. Power is provided by a liquid cooled 998cc parallel 4 cylinder engine, producing 172bhp at 12,500rpm, with maximum torque at 10,500rpm, and the new forced air intake is responsible for much of the increase in power.
Features include:
Aluminium deltabox frame
Dual 320mm discs up front with radial brake calipers
220mm disc at the rear
43mm fork with 120mm travel
Rear shock with 130mm travel
Dual under-seat titanium mufflers
4 beam headlights
Slimmer frame and fuel tank
Re-design body panels
Steering damper
2006: Tweaked longer swing arm shifts weight forward. The outer fork tubes are now gold coloured and power increased slightly to 175bhp with shorter intake valves. New 5-spoke 17" wheels take a 120/70 tyre at the front and 190/50 at the rear.
Yamaha also released a limited edition black/gold SP model in 2006, with Ohlins suspension, slipper clutch and 400g lighter forged aluminium wheels. Only 500 were produced for Europe so expect to see higher used values.
Colours and RRP:
2004: Blue/silver/black, red/black, white/grey/black
2005: Black/grey, blue/white, black/red
2006: Blue/black/silver, black, yellow/white/black, red/yellow (50th anniversary), black/gunsmoke with gold accent (limited edition SP model)
Did You Know?
The 2005 Black Eyed Peas music video My Humps features an R1.
Sell Your Bike
Sell your bike with WeWantYourMotorbike today. Just pop in your reg number, get a same day valuation and they'll buy your bike within 24 hours - easy peasy.
Price Guide
| Year | Dealer | Private | Part Ex | Mileage |
| --- | --- | --- | --- | --- |
| 2004 | £4,050 | £3,250 | £2,850 | 12,900 |
| 2005 | £4,250 | £3,400 | £3,000 | 12,300 |
| 2006 | £4,600 | £3,700 | £3,200 | 11,700 |
We work out the price guide ourselves, independent from any other organisation, in the hope it helps you find the right bike at the right price.
Cleaning & Detailing
We thoroughly recommend Petrolhead Detailing for all your cleaning, detailing and paint correction needs. They really know their stuff!
Related Bikes
Predecessor

Related Models
Reviews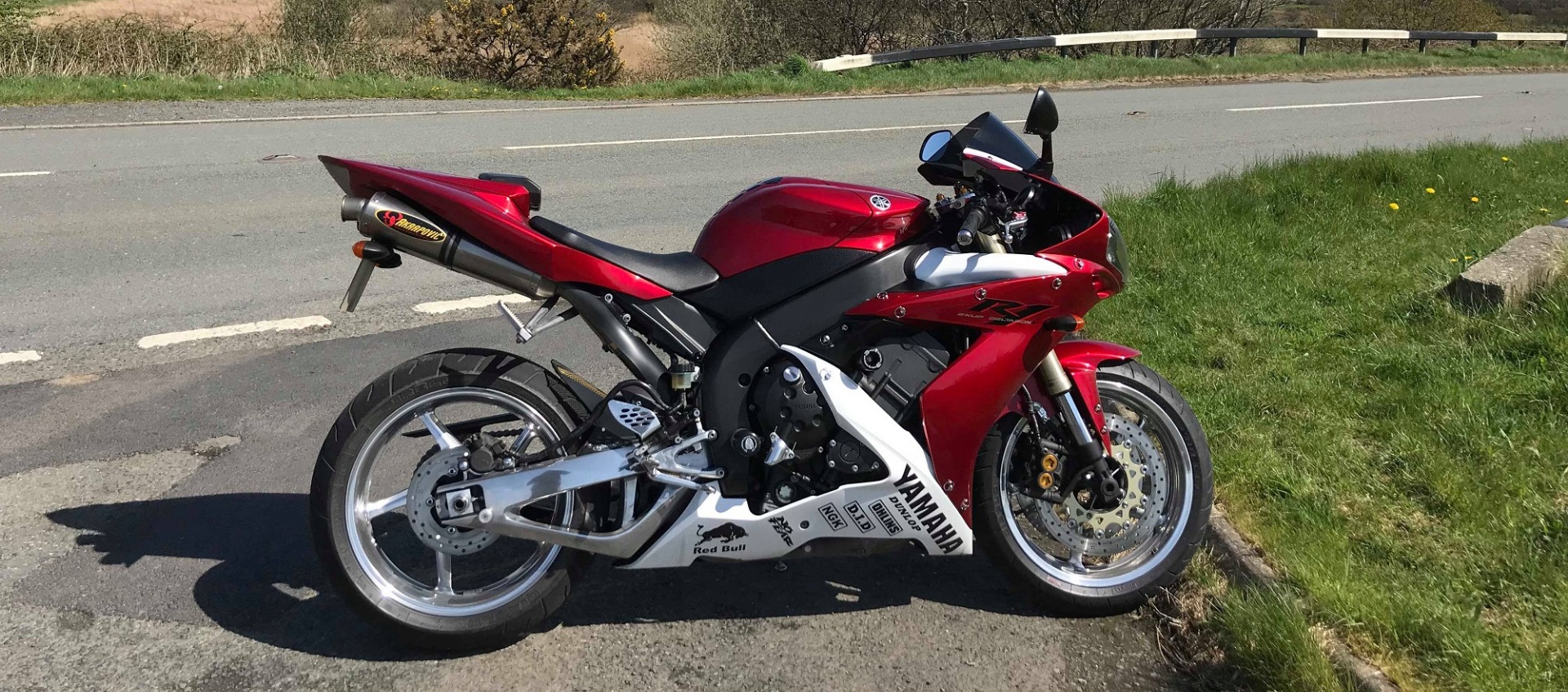 I bought my R1 5VY in 2008 and as I still have it in 2018 that will tell you something. I have ridden her through the Pyrenees and southern Spain as well as France and of course blasted around the UK too.
These are a beautifully built bike from the mid noughties. The lines just flow, everything fits together perfectly and then there's those headlights. The quality of construction too is to a high standard. I have done nothing to mine apart from routine maintenance in the ten years I've owned her and she has not let me down once.
What's she like to ride? Well it's whatever you want. It can be tootled along if you want to admire the scenery or for riding through town it's very smooth and easy to ride. However as the revs build the power builds. From 8k it rattles your eyeballs and your vision goes blurry. It's phenomenal!! Use this end of the rev range regularly and you can shred a back tyre in 1000 miles.
Handling wise it does what it should as a sports bike. It's quite firm and I guess with a shortish wheelbase it drops into corners easily. Accelerating over brows in maybe 3rd can be exciting but it's an R1. It just sorts everything out leaving you whooping with excitement. Don't forget there's no electronic gizmos on these not even ABS so absolute credit to Yamaha for making such a brilliant machine.
Comfort wise ... well it's a sports bike. Having said that it's not that extreme but I have to say I do ache a little more than I used to after a 200+ mile blast.
Fuel consumption is about 42mpg for me with about 140 miles till the reserve light comes on.
A really well thought out bike which I hope is a future classic as it's a keeper.
- Steve C, 2018
---
I've owned 4 R1's and a few R6's too. Three of the R1's were the 5VY model (2004-2006) and the other one the 4C8 (2007-2009).
The 5VY is a very strong bike. It's got bags of power and not just peak power, but low down grunt. It's that torquey I tend to only use 1st, 3rd and 6th gear on the road. Once on the open road, you can leave it in 6th and use the grunt to get moving. It's a strong motor and will pull well from as low as 3,000rpm but really comes on cam about 8,000rpm. As it hits the 8K mark, it takes off, not unlike a two stroke.
They pull up to 189mph on the clock and put out about 150-160 bhp at the rear wheel, which is impressive by anyones standards, but glory figures like those don't reflect much about what it's like to live with. And in my experience, that is where they stand out. Day to day riding is still realistic because of the torque on tap, the stability and relative plushness of the ride. At road speeds the bike is amazingly stable yet still 'flickable', so you can throw them around like a 600.
They're a little cramped for my average size, but it's a sports bike. Having said that, it's a plush ride with a big saddle (for the rider at least) so 2-3 hour stints at a time are OK without needing traction afterwards. Brakes are good enough to lift the back wheel up and the rear has better feel than average.
On the track they change personality. As you tend to scream the motor more the bike starts to show it's a sports bike. The rock solid stable feel gives way and the bike gets a bit more twitchy as it talks back to you. But it still inspires a confident feel. They give lots of warning about hitting their limits so slides are easy to catch. The front tends to 'drag' out more than snap so you feel safe doing hard turn ins under brakes.
Maintenance is pretty straight forward. Change the oil as often as you can as it's a tightly build and compact motor, but other than that they're pretty strong. I've never found any of the valve stem gaps out. My current ride is a 5VY with about 60K miles on it. The cam chain tensioner sounds like it needs doing, but other than that it's been faultless.
One weak spot I know of with that motor is the gear selector. I've had two break on previous R1's. It was a bit of a design fault, but not too horrible to fix. It's more prone to break when rear sets are fitted, the one that moves the selector rod outside the frame (the standard selector passed through the frame) and use a longer lever on the select shaft.
If you want a crazy beast and most of your mileage is short roads / town riding, switch out the regular gearing (17/45) with something like 16/48. You tend to spend more time in the higher revs so the machine shows you more of its 'banzai' nature up there :-)
- 4C8, 2017
---
I've owned one of these compared to three 5VYs. Over all it's generally the same bike, a little more refined. It feels a lot more stable than the 5VY, particularly on track and especially under acceleration. The bike feels ever so slightly better finished than the older model. Little touches on how the body work is put together and some of the way the bikes bolted together you can see they've evolved it.
Given the choice, I'd go for the cheaper, older bike as it feels a bit more wild and nervous, which I personally prefer, but there isn't much in it. It's more down to condition and price than the model.
- eeezrider, 2016
Videos
Check out this review from Riding Badger:
and this 2004 walk around from 06R6Rider: