Inline Four Motorbike Engines: The Complete Guide (2022)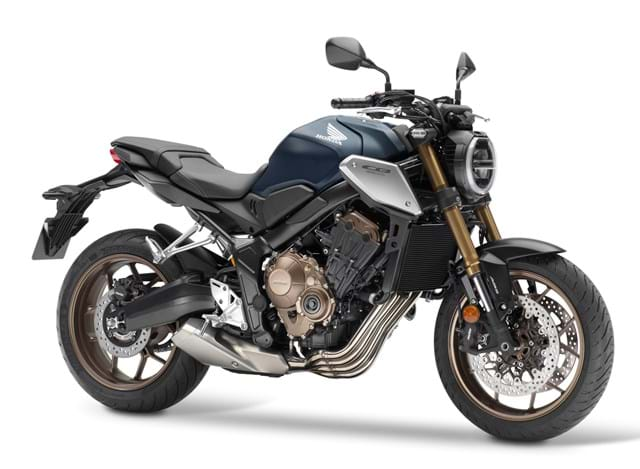 The rise of the inline-four motorbike engine is tied largely to the massive growth of Japanese manufacturers since the late 1960s.
The introduction of the Honda CB750 in 1969 satisfied a need for high performance, reliability and lower vibrations at a reasonable cost. And that's why most sports bikes, tourers and larger capacity machines all often use a transverse straight four cylinder engine.
Pros
Large amounts of power with smooth delivery.
Simplicity and cost of the design.
Easy maintenance.
Relatively low vibrations and good reliability.
Cons
High end power comes at the expense of low down torque.
Can be large and wide.
Some examples are criticised for feeling bland, particularly at lower revs.
Design
History
The Honda CB750 was followed by not only the larger capacity Kawasaki Z1, but also the BMW K100. The 10 years of big BMW production paved the way for more touring and long distance use, where the lack of vibration and smooth power delivery becomes a big bonus. It's also one of the relatively few examples of a longitudinal four cylinder motorbike.
Power
An ability to put out large amounts of horsepower at high revs made it the ideal engine during the era of Japanese sports bikes.
From the 1986 Suzuki GSX-R1100 and the 1992 Honda CBR900RR Fireblade to the latest Yamaha R1, the inline four was the power unit of choice. And that includes the current fastest production motorbike available, the supercharged 998cc inline four Kawasaki Ninja H2.
Yet despite the immense power and top speeds available, an inline four remains remarkably easy to ride. Modern sports machines can break the UK national speed limit in low gears, and feel like they're hardly challenging until you reach potential driving ban velocity.
Maintenance
The benefits of the inline four engine design also include relative simplicity for production and maintenance. They can be removed and worked on relatively easily from the top of the engine, which lowers servicing time and cost. They also give obvious ways to connect exhaust pipes and room for fuel systems, electronics and airboxes.
Size
An inline four cylinder engine does add width, but not as much as a BMW Boxer or Moto Guzzi V-Twin engine. And the size of the engines has been decreasing over time as technology has increased.
It's worth mentioning that various companies, including Honda, have experimented with adding more cylinders. Their MotoGP V5 project never inspired a production motorbike, while the Goldwing and derivative models were the most popular bikes to feature six cylinders.
Anything larger (like a V8 or V10) has been limited to short production run specials, as they become too big and cumbersome for most bikes.
Why Don't All Bikes Use Inline Fours?
Cruisers tend to be sold on a combination of character and low-down torque which is more readily available from a V-Twin configuration and the secondary imbalance vibration can need to be countered by the damping effect of how they are mounted.
Along with cruisers, small capacity motorbikes (generally 250cc and under) tend towards cheaper and lower-revving single and twin-cylinder designs mainly for cost reasons.
Any Downsides?
There really are few downsides to the inline four motorbike engine. One criticism is that they can feel a little bland to ride at times, but that really comes down to the approach of individual manufacturers. An MV Agusta F4 will feel radically different to a Yamaha XJ600.
Crossplane
One notable innovation was the 2009 Yamaha YZF-R1 which used a crossplane crankshaft and a big-bang firing order to create a power delivery similar to generally more expensive V4 engines.
The interval between cylinders firing was also claimed to improve traction, although modern electronics handle an increasing amount of this work. The latest R1 instead uses a Slide Control System with information fed to it via a six-axis gyro.
By way of comparison, the 1998 R1 claimed 150hp measured at the crank, while the 2017 model produces 200hp with the track-only Circuit ECU, or 190hp with the standard road unit. That increase has taken the top speed from 168mph to 182mph.
Other Types of Engine
---
Thanks to Dan Thornton from
ResCogs
for working with us on this article.