Honda CB125R Review
What Is It?
The Honda CB125R is a premium naked bike with a distinct retro feel and uses the engine from the old CBR125R sports bike. It features full LED lighting, awesome looks and a tiny under slung exhaust.
Engine: 125 cc Single Cylinder, 13 bhp
Economy: 90 mpg, 200 miles
Seat Height: 816 mm
Wet Weight: 126 kg
Top Speed: 80 mph
RRP: £3,950
| | | |
| --- | --- | --- |
| What Is It Like? | | ★★★★★ |
| | |
| --- | --- |
| ✓ | Awesome looks, super smooth |
| | |
| × | Side stand design, no gear position indicator, just a TFT dash away from perfection? |
Riding the Honda CB125R for just over 300 miles I find it to have some good and some bad bits. The bike itself is great; Honda have made a small bike look like its big brothers the CB300R and the CB1000R. Honda over the years have made great 125cc motorbikes and seem to have a taste for the small bike market.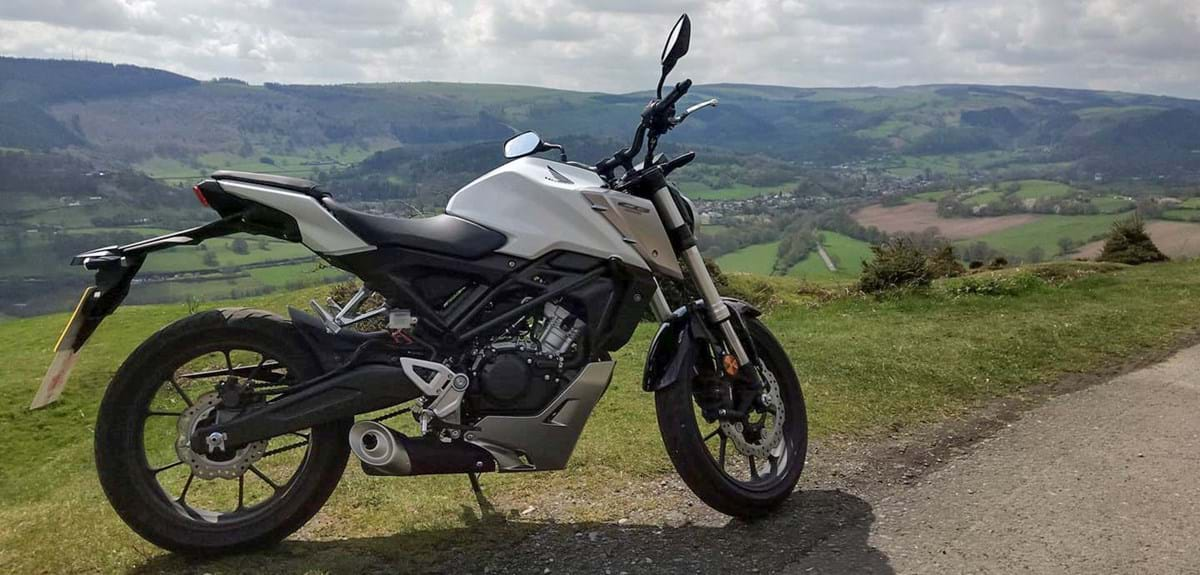 Let's take this back a few years. Honda bring out the Honda C90, one of the best-selling motorbikes in history, add on a few years and Honda had a big success with two bikes the CB125 and the Honda Varadero 125, one small the other big. Now they have the Honda CB125R, the MT-125 killer. Great engine and even better styling so let's slow it down and really look at one of the best 125cc motorbikes you can buy.
Let's start with the engine. Honda pack a free-revving 124.7cc two valve liquid cooled engine in to the new bike, proven in the CB125R sports bike. This nice little runner puts out 13.1bhp peak power at 10,000rpm. The engine feels good on pull away and once it's up to speed it feels better. With PGM-fi fuel injection the bike will never let you down.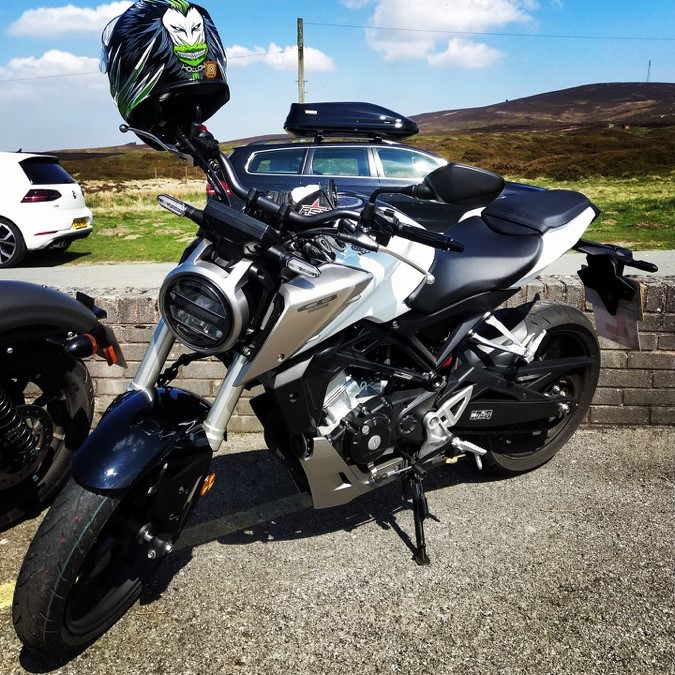 Honda definitely thought about this one by adding LED lights and indicators, giving the lighting a good advantage in the dark. Following on from the LEDs the dash is one of the best digital dash clusters I have ever seen with all the info you need plus that little extra.
Honda have looked and asked what its new rider would want and having been riding bikes for 10 years on L plates it delivers that and more, from the handy side stand reminder to the flashing gear change light to the what I think is pointless stopwatch. Honda have built a good cluster for the bike.
Let's have a look at the styling. Looking from a distance it would be hard to see what size engine the bike has, only when you get nearer does it show that there are small differences between the 125 and the 1000cc. The neo café racer look gives this bike a great stance and look. Any new rider will feel like a big rider on this.
Colour is sometimes a matter of personal opinion, but I think the pearl metallic paint is one of the best and gives the bike a whole new look.
All in all Honda have made a great bike. Amazing styling, great performance and all-around comfort. The new Honda CB125R is for me one of, if not the best, 125 on the market.
- James J, 2018
Price Guide
| Year | Dealer | Private | Part Ex | Mileage |
| --- | --- | --- | --- | --- |
| 2018 | £3,600 | £2,900 | £2,550 | 2,100 |
The Second Opinion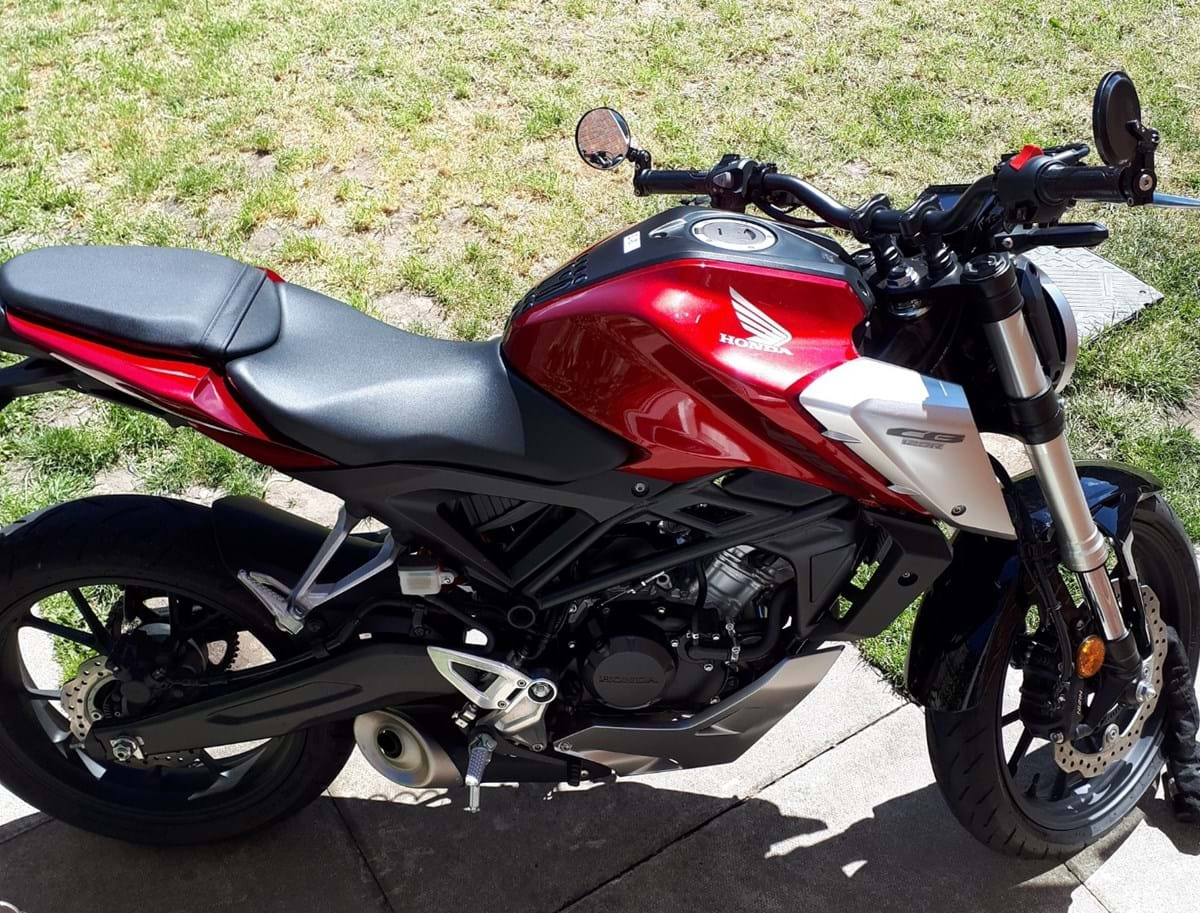 The CB125R is a decent little bike, although little isn't the right way to put it since it's difficult to tell that and it's big brother the CB300R apart at a distance. It pulls better than any other 125 4 stroke bike I've ridden and I've owned the MT-125 and the YZF-R125. Both of which hold nothing on this bike in my opinion. Top speed is about the same as other 125s in its class but looks and acceleration make this bike a winner for me.
I changed the mirrors for a set of bar ends which I think give the neo sports cafe more of a 'cafe' look, because let's be honest it's pretty much just a naked sporty 125. The bar ends with the already wide bars give you a brilliant view of what's behind you and a 6'2 with the stock mirrors I struggled to see past my elbows. All in all I'm really happy with my bike.
- Jake W, 2018
More Honda CB125R Reviews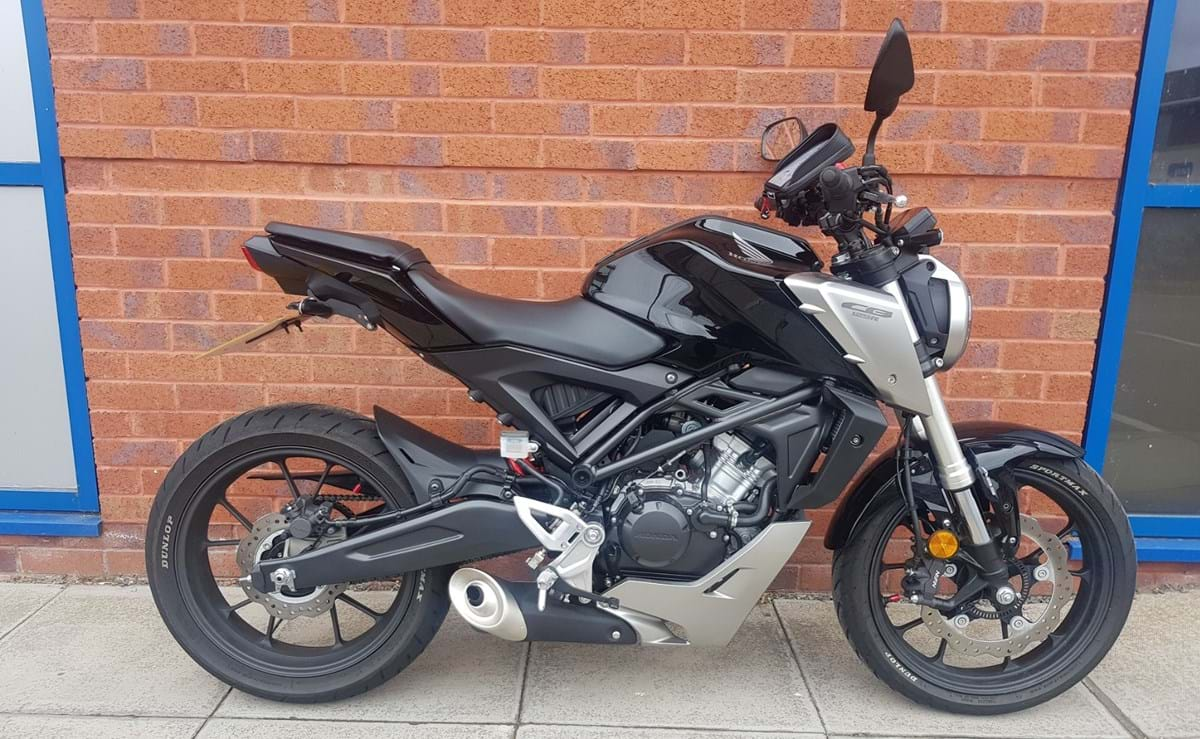 Lets get started with this absolute beauty of a bike. One of the best looking 125 bikes on the market if not the best in my eyes.
So after my 600 miles there are a few rattles coming from somewhere, Honda will look at this on the first service. One bad design aspect is that the stand is too small and sits close to your foot peg.
The ride is very smooth, changes gears like butter, pulls good if you need to get away from lights or a tricky situation. Handles very well in corners not had much rain of the summer so will be good to see how it handles with rain.
Yes, Honda did do a test in Portugal while it rained and they said its handles very good, but it's not your own test. You may be 6ft2 or skinny or heavy set; it will handle differently so take your time and learn from your bike.
Not many accessories out yet will give it a few more months to fully kit it out at a reasonable price.
- Jamie C, 2018