Honda CBR125R Review (2011)
"
The CBR125R is a great looking all rounder and a good starting point in the two wheeled world.
"
What Is It?
The Honda CBR125R is a learner friendly sports bike and is powered by a liquid cooled 124.7 cc single cylinder engine, producing 12.8 bhp at 10,000 rpm and maximum torque at 8,000 rpm.
Specs
Seat Height: Low (

795

 

mm / 31.3 inches)
Weight: Light (137 kg / 302 lbs)
Economy: Very good (90 mpg / 3.1 l/100km / 31.9 km/l)
Range: Very high (260 miles / 418 km)
Power to Weight: Low (0.095 bhp/kg / 0.071 kW/kg)
Top Speed: Average (80 mph / 129 km/h)
Pros
Cheap to buy and run
Quality finish
Economical
Stylish
Reliable
Handling
Cons
Non-hinged fuel cap
Soft suspension
Brakes
Power
What Is It Like?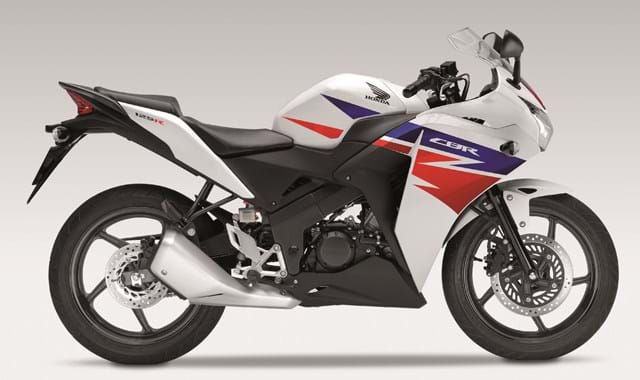 Choosing The CBR
The CBR125R is Honda's learner legal addition to the CBR line up. It allows the learner to have big bike styling and Honda build quality from their first bike.
True, the price point may put off a few of the younger riders - the CB125F is around £1,000 less - but I suppose it could be said beauty comes at a price!
When compared to other faired 125s like the KTM RC125 and Yamaha YZF-R125 it is very reasonably priced.
Controls
They are straightforward and uncluttered, however as with a number of Honda models, the horn button is a bit too close to the indicator switch. This leads to some rather amusing moments at junctions or when changing lanes!
There is no kill switch fitted, but the CBR125R does have a tilt sensor, so if you do have an off, within seconds the bike will realise it has gone over and the engine cuts out.
Dash
The display is straightforward, with a digital speedo and manual rev counter. Indicator and neutral lights are all clearly visible from all angles plus the fuel gauge and clock are easy to read.
Some learners have argued that a gear position indicator would be a benefit - but I have found no issues when riding without. It just teaches you to listen to your bike and learn about its gear ratios. It's very easy to then identify from the speed and revs which gear you are in.
Storage
Underseat storage is located under the pillion seat and is big enough to stow your lunch but not much else. The seat is lockable, so using the supplied helmet loop which hooks into this compartment, means securing your lid to the bike is a nice touch on a novice machine.
Comfort
Seat height is 795mm, so will appeal to a broad range of riders. The seat itself is very comfortable, even on long rides and the seating position means a nice balance of weight between your hands and feet.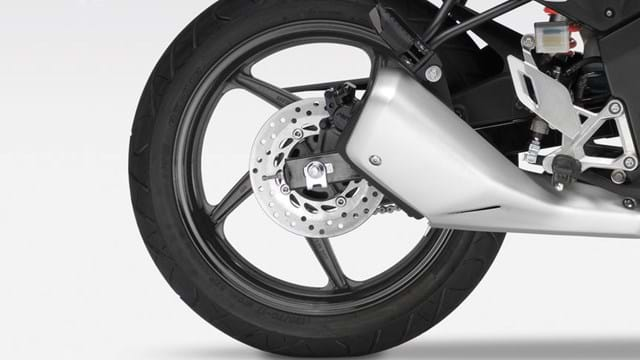 Handling
The CBR125R is a doddle through town. First gear can be a little harsh, so it is sometimes better when in crawling traffic, to bump it up into 2nd and feather the clutch.
It's not a particularly wide bike, so those riders who are inclined to filter will have no issues there.
Out of the city, the bike can take on twisty A roads no problem, with smooth acceleration and a confident rider position. Just watch out for crosswinds catching the fairing and prepare to knock it down a gear or two when faced with hills and you'll be fine.
Night riding isn't an issue, thanks to the bike light unit up front. The orange - backlit display is crisp and easy to see, without glare.
Servicing
It's cheap and cheerful and the first service is at 600 miles, which costs around £100. The next service interval isn't until 2,600 miles, at which point many owners from new may have already ditched their L's and moved on.
Any Issues?
One thing for new riders to be aware of on the CB125R is that it is easy to mistaken think you have released the gear change peg when moving through the gears, but in reality, sometimes the peg hasn't fully moved.
This can lead to a few heart stopping moments for a learner, when the bike either slips into neutral, or stays put in the previous gear.
It's not the bike's fault and the best way to overcome this is simple. When you change, listen for the 'click'. This guarantees the bike has shifted, and you won't be left in a flap in neutral!
Pros
Big bike looks for beginners
Comfortable riding position and seat for longer rides
Brilliant fuel economy - easily achievable 280 miles per tank
Cons
Non hinged fuel cap
Grips can be uncomfortable after a few hours, as they are made from hard rubber / plastic compound
To Sum Up
As an introduction to motorcycling, the CBR125R is a great looking all rounder. It's simple to operate, very easy to live with and comes with the notorious Honda reliability.
It might not make the most of the maximum permissible output for the Learner category and may not be the cheapest 125 around, but it does what it says on the tin and is a good starting point in the two wheeled world.
- Heather E, 2018
Price Guide
Year
Dealer
Private
Part Ex
Mileage
2018
£3,150
£2,550
£2,200
4,900
2017
£2,950
£2,350
£2,100
6,700
2016
£2,750
£2,200
£1,950
8,500
2015
£2,550
£2,050
£1,800
10,300
2014
£2,350
£1,900
£1,650
12,100
2013
£2,200
£1,750
£1,550
13,900
2012
£2,000
£1,600
£1,400
15,700
2011
£1,850
£1,500
£1,300
17,400
How to use the price guide
Related Bikes
Honda CB125R - Newer stylish naked using the same engine.
The Second Opinion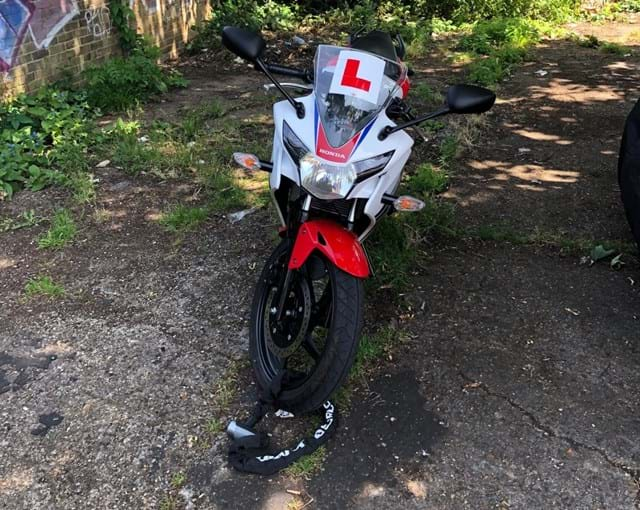 Choosing The CBR
I bought the CBR125R about two weeks after I passed my CBT. I have Dobles, a revered local Honda dealer down the road from me so it seemed the obvious choice to get a bike from there. I'd also done the CBT on a CB125F so it made sense to me.
Annoyingly Honda have now discontinued this model and only have the new CB125R (naked version) on the 19 plates. I had always wanted a sports bike so plumped for this 18 plate with zero miles on the clock.
Gearbox
The gearing ratio is much quicker than I expected and the pick up is more powerful than the F model.
The only thing I will say on the gearing is that in can be a pain to find neutral and one day it didn't want to find first either so I had to use its low torque power in second and pray it didn't cut out until I found first again on the road.
Handling
The turning and balance is much better than you would otherwise think with the tyre widths and as I gained more confidence I took on some interesting twisty routes home to lean it through some corners!
I've turned some heads, probably because it's something a bit different from the millions of cars on the roads but it's such a responsive little thing and wants me to rev it despite me not being allowed to thrash it for the first 600 miles.
To Sum Up
If you're a beginner or a commuter, buy it. For god sake buy it. It will bring you the simple joy of two wheels and an engine without ever feeling like it wants to kill you.
- Tom G, 2019
Add Your Review
Do you own this bike? We would love to hear anything good, bad, unexpected or that you have changed plus anything that a prospective new owner might find interesting or useful.