Yamaha MT-07 Review (2014)
"
So, would I recommend an MT-07? Yes, but more to someone looking to move up to a full-sized bike rather than to a more experienced rider who would be better with the MT-09.
"
What Is It?
The Yamaha MT-07 is a popular mid-range naked bike and is powered by a liquid cooled 689 cc parallel twin engine, producing 74 bhp at 9,000 rpm and maximum torque at 6,500 rpm.
Specs
Seat Height: Average (

805

 

mm / 31.7 inches)
Weight: Average (179 kg / 395 lbs)
Economy: Average (55 mpg / 5.1 l/100km / 19.5 km/l)
Range: High (170 miles / 274 km)
Power to Weight: Average (0.413 bhp/kg / 0.308 kW/kg)
Top Speed: High (120 mph / 193 km/h)
Pros
Great handling
Comfortable
Looks good
Brakes
Light
Cons
Budget for a louder exhaust
Fiddly switches
Range
What Is It Like?
MT-07 Or MT-09?
I'm probably not the best person to write a review of the 2014 MT-07. I took it over from my daughter, who moved on to something a bit more retro (Guzzi V7), and only had it for a few months and maybe a thousand miles.
Why did I get rid of it? Well, quite frankly I found it a bit anodyne, so I traded it in for its big brother, an MT-09. That's loads more fun - I've put nearly 2,000 miles on it in about 3 months, which, as it's not my only bike, pretty much says it all.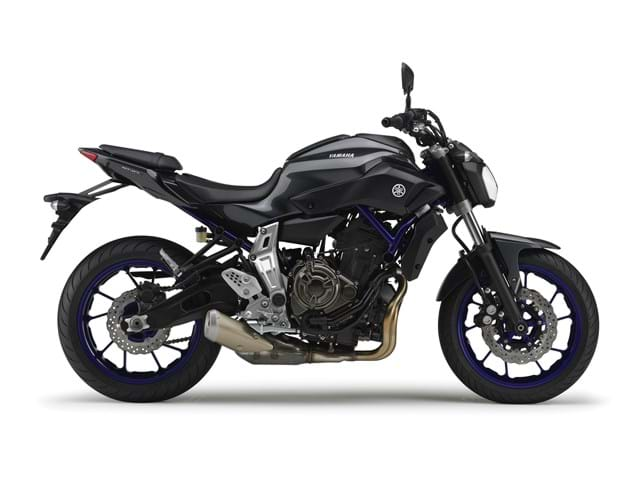 What Is The MT-07 Good At?
So, having started off by damning the MT-07 with faint praise, the fact is, it's a super little bike - though when did we start to think of a 700cc bike as little? But it is small, in terms of weight when pushing it around. I'm something of a weight freak - anything much over 200Kg on the road is out as far as I'm concerned and its nimble handling.
In fact, as a six-footer, I found it just a tad cramped over any decent mileage. On the other hand, it's not exceptionally low, and would need lowering for many shorter, particularly female, riders.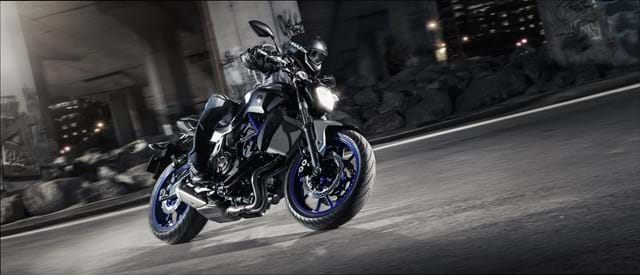 Handling
It's very easy to ride, and not just because of the eager handling. Power delivery is smooth, or at least as smooth as anything that has to meet current emission standards can be. There is maybe a hint of a power step in the upper rev band, which is only really apparent when going for a swift overtake.
Otherwise it delivers a nice linear torque curve, though being a twin it can get a bit lumpy low down, below around 3,500rpm in the higher gears. The engine noise won't upset any neighbours, but is somewhat lacking in character.
Economy
I was a little disappointed with the economy. At 60-65 mpg it's not much better than the MT-09, which has considerably more power, more performance and is definitely ridden in a more spirited manner! The gearbox is slick with well chosen ratios.
Brakes
The controls are light, though I did feel that both brakes lacked some bite compared to other Yamaha models with similar setups. But maybe that's a good safety feature for inexperienced riders who might snatch them.
This was a non-ABS model by the way. I personally wasn't too keen on the instrument panel, in particular I didn't like the rev counter with its tiny numbers however the MT-09 is even worse in that respect.
There's plenty of information there but scrolling around trying to find it is a distraction that I could do without. I'm not sure why Yamaha decided to move the horn button to a less accessible place, but it could be a life-loser for anyone used to the "standard" setup.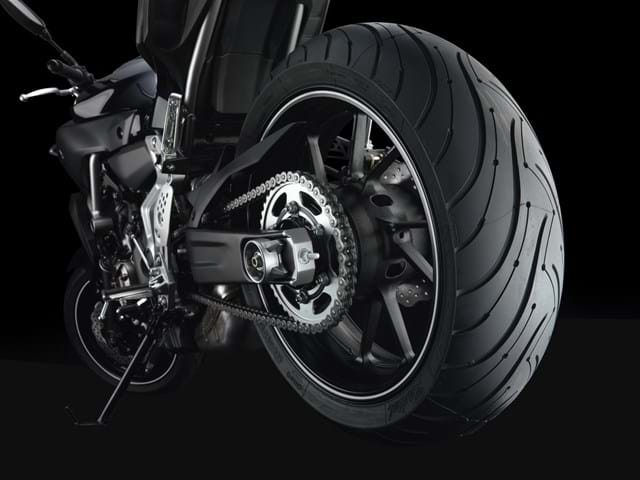 Suspension
The budget suspension seems a pretty good compromise between comfort and handling, particularly considering the low weight of the bike. The rapid turn-in could catch out anyone more used to something larger and heavier, but would be familiar to anyone moving up from a smaller machine.
I never got anywhere near the limit of grip with the OEM Bridgestone tyres. Most of my riding was in the cooler months, so I wasn't pushing it and I rarely rode on wet or greasy surfaces.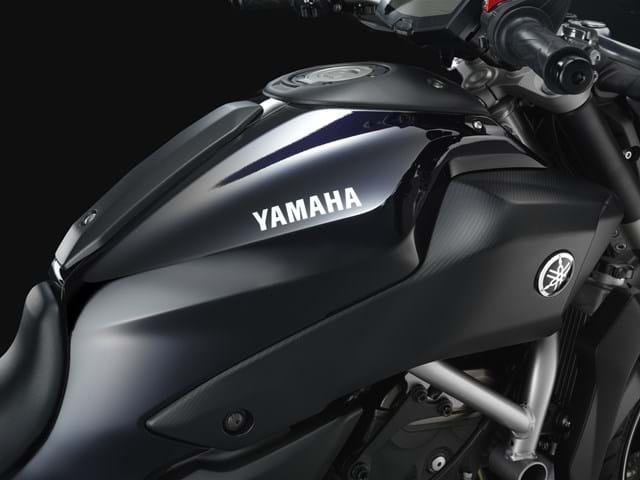 Build Quality
As far as I could tell, the finish is on a par with other bikes in this class. Certainly, with a bit of help from ACF50, there were no obvious signs of corrosion when I parted with it. However, if I were using it every day long term I would be concerned about the steel bits, especially the frame and swingarm.
I've had other bikes where these items needed re-finishing after a few years. This is one area where the MT-09 is clearly a cut above the rest.
The lack of any provision for paddock stand bobbins is annoying, and the shape of the swing arm doesn't make using a pad-type stand particularly easy. On the other hand, the method of measuring chain tension given in the owner's manual is the best I've seen.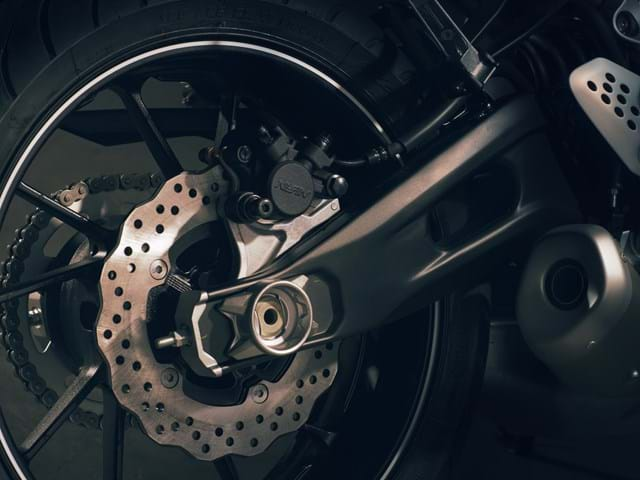 Accessories
Incidentally, I've noticed on the forums dedicated to this bike, and find it quite amusing, to see the efforts that many owners make and the cash they spend trying to turn the MT-07 into something that it never set out to be.
Akrapovic exhausts, fancy rear shocks and tail tidies to keep their jackets clean. I'll admit, though, that we did add a few practical accessories to ours - Puig screen, R&G crash bungs and Givi topbox rack.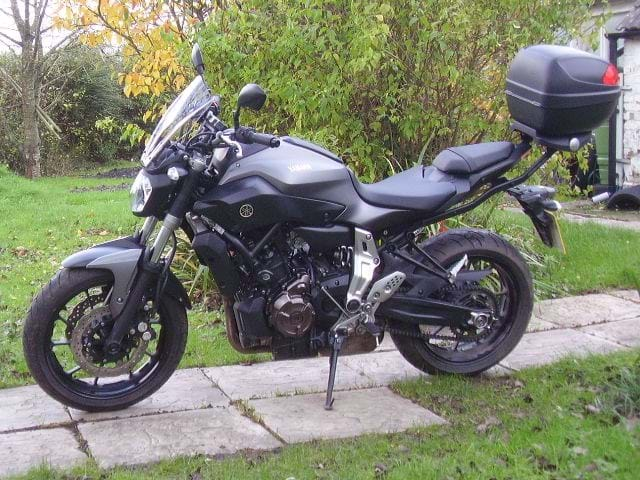 To Sum Up
So, would I recommend an MT-07? Yes, but more to someone looking to move up to a full-sized bike rather than to a more experienced rider.
I'd suggest trying the competition from Suzuki, Kawasaki, Honda, Ducati etc. because what suits one person might not be perfect for another.
- Bob H, 2016
Price Guide
Year
Dealer
Private
Part Ex
Mileage
2017
£5,300
£4,250
£3,750
6,700
2016
£5,100
£4,100
£3,600
8,500
2015
£4,950
£3,950
£3,450
10,300
2014
£4,800
£3,850
£3,400
12,100
How to use the price guide
Related Bikes
XSR700: The neo-retro version of the MT-07.
Tracer 700: Adventure style MT-07 with taller suspension, longer Aluminium swingarm, larger tank, handguards and mini fairing.
Tracer 700 GT: Special edition Tracer with the panniers, comfort seat and taller screen.
The Second Opinion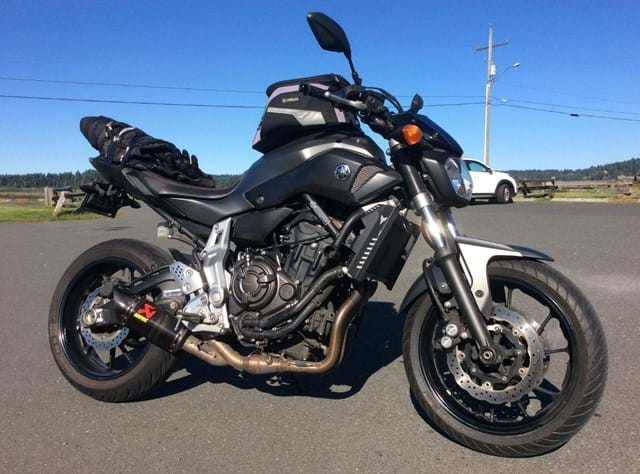 2015 Yamaha MT-07
I bought the bike new in the fall of 2014 and when I sold it to buy a 2015 R3 it had 20,000 miles on it. The kind of torque and power this bike has was very new to me, a true hooligan bike to be sure, however it did not suit my style of riding. I did love what it had to offer, which is the Yamaha quality, reliability and performance.
The bike performed flawlessly for me and there were no recalls. I did all of the basic service myself with no issues. I am 5'8, 73 kg and it fit me very well, so close to being flat footed with a nice bend in the elbow. I did change the exhaust to an Akrapovic Carbon which obviously made it sound amazing, then fitted bar ends, Yoshi fender eliminator and Michelin P-3 tyres which made a huge impact on confidence and handling.
I could ride it over 200 miles before it needed more fuel, the bike was under 185 kg ready to go and go it did, very well. Stopping power was two fingers on the front mixed with the rear and it was brilliant.
The handling is excellent and only my R3 was better, for obvious reasons. The longest ride I went on was about 310 miles in a day, with stops every hour, which I do on a regular basis. The upper body would take a beating from not having a screen above 70 mph.
In general I can recommend this motorcycle to anyone, with the exception of someone who has aspirations of longer rides, like touring.
I've never had any two up rides on it though. I was new to motorcycle riding when I bought the MT-07, only after I put 300 miles on a 2014 CBR500R did I trade it for the MT.
I feel if you are sensible about the power you can ride one as a newbie, with some experience from a bit of training. Why did I trade it for the 2015 R3? Well because the R3 suits my riding style and my MT-09 compliments my need for power and touring.
- Michael H, 2019
Add Your Review
Do you own this bike? We would love to hear anything good, bad, unexpected or that you have changed plus anything that a prospective new owner might find interesting or useful.
More Info
Check out this two part video review from CagerOnTwoWheels.