KTM Duke 790 Review
| | | |
| --- | --- | --- |
| " | An attractive, fun and lightweight bike which inspires me to go out in all weathers and I'm still disappointed that I've reached home - that's how much I love it. | " |
| | | |
| --- | --- | --- |
| REVIEW | | ★★★★☆ |
| | |
| --- | --- |
| ✓ | Torque, electronics, weight, headlight, handling, sound, suspension |
| | |
| × | Finicky day/night display mode switching, brakes, can get hot in traffic |
This is my third KTM bike. My previous bikes were the 125 Duke and the 390 Duke so for me a natural progression on to the 790. I had previously had another make but on visiting a dealers on a bitterly cold rainy winter's day I spotted the the 125, for me the colour hit me, the whole fun look of the bike (could even inspire to ride on cold and dreary days) so bought on the spot and that is where my affair started with KTM.
I have always been pillion passenger on motorbikes and have travelled to many overseas countries on bikes. Then six months before I hit 50, and I still don't know why, I booked up for a CBT and went for my licence and passed not many days before my 50th and I really still can't believe i did it...
As much as I loved the 390 I wanted to have a bike with the capacity for motorway riding and short trips to Europe if I want to go on my own so this pushed me on again to progress. This bike ticks the boxes and the biggest one is the weight. It's so easy and so nippy around traffic with my commute into the city for work.
Changes I've Made
KTM grips
R&G radiator guard
R&G engine bobbin protectors
R&G side stand plate
KTM tank protectors
KTM wheel graphics
Oxford Aluminium handguards
KTM luggage and rack
Orange brake reservoir cover
Fly screen
Good Points
Weight of the bike, especially for me as a female rider so this was a big deal for me, it gave me confidence as only a couple years in so still learning
Front light - what a great look, so bright you are visibly seen in the dark, do get flashed though as other drivers think I'm on full beam
The overall look of the bike
The sound of the bike
The handling so responsive
Ride is just so much fun
Economical
I personally find them comfortable (125, 390 and 790)
Bad Points
Display unit reacts to day and night far to much, 125/390 did not so will bring it up next service, shame it can't be overridden
Clock / temp - wish it was bigger as it hard to see but very overly large mph
Does get hot on the legs and the fan kicks in, not as much as previous bikes, does rather heat my knees up if stuck in traffic
Over tightened chain / noise had to be corrected
As all motorbikes heated grips should come as standard, we live in a cold climate
Still waiting on Power Parts to purchase or receive, crash bars not available or KTM hand guards
I've ridden other bike makes in my short motorbike career but this bike for me is what biking is about. An attractive, fun, lightweight bike. It inspires me to want to go in all weathers and I'm still disappointed that I've reached home - that's how much I love it.
All bikes have their good points, bad points and issues but I would still continue with the KTM brand.
- Samantha H, 2018
Specs
Capacity: 799 cc
Power: 103 bhp
Seat Height: 825 mm
Wet Weight: 174 kg
Range: 150 miles
RRP: £8,500
Another Review? Let's Go!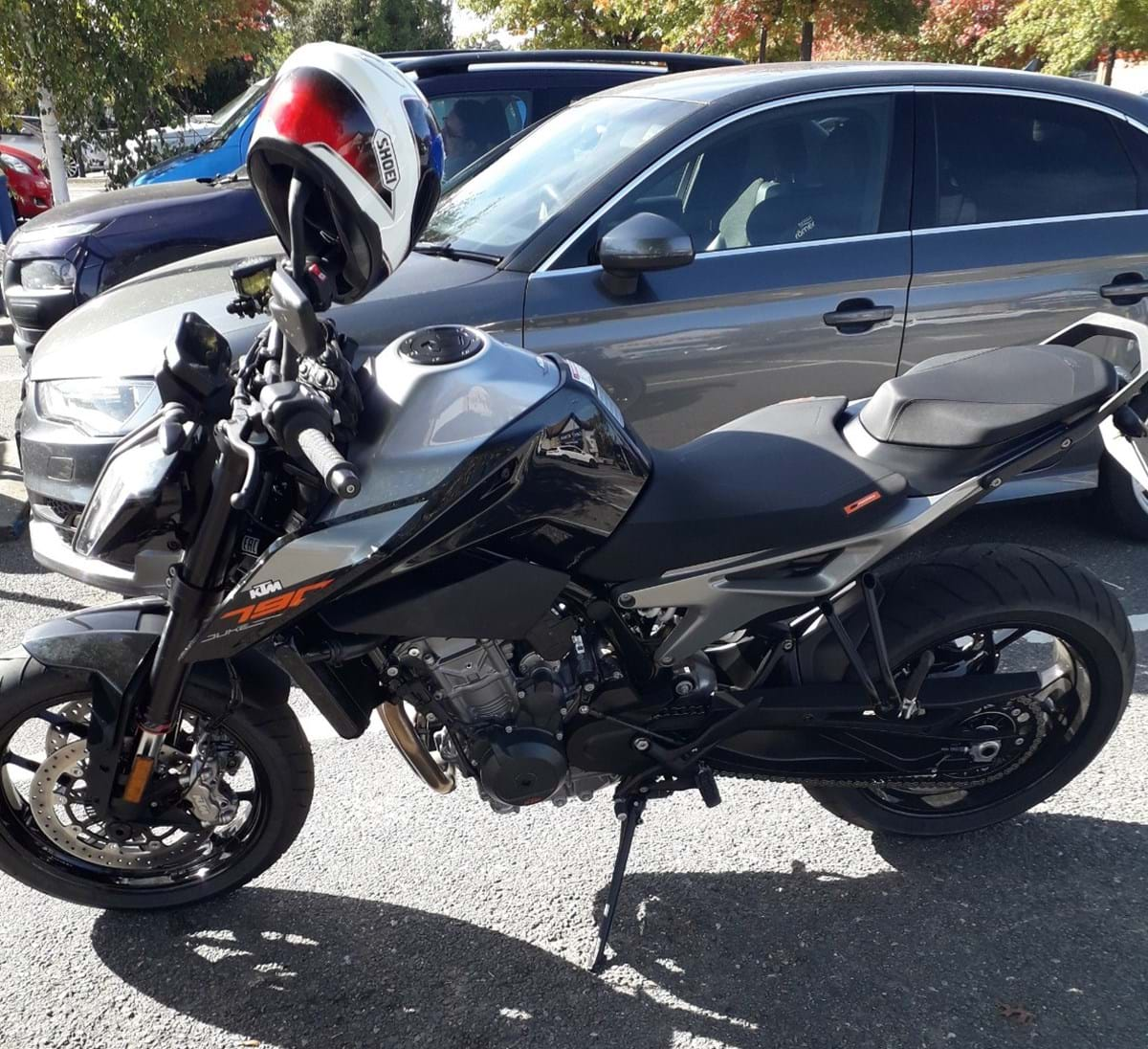 Had countless bikes over the last 40+ years. Mostly been sportsbikes but decided to 'go naked'. Had an XSR900 (lovely bike), but fancied a change. Read reviews on the 790 and took one for a test ride.
Very different to the XSR and not sure at first, but got such a good deal on one that I took the plunge. Going in for 1st service tomorrow. Standard apart from R&G Tail Tidy and the 'Ergo'/comfort seat. Having KTM heated grips and Oxford handguards fitted. I went for the black as think it looks classier.
Likes
Engine character and sound...all the pops and crackles on the overrun
Suspension quality...just right. Never adjusted any suspension on any of my bikes, and the 790 is definitely plusher than the XSR
Electronics...TFT dash, quickshifter, modes etc
Looks...not 'pretty' but mean looking
Handling..light and flickable
Fuel Economy
FUN
Longish service intervals
Ergonomics and comfort
Dislikes
....mmmm..not much at all really
... OK so far, but have read about various issues on forums, which is a slight worry 😕...although mine seems to be fault free at the moment
- John N, 2018