Ducati Scrambler Cafe Racer Review
What Is It?
The 2017 Ducati Scrambler Cafe Racer is one of the top end Scrambler variants and saw a minor update in 2019.
Engine: 803 cc V-Twin, 75 bhp
Economy: 45 mpg, 130 miles
Seat Height: 805 mm
Wet Weight: 188 kg
RRP: £9,395
| | | |
| --- | --- | --- |
| What Is It Like? | | ★★★★★ |
| | |
| --- | --- |
| ✓ | Look great, small, easy to handle, lots of torque, tyres |
| | |
| × | No gear position indicator, jerky throttle at slow speeds, seat comfort, range |
Having just got my full bike license, I was looking for a bike that would fit my 5'4 9st, pathetically weak frame. I'd been reading about the Ducati monster 696, which seamed to tick my boxes. This in mind, we visited a showroom and I did like the monsters I sat on.
But then tucked away in the corner, I spotted a Scrambler Café Racer. I got the poor sales man to just about rearrange the shop to get the bike in better view. I sat on it and that was the decision made.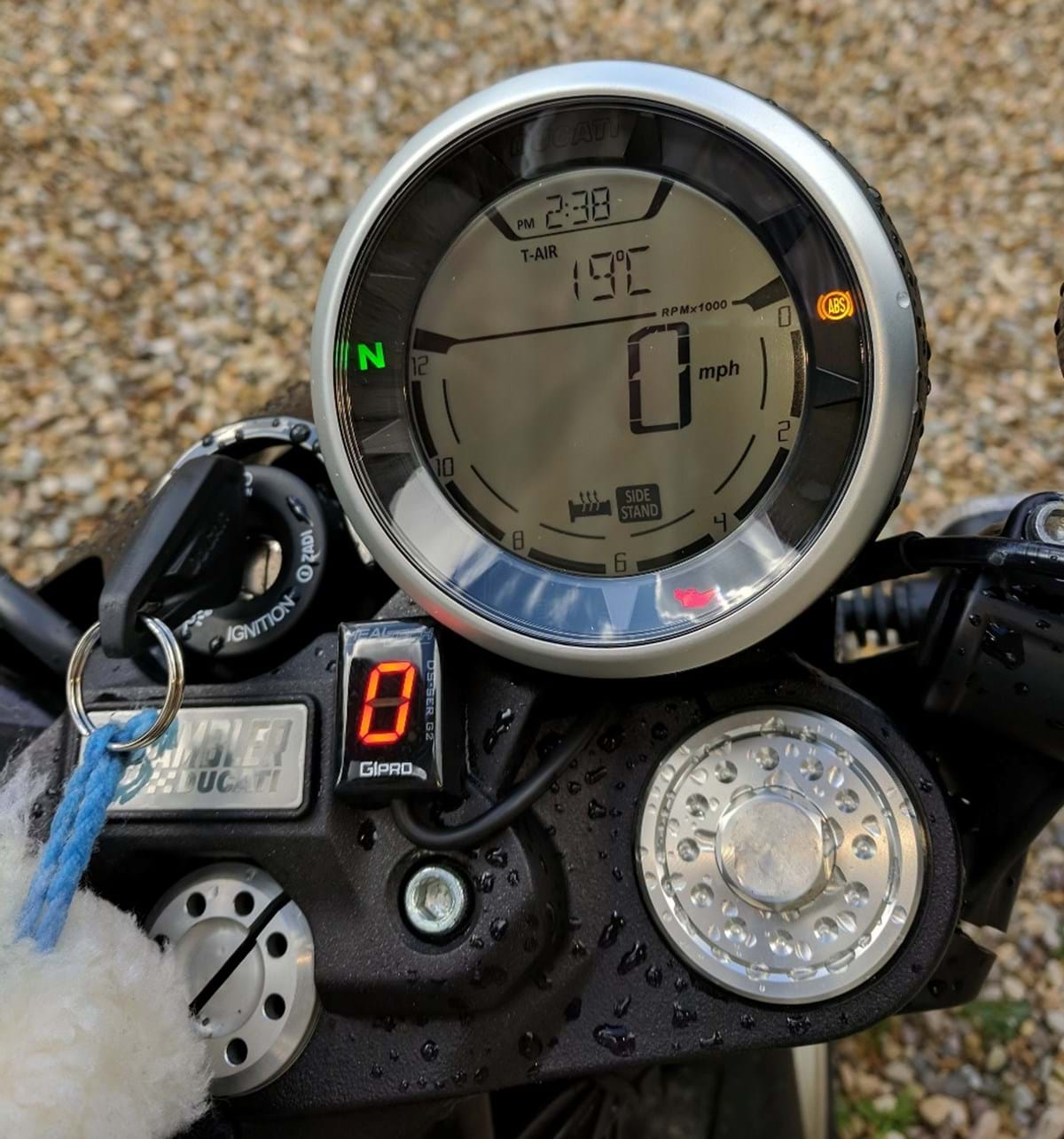 This bike is Fabulous. I saved a tidy sum buying an ex demo (just 200 miles on the clock). With the saving in mind I splashed out, having heated grips fitted (Ducati's own) and a gear indicator. I've also changed the number plate bracket to a tail tidy. The height as standard was fine, but hubby backed off the preload, which I think suits me even better. Hubby who is 6'3" and build like the old brick outhouse, still fits fairly comfortably and will grab the opportunity to take it for a spin, whenever my backs turned.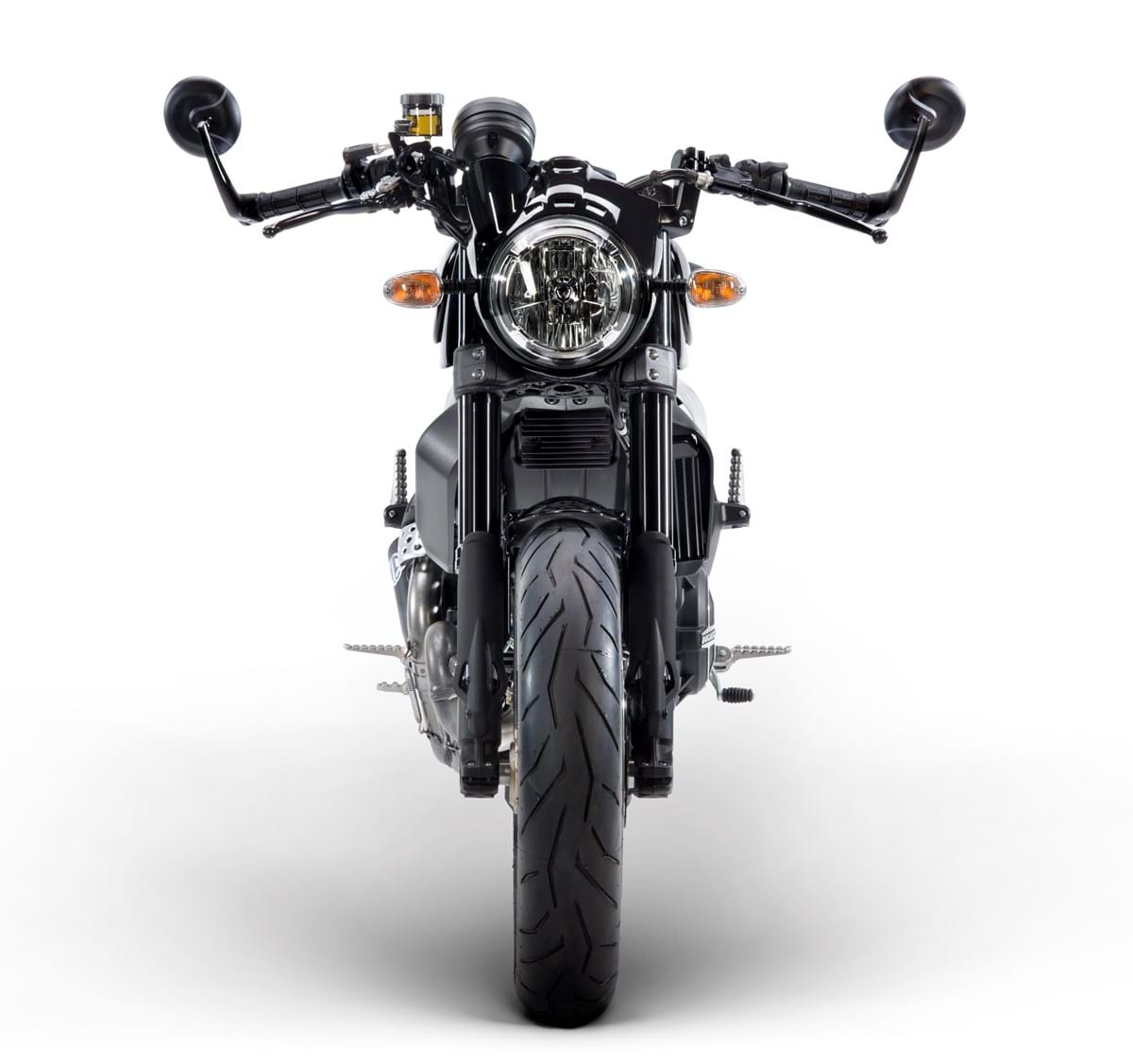 To ride, it's a novices dream. It feels comfortable and well balanced. Corners are fun and I agree with all other reviews the tyres stick fast to the road. My confidence is growing with every mile covered.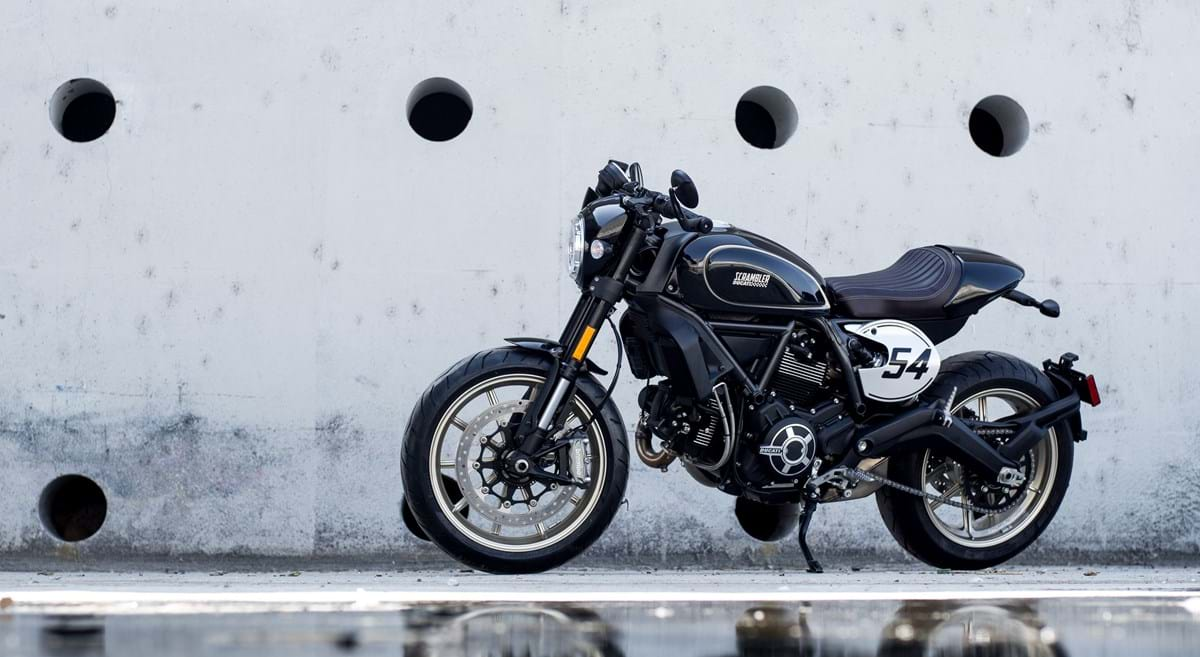 Finally, it is without doubt a head turner. Everywhere I go, I get asked about it and complimentary comments. Yes it has a hefty price tag compared to many other comparable bikes; but it feels and clearly looks to be made from quality.
- Katy N, 2018
Ducati Scrambler Cafe Racer For Sale →
Price Guide
| Year | Dealer | Private | Part Ex | Mileage |
| --- | --- | --- | --- | --- |
| 2017 | £8,100 | £6,500 | £5,650 | 3,700 |
| 2018 | £8,700 | £6,950 | £6,100 | 2,100 |
The Second Opinion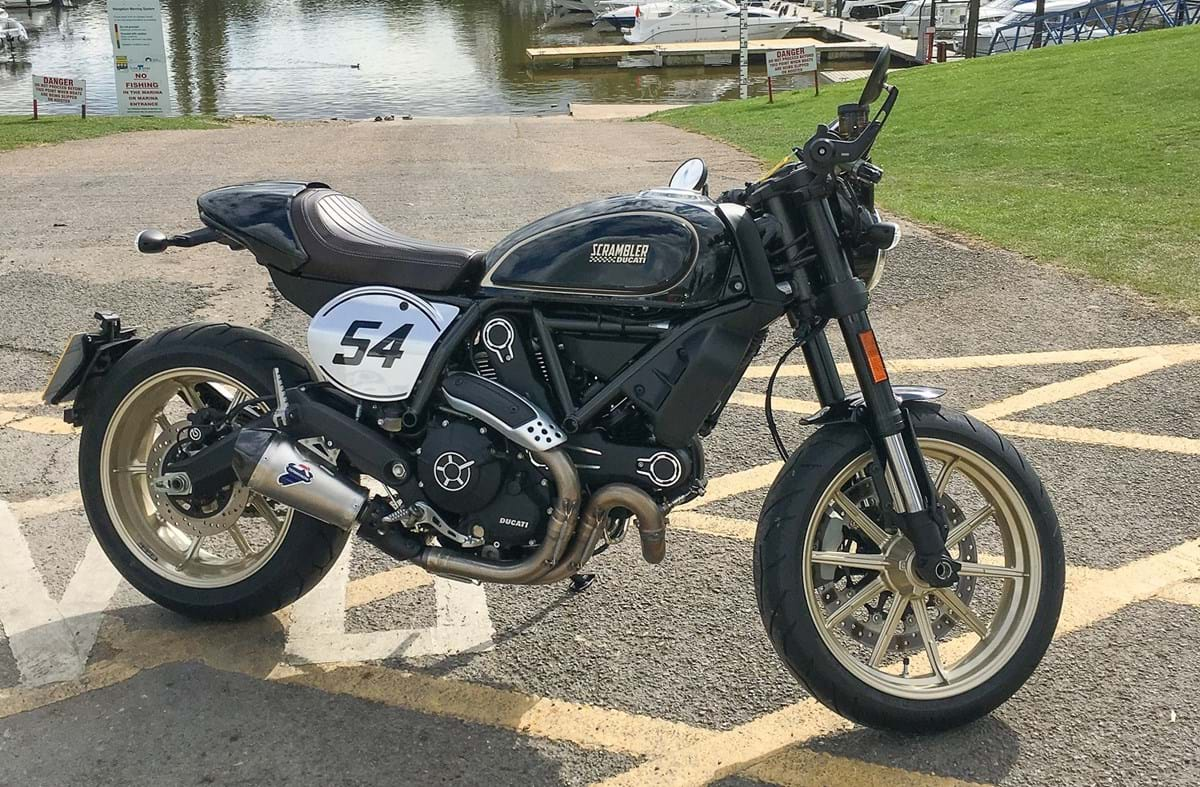 Firstly the bike is gorgeous and pulls a crowd wherever I take it. The paint finish isn't excellent for a 10k bike especially being a Ducati, although with a few layers of Carnauba wax it does come up gleaming.
The tank range on the bike is the worst part of owning it. You barely get 110 miles on a tank following the odd 'spirited' ride. Which leaves you looking for fuel stops at every hour whilst everyone else thunders on.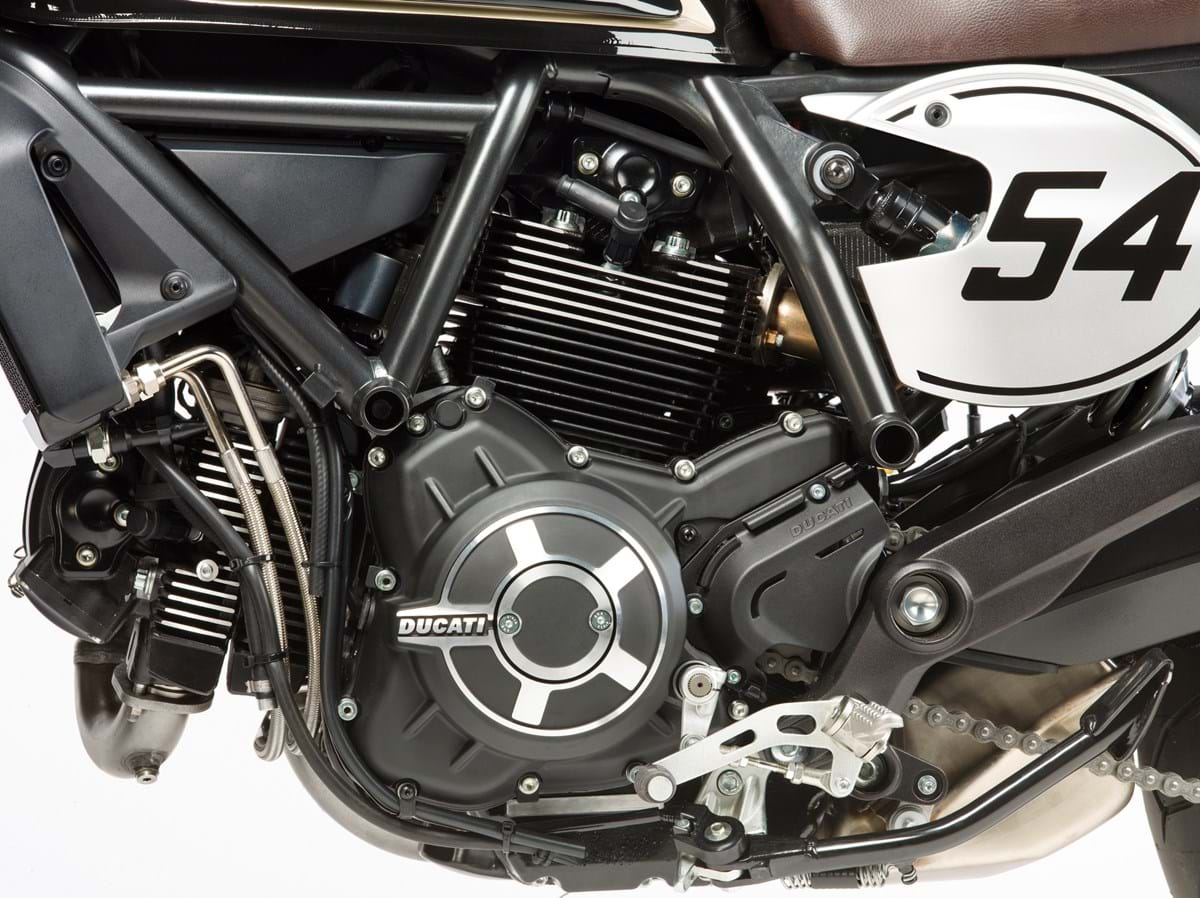 The throttle sometimes jerks and you are fully aware it's cable operated, but nothing that deters from a great ride. Its a V-Twin and was never going to be great through town and city riding, however it's a vast improvement over my old Monster 1100S.
I have the aftermarket Termignoni can fitted to the bike and it is music to your ears. Probably the best looking aftermarket exhaust you can purchase and totally gives the bike some character (not to mention saving a lot lot lot of weight against the standard toolbox exhaust they make you carry around).
The bike is as light as anything and although being what I would call underpowered at 75bhp through some twistys and flowing roads I can easily keep up with Monster 1200S, XDiavels and alike. Its only on the motorway you struggle really.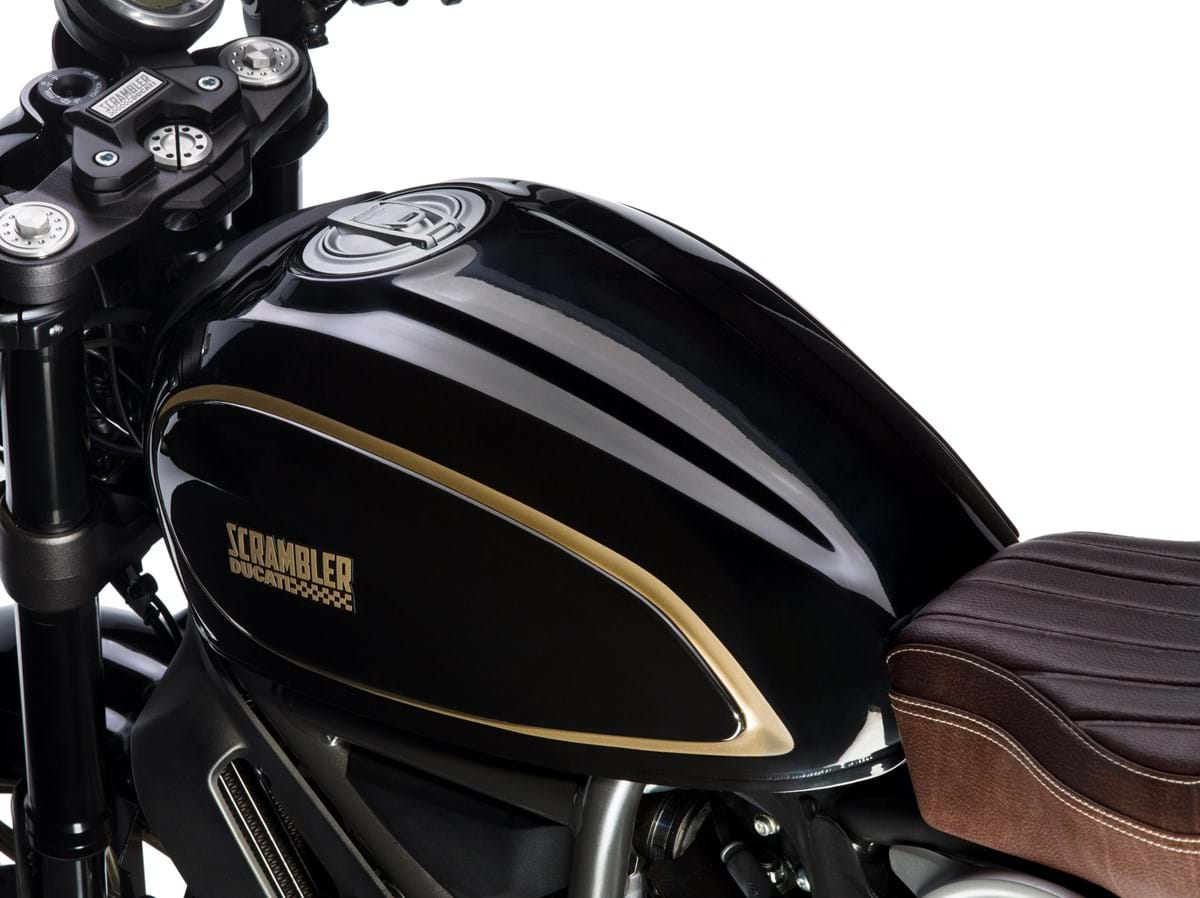 The bike looks excellent and for the most part is pretty comfortable, blasting between cafes on a Sunday, but after an hour or two the seat does get tedious and can prove to be pretty hard.
As security goes, you can fit an Oxford brake disc lock under the seat which is great, but with the disc being on the left hand side of the wheel, when the bike is on its side stand, you can't really see it.....so not much of a deterrent.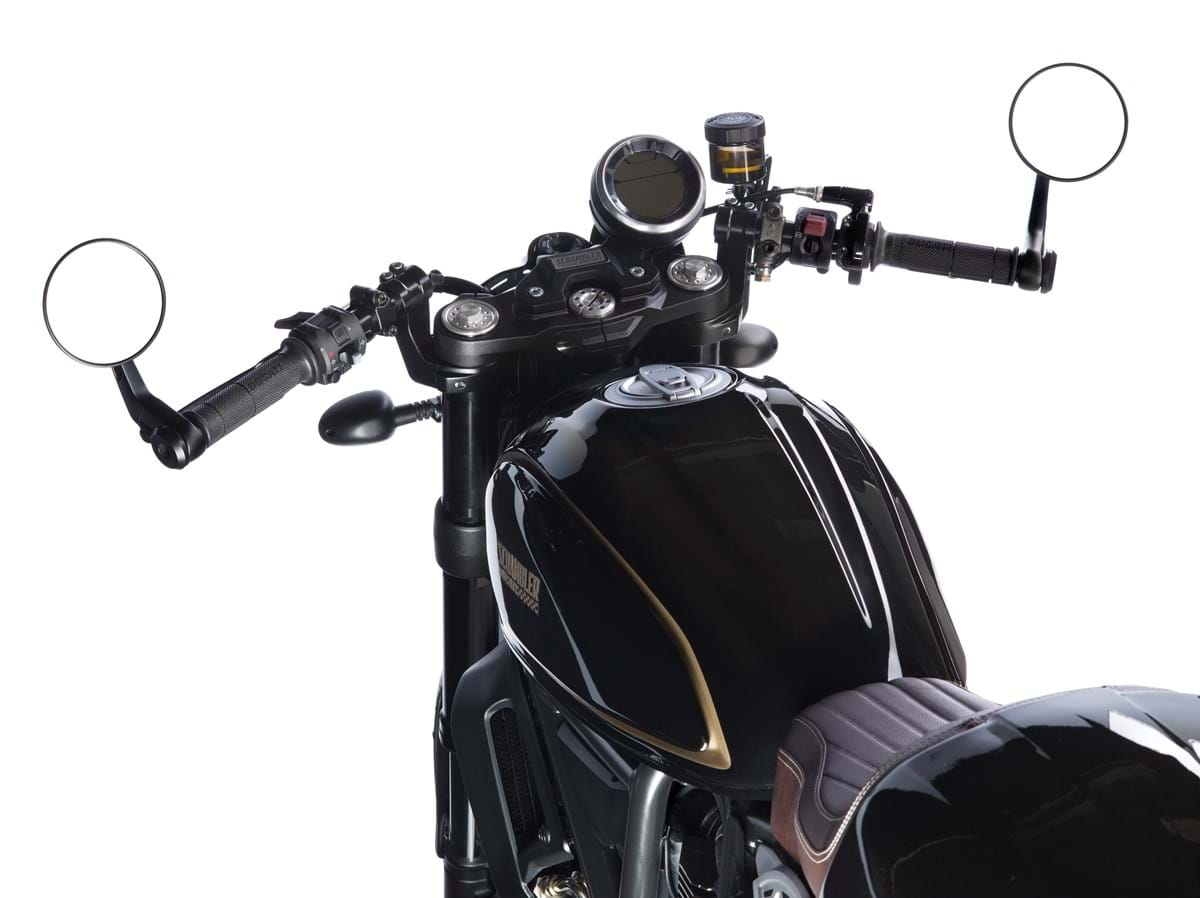 The bike would thrive with a gear indicator/ fuel gauge....something you should really be getting as standard after spending 10k! The standard tyres are excellent, Rosso Diablo 2's and there sticky as hell. Soon as there warm you've got the confidence to throw the bike around, and in the wet they aren't skittish at all compared to a supercorsa. Perfect blend.
The only major issue I have with the bike is the ECU. My local dealer are struggling to upload the Termignoni map to it, even after being issued specialist codes from Ducati directly. Annoying as hell seeing as I've waited over 5 months now to have this sorted out....but am still waiting! Not good from Ducati and I believe the bike will end up receiving a new ECU.
Other than that the bike is excellent and I am pleased with it. It's still a Ducati and still gives you a smile every time you fire it up. The only thing I would recommend is to try one first! Next on my list will be to tart the whole thing up with some carbon fibre to make it stand out just that little bit more!
- Gav, 2017