Ducati Scrambler Icon Review (2015)
"
There's plenty of torque, peaking at 5,500rpm which is right in the middle of the rev range and this makes riding the Scrambler very easy.
"
What Is It?
The Ducati Scrambler Icon is a retro style bike and the base level of the many Scrambler variants. It's powered by an air-cooled 803 cc V-Twin engine producing 75 bhp at 8,250 rpm and maximum torque at 5,750 rpm.
Specs
Seat Height: Low (

790

 

mm / 31.1 inches)
Weight: Average (186 kg / 410 lbs)
Economy: Average (45 mpg / 6.3 l/100km / 15.9 km/l)
Range: Average (130 miles / 209 km)
Power to Weight: Average (0.403 bhp/kg / 0.301 kW/kg)
Top Speed: High (120 mph / 193 km/h)
Pros
Easy to handle
Lots of torque
Looks great
Small
Cons
Jerky throttle at slow speeds
Seat comfort
Suspension
What Is It Like?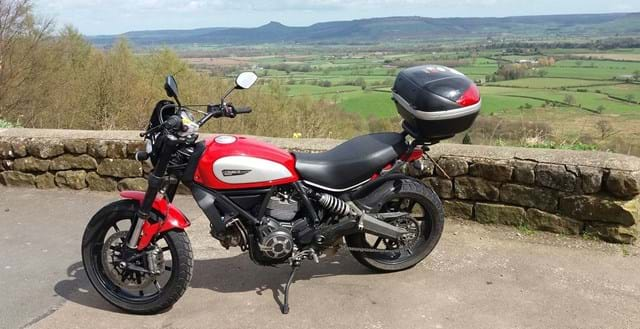 My Experience
I did my full bike test 2002, have since progressed to RoSPA gold, I'm a blood biker and currently have a Bonnie, Tiger 800, Scrambler and XJ6 in the garage.
I've owned a few bikes including a Honda Hornet, CBF 600, SV650, V-Strom 1000, Moto Guzzi V7, Ducati Monster, SS1000, 1100 Multistrada, Yamaha FZ1, FZ6 and ridden lots more as demos!
Choosing The 2015 Icon
I first saw this bike in 2015 at the Scottish bike show when I was looking for a weekend bike that my wife and I could both ride.
She has a 2014 Bonnie and the Scrambler looked like the perfect accompaniment for weekends on Yorkshire roads looking for tea shops. We finally bought one used, but with only 900 miles in two years it had not been used much.
What a lovely little bike. It's light, easy to push around the garage and not too tall for a small lady. Handlebars and foot pegs are well placed for it to be upright and comfortable.
Engine
Thumb the starter and the V-Twin engine starts up with a charismatic thump, immediately making the Scrambler feel special.
The engine is a de-tuned version of the SOHC, 90-degree Desmo unit from the discontinued Monster 796 with 75bhp. There are no power modes or traction control but it has a broad power delivery which helps make the Scrambler both quick and flexible to ride.
It is not keen on low revs in higher gears where it will bog down and sound very uncomfortable.
Power
The V-Twin advantage is plenty of torque, peaking at 5,500rpm which is right in the middle of the rev range and makes riding the Scrambler easy.
It picks up pace without difficulty almost regardless of gear and overtaking is as simple as flexing your right wrist. It has enough performance to make light work of slow traffic but never feels dangerous or difficult to control.
The wide bars make turning into bends intuitive and a piece of cake, while the brakes are fine despite the relatively simple single disc arrangement up front.
Straight-line performance is brisk, the engine happy to pull strongly from almost any revs.
Dash
The round instrument panel features a large central digital speedometer but a slim and less than legible rev-counter bar running around its lower circumference.
The minimalist, alloy-rimmed console is attractive but lacks a fuel gauge or gear indicator.
Mods
I have added a "Dart" fly screen which makes no difference to air on the body but helps keep flies off the back of the instruments and I have also added a Ducati rack for a top box so that day to day shopping trips are a good way to use the bike.
It's not the best way to look cool though so I've mounted a Givi plate for easy removal which restores the hipster cool.
To Sum Up
It is a simple motorcycle with two wheels and an engine but it delivers a characterful experience that most certainly will make you smile.
If you are coming from smooth Japanese four cylinder bikes you may not like the air cooled V-Twin vibe and perhaps a ride on an ER6 would be a good half way house first. I have had a few air cooled Ducatis so knew what to expect.
Test ride before you buy and if you are happy that it is not a smooth four cylinder you will enjoy it more and more with every ride.
- Paul S, 2018
Price Guide
Year
Dealer
Private
Part Ex
Mileage
2018
£6,400
£5,150
£4,500
4,900
2017
£6,000
£4,800
£4,200
6,700
2016
£5,700
£4,550
£4,000
8,500
2015
£5,400
£4,350
£3,800
10,300
How to use the price guide
Related Bikes
Ducati Scrambler Full Throttle - It builds on the Icon with the Termignoni silencer, lower bars, mini front mudguard and stylish black fuel tank.
The Second Opinion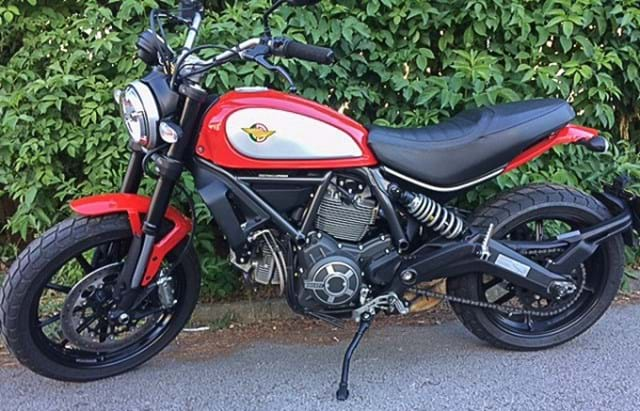 What's Good
It looks good with a nice paint finish on the tank. The brakes are good, there's plenty of feel and power.
It's great fun to ride, light, flickable, it pulls well, is responsive and is good in traffic once you're used to the low speed snatchy pick up. 
Any Downsides?
The standard seat is very uncomfortable with hardly any padding due to the tool recess in the seat pan being directly under where you sit. Most owners manage about 20 miles before it starts to hurt. I bought the Italia Independent leather seat (£240) which is better but it still gets uncomfortable after 50 miles.
The front suspension is poor and compression damping is way to firm, giving a "Jarring" harsh ride on bumpy tarmac.
The paint started lifting off the back of the engine after four months and the zinc coating on the footpegs / brake lever is corroding after eight months even though the bike has hardly ever seen a wet road.
The indicator cancel button isn't ideal, being very easy to leave your indicators on even though you have pressed the button to cancel them.
To Sum Up
The Icon is really a Sunday afternoon back lane scratcher and I love mine!
It's just a shame that Ducati cut corners on the suspension / seat / zinc plating etc but it's cheap for a Ducati so some of the negatives are to be expected.
- Mark, 2017
A Few More Thoughts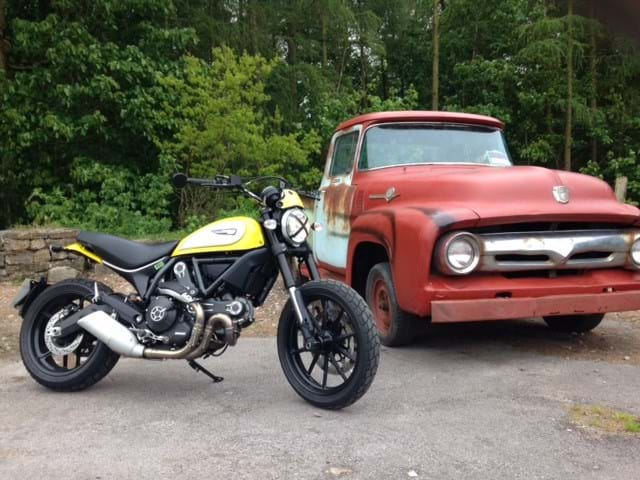 Icon No. 1
Back in May 2015 after I sold my big mistake Harley 48 I was looking for a cafe hopper for my wife and I to enjoy for summer weekends.
I looked at Triumphs, Monsters, Guzzis etc but nothing quite fit the bill until I saw a picture of the Scrambler in a magazine, the bike had only been out a few months and looked pretty cool.
We rode it to every local cafe we could find and it always drew a crowd whether I was filling up with petrol or parking up for the morning paper. I felt very proud over the year and the bike had lots going for it, but also had a few issues:
What's Good
Fast enough for our roads, I always came back with a smile on my face when I went out for a fast blast
Handles really well for a retro
It's small and light but not for tall riders
Economy: 55/60MPG
Looks great
Not bad two up
Torque
Tyres look ace and grip really well
Any Downsides?
The suspension is harsh but not horrendous
The seat is uncomfortable
Throttle is jerky
Servicing is expensive.
Tyres wear quick (3,500 miles)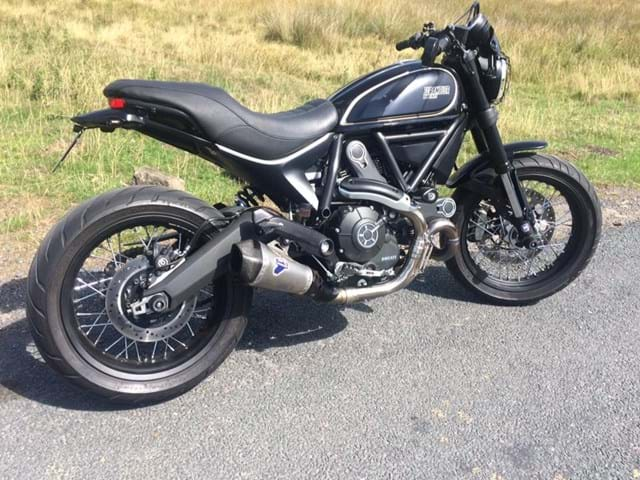 Icon No. 2
We had the first Icon for 12 months then decided to sell it. Once gone we soon realised we should have kept it, so back searching for another scrambler! The next one was different as it had the following upgrades:
Maxton front and rear suspension
Termignoni exhaust
Comfort seat
These upgrades make a good bike great and we can now cover more than 50 miles without numb bums and the sound from the exhaust is awesome. Also the ECU upgrade smooths out the jerky throttle.
We've had this scrambler for over two years and still love it, it's now totally different apart from the suspension as I've added the following:
Woodcraft bars
Cafe Racer tank
Leather independent saddle
Spoked wheels
Sport fairing
Zard exhaust
Custom indicators
Crash bungs
Mudguards different colour
The bike has now covered 8,500 miles but still feels tight and fresh with no real issues other than a new front disc and the resonator which was covered under warranty.
I genuinely don't think I'll sell it as its taken us to places we wouldn't go on other bikes, I've had GSXRs, 1000cc missiles and found them boring.
The scrambler does the opposite, you feel like you are flying at 70mph but it also encourages you to ride slower and enjoy the ride without near death experiences.
The bike now looks the dogs, still draws the crowds everywhere we go and still puts a smile on our faces every ride. If you are considering a scrambler don't let the suspension put you off, try to get a bike with all the upgrades and don't worry too much about mileage but do insist on service history and mint condition.
Enjoy the ride! I do.
- Armo, 2018
More Info
Check out this video review from TheMissendenFlyer.