Yamaha Tenere 700 Review (2019)
"
I really think that the other manufacturers need to sit up and think about what Yamaha have done here!
"
What Is It?
The Yamaha Ténéré 700 is an off-road focused adventure bike and is powered by a Euro 4 compliant liquid cooled 689 cc parallel twin engine, producing 72.4 bhp / 54 kW at 9,000 rpm and maximum torque at 6,500 rpm.
Specs
Seat Height: Average (

880

 

mm / 34.6 inches)
Weight: Heavy (205 kg / 452 lbs)
Economy: Good (60 mpg / 4.7 l/100km / 21.2 km/l)
Range: High (210 miles / 338 km)
Power to Weight: Average (0.351 bhp/kg / 0.262 kW/kg)
Top Speed: Average (100 mph / 161 km/h)
Pros
Based on the excellent MT-07
Good on and off road
Light
Cons
Non-LED indicators
Range
Seat
What Is It Like?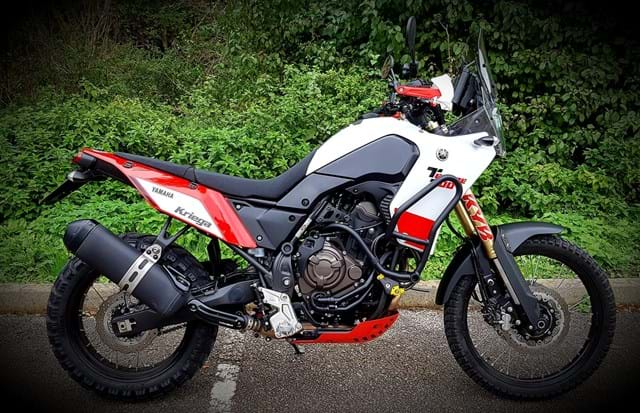 Why I Chose The Tenere
I've ridden bikes and scooters since my teens (I'm 55 now !), I cover around 12,000 miles a year of pleasure riding only, and over the last 2 or 3 years I've returned to doing a bit of gentle off-roading as well as touring Europe and the UK.
I recently sold my F800GS, and Beta Xtrainer 300, which in my mind covered all touring and off-road situations between them. However they both had major downsides, the BMW was great all round until the off-road got a bit more technical, where it became too cumbersome, and the Beta was next to useless on the road sections between our dwindling legal routes!
I realised that over the last year I had done more off-road on the German heavyweight than the sprightly Beta 2 stroke. This was partly due to the fact that it was easier to ride to the off-road routes and back, which saved messing about with vans to get there and back, and I also found the slower pace on the big bike off-road more appealing. So I set out to find the "swiss army knife" of motorcycles !
I had booked to attend the 2019 ABR Festival (brilliant weekend by the way!), and one of the main attractions was that the Tenere was getting its UK "public launch" there so test rides would be available. Luckily I was able to ride the Tenere, the KTM 790 Adventure, and the new BMW F850GS back to back, on and off road.
It didn't take long to make my mind up that the Tenere was the bike for me, and out of the 3 bikes I rode at the ABR weekend, that it was the only one (for me anyway), that I could competently do 90% of what I had on my previous 2 bikes.
I'm only 5'7", not the strongest, and off road the KTM and BMW where just too bulky, whereas the Yamaha felt considerably more manageable.
There was also the price difference obviously, and I felt that I would be happier seeing a £8,500 bike laying in a puddle than a £12,500 one. The Tenere was also much simpler, which suited what I wanted to do with it.
My only concern was that the Tenere would be "lacking" on the motorway, and I wasn't able to test how it handled this job, so I set about researching the Tracer 700 with it having the same engine. Reports were good so I took the plunge and paid my deposit.
Delivery for the dealers was a nightmare, and I actually got bored with waiting for Yamaha to produce the goods, and cancelled my order at the local dealer when I found a cancelled order elsewhere ... not the dealers fault, 100% Yamaha's.
I've now done 3,000 miles in 8 weeks, did the first 600 miles in the first week so it could be serviced, then did a 1,000 mile 4 day mini south coast tour the second week. The bike has been ridden in all conditions, including some pretty hard off-road ... so what do I think?
Engine And Gearbox
The CP2 motor is a peach, and a well used / proven power plant, that doesn't disappoint. It's smooooth, free revving, and has more in the way of power than it's 75 bhp suggests.
Below 5,000 rpm it feels a little tame but once it's run in, and you can open it up, it really comes alive. It has a nice spread of torque, and doesn't get rough or vibey at higher revs, oh, and it sounds awesome with the standard exhaust.
Mine has not used any oil or coolant so far, and these are easy to check and top up if you need to. The gearbox was a little notchy at first, and needed a firm prod to change down several gears in quick succession, but this has now sorted itself as the gearbox has settled in.
I will say that the first 3 gears feel low on the road, but come into their own off-road, the bike pulls really well on road in the top 3 gears, and you can be quite lazy by riding in a higher gear than expected. Some people are saying that the throttle is a bit on / off at low revs, I've adjusted a lot of the factory set slack out of the cables and it seems to have sorted it.
Comfort And Suspension
I have the 16mm lowering links fitted, I've dropped the front end by 10mm, and I also bought the low seat, but tend to use the standard one as it's slightly more comfortable. The height hasn't been an issue for my 30"-31" legs, probably because the bike feels so balanced and light, even though these are tall bikes.
The riding position is great, the standard screen does a remarkably good job, although I have fitted the T7Rally screen risers which are great, it's only really let down by the seat comfort but I'm finding this less of an issue every time I ride it.
I've also fitted uprated hand guards that can take my numerous falls while off-road, and Oxford heated grips which everyone agrees are better than the Yamaha ones.
Brakes
There has been some comments that the brakes are lacking initial bite, but for me this hasn't been an issue. They have a nice smooth action, but when hit in anger they will certainly stop you quickly.
I've also not found the ABS to be too intrusive, but it's nice to know it's there to save you in a panic brake situation. I'll probably swap to EBC HH sintered pads once these are worn out, I've always used these and had good results so will stick with what I know.
Fuel Economy
I ride reasonably hard, I cruise at the speed limit plus a bit (don't believe the speedo as it's way out!), and even with a fair bit of high speed motorway cruising I can push to around 200 miles from the 16 litre tank.
Once the last fuel bar flashes you can easily still get 30-40 miles out of the tank. So a nice useable range.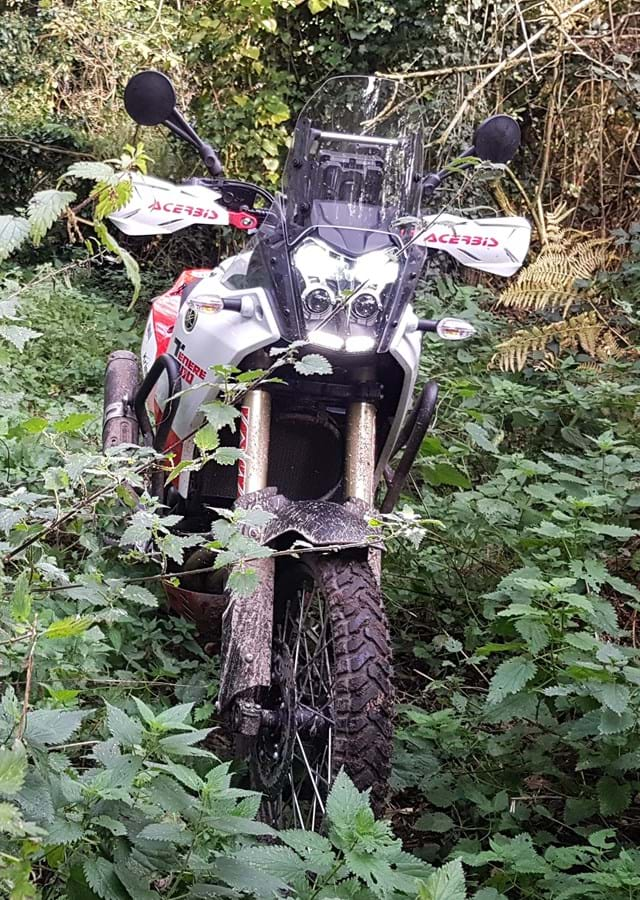 Off-Road
I love this bike off-road, the standard suspension is better than an average rider will need, at 80kg (I think), I've actually softened it off slightly, and it still seems to handle whoops and small jumps okay without bottoming out.
The soft power delivery low down, and low first 3 gears allow it to find grip easily, the standard tyres aren't bad but don't like mud!
One minor annoyance is that if you switch the bike off you have to disable the ABS every time, but I'm getting used to that. Other than that I really can't fault it!
Road And Touring
Can you tour as well as back road scratch on this bike .... oh yes absolutely! If you want to sit at 100 mph+ two up, with huge amounts of luggage then this probably isn't the bike for you. But, if you ride mainly ride one up, or two up without huge amounts of luggage, and are happy to sit under a ton, it will do it with ease.
Handling is really really good on the back roads, I don't seem to be able to feel the 21" wheel on the road like I could on the BMW, it turns and tracks beautifully for this style of bike, and I just smile every time ride it.
Mods
Hand guards to Acerbis X-factory, stronger when I drop it off-road.
Tyres from the standard Rally STR's to Mitas E-07, much better in the wet off-road, not bad on road' last well, and cheap!
Inner tubes to 4mm Ultra heavy duty ones, just for more puncture resistance (although I'm converting to tubeless wheels in the new year).
T7Rally.com screen risers, cheap work really well and the screen can be lowered for off-road.
T7Rally.com tail tidy, because the standard one is huge and just asking to get damaged.
Yamaha engine guards and radiator guard fitted for added protection / damage limitation.
Taken the removable footpeg rubbers off, for better grip off-road.
Removed the standard mirrors which work well but I know I'll break them. Replaced with Doubletake mirrors.
Added mounting points and power sockets for the satnav and GPS I use, power connections are fitted to the bike but I like to switch them through a separate relay.
Conclusion
I LOVE THIS BIKE ... and I believe it really is the best travel and adventure bike on the market, although for pure road use I probably would have bought the F850GS.
However ... the Tenere isn't a bargain priced bike when you look at what is "missing" compared to the BMW at £9,500 for a base model, it's a cheaper bike though that is just as capable.
For me the lack of size, and technology is a massive plus, and I think it will be for lots of others in the future. I really think that the other manufacturers need to sit up and think about what Yamaha have done here!
- Tony G, 2019
Price Guide
Year
Dealer
Private
Part Ex
Mileage
2022
£9,500
£7,650
£6,700
1,200
2021
£9,050
£7,250
£6,350
2,100
2020
£8,500
£6,800
£5,950
3,700
2019
£7,950
£6,350
£5,550
5,100
How to use the price guide
The Second Opinion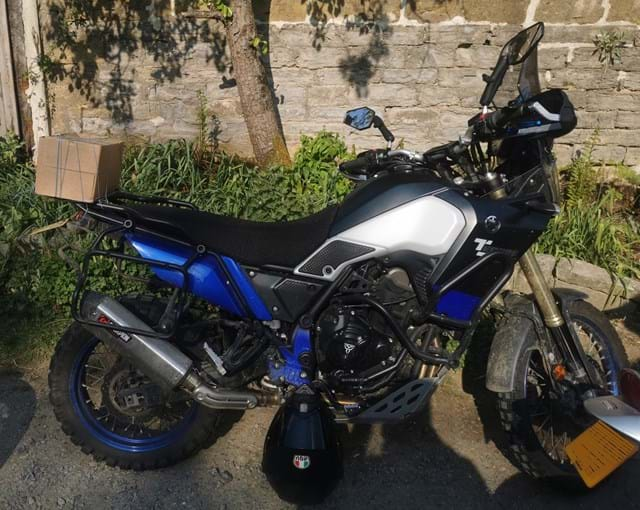 Tenere 700 2020
About Me
I'm a 29 year old male, 101 kg / 16 st and 183 cm / 6 ft. I have 18 years riding experience over 12 bikes.
Why did you choose it?
Its the best looking street / Dakar bike with good ride reviews.
What could be improved?
Better customer service at Yamaha
Paint to stop corrosion
Any mods or upgrades?
A high seat and spring.
What is the economy like?
Roughly 175 miles to a tank.
How does it handle?
Like a heavy dirt bike.
What are the brakes like?
Good.
Is it comfortable?
Not without modification.
How reliable have you found it?
There was a problem with the clutch and gear box.
What's the servicing frequency and cost like?
£100 every 6,000 miles.
To Sum Up
The Tenere is good but it's a shame about the corrosion.
- Dale W, 2021
Add Your Review
Do you own this bike? We would love to hear anything good, bad, unexpected or that you have changed plus anything that a prospective new owner might find interesting or useful.
More Info
Check out this video review from CagerOnTwoWheels.