Yamaha MT-09 Review (2013)
"
After five years I am still in love with this bike and I have no plans to get rid of it. It's mostly about the engine and the looks.
"
What Is It?
The Yamaha MT-09 is a thoroughly modern naked bike at the sportier end of the spectrum and is powered by a liquid cooled 847 cc triple engine, producing 113.5 bhp at 10,000 rpm and maximum torque at 8,500 rpm.
Specs
Seat Height: Average (

815

 

mm / 32.1 inches)
Weight: Average (188 kg / 415 lbs)
Economy: Average (45 mpg / 6.3 l/100km / 15.9 km/l)
Range: Average (140 miles / 225 km)
Power to Weight: High (0.601 bhp/kg / 0.448 kW/kg)
Top Speed: High (140 mph / 225 km/h)
Pros
Real world speed
Amazing engine
Great handling
Superb value
Comfortable
Brakes
Looks
Light
Cons
Wind buffeting at very high speeds
Slightly snatchy throttle
Rear suspension
Tank range
Hard seat
What Is It Like?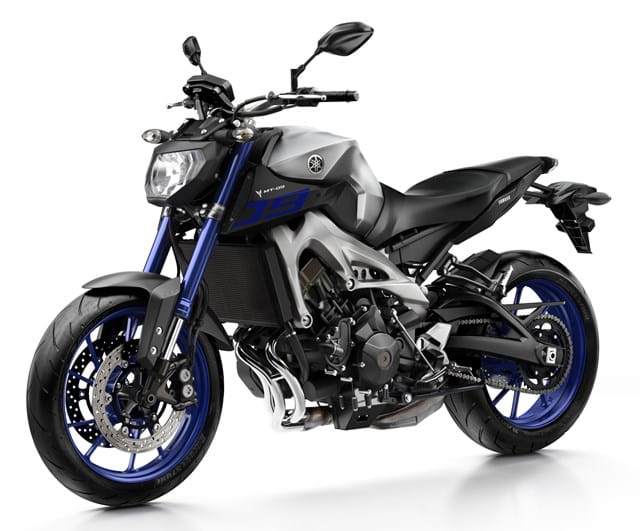 Choosing The MT-09
I bought my MT-09 in late November 2013, they had been out for a month or so at that time and I chose the MT basically because I liked the look of it.
I had seen my first one outside Sondel Yamaha in London and instantly felt attracted to the freaky transformeresque shape and bright orange paintwork.
First Impressions
Riding it home from the Faversham Bike Shop a few things became apparent. What an absolute peach of an engine, so torquey and an amazing growl, awesome brakes and very flickable handling almost like a 125.
However the throttle transition from closed to open was quite jerky, quite disconcerting until you learn to ride around it, the seat fossilised my bum inside 20 miles and the rear shock seemed to have quite minimal damping on rebound and compression.
We have now been together for 5 years this month. I am not a big mileage rider and have only covered just over 2,000 miles so far. I also own a Honda Pan European and most of my riding is off road.
Any Issues?
At around 500 miles the cam chain started rattling! A well known issue back then, this was swapped out under warranty without quibble.
Mods
The MT has had quite a few mods in our time together. The first one was to delete the hideous number plate holder it came with, the thing just stuck out way too far. I ordered an R&G tail tidy and this made it all much neater, but there is now a lot more choices out there.
The standard exhaust now resides in my loft. I fitted the Akrapovic Titanium.
Other mods:
Lovely orange HEL brake lines
R&G radiator guard / engine cover protectors / sliders
Sliders on the front and rear spindles that were some generic Chinesey things from ebay
My levers are shorty gold items again generic cheapies from China
The throttle tube has been changed for a G2 ergonomics unit, it slows the initial throttle opening to make it a bit smoother
The clockset has been moved to a more central position using a bracket made by one of the Facebook MT group members
My handle bars are now Renthal fat bars (half inch cut off each side to improve cable stretch issue)
Domino handlebar grips
Suspension
I found I just couldn't adjust the rear shock into behaving itself. The front I got to be reasonable by winding up the damping screw a few clicks and stiffening the spring a bit but the stock shock now lives in the loft too.
I gave up on it and fitted an Ohlins unit. Bit of a fiddle to fit but not too awful, the back now feels more planted and confident around long bumpy bends.
Seat
The seat needs a whole paragraph to itself. I went out and bought the genuine Yamaha comfort seat, with that I found my bum died after 30 miles instead of the 20 I got with the stock seat!
So I sold the comfort seat to another MT facebook group member and had the original seat heavily modified by Viking of Sevenoaks. It now has lovely orange panels, a strap, some gel inserts and is a lot better.
Tyres
I am still on the Bridgestones the bike came with, they took a while to scrub in but I am quite happy with them. I'm not a hard and fast rider these days.
Servicing
Oil and filter changing is easy, plugs less so by the looks of it with quite a bit of getting things out of the way for access.
I balanced my throttle bodies a few weeks back, which is quite easy with the tank laid where the seat goes and the air cleaner box removed. I think valves need checking at 20,000 miles, probably a few hours labour but I think most bikes are like this nowadays.
To Sum Up
After five years I am still in love with this bike.  It's mostly about the engine and the looks and I have no plans to get rid of it in the long term.
My son is making noises that he wants it when he goes from A2 up to the full licence. No chance, it's mine and I am keeping it!
It is worth noting that the MT has had a number of changes over the last five years with each years new release, many of the issues I mention are now improved, so bear in mind my views are only relevant to the first generation model (2013).
- Lucy B, 2018
Price Guide
Year
Dealer
Private
Part Ex
Mileage
2016
£6,350
£5,100
£4,450
8,500
2015
£5,900
£4,750
£4,150
10,300
2014
£5,450
£4,400
£3,850
12,100
2013
£5,000
£4,000
£3,500
13,900
How to use the price guide
The Second Opinion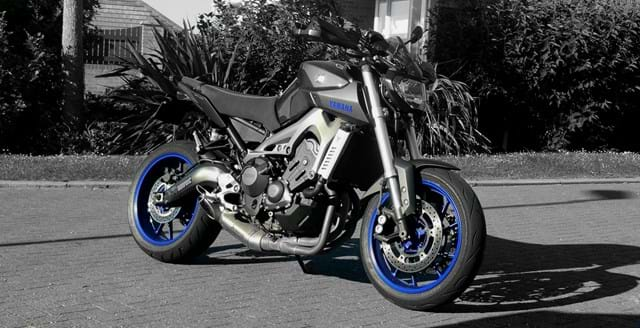 What's Good?
The only Supermoto thing about the MT-09 is it's riding position, nothing else, however this and it's low weight gives it great mid and low speed handling. I commute on B roads daily and used to have a Supermoto style bike.
The engine is epic and the throttle very sensitive but not surgy or twitchy. If you can train your right wrist in the art of Jedi it's fine, no wait it's hilarious, however it's something a remap will tame so think hard before you go down that route.
Wind buffeting is negligible. Because it's a naked, upright bike your helmet is up in smooth airflow.
Maintenance is easy enough apart from the awkward to access cylinder head, spark plugs and valves. Value for money is unrivalled and it's nearly as quick as the MT-10 but more fun in the real world.
Any Downsides?
The suspension is below par. I replaced my rear shock with that of a 2017 model and am now happy with it.
- Andrew H, 2018
A Few More Thoughts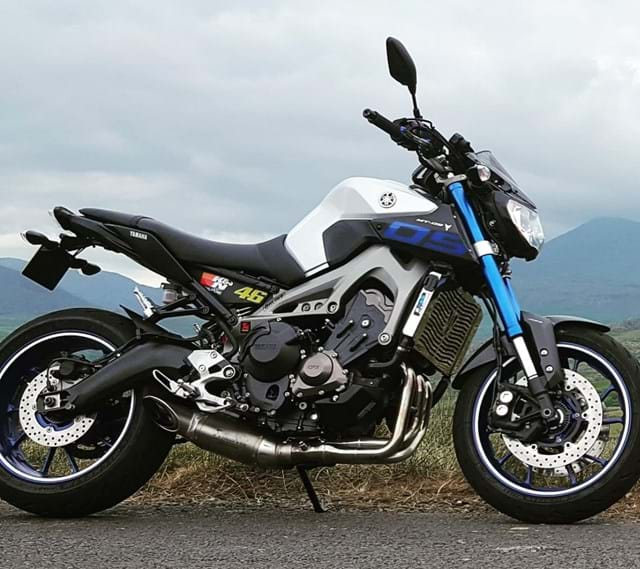 Pros
Engine is unbelievable
The Akrapovic exhaust made for the bike is amazing
Chassis is great and over all 5/5
Cons
Snatchy throttle
A mode is dreadful
Rear shock makes the bike feel like you are on a bouncy castle
Expensive insurance and desirable to thieves
Changes I've Made
Rear shock to K-Tech, a must really at £415
Re-flashed to take out snatchy throttle, £240 from s-tec performance using woolich map
Michelin Pilot Road 5 tyres to keep it stuck to the ground, £250
Dyno jet auto blipper, £600
K&N filter, £60
- Sam S, 2018
More Info
Check out this video review from CagerOnTwoWheels.