Honda Super Blackbird Review (1996)
"
Yes these are old bikes but they still give the new kids on the block a run for their money… plus for the money you will be hard pushed to find any other bike at the same price that will compare.
"
What Is It?
The Honda Super Blackbird is a premium sports touring bike and is often called the Gentleman's Express. It's powered by a liquid cooled 1,137 cc inline four engine, producing 164 bhp at 10,000 rpm and maximum torque at 7,250 rpm. The engine has dual balancer shafts and is mounted directly to the frame.
Specs
Seat Height: Average (

810

 

mm / 31.9 inches)
Weight: Very heavy (255 kg / 562 lbs)
Economy: Poor (35 mpg / 8.1 l/100km / 12.4 km/l)
Range: High (180 miles / 290 km)
Power to Weight: High (0.643 bhp/kg / 0.480 kW/kg)
Top Speed: Very high (180 mph / 290 km/h)
Pros
Smooth power delivery
Build quality
Reliability
Comfort
Very fast
Cons
Budget for bar risers and a screen
Heavy
Large
What Is It Like?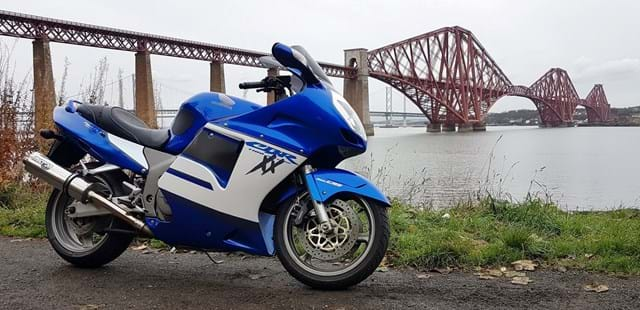 Choosing The CBR1100XX
When everyone gets into biking they have their dream garage and bikes they just have to have. For me there were a few! I started with the CBR600F4 ultima light which I could fling about and had countless fun on apart from when the rectifier and stator went, but the biggest problem was that I found it cramped and you had to rev it high to stay in the power band.
Then two bikes later I got another from my wish list. The Suzuki RF900R was like a childhood toy from the 80s with its testarossa vents, war of the worlds large rear end and even a glovebox for your sunglasses. It was the future in a time we thought everything would be angular.
It was a lot more comfy, with a better riding position, but you felt the weight in the corners and it felt like it needed that 6th gear. It was lacking that little something to take it from a good bike to a great bike and give it that legend status it so much deserved.
So my next bike was another from my dream garage, the legendary Honda CBR900RR FireBlade. She was a thing of beauty in black, titanium and moonshine pearl. Comfier with more get up and go, a capable bike, in fact more capable than its rider who at 6 foot 18 stone never felt like I was at one with the bike and as such it was top heavy… well the lump in the seat was.
So back to my wish list looking through the petrol heads version of tinder when I swiped right on the right bike, the Honda CBR1100XX Super Blackbird in Candy Tahitian Blue.
First Impressions
The first thing I noticed was the shear length of it. It's about 4 inches longer than the FireBlade and as such is a bit roomier. The body is wider, especially lower down. You feel less over the tank though, it's higher up and it makes you feel more like part of the bike. The front of the nose is reminiscent of the G4 Private Jet more than the Lockhead SR-71 it borrows its name from.
But sit on it and it feels like a familiar friend, everything falls right at hand where you think it should be and with a more minimalistic dash, especially in comparison with a Busa or ZZR1400. It feels like even the most inexperienced rider can jump on it and ride it easy.
Weight
Then there is the weight. You feel it when you're pushing the bike around but once up and running this disappears and the bike feels like it has the balanced poise of the lighter super sports.
This is down to the lower compact 16v four cylinder engine, cocooned in an alloy frame, with its dual balancer shafts. But with corners you still have to plan them as this is longer and heavy so even though you can get your knee down you have to be committed, pick that line and hit it.
Power
Comparing it with a super sport like the R1 or GSX-R1000 it's like putting a Bugatti Veyron up against a Porsche GT3. The Porsche is under powered in a drag race but can make up time on the corners.
The power is more linear than I was used to. It just pulls through all the gears effortlessly while your smile gets bigger, but surprisingly it's quieter, even with the Micron aftermarket system I have fitted to mine.
Brakes
Braking with the CBS linked braking system is strange at first but you learn to appreciate level diving when you grab a fist full of brake. Some people don't like this and de-link them but I find the bike staying level and not diving makes up for some of my lack of ability as a rider. Plus with the added advantage of anti-dive forks it makes the bike more complete in my eyes.
What's It Good For?
This is not a super sports though, it has the power to leave most behind on any straight and it's not a tourer either as it is still a sportier riding position than that of a Tiger or GS, however it is a bike that that is good at most things.
As such it's a bike you can jump on for a track day or to chase the sun around the highlands, whether knee down or two up it is a great bike.
Mods
If you want to cross continents you need to make a few changes. A comfier seat for one, I have upgraded to the viper touring seat, most go for the more costly Corbin seats.
For the wrists I added Jaws bar risers but most want the Honda VFR800 V-Tec clip-ons as they are plug and play. Plus as they are a direct fit, but finding these is up there with photos of the Loch Ness monster, very rare.
My next upgrade was the Power bronze deep dish double bubble screen which flings the air over your helmet and gives you more protection from the elements. It also gives more space above the dash if you are looking to fit a gear indicator.
I then upgraded to HEL braided lines for full brake and clutch system plus the anti-dive piston but this is not a cheap fix coming in at around £300 for all 23 pieces. But you really do feel the difference.
Economy
It has a bigger 23 litre tank, which allows you a realistic 180 miles between fuel stops. The manufacturer claims 200 but I have only ever managed 160-180.
It has a bigger surface area and due to the way it rises a larger tank pad will save your tank from any unnecessary scratches or paint rub.
Any Issues?
These bikes can suffer from the usual Honda gremlin of Rectifier / Regulator which is a simple fix by switching out to a ceramic heat sink finned one or swapping for a GSXR one. There is also a known loom issue that is easily solved by switching out the box connector that goes faulty and just crimping the wires together.
To Sum Up
Most Blackbird owners keep their bike for years, sometimes buying a super sport for a toy and the ones that sell them usually always regret it.
Yes these are old bikes but they still give the new kids on the block a run for their money… plus for the money you will be hard pushed to find any other bike at the same price that will compare.
- Paul M, 2018
Price Guide
Year
Dealer
Private
Part Ex
Mileage
2008
£4,750
£3,800
£3,350
22,300
2007
£4,500
£3,600
£3,150
23,800
2006
£4,200
£3,400
£2,950
25,200
2005
£4,000
£3,200
£2,800
26,400
2004
£3,750
£3,000
£2,650
27,600
2003
£3,600
£2,850
£2,500
28,700
2002
£3,400
£2,750
£2,400
29,600
2001
£3,300
£2,650
£2,300
30,400
2000
£3,150
£2,550
£2,250
31,100
£3,100
£2,450
£2,150
31,600
£3,000
£2,400
£2,100
31,900
£2,950
£2,400
£2,100
32,000
£2,800
£2,250
£2,000
32,000
↑Year shows signs of appreciation
How to use the price guide
The Second Opinion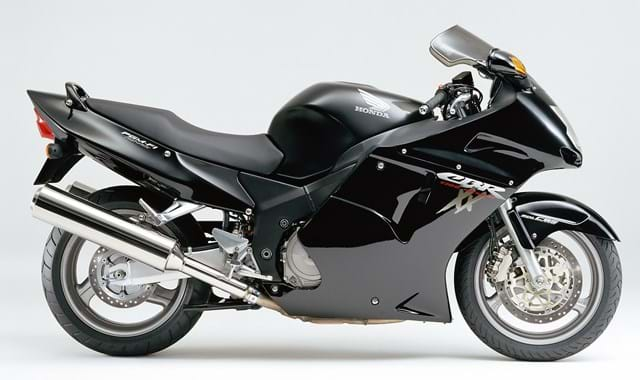 My Experience
After a few decades of riding, having gone through dozens of bikes from Enduros to Ducatis and many in between I haven't found a better overall bike than the CBR1100XX.
I owned a 1997, currently have a 2001 and I like them both equally. I'm torn between the different gauges, taillights, carb vs EFI, etc. between the 1st and 2nd generations...all different but equally loved.
I will say I like the first generation black the best, the other colours are okay and maybe they'd grow on me if I owned one. My '01 was painted Lamborghini Ballon White before I got it and it is stunning. I've ridden several other years and they're all equally great though some are said to be faster than others.
What's It Good For?
This bike won't compete with a touring bike for long range comfort, or a modern super sport bike for sportiness, but it does both quite well while looking like a gentleman's bike. It's somewhat of a wolf in sheep's clothing while still retaining a touch of wolf.
Brakes
Some balk at the linked braking system and I knew I'd have to de-link it when I bought my '97, until I rode it a bit and realised it just works. My '01 was de-linked before I bought it and I like it too, but I wouldn't de-link if I bought a stock one unless it was going to be a track machine.
Weight
It's heavy, but doesn't feel as heavy when riding. In stock form it's a little sluggish to turn in, but raise the rear suspension by adding a 5mm shim on the upper shock mount and it becomes more nimble.
Suspension
The suspension isn't great, nor terrible. Changing the soft progressive fork springs to something proper for your weight helps, especially if you're on the heavier side. Re-valving makes them even better. Change the rear shock to a Penske, Ohlins or one of the custom re-worked shocks available and it's way better. I have the Penske now; the stock one wasn't bad, just not great.
Exhaust
I like the stock exhaust, although it is heavy and does leave some performance locked up. I changed to a Yoshimura full system which woke the bike up from 4,000 RPM and really woke it up above 7,000 but the low end seemed to get a little softer.
I like the dual exhaust look and sound so I may change to something different. I also like the stealthiness of a quiet exhaust so I somewhat wish I'd never experienced how much performance the Yoshi gave it.
Comfort
The bike is comfortable for most people. Bar risers are a standard change for many, either aftermarket or installing VFR bars like mine has.
Many people install Buell footpegs which are lower than stock and they fit the factory mounts with minor mods. I'm the opposite and high pegs are more comfortable so I installed a set of Gille's Tooling adjustables and have them set to the max height.
Gearbox
The engine is as smooth as could be imagined, or smoother. Shifting is generally very smooth, although the 1st generation with its 9 plate clutch can be picky about cheap oils.
Servicing
Maintenance is minimal. Valve checks are every 16K miles according to the book, most go 3-4 times that before any adjustment is needed. Spark plugs, oil changes, etc. similar to other bikes.
The original cam chain tensioner is a weak point and many people swap them for an aftermarket unit. The regulator / rectifier is also a weak point on earlier years but I think later ones are better, another part often swapped for aftermarket or other OE designs with better cooling and longer life.
The stator is also seen as a weak part. With one of the newer series regulators the stator should last much longer and combining that with a good CCT should make it a bulletproof package that never has to be a concern on a long voyage.
These bikes have been known to run over 200,000 miles and owners have a high expectation of reliability so any failure is somewhat scrutinised by some.
Mods
People have turbocharged stock motors to 250 bhp without a failure, so they are strong. Some have gone beyond that with different pistons and other parts. The block and transmission holds up to it.
- Superhawk996, 2016
Add Your Review
Do you own this bike? We would love to hear anything good, bad, unexpected or that you have changed plus anything that a prospective new owner might find interesting or useful.