Suzuki Hayabusa Review
| | | |
| --- | --- | --- |
| Overall | | ★★★★☆ |
| | |
| --- | --- |
| ✓ | Weight makes it stable at most speeds, epic power on tap, yet easy to ride, useful under seat storage |
| | |
| × | Brakes, really needs a power commander, large and heavy, optimised for legal+ speeds |
What Is It?
The 1999 Suzuki Hayabusa is a premium sports tourer, is famous for chasing the title of fastest production bike and was updated in 2008.
Engine: 1,299 cc Inline Four, 175 bhp
Economy: 40 mpg, 190 miles
Top Speed: 194 mph
Seat Height: 805 mm
Wet Weight: 249 kg
RRP: £7,000
What Is It Like?
I bought my Hayabusa stealth Gen.1 2003 model we'll over a year ago and to tell the truth I wish I had bought one ten years ago. My last bike was a Kawasaki ST 1000 and before that a Suzuki TL 1000 S.
First impressions when I rode it were "This will pull my arms out!". Surprisingly no it was very powerful but so smooth with the power delivery.
The more I rode it the more I loved it, they handle well but you have to put faith in the the bike and the tyres. I was getting around 210 miles to the tank full when using it sensibly but the slower I went the less mpg I seemed to get? So as I like to be different I thought after a year of smooth and pleasant riding time for a make over.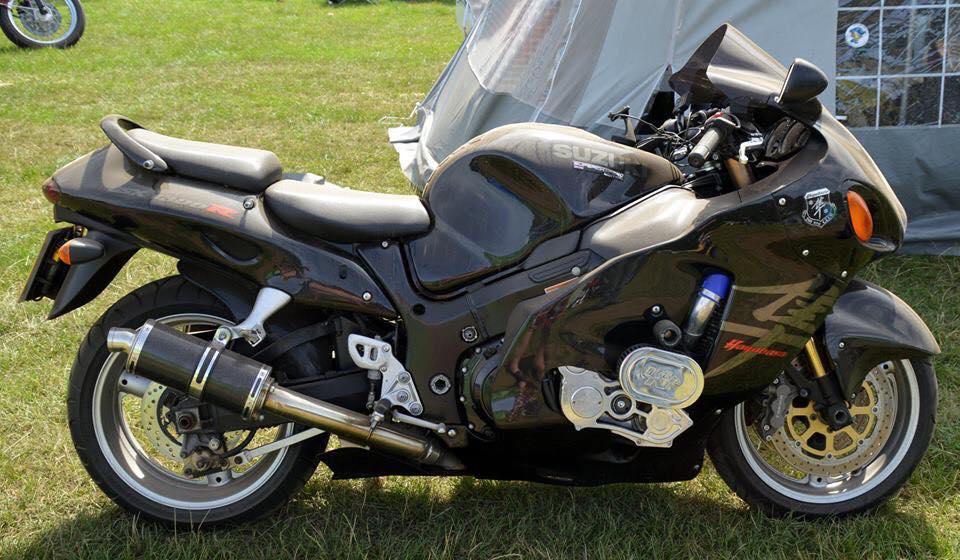 A phone call to Richard at TTS performance and the deal was done. A supercharger will be installed. At 157 bhp standard and 99 il/ft of torque people ask why put one on isn't it fast enough, well it's not always about speed. Supercharger fitted its now running 336 bhp at the back wheel and 178 lb/ft of torque. It still rides like a normal Hayabusa but wind it on and it pulls like a freight train. Or I can ride it around at 30 mph all day long if required.
Would I sell it? Probably not it's so smooth and powerful without being brutal. If I did sell it I would go out and buy another straight away.
- Rolf L, 2018
Price Guide
| Year | Dealer | Private | Part Ex | Mileage |
| --- | --- | --- | --- | --- |
| 1999 | £3,550 | £2,850 | £2,500 | 18,200 |
| 2000 | £3,600 | £2,850 | £2,500 | 17,800 |
| 2001 | £3,600 | £2,900 | £2,550 | 17,400 |
| 2002 | £3,700 | £2,950 | £2,600 | 16,900 |
| 2003 | £3,850 | £3,100 | £2,700 | 16,400 |
| 2004 | £4,000 | £3,200 | £2,800 | 15,700 |
| 2005 | £4,200 | £3,350 | £2,950 | 15,100 |
| 2006 | £4,450 | £3,550 | £3,100 | 14,300 |
| 2007 | £4,750 | £3,800 | £3,350 | 13,500 |
Year shows signs of appreciation
The Second Opinion
Hi all. I've never really liked doing written reviews on bikes, the market is too full of wannabe journos trying to be Jeremy Clarkson, or riders who've borrowed a bike from a dealership, parked it in a lay-by up the road, done a walk round and written a paragraph, but I wanna share my views on the 2003 Hayabusa I owned and loved, so here's the way I see the bike!
I was busy scrolling through Ebay looking for a ride-to-work commuter for my hour long daily trip, had about three grand to spend and couldn't believe what I found! A 2003 Gen1, K3 Stealth Hayabusa and it was absolutely immaculate... black all over, with black wheels, smoked out decals, black screen, black headlight cover and black Akrapovic exhausts.  It looked like something the Ghost Rider would use, so I couldn't resist it, drove the 20 miles over to Southampton, shoved my readies in the guy's hand and rode it away.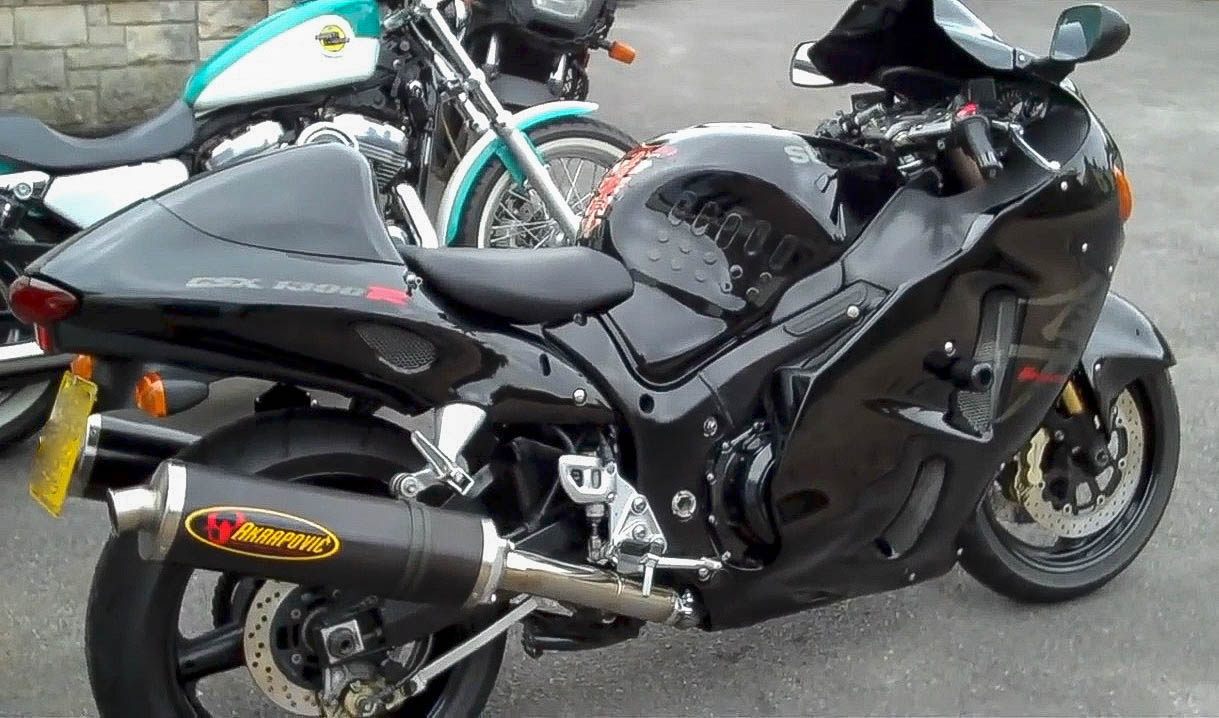 As I swung a leg over it outside the blokes house, suddenly something hit me like a plank in the face, and that was the fearful reputation these bikes had. You never pay any attention to it, unless you're gonna ride one... the "ballistic performance", the "brutal acceleration", the "claimed 200mph", blah, blah, waffle, waffle, etc..... and I shouldn't have let it bother me, but it was 5 degrees on an October evening, pitch dark, pouring with rain in a strange town at rush hour, and there I was on an I.C.B.M. feeling somewhat intimidated by what I was about to do!
The ride home is a blur now as it was 5 years ago, but it did have some hairy moments. I grabbed a handful of brakes when I shouldn't have, locking the front, and the ride position was very odd, compared to the bike I was used to... not because it was uncomfortable, but because with a Busa you sit 'up on top' of them, stretched out, not so much down in them like a conventional sports bike... and oh my god, are they wide! It feels like you're muscling a coach through the traffic and the controls were really light and sensitive, but I got home safe and over the next few weeks started to get used to my new toy.
After all the "Legend and Hype" the first thing that struck me was that it was actually over-rated, over-blown and a bit over-hyped. I experienced none of the terror and fear that people spoke about... it didn't feel like a 200mph bike, there was nothing fierce about it, and it was actually quite comfortable once I got used to the ride position and sorted out the cock-eyed fork alignment and badly worn front tyre. Commuting 2 hours a day to work and back was a joy, it was smooth, effortless, and felt like a two-wheeled Aston Martin! The Suzuki badge on the tank seemed almost out of place, it would be more suited if it had Lagonda written on it. Like the cliched journo's say, it was a real life gentleman's express, with good manners and a kind, easy controlability that never intimidated. Everything about it was progressive, predictable and felt safe.
So what is all the hype about and where does it come from? Well, in the end, I can only think it was the numbers in the brochures, 183bhp, 200mph, 200 back tyre, wind tunnel design, fastest ever production bike, blah blah, waffle waffle. Truth is, for an experienced rider who's got the patience and maturity to only let it off the lead in the right place, this was possibly the most superb, and awesome, motorcycle I ever rode... nothing about it ever scared me, and everything about it impressed me. But in the end I bought it on it's reputation for being a 'monster', and it was nothing of the sort. I actually ended up getting a bit bored with it and traded it in for a Triumph Scrambler after a year.
Ok, hang on, perhaps 'bored with it' is a bit unfair, because it was never boring... but in the end I always felt like I was looking over my shoulder, and in my mirrors, for those blue lights... you look down at the clock while gliding along on a dual carriageway and you're doing 90! Such was the smooth, whisper like performance, it didn't like 30mph in anything over 2nd gear, you couldn't nail it off the lights, because you're double the speed limit in first gear, you were always 'reining it in' and holding it back, and on the few memorable occasions I took the risk of properly letting it off the lead and just letting it all hang out, "three-miles-a-minute" comes up before you've got time to look far enough ahead to even stop. Then the Monster shows itself.
So that's when you realise where it's true performance lies, and that is above 100mph... under a ton, they are just like any other sports tourer, but once you glide through a Ton, it takes you into the twilight zone.. suddenly everything becomes smooth light and precise, the steering stiffens up, the suspension goes supple, and then you understand what the bike is designed for... it truly is a ballistic missile, and it's playground is on an autobahn, or just about anywhere that doesn't have a speed limit, which in the end, for me, was it's downfall. I could never really enjoy it and play silly beggars with it, so these days, I'm riding a fully un-faired XJR1200 with a turbo... it's daft, ridiculous, difficult to control and scares me every time I ride it, something the Hayabusa never did....!
The Triumph Scrambler that I traded it in for was ten times more fun in the traffic, more relevant, and practical for every day use... but with everything said, I miss my Hayabusa every day, and would I buy another one??..... HELL YEAH!
- Del (Moonfleet41), 2017