Yamaha MT-09 Sport Tracker
The MT-09 Sport Tracker is a small bolt-on variant of the successful naked MT-09 bike, including side number boards, a front deflector and special seat. It's powered by the same 847cc triple engine which produces 113bhp.
Pros
Based on the MT-09
Looks good with a nice finish
Improved throttle response
Cons
You can buy an MT-09 and turn it into a Sport Tracker
Wiki
2014 also saw the launch of the Sport Tracker which has more of scrambler flavour. The liquid cooled 847cc in-line three cylinder engine achieves maximum power at 10,000rpm.
Features include:
Traction control system
3 riding modes
Dual 298mm discs up front with two piston calipers
Rear 245mm disc with single piston caliper
Adjustable 41mm fork with 137mm travel
Adjustable rear shock with 130mm travel
6 speed gearbox and ABS
Centre stand
The Sport Tracker is basically a standard MT-09 with a few finishing touches. Visually the frame and bodywork get a matt finish and there's a tasty two-tone seat. Other touches include carbon front fenders with Aluminium stays, an Aluminium front board/screen and Aluminium sideboards at the rear.
The styling touches continues with dark bronze wheels matching the engine details, and seat. We reckon it all ties in nicely with the gold forks and complements both the black frame and black engine finish.
The optional quality Akrapovic exhaust finishes towards the end of the tail. Again the standard MT-09 can be largely converted along these lines using after market parts.
The MT-09 also comes in two other versions: 
2016: The MT-09 series inherits the MT-09 Tracer 3 level traction control system.
If we've missed something vital or got something laughably wrong about this model please let us know and we will love you forever.
Price Guide
| Year | Dealer | Private | Part Ex | Mileage |
| --- | --- | --- | --- | --- |
| 2014 | £7,000 | £5,600 | £4,900 | 9,700 |
| 2015 | £7,150 | £5,750 | £5,000 | 4,100 |
| 2016 | £6,500 | £5,200 | £4,550 | 3,100 |
Prices Updated: 25th September 2018
Finance your next bike with Superbike Loans. All makes and models considered.
Value Your Bike
Get a full valuation from We Want Your Motorbike today. Just pop in your reg number and a few bike details, get the valuation and they'll pay for your bike within 24 hours - easy peasy.
Bikes for Sale (1)
£5,995 eBay, 25th September

7 Day money back guarantee.
Insurance Costs
Insurance groups vary widely by insurer with anywhere from 17 to 65 groups but our simple scale gives you a rough idea of how wallet busting it's likely to be:
Insurance Group: 9 of 10

With over 85 years' experience, you can trust Bennetts to find you the cover that meets your needs for the best price from their panel of insurers. So get a quote on their 5-Star Defaqto rated cover today.

Reviews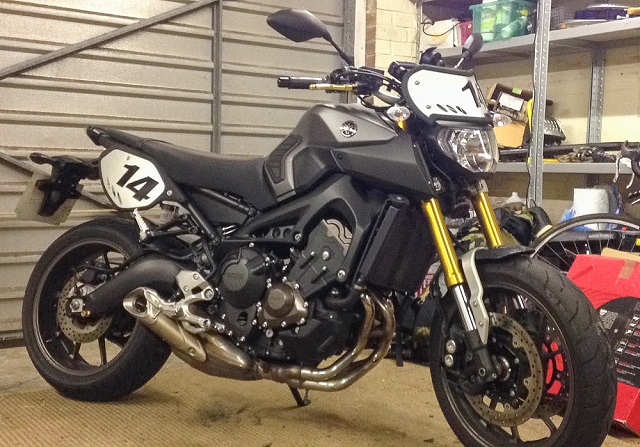 I have the 2015 Sport Tracker:
Pros
Excellent price.
It has a ridiculous amount of torque. This can be tamed in B mode very nicely, so it doesn't have to be a beast all of the time and it also allows for smoother riding at low speeds. I can ride slow in 3rd gear all day and still have plenty of usable power in town so I don't have to keep changing gear and feathering the clutch. Fueling in B mode is excellent and very smooth.
In A mode it is an absolute wheelie machine. I suppose this can be a con too, so if you're not into that you may as well get a tamer bike or just keep it in STD mode.
It looks really great. Pictures don't really do it justice and people are always coming up to me saying how nice it looks.
Riding position is very comfortable. I don't get aching wrists or back pain whilst riding even for long periods.
The bike came with Bridgestone S20 tires which are an excellent tire grip wise. They don't last as long as others but I'd rather pay a bit extra for more grip. I think the 2016 model comes with S21's which are supposed to last longer.
A lot of people say the suspension isn't very good and is too soft. This totally depends on where you live. I live in London with tons of bumpy roads and potholes so the softer suspension is fine for me. I just set the rear shock as stiff as it could go and its a very good feel for me. So thumbs up for city riding.
Cons
A mode and STD Mode are extremely jerky at low speeds and in 1st gear. This has something to do with the oxygen sensor which kicks in eco mode at low throttle. It can cause power surges sometimes too which aren't pleasant, especially in a corner. Small mods can be bought to trick the ECU into disabling the oxygen sensor which completely removes this issue and I would highly recommend doing that.
Rear mudguard and chain cover seem to be made out of flimsy plastic which scratches very easily.
During long rides the seat can start to get painful and uncomfortable.
It's not loud enough. I do get worried sometimes that if people don't see me then they should at least hear me, but the stock exhaust is so quiet.
Aftermarket exhausts are very expensive, slip on exhausts require cutting the stock can off and you need to be being pretty knowledgable about how to get a new can to fit snug. The only alternative is a full exhaust system which for a decent quality one is going to set you back around £600 minimum.
Insurance is very high. I'm 22 and I paid around £1100 for my premium. Considering I paid £260 the year before for a Honda Hornet which only has about 15 less hp.
Economy is not great but that's not really what you expect from a bike like this. I'd say I ride fairly economically most of the time and I get 40mpg.
The brakes could be a lot better. But again, when you consider the price that's not really a surprise.
- Nick M, 2016
Videos
Check out this review from TheRideAdvice: