Triumph Tiger Sport 1050 For Sale
The 2013 Triumph Tiger Sport is an adventure style bike and is powered by a 1,050cc triple engine which puts out 122bhp. It was first launched in 2007 and updated in 2016.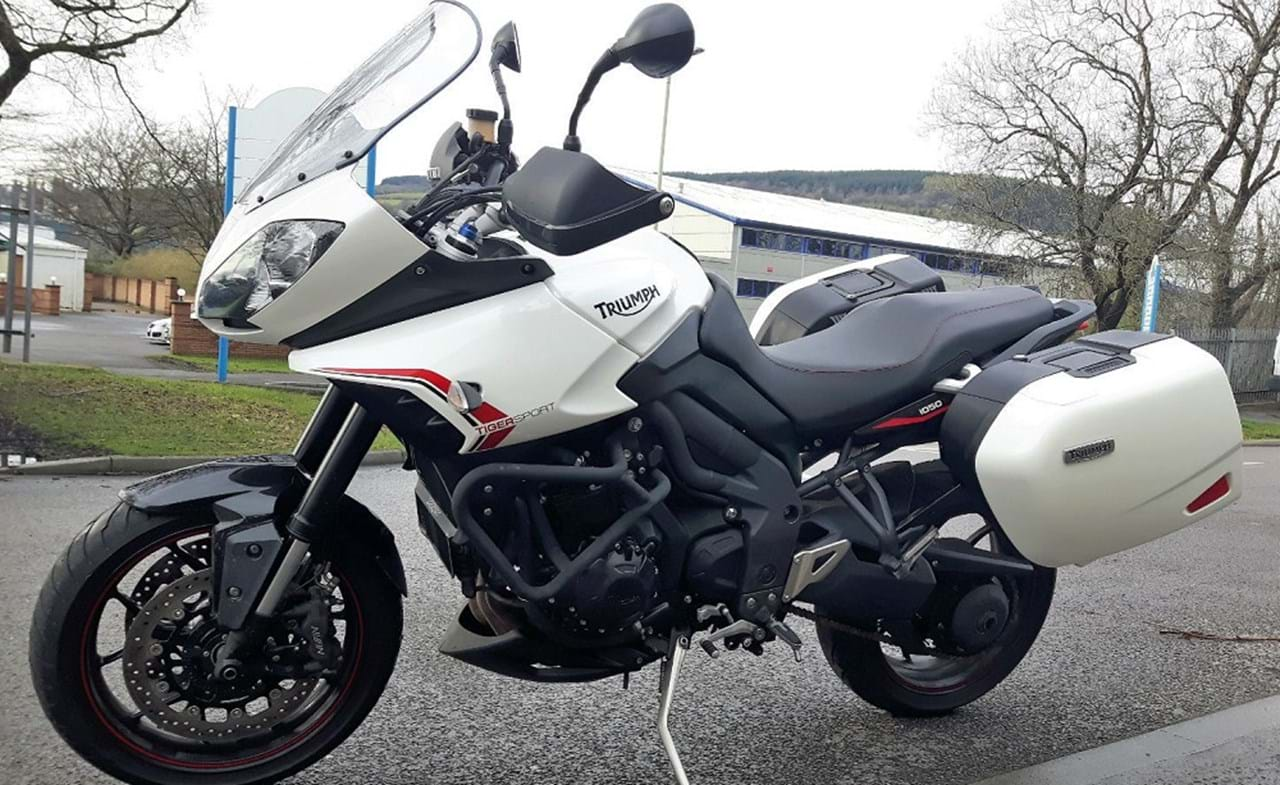 What Is It?
Heavy clutch lever, screen, seat comfort
It's powered by a 1050cc engine, producing 122bhp at 9,400rpm and maximum torque at 4,300rpm.
Features include:
Aluminium twin spar frame and swingarm
Dual 320mm discs up front with radial Nissin 2 piston calipers
255mm disc at the rear with Nissin single piston caliper
Adjustable 43mm Showa upside down fork with 140mm travel
Adjustable Showa shock with 150mm travel
Stainless Steel 3->1 exhaust system
Auto cancelling indicators
6 speed gearbox
Improvements over the 2007-2012 bike include a single sided swingarm, 10bhp more powerful engine, maximum torque 2,000rpm lower down, 30mm longer wheelbase, improved 50mm lower suspension, 5mm lower seat height, better wind protection and new body work.
It also officially became the Tiger Sport 1050, known as just the Tiger 1050 before that. Underseat storage is an impressive 1.6 litres and the 17" cast Aluminium wheels take a 120/70 tyre at the front and 180/55 at the rear.
Accessories include a lower seat, comfort seat, panniers, 55 litre top box, engine bars and heated grips.
Sell Your Bike
Sell your bike with WeWantYourMotorbike today. Just pop in your reg number, get a same day valuation and they'll buy your bike within 24 hours - easy peasy.
Price Guide
| Year | Dealer | Private | Part Ex | Mileage |
| --- | --- | --- | --- | --- |
| 2013 | £5,900 | £4,700 | £4,150 | 8,800 |
| 2014 | £6,450 | £5,150 | £4,500 | 7,300 |
| 2015 | £7,050 | £5,650 | £4,950 | 5,700 |
Cleaning & Detailing
We thoroughly recommend Petrolhead Detailing for all your cleaning, detailing and paint correction needs. They really know their stuff!
Related Bikes
Related Model
Reviews
This 2013 bike is an absolute battle axe! It's comfortable and has great range on the fuel tank although think the figures are a little optimistic reality wise I get around 135-140 miles before the fuel light comes on and I use mine for commuting everyday mostly fast roads with some urban riding. Initially I bought this bike with the Arrow slip on can and promptly decided to remove it because the baffle is an absolute pain to get out; you have to drill the end cap off cut the baffle out and then rivet the end cap back on again really not worth the hassle. The bike is too quiet with that can on people barely hear you I personally went initially for something cheap and cheerful this turned out to be a mistake as the exhaust decided to literally blow off the bike after just 6 months! I settled for the Remus slip on in the end which is miles better, the bike sounds good but not antisocial and the power is improved greatly and the acceleration is much smoother.
It's like riding an arm chair very comfortable and easy seating position gives you a commanding view of the road. The heated grips are great for the winter and really work well, the read out is nice from the display with lots of options to flick through. Badly missing a gear indicator though that is a big downside to this bike and for the price triumph really should have put one on there. There are no riding modes however and you only get ABS which does work well although strangely this bike is similar to a Harley whereby the back brake seems more powerful than the front. The single sided swing arm is great and the chain gets lots of protection from the crap flicking up off the road, essential if you ride all year round like me. The luggage rails are handy for wrapping a chain around and the seat is super comfortable and the ability to stand up on the footpegs during long rides really helps keep you comfortable.
Service wise the intervals are every 6k having just had my 12k big service done the cost was just over £400 including labour which was surprising but the bike performs so much better after a refresh. It is very good on oil consumption and doesn't burn through it. The fairings give you great protection from the wind on the motorway although it could do with having a bigger screen. The high seating position keeps your feet up and away from the road during wet conditions meaning your feet stay nice and dry which always helps. Thorough cleaning of the rear shock is only really achieved with a thin cloth though as it is quite compact.
Handling wise this bike rides like it's a superbike just a very lanky one! Handles well on the roads and is just as much fun as a sports bike to ride without all of the agro of the Police attention. At the moment I have PR4's on there which after 3k miles are still showing little signs of wear so even after cornering and riding hard the bike is still kind to its boots. Prior to that I had a Pirelli Angel Front and a 2CT rear which was on the bike when I bought it and I really don't recommend this configuration the rear was sketchy as hell - it's a dated tire that doesn't belong on a bike that heavy. Weight wise the bike is a struggle to move around when full of fuel but not impossible just have to be careful where you are going with it when wheeling it around as I have had it fall over on me once and although I managed to stop it from hitting the floor it did take all of my strength to keep it off the floor.
Filtering on it can be easy just watch out for those van wing mirrors as yours are the perfect height to clatter into them and also watch the bar ends as they stick out about an inch further than the mirrors I found this out when a 7.5 ton truck got my bar end hooked in it's curtain side for moving towards me when filtering and promptly yanked me off the bike so be careful with this when filtering and if you are not sure just wait.
Ok bad parts - Lack of gear indicator as already mentioned but the worse bit is you can't sell it, I did a little experiment and put it up for sale twice to see if I was just being silly but nope not one bit of interest in the bike even after a 1k price drop. I checked with local dealers to ask why and they said that the new deals from Triumph are so good that the used market for Tigers is pretty much dead. They weren't wrong either a local dealer to me has had two used ones sitting in their showroom for months so it is no lie these bikes are not easy to sell on people seem to buy to keep or buy to trade in so bear this in mind if you do purchase one that once it is used it is very unlikely you'll be able to sell it on afterwards, at least not without taking a huge loss on it. Power compared to the Ducati Multistrada this bike is really down on power by 25bhp and could really use some extra grunt and maybe a few more revs to play with as limiter is hit around 10.5-11k rpm.
Overall if you are going to buy this bike to use as a commuter to keep and run into the ground or use for several years then trade in then you will not be disappointed however if you like to chop and change frequently then don't buy one as you will find it hard to sell on and get a competitive deal if you are looking to make a change.
- Nick J, 2016
Videos
Here's an interesting year in review from TheLikeableRider: