Triumph Bonneville T100
The 2017 Triumph Bonneville T100 is a retro bike and is powered by a new liquid cooled 900cc parallel twin engine which puts out 54bhp. It's highly customisable using Triumph's extensive parts catalogue and can now be restricted for the A2 licence.
Pros
Looks, handling, easy to customise
Neutral riding position
Cons
Not the lightest bike out there
Hard seat, quiet exhausts
Wiki
It's powered by a liquid cooled 900cc parallel twin engine, producing 54bhp at 5,900rpm and maximum torque at just 3,230rpm. The engine is the same as the Street Cup / Street Twin.
Features include:
Tubular Steel frame and Steel swingarm
310mm disc up front with Nissin 2 piston caliper
255mm disc at the rear with Nissin 2 piston caliper
41mm KYB fork with 120mm travel
Dual KYB shocks with 120mm travel
ABS system and switchable traction control
Brushed Stainless Steel 2->2 exhaust system
Slipper clutch
5 speed gearbox and immobiliser
Twin clocks with gear position indicator
LED tail light and USB socket under the seat
10,000 miles service interval
Adjustable clutch lever
Optional A2 restrictor kit
Compared to the 2008-2016 model the engine is a new 900cc design with 18% more torque, the seat is more comfortable with deeper foam, A2 restriction is now an option and the suspension is more comfortable.
The special T100 Black edition is basically the same bike but with the exhaust, engine, wheel rims and headlight surround blacked out.
The 32-spoke wire wheels are 18" at the front and 17" at the back, with the front taking a 100/90 tyre and the back 150/70.
Accessories include a centre stand, heated grips (£185), cruise control, panniers (£460), Fox Racing adjustable rear shocks (£650), black/brown bench/comfort seat (£255), touring screen or tinted fly screen (£70) and grab rail (£75).
T100 Colours: Black, white/blue (+£300), white/orange (+£300)
T100 Black Colours: Black, matt black (+£125)
If we've missed something vital or got something laughably wrong about this model please let us know and we will love you forever.
Price Guide
| Year | Dealer | Private | Part Ex | Mileage |
| --- | --- | --- | --- | --- |
| 2017 | £7,200 | £5,750 | £5,050 | 2,100 |
Prices Updated: 25th September 2018
Finance your next bike with Superbike Loans. All makes and models considered.
Value Your Bike
Get a full valuation from We Want Your Motorbike today. Just pop in your reg number and a few bike details, get the valuation and they'll pay for your bike within 24 hours - easy peasy.
Bikes for Sale (6)
1
£8,295 eBay, 25th September
From Woods Motorcycles of Abergele on 01745 822922
£6,791 eBay, 25th September
GOOD BAD CREDIT ACCEPTED, NATIONWIDE DELIVERY,APPLY NOW
£8,750 eBay, 25th September
From Woods Motorcycles of Abergele on 01745 822922
1
Insurance Costs
Insurance groups vary widely by insurer with anywhere from 17 to 65 groups but our simple scale gives you a rough idea of how wallet busting it's likely to be:
Insurance Group: 5 of 10

With over 85 years' experience, you can trust Bennetts to find you the cover that meets your needs for the best price from their panel of insurers. So get a quote on their 5-Star Defaqto rated cover today.

Reviews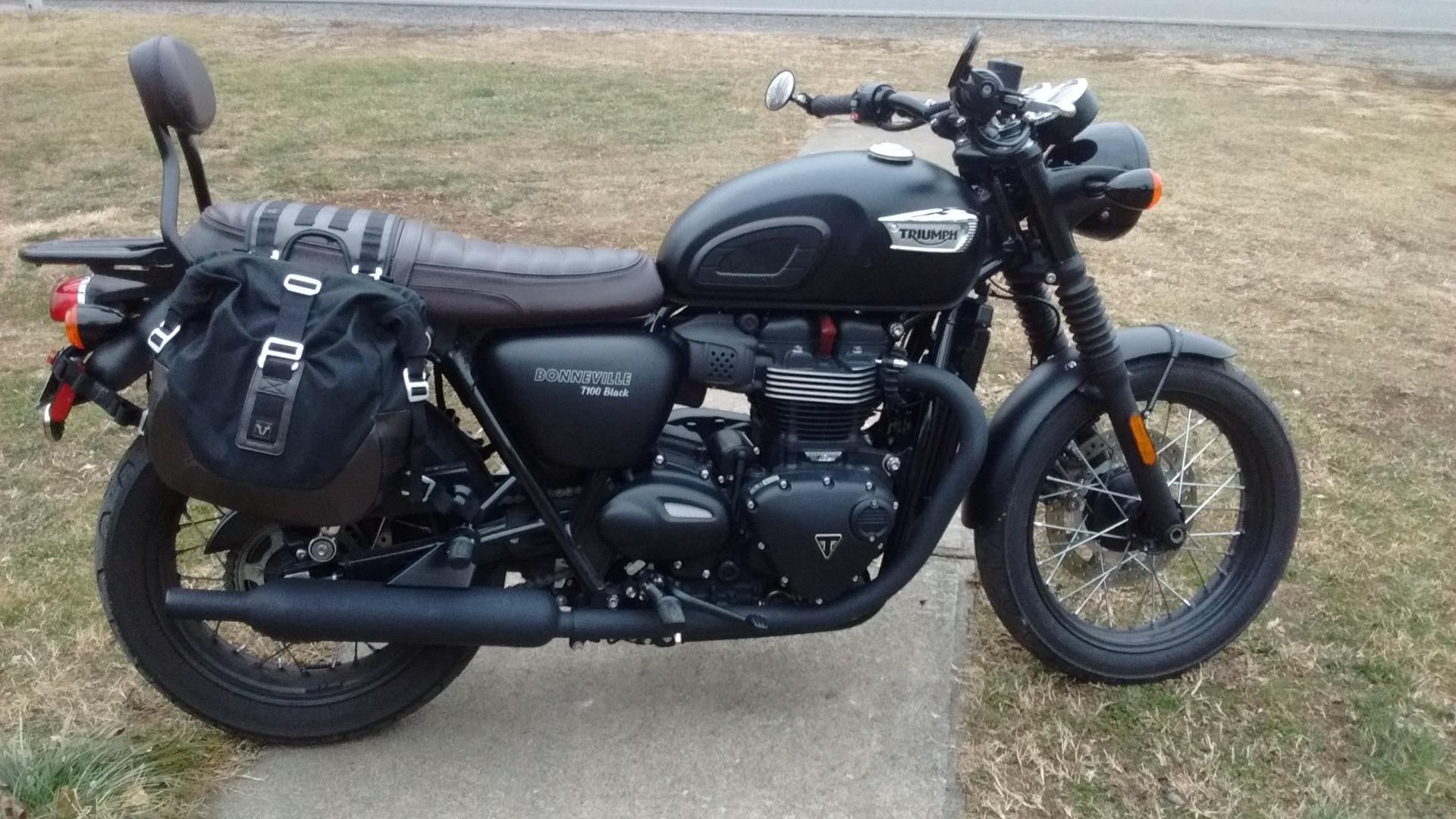 My Bonneville T-100 Black
I love this bike. It is the coolest, most reliable motorcycle I have ever owned. It catches the eye of most that see us roll in, and with the soft bags, luggage rack, and back rest—my lady and I can enjoy a ride around town or a ride to a B&B in the mountains for the weekend. It is versatile, highway friendly, and has traction control that I am confident kept the rear tire under us on a country road once when we hit an amateur asphalt patch job. The riding position is perfect for my 48 year old back, and the bike is responsive and light enough for tight cornering at low speeds…but I practice this in a cemetery on my daily commute to work.
But…
The first thing you will notice about the 865cc, ride by wire, traction control, computer interface strangeness is this:
The setup removes all "off the line" performance. Period. I have been heartily disappointed while goofing around with other motorcycles on the highway, and when trying to outrun anything but a '72 Peugeot with a flat tire. The power is there…don't get me wrong. The bike rides similarly with me alone as it does with me and my pillion, so I am aware that the interface is passing judgement on my decision to "Wheeeeeeee!" My Bonneville responds with "Hey, now! Let's be reasonable. That's enough acceleration, right?" It is like having my mom dial back my decisions in real time as I try to get some wind in my face in short order, or zip past the guy in the Chevy beside me. Now that I realize this, my riding style has adapted, but it was an embarrassing lesson early on. I have never experienced anything like it—big (ish) motor, sluggish bike. Strange experience, really.
I did not buy this bike to race, nor do I choose to ride illegally on a regular basis. There is always an understanding (until now, apparently), though, that bikes are capable of serious performance—Except for my Bonneville T-100 Black. I have ready power on the highway. My bike hauls me and my lady easily and safely at any speed I choose. It handles well, and gets the job done competently. And yet…having another rider quizzically dial back on the throttle just to keep me in his mirror is a lesson in humility, to say the least.
I am happy with my bike. It is likely the perfect ride for me in this stage of my life. The technology involved has probably kept us upright in a tight situation, and that is the beginning and end of my assessment. I feel, however, that I need another bike. One that—when called into action—will suck the headlights out of the car next to me (if the situation calls for it). Two bikes are not a bad thing, right?
Ride safe!
- Logan D, 2018
---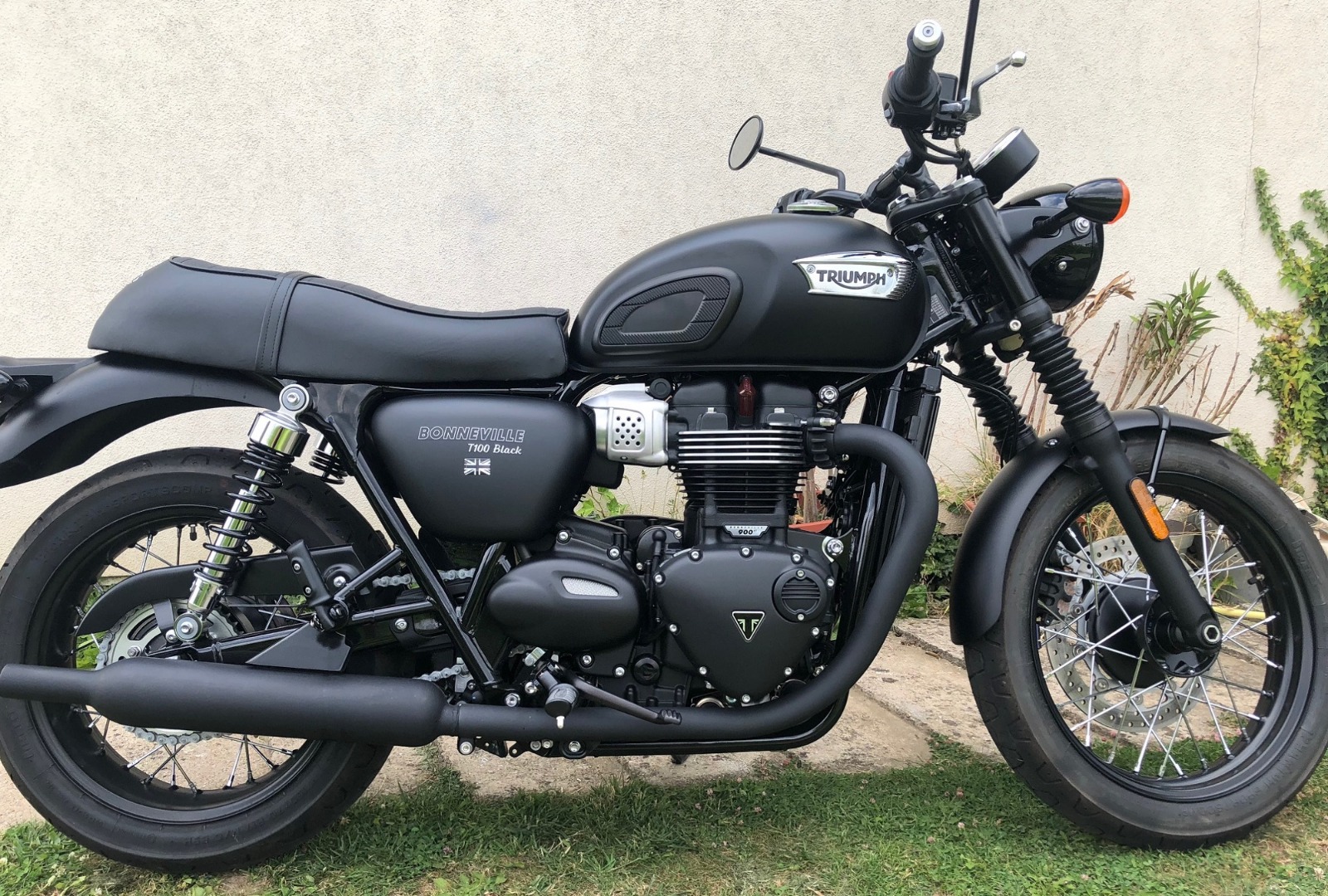 2017 T100 Black
Hi guys n gals, I thought I would give you my thoughts on the new T100 Black. After riding bikes for over 30 years, I decided about 2 years ago to go classic and got myself a Thunderbird Sport 900cc 1998. Now, this was a lot heavier than my Ducati, but I wanted to try n be cool and get a classic, loved it and wanted more, hence the T100 Black.
It took me about 2 months to choose the model I wanted and after 3 test drives, I chose this one. Now being a keen rider I took many things into consideration, The fact that the bike is light and incredible to handle, the seating position is perfect, made this bike just feel right.
The style is just eye-catching and certainly, you feel good on it. Feels very light at low speed yet turns and holds a bend very well. Great suspension, the seat a little hard so I have changed that to the DS003 and I will add louder exhausts. The fact that the tech is new and it's liquid cooled, gives it's a certain whistle sound that I had to get used to, hence the louder exhausts coming. It's water cooled and certainly has some zip from mid to top range, it's a smooth ride with an exceptionally light clutch.
Comes with traction control, ABS an immobiliser and even a USB port under the seat. The finish is outstanding in matt black, with the chrome extras. This is a lot of machine for a little money and I was surprised at what I got. I certainly will be using this for a long time, I can't seem to stop riding it lol!
- Chris R, 2018
Videos
Check out this review from TheMissendenFlyer: