Yamaha NIKEN Review (2018)
"
The Niken is not for the inexperienced, it's a serious piece of kit. Yamaha have produced a very eye catching, purposeful and comfortable motorcycle. You need to test ride one.
"
What Is It?
The Yamaha NIKEN is basically a sporty naked MT-09 with an extra wheel at the front and is powered by a Euro 4 compliant liquid cooled 847 cc triple engine producing 113.5 bhp at 10,000 rpm and maximum torque at around 8,500 rpm.
Specs
Seat Height: Average (

820

 

mm / 32.3 inches)
Weight: Very heavy (263 kg / 580 lbs)
Economy: Average (40 mpg / 7.1 l/100km / 14.2 km/l)
Range: High (160 miles / 257 km)
Power to Weight: Average (0.433 bhp/kg / 0.323 kW/kg)
Top Speed: High (110 mph / 177 km/h)
Pros
The excellent MT-09 with more grip
Set to become an iconic bike
Excellent brakes
Cons
It doesn't stand up on its own
Expensive
Heavy
What Is It Like?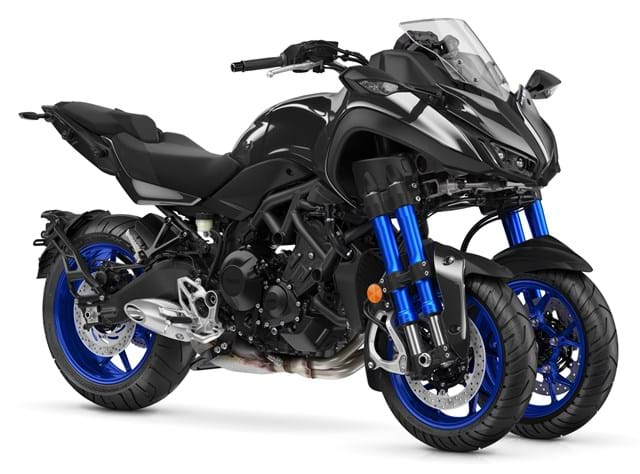 My Experience
Rather like the Spanish Inquisition, nobody expected the Yamaha Niken. More Transformer lookalike than motorcycle, but motorcycle it certainly is.
My bike riding history has all been about power and speed. I currently own a 'Busa, K7 GSXR 1000, GSXR 1100 turbo with nitrous, Yamaha Gen2 FZ1 1000 and three Honda CBX's (one with twin turbos).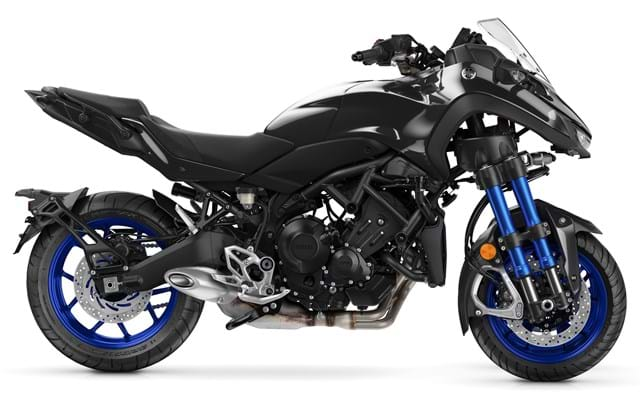 What Is It?
First of all let's get to grips with its name: Ni as in Knee and Ken as in Barbie and Ken. In Japanese Ni is two and ken is sword. But this has been Bastardised / Americanised already to Nyken i.e. do you say Nykon camera or Nikon camera? I rest my case Your Honour.
Is it a trike? No. It will fall over if not on the side stand.
Does it wheelie? Yup.
Stoppies? Officer, it was made for doing Stoppies.
What's it like to ride? In one word: Incredible.
Did you buy one? Yup!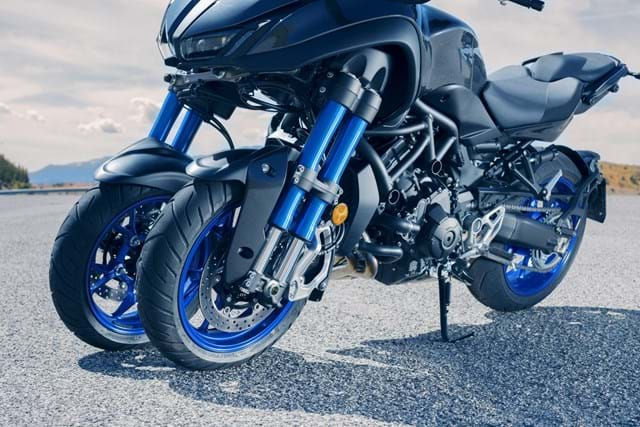 Suspension
As soon as you grab the handlebars and throw your leg over the seat you know this is something special. Both front wheels are 15'' not 17'', are spaced 410mm centre to centre and are inside the width of the handlebars. Four telescopic USD forks and an Ackerman leaning / steering system make this a very unique transport device.
Seat height is taller than faired sports bikes and those of you who are shorter in leg will need to buy the lowering kit sold separately.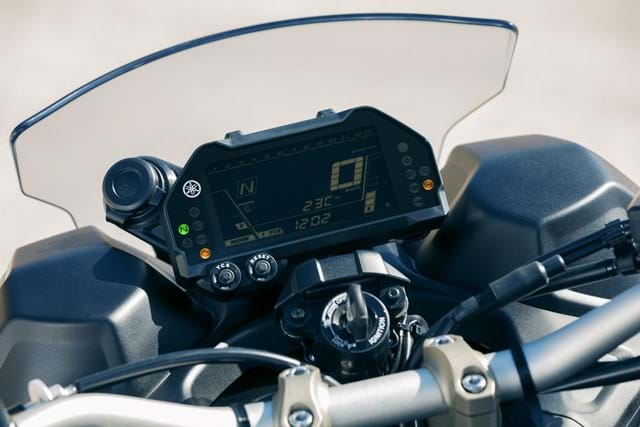 The Dash
The digital display is typically 21st century all singing and dancing information centre, however not in colour! Left handlebar is full of cluster button Lego and is confusing to begin with.
There are various "rider aids", which include traction control and three power settings. The Niken has a quick shifter, up only, which has a default setting of always on at start-up, however you can manually turn it off when stationary.
There are two power outlets, one above and to the left of the digital display for a Sat-Nav etc. and the other by the left rear of the rider's seat. I'm having mine converted to waterproof USB sockets.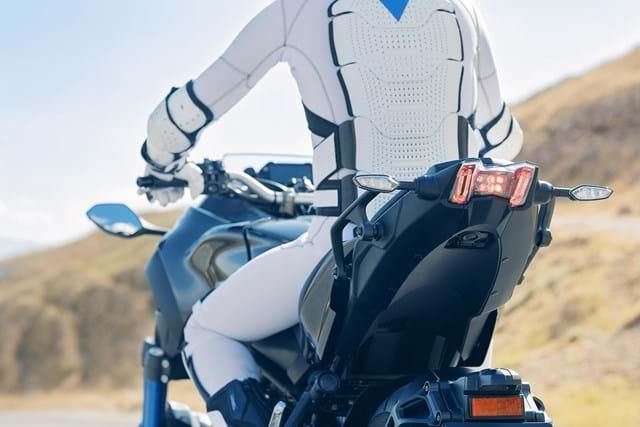 Riding Position
When I first slung a leg over and sat down in the rider's seat I had the feeling of sitting in the bike not on it. Switching it on you'll hear a reassuring Yamaha whistling purr.
Setting off for the first time one notices there is a bit of weight up front, so a bit more throttle / revs are needed but as soon as you are mobile the weight magically disappears. You also notice the large muscular neck and shoulders of this machine, the rider is positioned a few inches back from standard to create a 50/50 weight distribution.
On the open road, go up through the gears and you are pleasantly reminded of that silky smooth 850cc triple engine that is used in the MT-09.
The first bend came and went without drama, it's like any other bike but more planted and steadier. The more I rode it, the more confidence inspiring it was. Suspension in standard setup was perfect for me on UK roads or ploughed fields.
Tyres scrubbed in I was itching to get the Niken cranked over on to its ear on the first day. It's an old saying but very apt: "It goes round bends like it's on rails".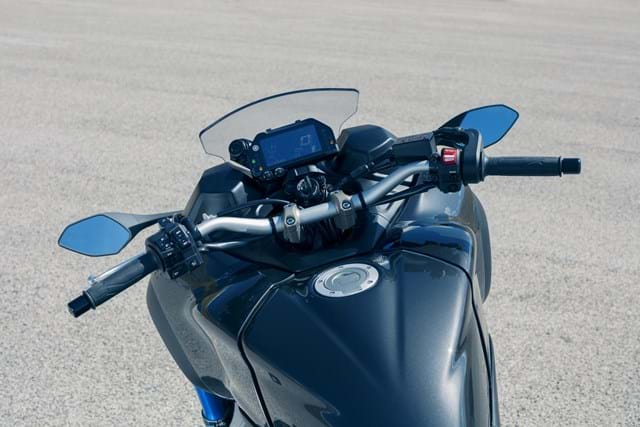 How Does It Handle?
The handling is superb. Case in question is a very bumpy roundabout near me, on one of my other bikes I'd have to go round it as slow as a fully laden tarmac and paver transit van. With the Niken I could go around it overtaking someone and not be concerned.
Country lanes too. We like to be in the centre of our carriageway, but inevitably that's where all the gravel, oil and rubbish is. The Niken takes all of this in its stride as there are two contact patches up front with the road. I haven't found the Niken's grip limit and I don't feel inclined to do so, but I'll bet the farm that it's much more than my other bikes'.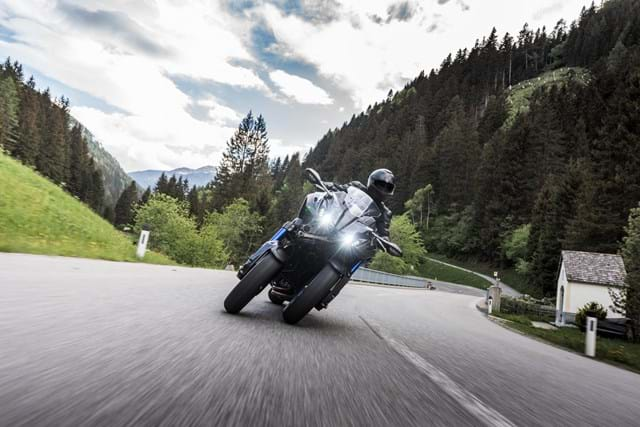 When independent side by side wheels are going around a curve, in this case leaning too, the outer wheel has a longer path to travel, the Ackerman system allows one wheel to "toe in" to prevent tyre scrub. Simples.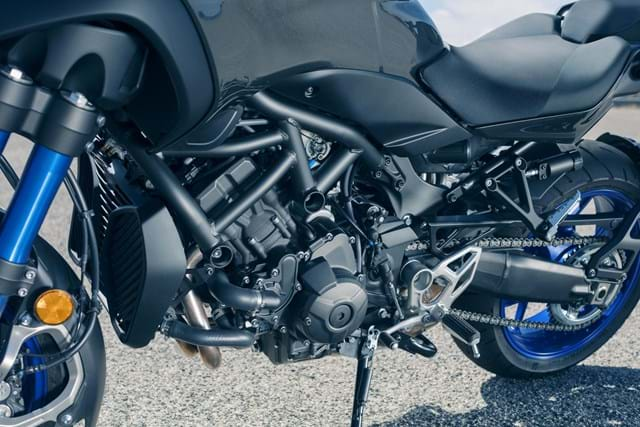 MT-09 Differences
Although the Niken has the MT-09 unit, Yamaha have upped the torque figure by increasing the weight of the crankshaft, thereby creating more inertia. I'm returning an average of 43mpg, which includes a lot of town and country miles.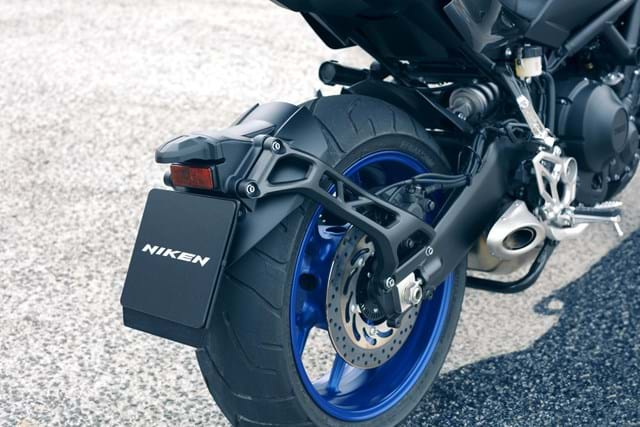 Brakes
Braking is dealt with by two discs up front and a larger than usual disc at the rear (double the size of my GSXR's). The braking efficiency is good, especially the rear brake. In order to be super effective at riding this bike you'll need to use the rear brake more than you usually would on a two wheel bike.
Initially I missed not having bonkers wheelie GSXR power delivery on tap in every gear, but this bike isn't about that, it is, for me, totally different in almost all respects. It has brought another angle to my biking, the Niken is a very comfortable "Sports Tourer - come - corner carving scratcher" that you could take to the Pyrenees and chuck into switchbacks all day long and not be fatigued.
Yamaha, in their wisdom, have fitted what looks like Adventure tyres as standard to front and back, personally I wouldn't have, but they are the experts not me.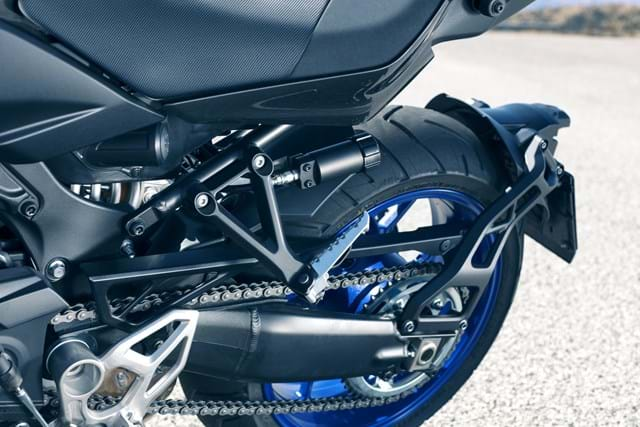 Is It Under Powered?
The first question I asked Yamaha was, why only 850cc? The answer is simple; the rear tyre is pushing extra high up weight at the front and any more power e.g. MT-10 or R1 style engines would have the tyre spinning all over the place.
I uploaded a video on the FB Niken owners page of someone giving a Niken the berries out of a bend and the rear just spun up and stepped out. Luckily the rider recovered it instantly.
To some people traction control is a saviour. I ride my Niken with all available power and traction control off. I'm old school, I learnt how to ride a bike without the electronic health and safety snowflake protectors.
There are a dozen or so extras available from Yamaha, these include:
Akrapovic full system
Radiator cover
Fork leg bottom protectors
Niken chain guard
Heated comfort seats
CNC brake and clutch levers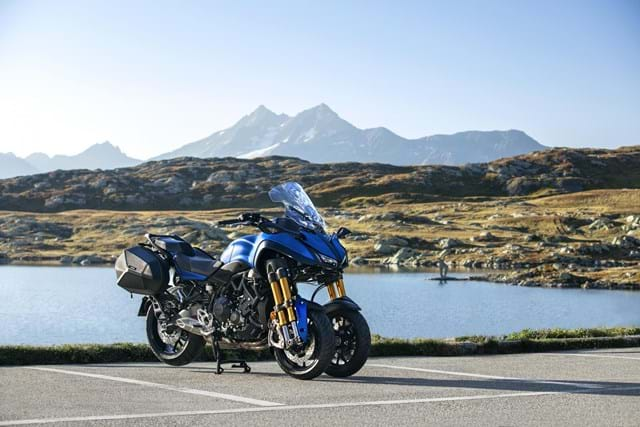 Enter the NIKEN GT
In March 2019 the £14,700 Niken GT hits our shores. The GT comes with a choice of two colours and a touring pack as standard which consists of:
Heated comfort seats
Heated grips
Higher screen
Panniers
Centre stand
Summary
The Niken is not for the inexperienced, it's a serious piece of kit. Yamaha have produced a very eye catching, purposeful and comfortable motorcycle. You need to test ride one.
- Jonathan GE, 2019 (Check out his turbo project video)
Price Guide
Year
Dealer
Private
Part Ex
Mileage
2021
£14,750
£11,800
£10,350
2,100
2020
£13,050
£10,450
£9,150
3,700
2019
£11,350
£9,050
£7,950
5,100
2018
£9,600
£7,700
£6,750
4,900
How to use the price guide
Related Bikes
Yamaha MT-09 - The uber popular sporty naked bike the NIKEN is based on.
Yamaha Tracer 900 GT - Adventure version of the MT-09 with taller suspension, larger tank, tall screen, quickshifter and panniers.
Add Your Review
Do you own this bike? We would love to hear anything good, bad, unexpected or that you have changed plus anything that a prospective new owner might find interesting or useful.