Yamaha MT-09 Review
What Is It?
The 2017 Yamaha MT-09 is a naked bike at the sportier end of the spectrum. It first launched in 2013 and has just been updated with LED headlights, a slipper clutch and quickshifter.
Engine: 847 cc Triple, 113 bhp
Economy: 45 mpg, 140 miles
Seat Height: 820 mm
Wet Weight: 193 kg
RRP: £7,800
| | | |
| --- | --- | --- |
| The Review | | ★★★★★ |
| | |
| --- | --- |
| ✓ | Engine, comfort, cool exhaust, looks amazing |
| | |
| × | Suspension, range, levers, basic dash |
Yamaha MT09 ABS 2017
I saw the 2017 MT09 at the bike show in December 2016 and instantly fell head over heals in love, that Matt black stealth bomber hooligan look had got my attention! I went home and said to the wife, "I'm going to order this bike when it comes out" and that's just what I did!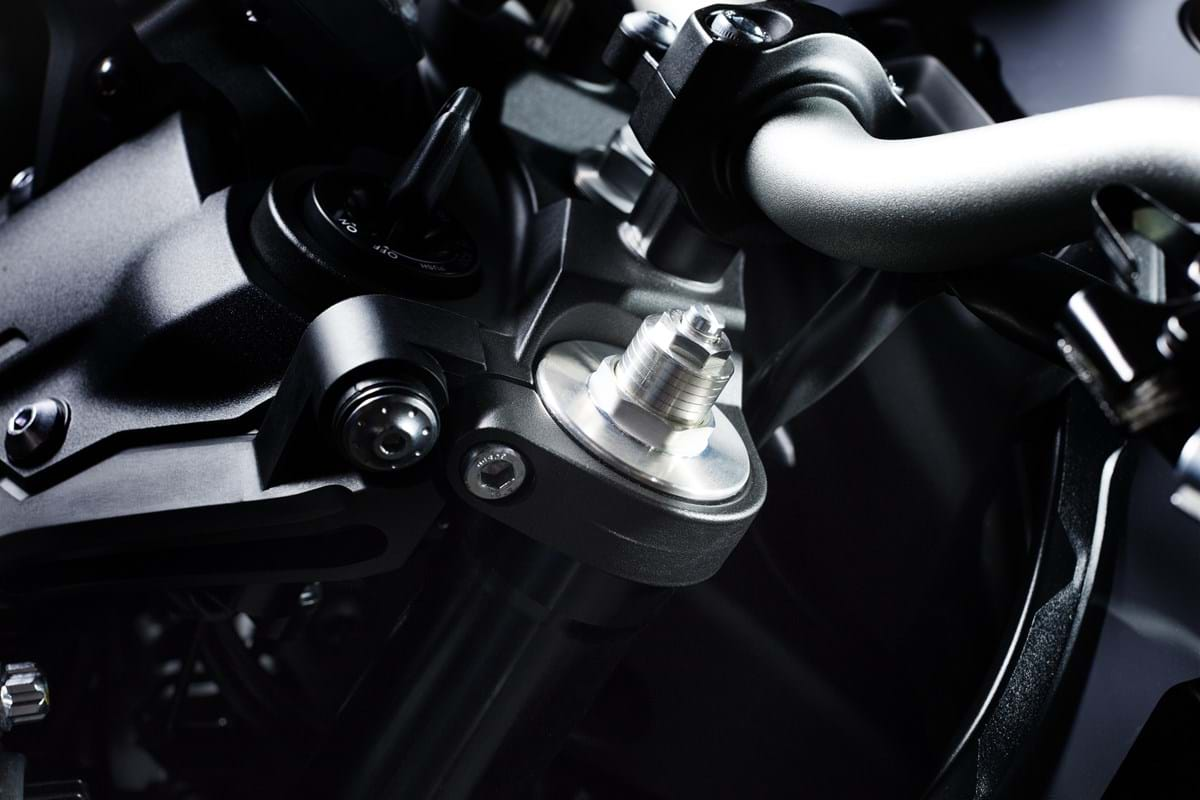 In May 2017 after having to wait 7 weeks from ordering, I picked up my MT09 without a test ride, without ever seeing an 09 before, or knowing anyone that owned an MT09. I rode the bike and was immediately hooked on that stonking triple cross plane motor. I left the bike as it is for about 1,500 miles before messing with the suspension as I wanted to see how it behaved after a bit of time and familiarity. I've set up the ride height for my weight and I've altered the forks compression and damping and have found a good compromise, which works most of the time!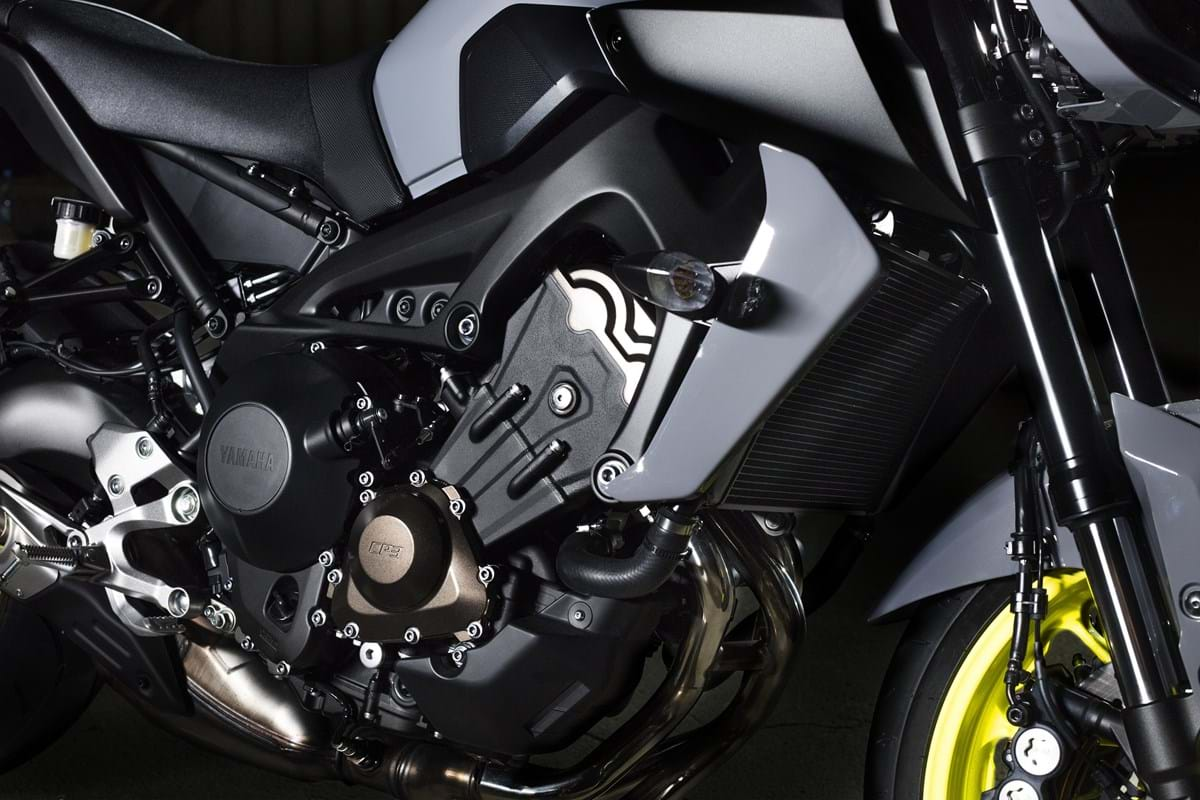 That engine is an absolute diamond and I ride it using the torque through the gears and have no problem leaving the litre boys embarrassed and weeping in their helmets and as yet the 140mph limiter in 6th hasn't been too much of an issue as I'm usually so far in front they can't catch me. Handling wise, don't ride it like a sports bike and it will turn and hold a line; flick from one side to another with ease. That low weight of 193kgs wet makes it feel like a BMX. It can get a little flighty at times, which is under hard acceleration around fast bends or B road tarmac, but it's an £8,000 bike; £8,000 less than a decent sports bike that will have inherent faults of its own.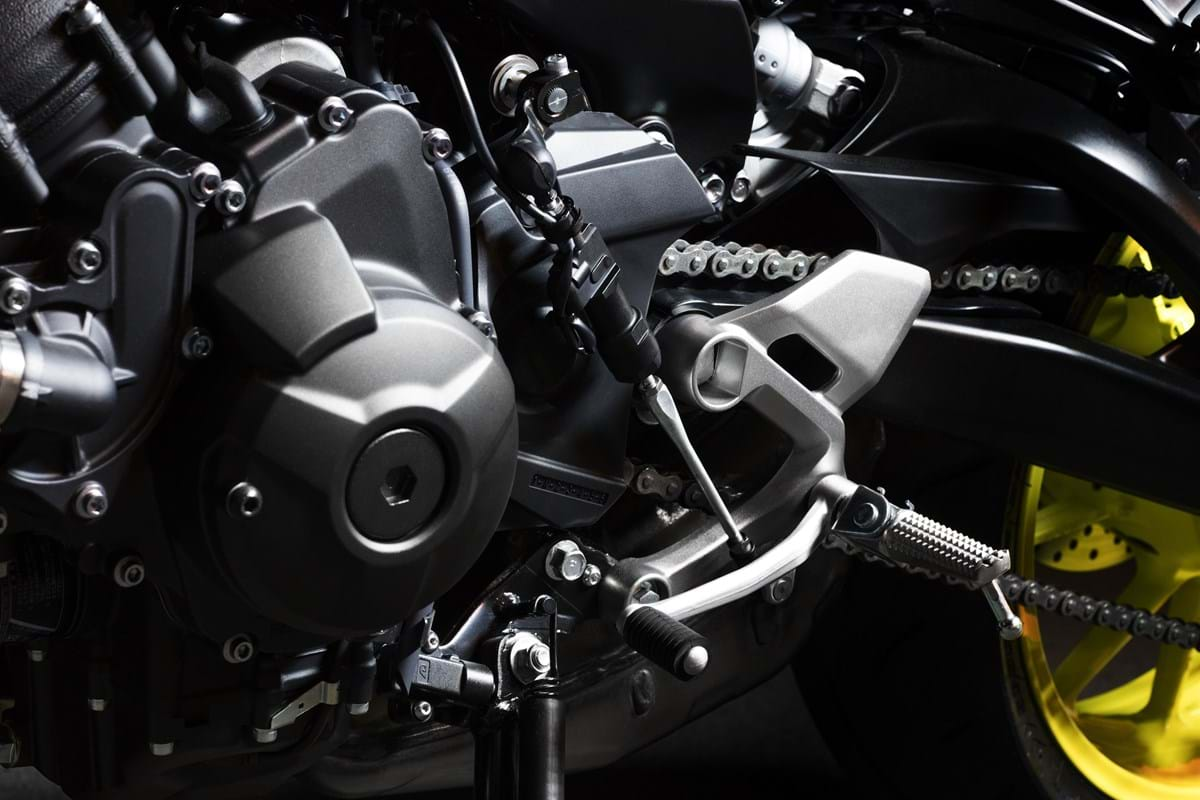 One thing I did find is powering out of corners and using the quickshifter the bike holds its line and remains composed, do the same without using the quickshifter and the bike will sit up and run wide and bob along. The electronics package works well for me, I've had the odd blip with the quick shifter in 5th and 6th but seriously can't fault this bike for £8,000; despite some over sensitive types moaning and wining.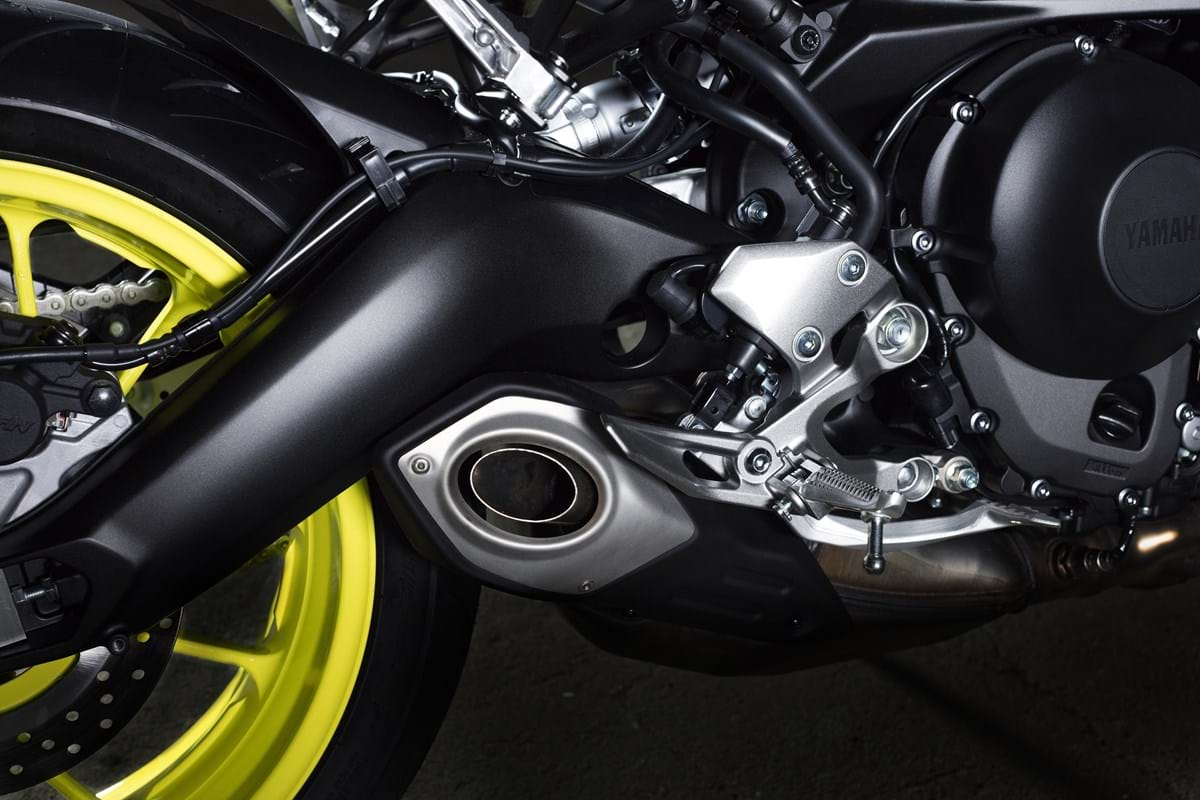 I'm still running the bike with the standard pipe as one of the things I liked was the way the silencer terminated neatly by the foot rest and the arch in the swinging arm. I love the noise it makes in A mode and it also pops and farts on a closed throttle and with the noise down, I can cane it without alerting the Rozzers that I"m coming at warp speed. I have put a Puig screen on it and it fits perfectly, "pricey" and looks good as well as giving me a bit of protection. I've also fitted the Mustard tail tidy and the fit on that is so perfect; the difference to the looks compared to that awful contraption bolted to the swing arm as well as the weight saving is brilliant! I've put a rad guard on, a bit of crash protection, tank protector and swing arm bobbins.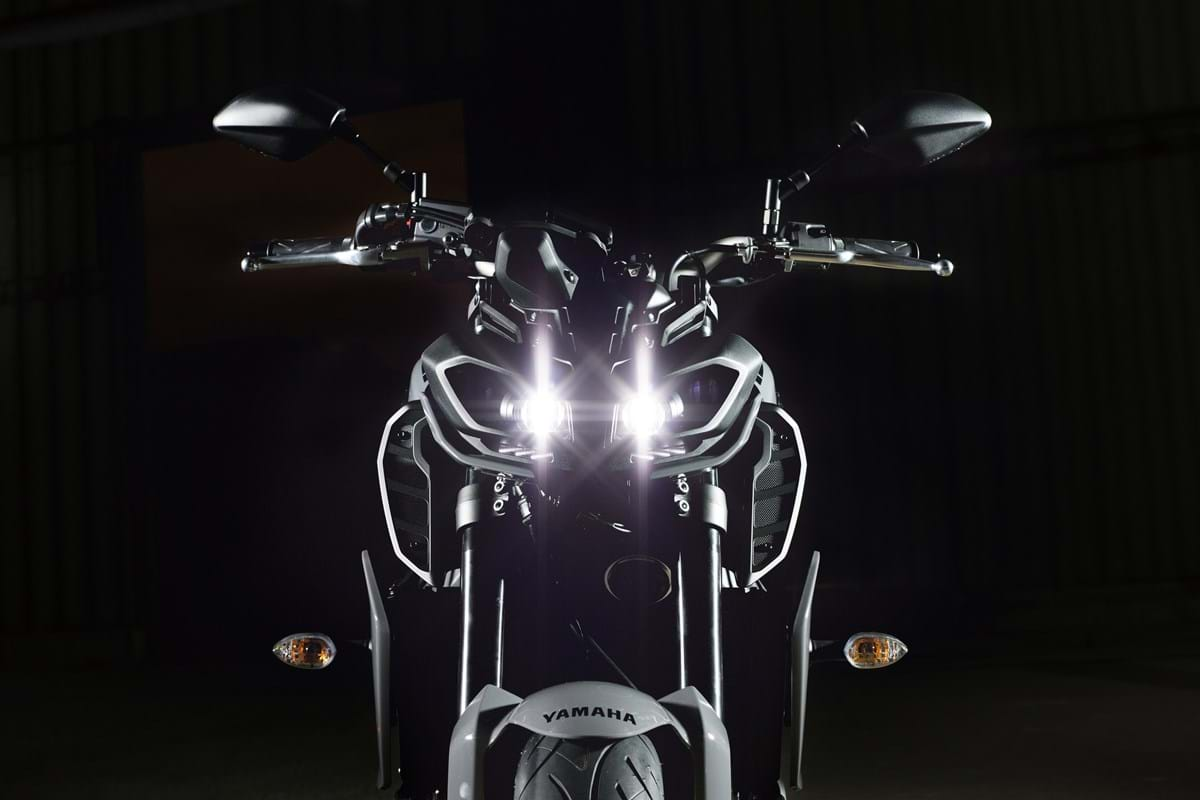 The bike now has 4000 miles on it and I've decided that next year I'd like to change the suspension with some quality gear and a professional set up and a Re-map with standard pipe. Although the bike's stability has never been a concern of mine, I'm going to fit a good steering damper next year so that I can drop the forks a little, as one gripe I do have is; the bike sits up if you give it the slightest touch of front brake in a bend and it won't turn in! I'd like to sort that without the risk of tank slappers!
The only exhaust I would put on my bike would be the Akrapovic Titanium, but the cost of that with a full re-map won't improve the bike as much spending £1000 on the suspension. If I win the lottery then I'll have the exhaust.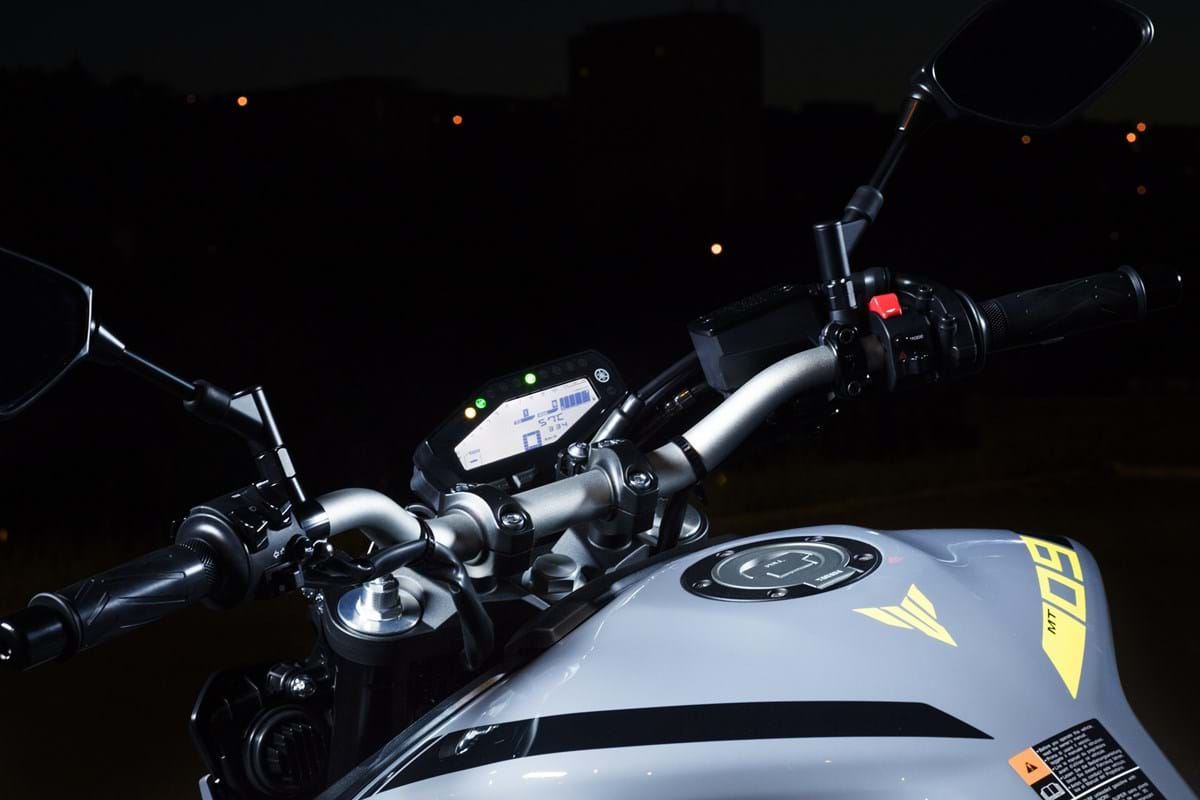 Good Points
That engine is soooooooooooo sweet
The aggressive hooligan looks
Light weight
Riding position
Price price price
Did I mention price?
Economical if you want it to be
So much fun to ride with smiles an hour
Bad points
Over firm seat for a few thousand miles
Speed limiter
Tail tidy means water and crap fly on to the seat and the back of your helmet
It's a pig to clean with so much exposed and Matt black
Cheap fasteners and levers don't like the faintest bit of salt water
Small tank range and takes ages to fill
- Phil M, 2018
Price Guide
| Year | Dealer | Private | Part Ex | Mileage |
| --- | --- | --- | --- | --- |
| 2017 | £6,750 | £5,400 | £4,700 | 3,700 |
| 2018 | £7,850 | £6,300 | £5,500 | 2,100 |
| 2019 | £8,400 | £6,750 | £5,900 | 600 |
Related Bikes
Yamaha MT-09 SP - With added Ohlins suspension, a better KYB fork and inverted dash
The Second Opinion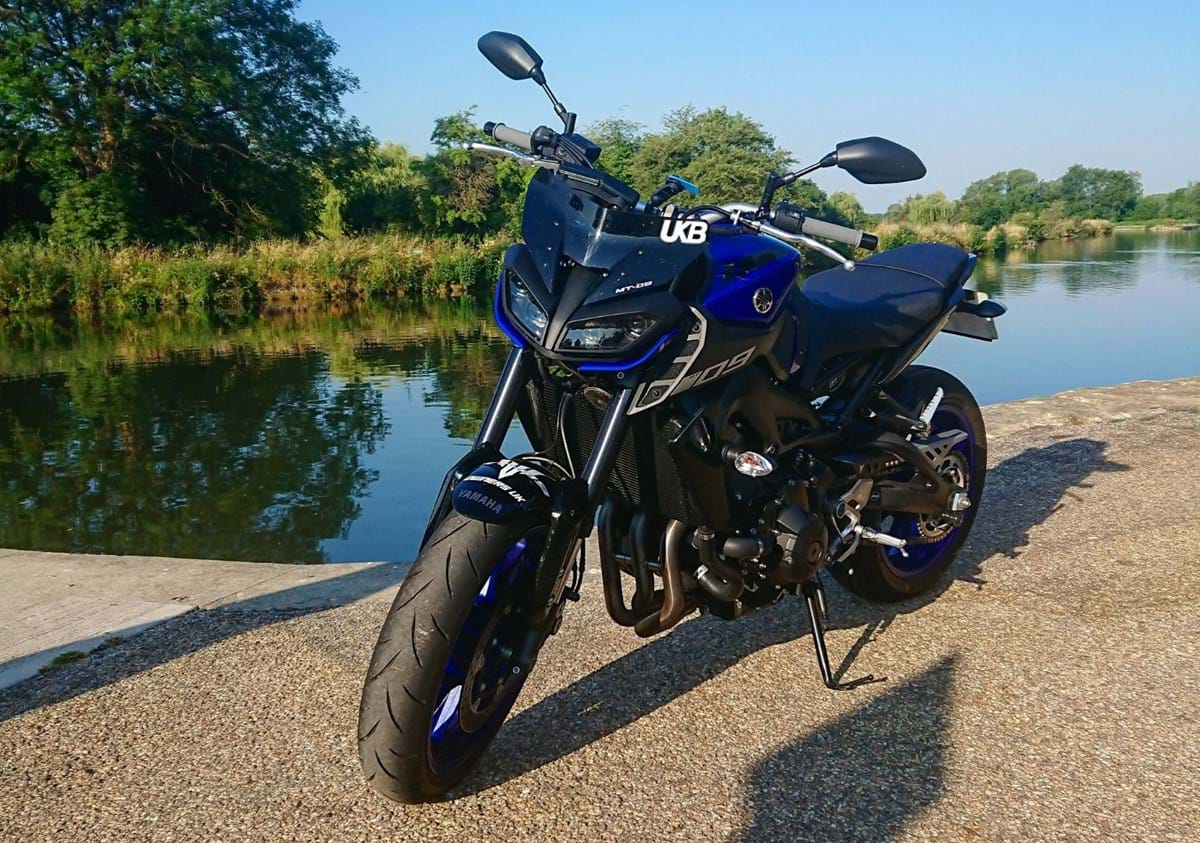 I've had my 2018 MT-09 for over 3000 miles now, riding it on all sorts of roads and I have loved every second of it.
The engine is the bike biggest selling point, it has so much character. Bags of torque with plenty of top end power. This means you can be lazy with it using the torque or rev it hard on an empty road, either way you'll be grinning. Add on an after market exhaust so you can hear the engine howl and you won't be able to get enough.
Ergonomics of the bike are comfortable, sat upright with plenty of leg space, I'm 5ft9. Chassis is superb, bike is very easy to tip from side to side, and is easy to hold a line when lent right over.
Rear shock is soft if you're over 80kgs, but it's not too bad. I personally haven't had any issues with the front end. I'll probably replace the rear shock in the near future to match my weight and for a pillion.
Brakes could be more powerful, but they're more than adequate. I've had an ecu flash to accommodate the new full exhaust system and the bike now breathes and performs as intended without the Euro 4 suffocating it.
Couple of downsides, one is that the on/off throttle is a little snatchy, not unbearable, it's something I've certainly learnt to deal with. Secondly is the small fuel tank, on a morning blast or long run I have to fill up at least twice. Costs me £12 to fill the tank from empty.
Overall this is by far the most fun I've had on a bike, every time I ride it I'm laughing, whether it's lifting the front end because I'm being daft on the throttle, or attacking some twisties, I just can't get enough of it.
- Sam G, 2018
More Yamaha MT-09 Reviews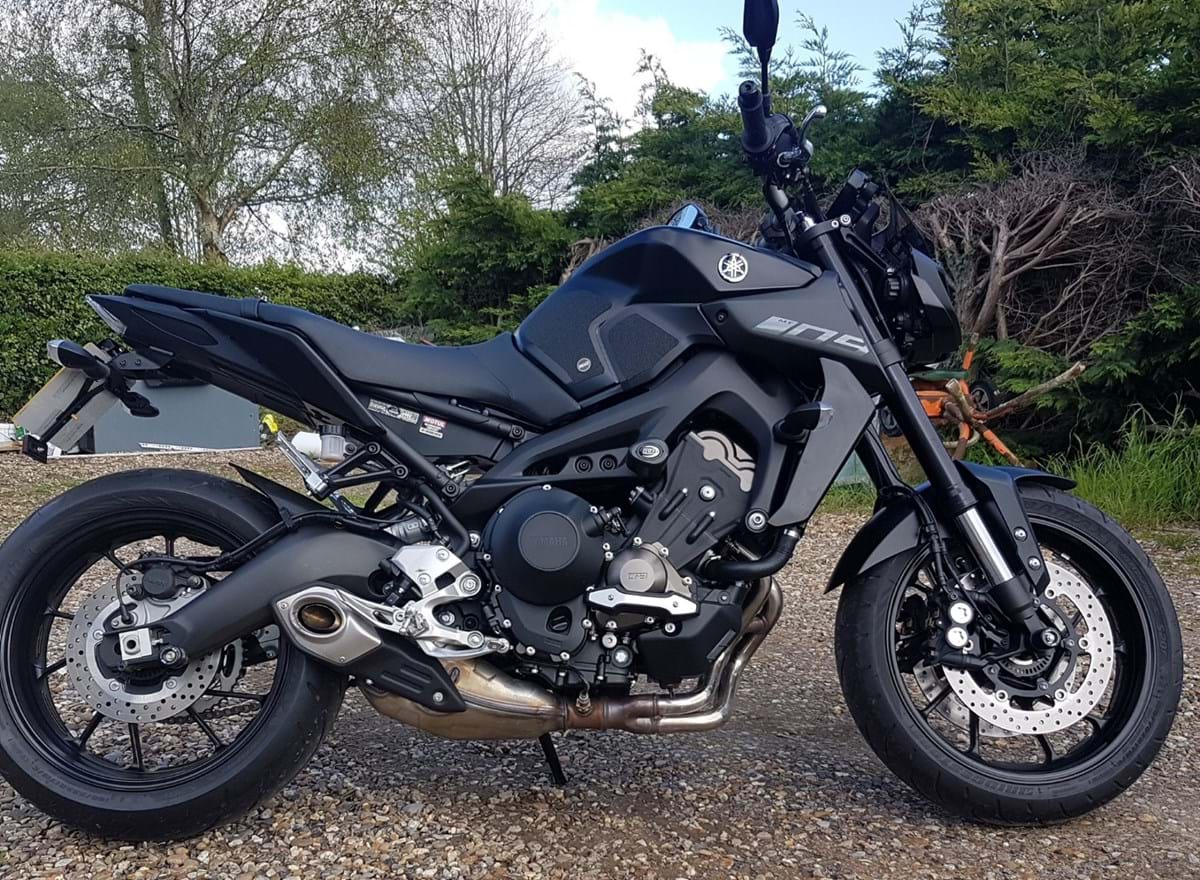 I purchased my 2017 MT09 in April 2018 and was lucky that it came with an 18 plate. I also passed my test in April 2018 as well so this MT09 is my first real bike!!
I was impressed with the value for money, quite a lot of kit for the price. The only downside being the poor suspension that comes on the standard 09.
I have covered 7,500 miles since owning it and have now had it remapped, which has improved power delivery and driveability no end. I have also put a new rear shock on, Nitron, which has transformed the bike. A change of exhaust to the Akrapovic has made it noisier!!
I have had no issues with the bike at all. Although saying that I am about to change the chain due to rubber o rings hanging out. For me the bike has been great. Very light on the front end while accelerating hard, so would perhaps benefit from a steering damper.
I really do like the styling of it, the get up and go, the quickshifter for me works very well indeed. With hindsight I think I should have gone for the SP but I wouldn't be able to put my own touch on it.
I have added heated grips and a USB port, both genuine Yamaha, and have found that Yamaha kindly put two spare outlets on the bike for just these add ons. So just plug and play.
The standard seat is a bit firm for me and after 45mins of riding I had a bit of a numb behind, but the upgraded Yamaha seat is far far better and I have not had a numb bot since!!
It has eaten tyres, with each rear lasting approximately 3,500 miles but I do seem to wind it open a lot. And with the remap producing 115bhp at the rear wheel it's a bit of an upgrade.
I love my bike and would recommend them to anyone that asks. Unfortunately I have no frame of reference as this is my first bike, but it's quick and handles well, even more so with the new shock.
I'd give it 4 stars as it does have it's issues.
- Chris H, 2019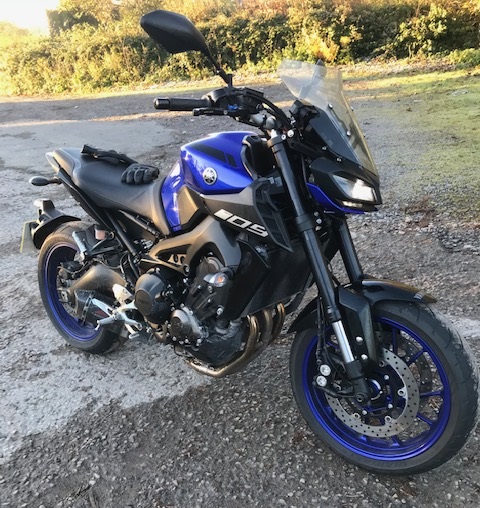 So I've had my MT-09 about 6 weeks and if I'm completely honest I do not have a bad word to say about it. I love the power of the bike, it's aggressive when it needs to be and I love the look. It's stylish and very attractive for a bike.
I have a black widow exhaust without the baffle, which has a great sound, the riding modes give you a very different style of riding for example if raining you can switch it to B mode which gives it that very smooth throttle, or A mode if it's a clear day dry and you fancy a bit of fun on the weekends.
I can honestly not fault the bike at all. No bad points from me. And that's a complete honesty :) Love it.
- Sam D, 2018