Suzuki GSX-S1000 Review
| | | |
| --- | --- | --- |
| Overall | | ★★★☆☆ |
| | |
| --- | --- |
| ✓ | Brakes, front suspension |
| | |
| × | Limited electronics, throttle response, rear suspension |
What Is It?
The 2015 Suzuki GSX-S1000 is a naked style bike which re-uses some engine tech from an older generation GSX-R1000 sports bike.
Engine: 999 cc Inline Four, 143 bhp
Economy: 40 mpg, 150 miles
Seat Height: 815 mm
Wet Weight: 207 kg
RRP: £9,100
What Is It Like?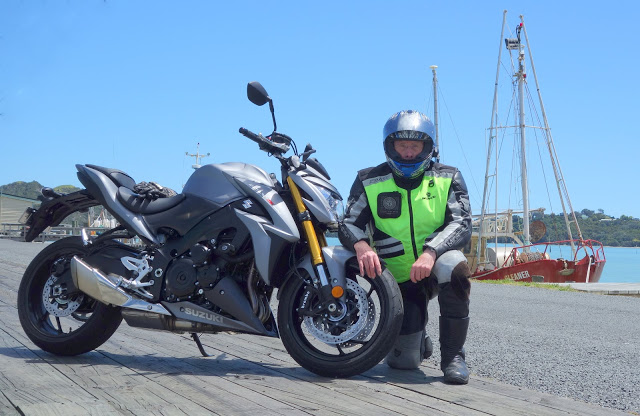 Well, the new bike is here and the Street Triple has gone... sniffle, sniffle! I thought it would be worthwhile to record some initial impressions of the 120 mile trip home on a new bike and contrast them where appropriate with the Street Triple and Blackbird before those thoughts become blurred.
Travelling in heavy traffic on the motorway at slow speeds and indulging in a bit of filtering confirmed that despite the 40kg difference in weights, the Suzy carried its weight very low and was ergonomically similar to the Triple – instant confidence! I could also get my feet flat when the traffic stopped - important for an err... mature guy with stuffed knees! The salesperson reminded me before I left that the brakes would take some bedding in. He was bang on the money – nowhere near as powerful as the Triple despite them being 4 pot radial Brembos so I added a few more lengths of following distance. They slowly improved throughout the journey but have not yet reached the standard I'm expecting.
Reading ride reports on the Suzuki in the press, one common complaint is that it's a bit snatchy from a trailing throttle. That's actually a fair call but the same complaint was levelled at the Street Triple when it first came out. Leaving the motorway and getting out on to the country roads, it was nearly as nimble as the Triple, but not quite. It did take a bit more effort to change direction through tight twisties.
Chicken strips virtually gone in under 125 miles
Handling over bumpy surfaces saw the bike skitter about far more than the Triple, but not in a particularly alarming way. You certainly had to be a bit careful getting on the throttle! It's not a fair comparison at present though as the new bike running gear needs to loosen up before sag and damping can be properly adjusted for my weight. I set the Triple up properly for my riding weight using quality aftermarket componentry and besides, international road tests say that not many bikes can live with a Triple in the tight stuff. 
The ride was in warm, dry conditions and the D214 sport tyres stuck well. Rain grooves are minimalist and like most sport tyres, they require heat to make them stick. From experience with the OEM Dunlop Qualifiers on the Street Triple, the prospect of riding in the rain in cooler conditions does not fill me with excitement, particularly as I have to do instructing in all conditions. The good thing is that the D214's should be dead pretty quickly and can be replaced with Michelin PR4's, which I love to bits. Oh, and a real plus is that the turning circle is miles better than the Triple.
As the traffic thinned out, the ability to get on the throttle improved, even though running-in revs and engine loads were strictly observed. The Suzuki has about 45 bhp more than the Triple but that's nowhere near the end of the story.  If you do the math, the power to weight ratio of both bikes aren't miles apart. Coupled with the wide torque spread of the Triple, it's only when wind drag starts to kick in at (say) above 62mph that the Suzuki has a significant advantage and clears off. For everyday riding where corners, road conditions or other traffic impact on speed, the difference between the 2 bikes is nowhere as much as you might think.
The muffler is one of those stubby Moto-GP jobbies slung low for mass centralisation. It's got quite a bark too which is pleasing. At certain highway speeds and a neutral throttle, there is a droning harmonic-type noise. Unsure at this stage whether it came from the airbox, muffler or both.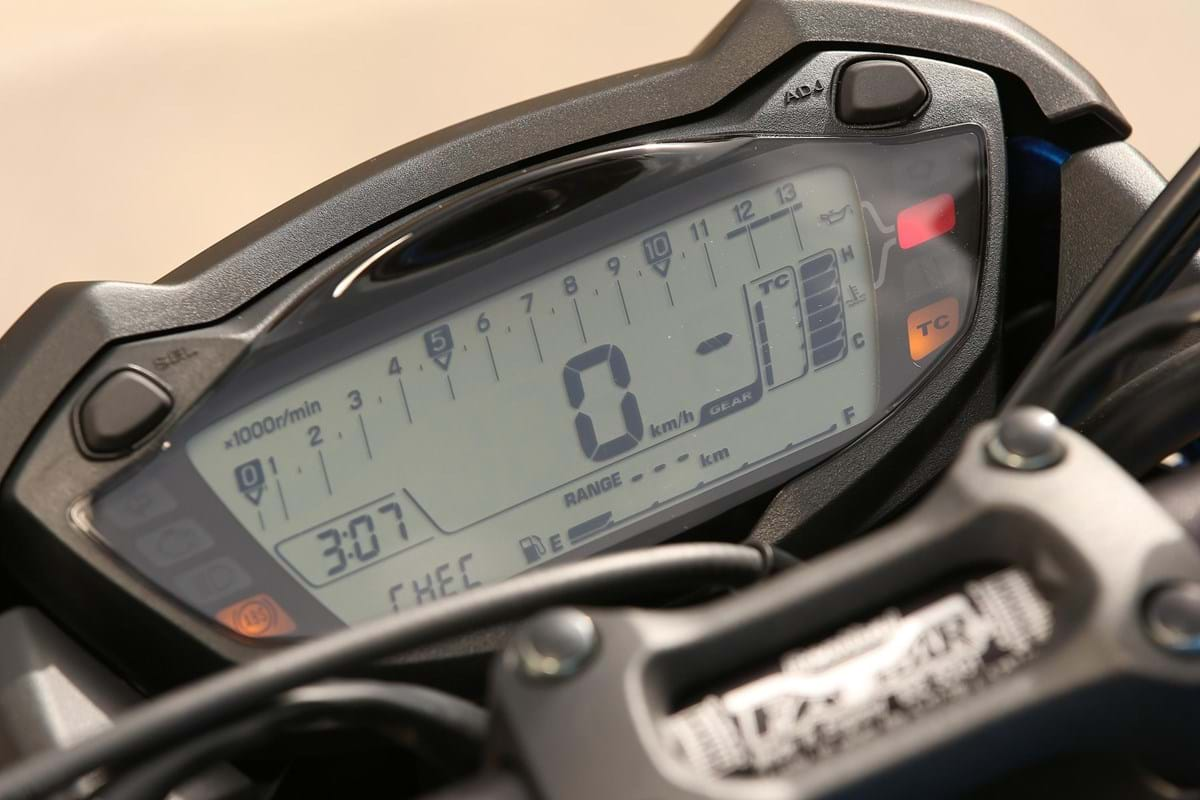 The dash
The instrumentation display on the Suzuki is superb, although overwhelming at first glance! As well as the normal speedo/odometer/tacho/temperature functions, there is permanent ABS and 3 stage traction control which can loosely be described as Old Fart (or rain if you prefer), spirited road riding (2) and trackday (1).  There is also "off", reserved for those who's surname rhymes with Rossi. The rocker switch on the left bar also allows several fuel consumption options. The one I particularly like is the one which counts down the miles before fuel is needed.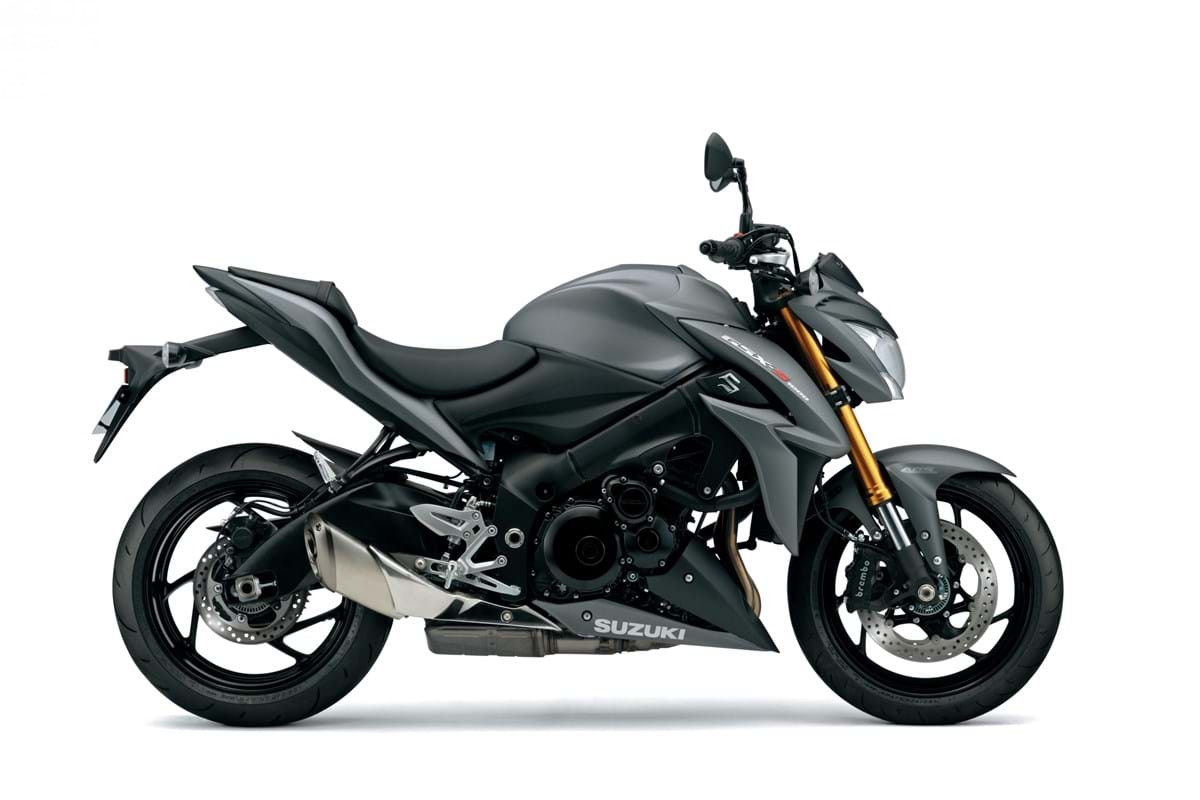 Initial thoughts
So what now? Some matte 3M anti-scuff film will be installed at the service to protect the rear of the tank and the tailpiece from throwover bags. A front guard extender to keep the crap out of the radiator is already on order and engine crash protectors will be ordered shortly. A small Suzuki screen is on back-order.
I don't seem to be jumping out of my skin about the Suzuki. That would be a wrong impression - I love it and am really looking forward to riding it how it's meant to be ridden. If anything, it's a complimentary reflection on just how good the Street Triple is. Totally bullet-proof in the 6 years of ownership, sublime handling and the power to weight ratio means that it won't be embarrassed in bigger company - horsepower is only one side of the equation.
Well, I've been able to cut loose for the last few hundred km after diligently completing the running in and what a brute it is!  If the Street Triple was a rapier, the Gixxer is closer to a broadsword or battleaxe!  As mentioned in the previous two posts, both the demo ride and delivery trip home were anticlimactic in that it was similar to riding my 2009 Street Triple in terms of ergonomics and nimble handling. That's not denigrating the Suzuki but a massive compliment to just how good the Street Triple is as a great all-round bike. In fact, the power to weight ratio of both bikes are not hugely apart and in real world road conditions, we're only talking fractions of a second differences in performance up to the legal road limit.  The additional 27 kg of the Suzuki isn't at all noticeable because it's carried so low.  Mass centralisation was clearly a major feature of the design brief, including a single low, stubby Moto-GP style exhaust system.
Some more thoughts after 1,250 miles
It's very good indeed for a sport bike with taut suspension and feels more like a 600 than a 1000. I noticed that on the most sensitive traction control setting that it actually activates on tight corners when "pressing on" in dry conditions. You can't feel it, but the TC warning light flickers on and off showing that it is changing power delivery characteristics.  Rider comfort, at least for a person of my height is surprisingly good and even with stuffed knees; the footpeg height is relatively comfortable.
Forget the top speed stats on most of the world's public highways, it's the brutal acceleration which is the really impressive feature. With grunt like this, traction control is clearly a real advantage in reducing unfortunate consequences from a ham-fisted approach to throttle control! It raises the question of how much power is sufficient for everyday road use. In this instance, to borrow the phrase used by Rolls Royce about their cars; it's "adequate"!
To slow the bike down after the brutal acceleration, the Suzy is equipped with radial 4-pot Brembos up front and a single pot Nissin out back, with ABS to make the whole thing civilised. As yet, I haven't had to use the brakes in anger so can't make any objective comments. I've done one deliberate hard straight line stop, simply to test the ABS as I've never ridden an ABS bike before. The feeling left me a bit underwhelmed as there was no savage, wedding tackle squashed into the back of the tank-type deceleration. Perhaps that's the point of it - no dramas during heavy braking.
The OEM tyres are Dunlop D214 sport soft compound. Excellent dry grip but like most pure sport tyres, require heat to deliver maximum adhesion. However, given that the life of these tyres is likely to be somewhat short, they will be replaced with the outstanding all-weather Michelin PR4's fairly soon.
Fuel range came as a pleasant surprise. Range is important to someone who lives a fair distance from the main centres and besides, I hate stopping for gas when on the move!  With a sympathetic right hand, it's quite possible to get around 180 miles or thereabouts. An excellent feature of the instrument panel is a "range until empty" readout, giving the rider real-time information. Allied with this are instant and cumulative fuel consumption readings in several different output measurement formats.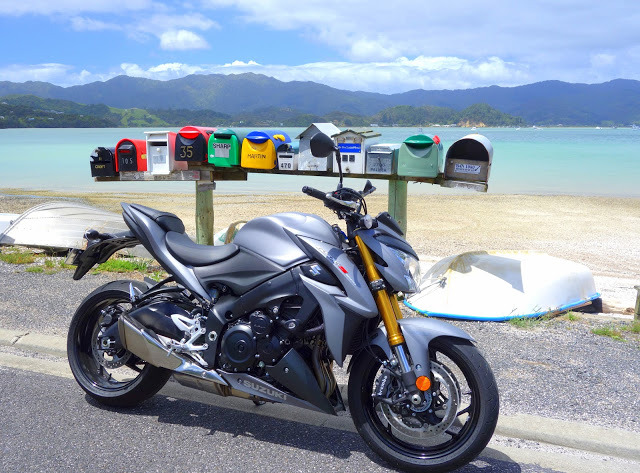 After 6 months and 6,000 miles
I've sorted the suspension, it's now got good rubber, done a trackday and lots of mentoring with the Institute of Advanced Motorists. A worthy replacement or step up from the Street Triple? Well actually, that's highly debatable and if pressed, I might say no. I'm certainly not disappointed with its performance but it's not light years better than the Street Triple for my everyday road use. So what's the reason then? Riding it is enjoyable and fun, but it's not exhilarating. Bland is not quite the right word, not feeling "as one" with the bike is not quite the right description either. To be candid, I can't give you any concise specifics that make sense, but in a nutshell, there's no emotional connection.
Looking back on the test ride, it didn't "sing" to me like the Triple did and should have listened to my heart. It gets properly cleaned and detailed because I'm an anal retentive engineer, not because it's a labour of love. It doesn't get patted when I walk past it in the shed and that's probably the most telling thing of all.
Does this mean that I'm looking to replace the Gixxer? Well no, at least not in the immediate future but it's unlikely that ownership will continue for more than another year or two at most. It's enjoyable but I want more than that.
Any downsides?
Well, it is a sport bike so a pillion rider is unlikely thank you for the minimalist seat and high rear pegs on anything but a shortish run. If you don't plan to take a pillion or go very far with one, then they might still walk normally afterwards!
Quite a few riders have complained that the engine is snatchy off a trailing throttle. Coming from a Street Triple which had a similar reputation, I would have said it's a touch sensitive at low openings but not something which can't be lived with. On a constant throttle at slow speeds, it is a little lumpy but it's not particularly annoying. However, if it's used for regular commuting in heavy traffic, it might become irritating but in fairness, riding a sport bike in those conditions is not exactly fit for purpose.
Another thing which may or may not become irritating is a combination of the exhaust and induction noise. It's noticeable when rolling off from fairly high revs in the lower gears, there appears to be a harmonic which can be quite intrusive; I personally like it up to now but acknowledge that it might not be to everyone's taste.
In summary
It's a beast of a bike and a lot of fun to get to grips with. As mentioned earlier, very much like a big Street Triple with added steroids. It's also pretty sophisticated in terms of electronics and is a good example of just how far bikes have developed in the last few years. Value for money? Heck yes! Fun? In spades!
Farkles
R&G aero-style crash protectors
Higher output Xenon bulb
Small flyscreen
- Geoff J, 2016
Price Guide
| Year | Dealer | Private | Part Ex | Mileage |
| --- | --- | --- | --- | --- |
| 2015 | £6,350 | £5,100 | £4,450 | 6,800 |
| 2016 | £6,750 | £5,400 | £4,750 | 5,100 |
| 2017 | £7,550 | £6,050 | £5,300 | 3,700 |
| 2018 | £8,700 | £6,950 | £6,100 | 2,100 |
| 2019 | £9,000 | £7,250 | £6,350 | 1,250 |