Honda Forza 125 Review
What Is It?
The 2015 Honda Forza 125 is a learner friendly premium maxi scooter. For 2018 it received a major update in line with the 300 cc version.
Engine: 125 cc Single Cylinder, 15 bhp
Economy: 100 mpg, 250 miles
Top Speed: 80 mph
Seat Height: 780 mm
Wet Weight: 162 kg
RRP: £4,100
| | | |
| --- | --- | --- |
| What Is It Like? | | ★★★★★ |
| | |
| --- | --- |
| ✓ | LED lights, looks great, mega storage, performance, comfort, presence |
| | |
| × | Screen, no underseat lighting, mirrors, reasonably expensive |
2016 Honda Forza 125cc
So first let me tell you about myself, I am a large chap, that needs a large bike. I have ridden many bikes before from TL's to GPZ, and other sports bikes, but there is something that's lovable about a Maxi Scooter that makes my knee's weak.
I've owned a few and I always loved the Honda Forza, but that love comes with a high price tag as they're not cheap at all. I normally save up to buy my bikes, or sell old items I no longer use to help towards the costs, but it was still a bike that was past a budget I could justify spending, so my wife did the unthinkable and took out a couple of grand loan and said its time to sell my old bike and get the Forza :O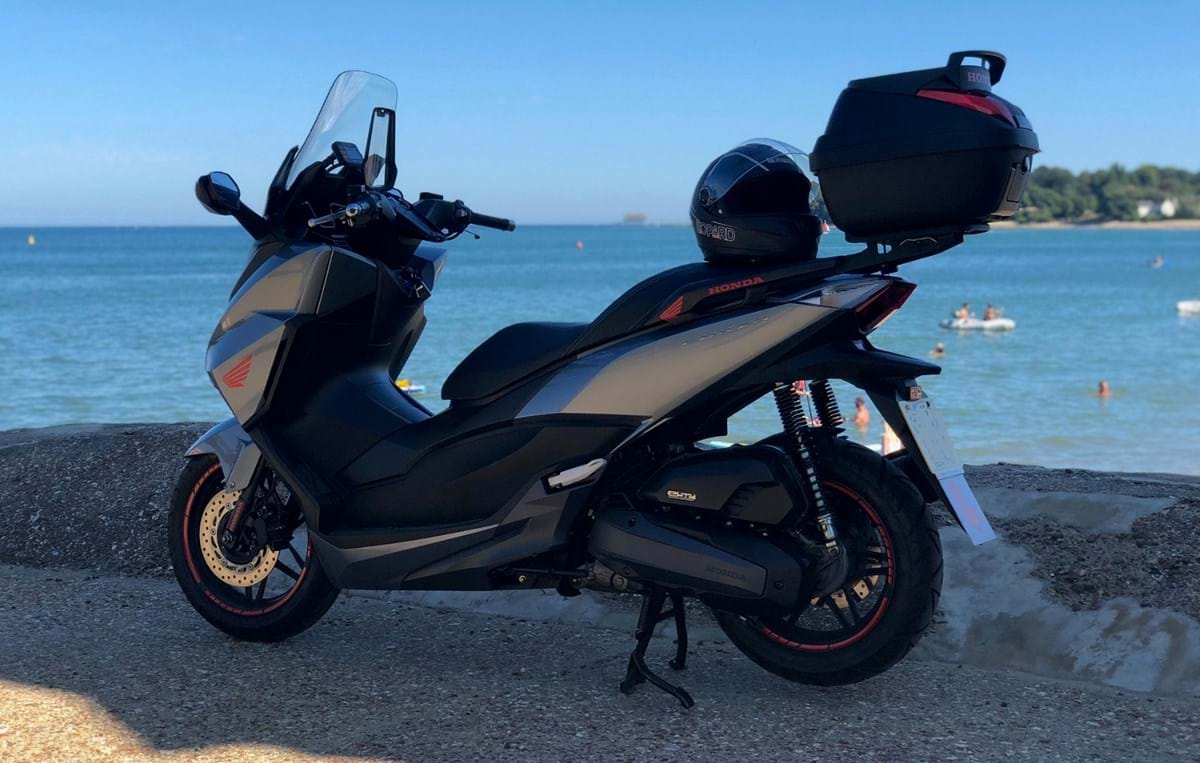 So there I was, money in hand basically and able to finally buy one, I didn't want a new one as the prices are close to £5000, and the prices of them with low mileage and a year or two old were around the £3500 which is what I was aiming for. After a few weeks of searching a local Honda Dealer in Bournemouth had two in stock, being a distance from me, I could only go more by the photos and what the dealer said about them. Well I finally made my choice, and being from a dealer, made sure I was covered with some extra warranty and extras :) I handed my money over and arranged a collection date.
I had never seen one in real life but I knew it was the bike for me and had loved it for a while. My first impressions was damn she is a big girl, yep I know Maxi means larger but she stands out in front of most bikes, I am 6'1 and I tip toe this girl at stop lights. The Forza has a very angled shape, it's either a hate or love it styling; it takes a stance on the road and it will turn heads. Being a 125cc it uses pretty much the same platform from the 300cc version, so when you look at it you think it's a bigger bike than it is.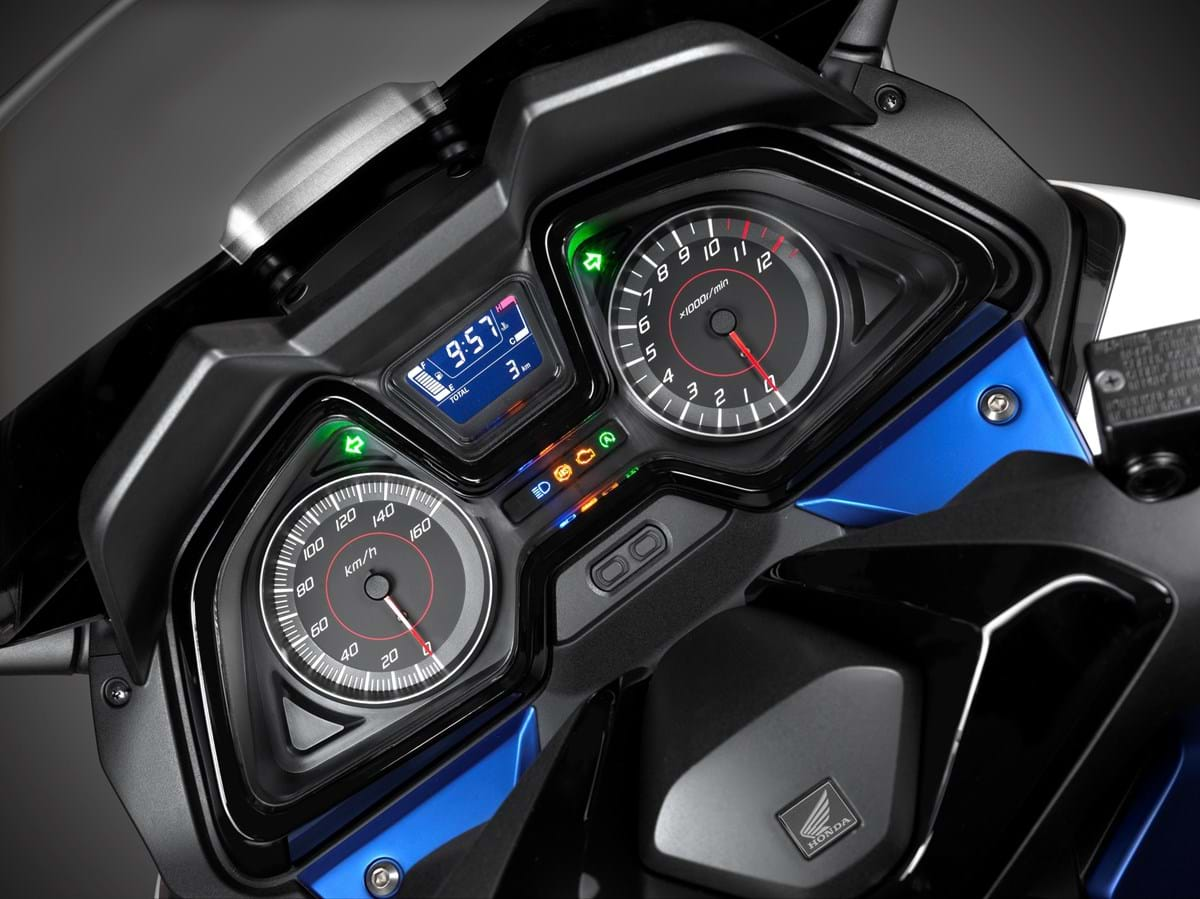 Honda have really gone to town on making this a luxury bike for road trips, from the adjustable screen height, to the 12v power adaptor, and the HUGE space under the seat for 2 full XL helmets. The seat is like a sofa, you can spend hours sat on it and it's refreshingly comfy. I can imagine the passengers seat being just as good too. The controls are all where you need them, and the only issue I personally find is hitting the indicator cancel over the horn on it still.
As said above this is a luxury scooter and she really handles the miles on the road, she tears up 200 miles without thinking about it, and though she is only a 125, she will do 70mph all day long without missing a beat. She pulls like a train and I am a heavy lad, but she will get to 60 with no issues and then the last 10 takes a little more, but she gets there and she holds her own. The seating position is really good, with a higher foot area to stretch your legs or use the standard area for a more upright feel them to the riding position. The power that comes from this little 125cc is amazing, there seems a constant pull from it whatever speed you're doing, even with the big person like myself riding it and it performs better than any other bike in it class.
I can say one thing now I've owned this bike and done a few thousand miles on her, she's the best investment I've made in a very long time and every time I go out for a ride I end up wanting to go out for longer. She is so much fun in the twists and turns of country lanes, but just laps up the duel carriageways too.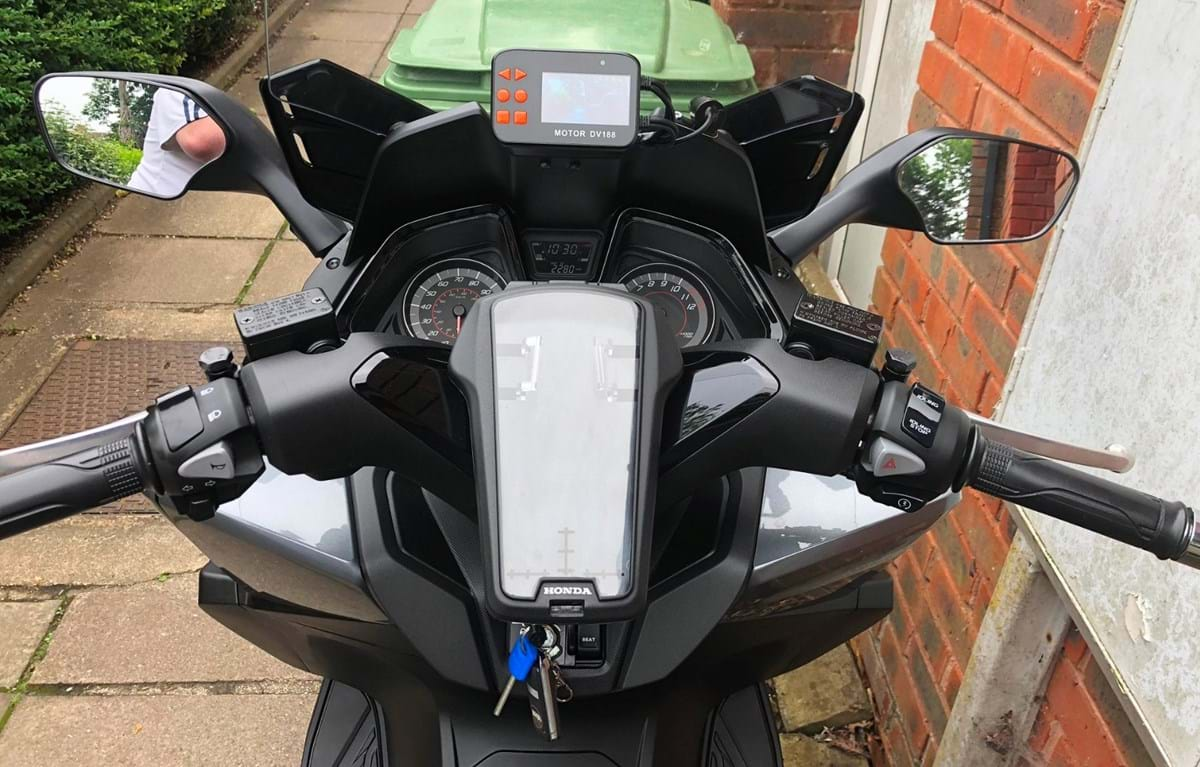 Changes I've Made
I have added a duel camera DVR system to the bike to record all trips I take on her in case of an accident. Also I use the 3 inch screen as a rear view mirror, life saver are still always done too I'd like to point out.
Added the Honda phone holder, great position this is fitted and helps for a GPS from my phone.
Universal topbox, for extra storage, as you can never have enough.
Alarm and a tracker, as it doesn't come with these on this year as standard.
And some extra stickers, as we all know these add at least 10mph to any bike :)
Good Points
Size, road presence, you can't be missed easily, great for a 125 learner.
Performance. It has plenty.
Space for rider and storage. So, so much storage space.
Handling, great all-round handling for towns to country lanes.
MPG, yes its amazing around 120mpg average.
Bad Points
Price, no question an expensive 125.
Lack off alarm as standard.
Price of the additional topbox. Don't ask how much…
- Mathew E, 2018
Price Guide
| Year | Dealer | Private | Part Ex | Mileage |
| --- | --- | --- | --- | --- |
| 2015 | £2,700 | £2,200 | £1,900 | 7,100 |
| 2016 | £3,050 | £2,450 | £2,150 | 5,100 |
| 2017 | £3,450 | £2,800 | £2,450 | 3,700 |
The Second Opinion
I brought my Forza 125cc in 2016. It was the only scooter I wanted and I've had many scooters over the years. I'm a all weather rider and I must say the Forza is awesome..
When I brought the bike I had extras put on for free ( Oxford heated grips ) I also added mitts to keep the heat in and I must say they do work even on the coldest morning.
Ride comfort is pretty good for English roads. Top speed is 72 for me but I usually keep it between 60-65 which feels nice and comfortable. The engine doesn't scream at you like other scooters I've had.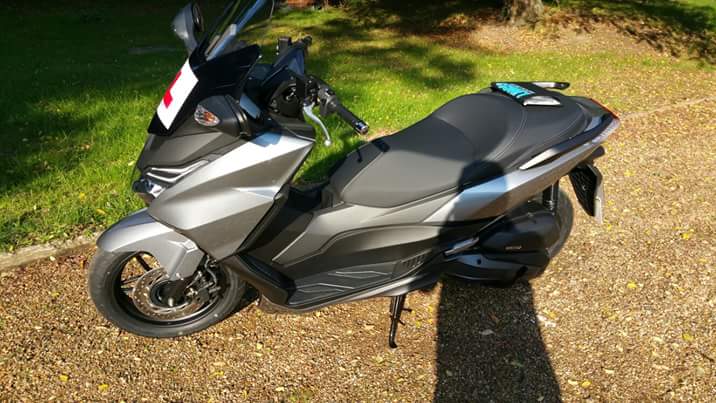 I do like the storage under the seat as it holds quite a lot of stuff if needed..
At present I've had 230 miles from a full tank of petrol which cost me 13 pound but I only travel 14 miles a day to work and back. I do a 28 mile ride at least once a week so usually 20 quid a month keeps me riding.
If I have one fault with the bike is the mirrors ( they are a little small ) but I can live with them as I think bigger ones would ruin the design of the bike.
Overall I love my Forza so much I'm planning to do my full licence on her as I'm happy with the ride and the look of my bike. If I was planning to get a bigger bike it would the Forza 300 or the Integra but I do love my 125cc.
- Chris G, 2018