Honda CB1000R Review (2008)
"
I've owned over 30 bikes in as many years during my obsession with motorbikes and have to say my CB1000RA9 has been and still is my favourite.
"
What Is It?
The Honda CB1000R is a naked style bike and is powered by a Euro 3 compliant liquid cooled 998 cc inline four engine, producing 123.4 bhp at 10,000 rpm and maximum torque at 7,750 rpm.
Specs
Seat Height: Average (

828

 

mm / 32.6 inches)
Weight: Heavy (217 kg / 478 lbs)
Economy: Poor (35 mpg / 8.1 l/100km / 12.4 km/l)
Range: Average (130 miles / 209 km)
Power to Weight: High (0.567 bhp/kg / 0.423 kW/kg)
Top Speed: Very high (150 mph / 241 km/h)
Pros
Sublime handling
Great all rounder
Usable power
Cool wheels
Comfort
Style
Cons
No gear change indicator on early models
Funky headlight
Economy
What Is It Like?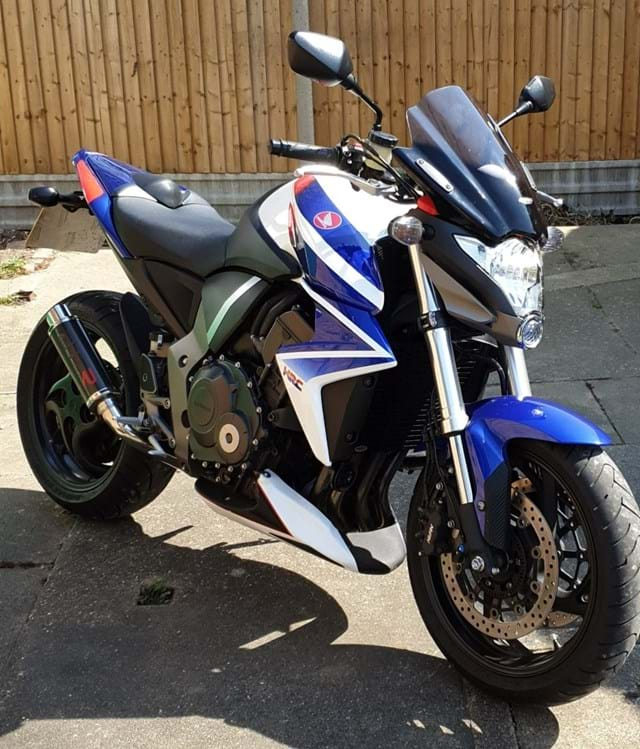 Choosing The CB1000R
In 2010 I owned an Aprilia RSV1000 and a Kawasaki ZX9R. I had fitted a handle bar conversion to my Aprilia but decided to trade both in for a Tuono.
A test ride was booked at the dealer but upon arrival I noticed the CB in HRC colours and my attention was instantly drawn away from the Tuono.
I rode both and the CB outshone the Tuono by being smoother, feeling quicker on acceleration and the sound from the aftermarket exhaust was addictive. I was most impressed with the way it handles bends. It's so confidence inspiring, never running wide.
Any Issues?
With only 1,200 miles on the clock and 6 months old the deal was done. A warranty for life was included at no extra cost but in the 9 years of ownership, apart from the front brake light switch failing which was easily sorted by WD40, nothing has ever gone wrong.
Handling
Most of my rides are less than 100 miles on sunny weekends, which is fine on one tank of fuel, but once a year my mates and I go touring.
Scotland, France, Germany and the IOM have been covered with the longest one, Austria / Italy in 10 days. That was a 2,000 mile round trip but the CB remained comfortable and faultless taking the mountain passes with their 180 degree bends easily in its stride.
I carried a petrol can to increase my tank range as my mates bikes would manage over 200 miles to the tank, the CB topping out around 130 ish with a little to spare. An MRA screen and Givi topbox make the trips more comfortable.
I did miss a fairing when it rained continuously for 400 miles but my mates on their dual purpose bikes even with their big screens and hand guards seemed to get just as wet so I cant complain too much.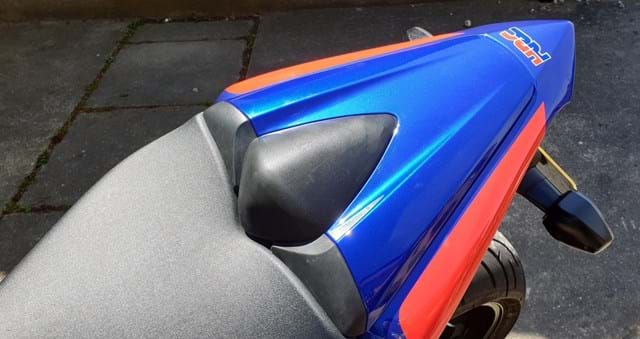 Mods
The exhaust...MRA screen...belly pan from Italy....seat hump...engine rings...rear hugger.....Givi rack and top box for touring.
Servicing
I take it once a year back to the dealer to have an oil and filter change at the cost of £130. This keeps my warranty for life going but air filter, coolant, fork oil and brakes I've replaced myself. I find it easy to work on.
To Sum Up
It has now covered around 13,000 miles and is going strong. I occasionally think of selling it, in fact I had an offer of £4,500 recently, but I cant seem find anything else that I would sooner have.
- Andy F, 2019
Price Guide
Year
Dealer
Private
Part Ex
Mileage
2017
£7,150
£5,700
£5,000
6,700
2016
£6,550
£5,250
£4,600
8,500
2015
£6,000
£4,800
£4,200
10,300
2014
£5,600
£4,450
£3,900
12,100
2013
£5,250
£4,200
£3,650
13,900
2012
£4,950
£4,000
£3,500
15,700
2011
£4,800
£3,850
£3,350
17,400
2010
£4,700
£3,750
£3,300
19,100
2009
£4,650
£3,750
£3,300
20,700
2008
£4,750
£3,800
£3,300
22,300
How to use the price guide
The Second Opinion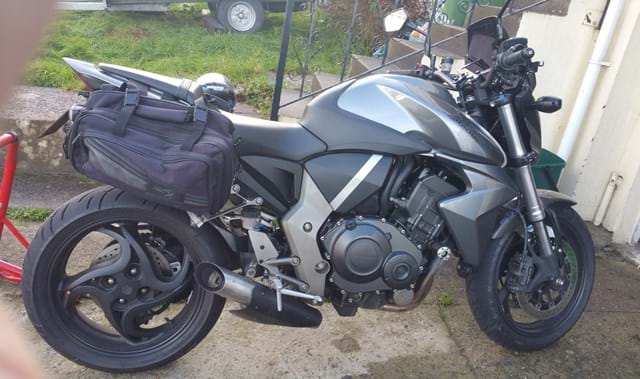 Choosing The CB1000R
I was working as a same day courier in April when one evening I spotted a good looking bike being ridden in an upright position.
It was a 2017 in gold. The following morning I got a pick up and saw the bike from the previous evening parked in the Director's bay. I took a pic and sent it to a mate who said it was a CB1000R.
I thought it was going to be out of my league but googled the reviews anyway when I got home. Liking the reviews I then started scouring through the second hand prices and there was a 2010 with a few upgrades for sale advertised for £5,650 only 10 miles away, with 4,500 miles on the clock.
I decided to view it and said I'd buy it after only sitting on it. The bike looked like new with additional short levers, extended wing mirrors for better visibility, engine protectors, a G&G exhaust with no baffle, carbon mudguard and rear hugger. It had to be comfy as I couldn't ride bent over and needed the more upright position.
First Impressions
My mate rode pillion there and then rode it back for me until I sorted out insurance. He was totally impressed with the performance on the ride back and said he wanted one! His ride is a Fireblade which has a similar engine to the CB, just not de-tuned.
My current ride at the time was a Z750S and I had tried a friend's Z1000 which wasn't that different. Well, first try out of the CB1000R and it was totally different performance to the Z! Definitely putting a smile on my face from the word go.
Acceleration is about 3 secs 0-60 and a standing 1/4 mile in 11.3 secs! I did have a go once at the 0-60 but the front wheel rises almost straight away so trying to get the power down at a drag race would need practice. We rode down to Cornwall this year to one and if you could hit around 12 secs you'd be putting in a pretty respectable time.
Handling
My CB Thou had been bought from a local garage and had been serviced recently. At least it had a new rear Battleaxe which I believe is the recommended tyre. As the reviews say, it is an easy bike to ride straight off if moving up to the Thou bracket. Careful on the throttle and it won't bite you in the arse.
Although I am 6'2" and 15 stone ish - I can open the throttle full once the bike is moving in most gears without any drama. Coming out of a corner you will make the front wheel light if over enthusiastic but the rear stays planted. On a straight the front wheel will go light as well but its no problem.
Power
Having had a TDM and a Z I don't ride in a sports bike style but more lively cruiser style, not over revving the engine etc. My mate is always telling me to drop down another gear for an overtake. The CB1000R will definitely give more confidence in a car or lorry overtaking situation, especially when dropping down a couple of gears.
Noticing the power around 7,000 to 9,000 revs and keeping it up there you'll be accelerating better than most vehicles on the road. Somehow Honda manage to get the power and acceleration out of their bikes.
What's It Good For?
I think the CB1000R is probably an ideal commuter and a bike that can also be ridden more lively at the weekend. The longer stroke and different gearing, despite having the same Fireblade block, will enable slow acceleration from 40mph in top gear and can therefore be ridden without too much gear changing if wanting a cruise out. Or more frequent gear changing and hitting the power band will give a livelier ride but without the top speed of the Fireblade.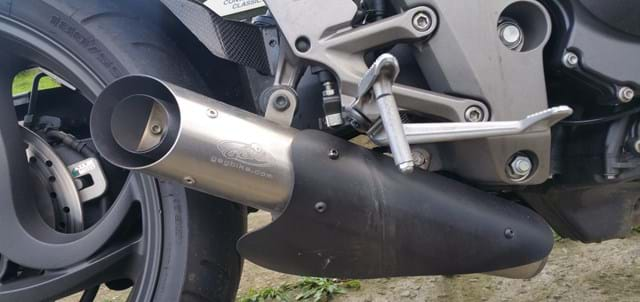 Exhaust
One thing I'd say to watch with any bike is the mapping with after market exhausts. The fuel consumption seemed high or I seemed to be fuelling more frequency than my mate on the Fireblade! I had checked when we had a long steady run and got about 50 mpg.
G&G say that there is no remapping required but when we had a ride to Sammy Millers from Devon one of the other chaps said he could smell fuel from my exhaust, as well as hearing it.
I bought a cheap generic baffle to put in which hasn't changed the fuel consumption but has made the exhaust more socially acceptable.
The next resort will be to take it for remapping if I'm going to leave the G&G on it. Re-mapping won't be for performance, as I think there is enough performance for me as is, it will be to make sure that the correct fuel delivery is going into the cylinders so as not to cause damage or problems.
Tyres
The Z would chew the rear tyre in 2,000 miles but the CB1000R has done over 3,500 miles with the same riding style and probably better fuel consumption. I will be replacing the the Battleaxe with a dual compound Michelin 2CT to see how that performs.
Mods
For touring or generally going to the shops I was looking at luggage and trying to put on some Oxford panniers I used on the TDM. The G&G exhaust is low, out of the way and it looks like the bike will be able to take most generic panniers but with a frame to prevent them from swinging around.
I've also added a Puig screen which does provide some protection from the body area despite it's size. I am just over 6ft though.
To Sum Up
If anyone is thinking of moving up from a 600 or 750 to a thou then a second hand Honda CB would be a good choice. You have the re-assurance of build quality and Honda performance.
I personally think that the CB Thou is a good all round bike which can be docile and manoeuvrable in town or become an animal out on the twisting roads.
Like any bike, if you treat the throttle with respect and care you won't get bitten. Think you're Rossi and you may be paying a heavy price!
- Martin F, 2018
Add Your Review
Do you own this bike? We would love to hear anything good, bad, unexpected or that you have changed plus anything that a prospective new owner might find interesting or useful.