Honda CB1000R Review
| | | |
| --- | --- | --- |
| Overall | | ★★★★★ |
| | |
| --- | --- |
| ✓ | Awesome styling, bags of details, handling, electronics, comfort |
| | |
| × | No "retro look" TFT display, seat, mid-range power, rear shock, reports of tank finish wearing quickly |
What Is It?
The 2018 Honda CB1000R is a neo-retro naked bike powered by a de-tuned Fireblade engine.
Engine: 998 cc Inline Four, 143 bhp
Economy: 45 mpg, 160 miles
Seat Height: 830 mm
Wet Weight: 212 kg
RRP: £11,230
What Is It Like?
Honda 2018 CB1000R Review
Mileage to Date: 1,200
Age: 62 years
Height: 6 foot
Weight: 98 kgs
Riding Background
I've been riding for 40 plus years. Experience is mostly on sport bikes and sport tourers. Currently own 2 other bikes ('03 Honda Blackbird and a '17 FJR 1300ES). While I've owned quite few pure sport bikes I moved to the CB from a 2016 Aprilia Tuono, though considered to be in the same "naked" segment from a power perspective the Tuono is much more mental. Before the Tuono I had a 2013 Honda CB1000R which was also a great bike for about 2yrs. Most of my comparisons below are referenced against the Tuono and the previous gen CB.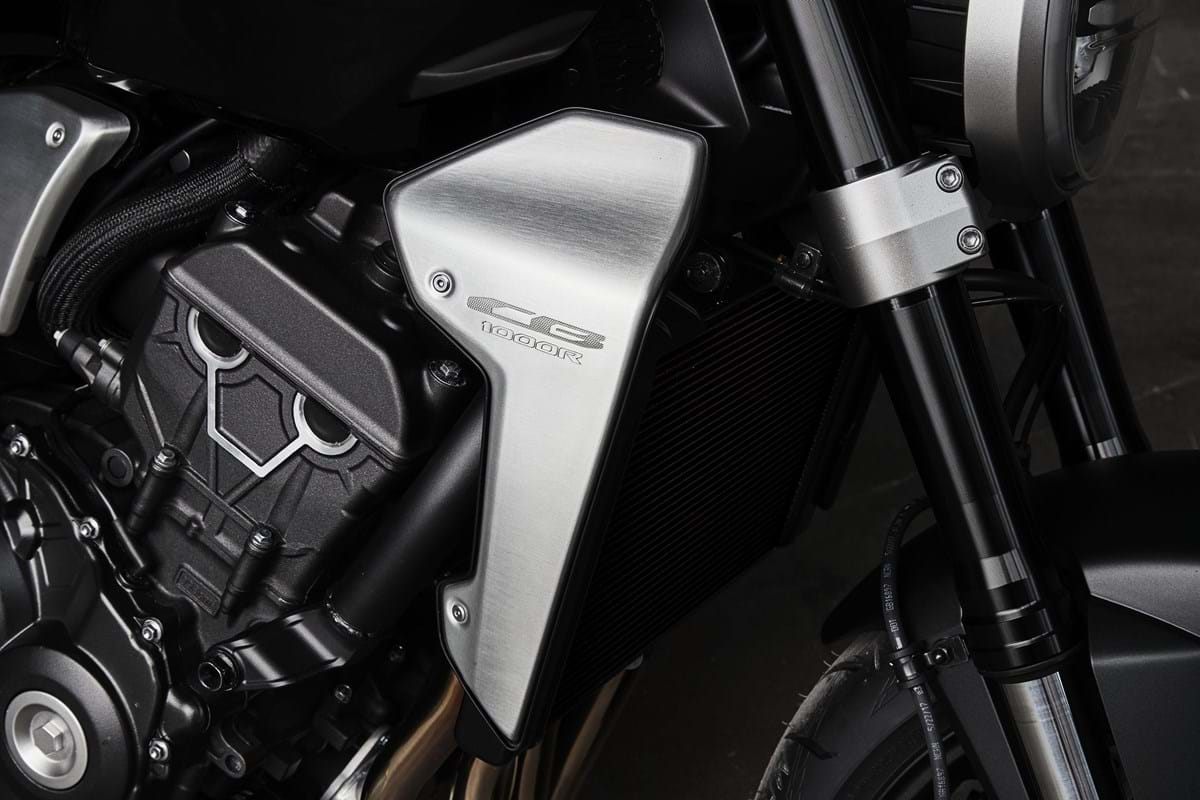 Engine
The Tuono requires more throttle discipline given that monster V4 engine. The inline 4 on the CB is much more forgiving and you have to be more "purposeful" to ride it aggressively. The previous gen CB has more mid-range but is softer on top. The mid-range (4K-6K) on the new CB is where it feels soft but I don't consider it a deal breaker. Running it a gear lower addresses this for me when I want to pull harder out of the corners. DynoJet the Power Commander folks have just started efforts to improve the mapping and the initial results are showing promise. The new CB above 7K RPM really starts to shine and likes to be flogged. The stock exhaust note is pleasant but aesthetically it's nothing to brag about (fugly). After doing a lot of research I opt'd to replace it with the Arrow GP-Pro which turned out to be a good choice given its great price, looks, weight loss (3 kgs) and gives a choice to run with or without a dB killer.
I ride without the dB killer and it's quite pleasant sounding without making your ears bleed and quiet enough to not make my neighbours hate me. The butt dyno did not notice any performance loss. I've noticed a lot more companies are now offering slip-ons for the CB. I couldn't bring myself to pay the Akrapovic cost and I didn't care for the bulky look and how it covers the single sided swingarm. Oil changes are very similar to the previous gen, very easy with great access to the filter and drain plug. No heat issues even in +35 deg weather. Tuono and the previous gen CB had no issues either. The Panigale was a nightmare for heat. The thermal management is done very poorly and ultimately drove me away from ever owning another Ducati but I digress. Economy for the CB is in the mid 30's at this point. I can get it close to 40mpg when I keep it in standard mode and smell the roses but riding it aggressively puts me around 35. I expect it will improve as I get more miles on the engine.
Transmission
It's a Honda and is like silk. It is geared lower than the previous gen but is not annoying nor does it feel under geared when in 6th. Note I don't have the Plus model so I can't comment on the quickshifter. I had one on my Tuono which worked very well but don't miss it. My other bikes don't have one either so that's one less thing to think about.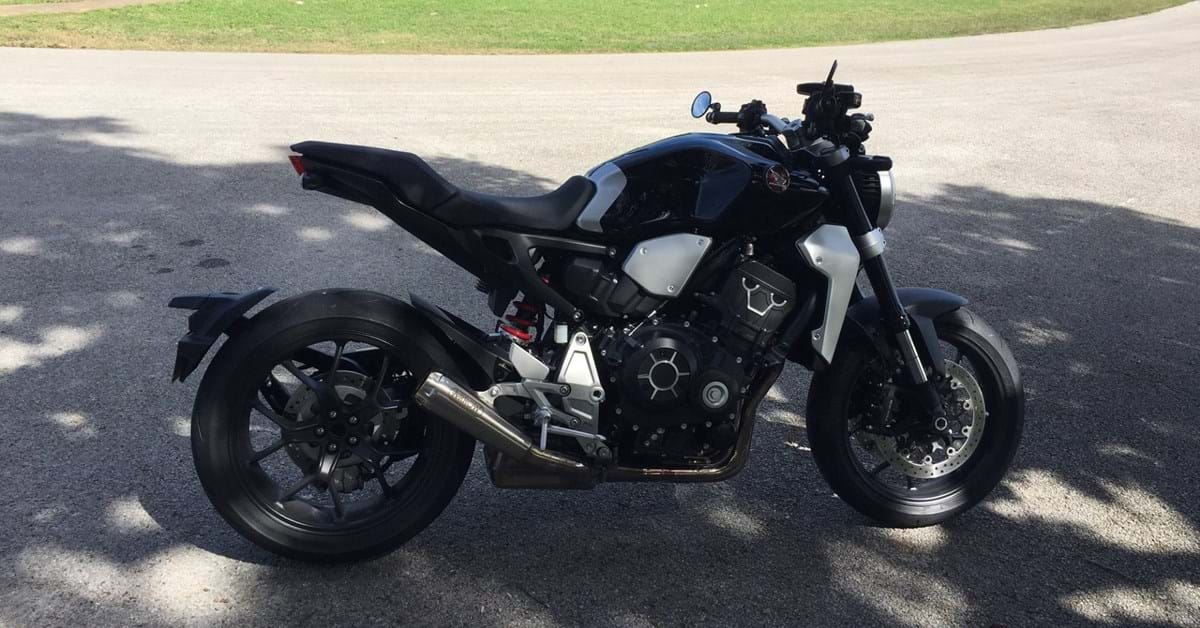 Chassis/Tyres
The front suspension is quite good giving full adjustability and is much improved over the previous gen. The rear shock is still the weak link and comes set pretty soft. I had the suspension setup at a local race shop I use and it made it tolerable for my riding style. If I was going to do an upgrade, I'd opt for moving to an Ohlins (££). The previous gen Ohlins will work on the new CB but I've heard they will have one for the 2018 early 2019. Overall the new CB feels more light and agile, flicking it side to side in the tight stuff is easier than my 2013.
For rubber mine came with Bridgestone S21Rs and I was very surprised with how good they are both in the rain and the dry. Bridgestone has really stepped it up since the BT016 days. I put a set of T31's on my FJR before our trip to the Smoky Mountains and was very impressed with the wear and how well they handle.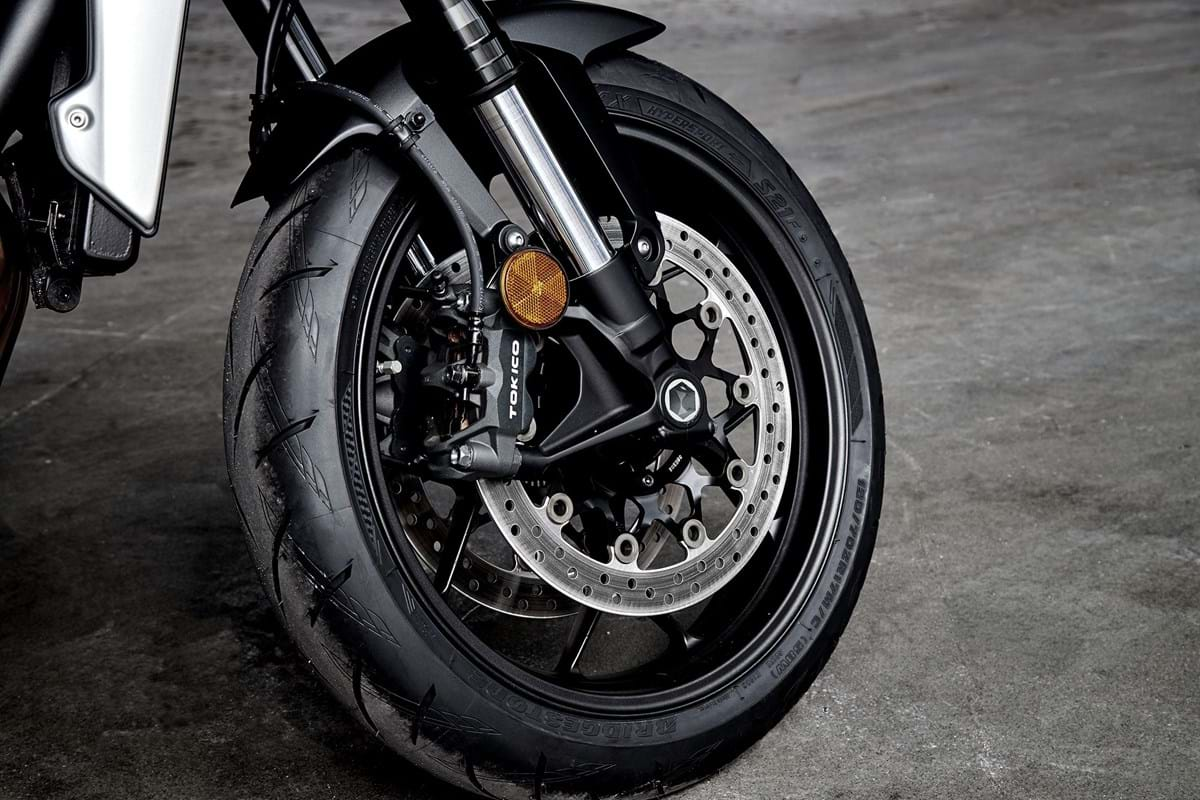 Brakes
Both the front and rear binders are very good. I read somewhere the fronts are the same as the CB1000R. Front brakes provide a very good controlled feel. No more than 2 fingers are needed.
Ergonomics
The riding position is very comfortable, handlebars and foot peg position fit me well. The seat turns into a plank after 100 miles and is not much better than the previous gen. The Tuono seat was far better. I'm getting off about every 100 miles or so for fuel so it's not a big deal. I may look into an aftermarket as some point but If I'm going to do a long ride, I use the FJR. Turn signal is where the horn button usually is, I've gotten used to it but my other bikes have it in the traditional location so I have to adjust when swapping bikes.
Instruments/Electronic Aids
Screen is very easy to read even in direct sunlight. You can adjust the brightness as well. Good size fonts for the important information is much appreciated for "mature" eyes. Nice to have a fuel gauge again. Multiple trip meters and various gas mileage display options are easy to access/change/reset.
On the electronic aids Honda did a great job on the interface. It's very easy to switch modes to the point where I still find myself playing with them on the fly. I mostly keep it on User mode and ride with the traction control off, something I would never do with the Tuono. The CB isn't the beast that the Tuono is. Standard mode is perfect for around town and stop and go traffic. Rain mode does what its supposed to and makes the throttle hit very tame. For anyone hesitating to own a litre bike the ability to "grow" into to the power using the different modes can be used as a great progression tool.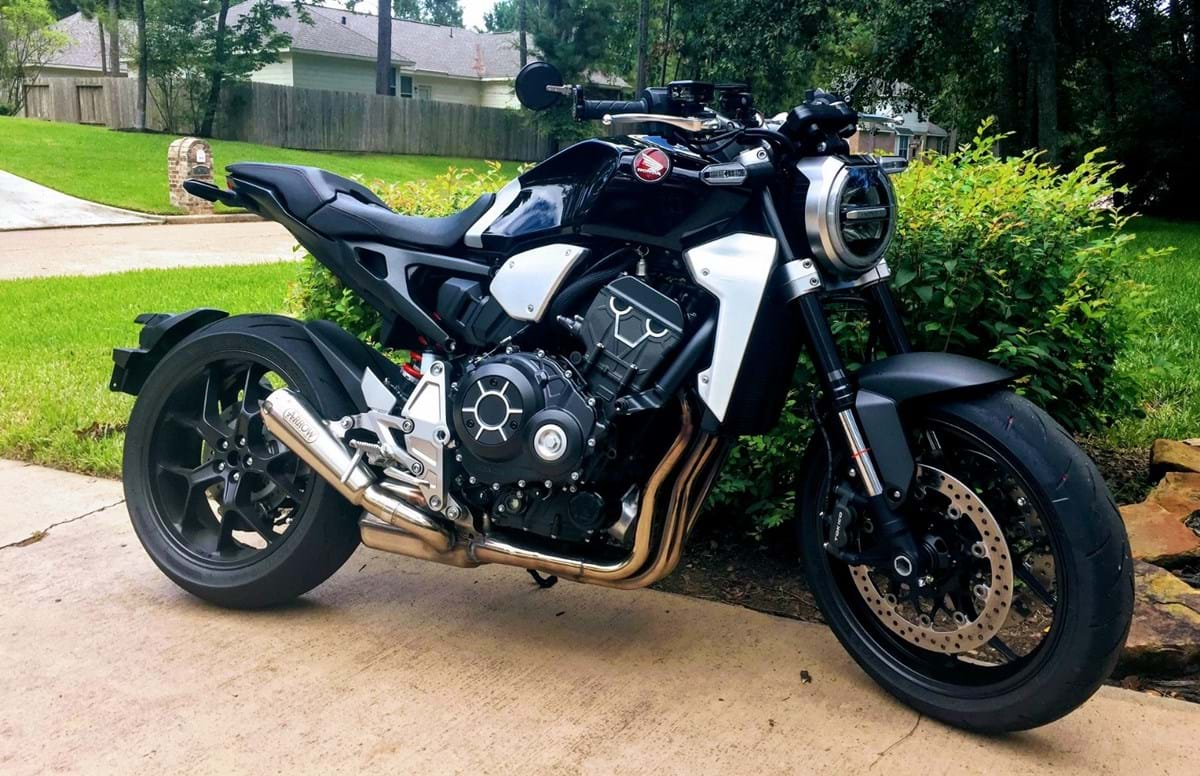 Changes I've Made to the Bike
Suspension setup by race shop £32
Rear shock is the weak link but once adjusted is good enough for aggressive street riding and track days.
Arrow Pro-Race Slip-on - £308
Saved 3kg over stock can
Removable dB killer - Not annoying when removed.
CRG Lanesplitter bar end mirrors - £113

No elbows and provide a crystal clear view.
Not only look better but fold in which helps if you are space challenged
RhinoMoto bar ends that support the CRG mirrors £50
Used the CRG bar end adaptors but opt'd for heavier bar ends. Pleased with the choice though they are expensive.

Removed passenger pegs and mounts – saved 1kg.
Ordered seat cowl and meter visor (just installed this weekend).
US only gets standard model. Another miss by Honda marketing.
Pro
Unique styling, very easy on the eyes
Honda build quality
Honda reliability – just put gas in it and ride
Honda dealer support network
Handling
User friendly electronics
Cons
Mid-range needs improvement
Poor US roll out by Honda, not released until August of 2018 (really?)
Accessory availability (thank goodness for the EU and the UK 😊)
Plus model not available in the US
No tool kit in the US!
Final Take
I absolutely love this bike. I expect this to be my last naked bike I'll need to buy. Zero regrets selling the Tuono. Yes, it costs more than the other Japanese competition but it's still rings true that you get what you pay for. Can't wait to do a track day on it. Nice job Honda!
- Glenn B, 2018
Price Guide
| Year | Dealer | Private | Part Ex | Mileage |
| --- | --- | --- | --- | --- |
| 2018 | £9,350 | £7,500 | £6,550 | 2,100 |
| 2019 | £10,000 | £8,050 | £7,050 | 950 |
Related Bikes
CB1000R (2008-2019): The original uber popular bike with modern styling and a very distinctive headlight design