Ducati Multistrada 1260 S Review (2018)
"
Would I buy another Multistrada? In a heartbeat. Love it, love it, love it!
"
What Is It?
The Ducati Multistrada 1260 S is a premium adventure bike and is powered by a liquid cooled 1,262 cc Testastretta DVT V-Twin engine, producing 155.8 bhp at 9,500 rpm and maximum torque at 7,500 rpm.
Specs
Seat Height: Average (

825

 

mm / 32.5 inches)
Weight: Heavy (235 kg / 518 lbs)
Economy: Average (45 mpg / 6.3 l/100km / 15.9 km/l)
Range: High (200 miles / 322 km)
Power to Weight: High (0.664 bhp/kg / 0.495 kW/kg)
Top Speed: Very high (160 mph / 257 km/h)
Pros
Plenty of power on tap
Loads of rider aids
Suspension
Handling
Cons
Heated grips
Quite heavy
Expensive
Storage
What Is It Like?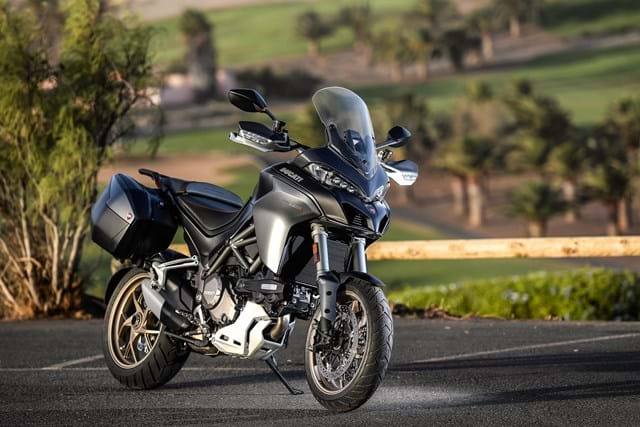 3,200 Miles In
Okay so I've previously reviewed a helmet, a set of tyres and in both reviews I have eluded to a review at some point of my 2018 Mutli. Now almost a year and 3,200 miles later, I have to say that deciding to home the Multistrada was a great decision.
Power
So 158 bhp and 95.5 lb-ft of torque are great numbers but in all honesty it's the sheer rideability and the unbelievable grin factor that it induces as you rotate your wrist that are the killers.
Believe it or not the big beast above will slaughter the little 899 sprinter to the ton but after that it's like trying to push a dustbin lid through water, the acceleration is dramatic and held in check by all sorts of electrickery, balancing traction with front end lift while taking into account lean angle. All exceedingly clever stuff.
Handling
Cornering poise is great. It's said to be a little slower steering than the outgoing model (it definitely is compared to the Panigale) thanks to a slightly longer rear swingarm and a change in rake, but I've never found it a burden to tip over and once leaning the grip is immense. So much so that I have ground down the toe of a boot and the leading edge of the gear lever!
When you exit the corner lay it on thick and the vast levels of grip really come into their own, and the stability is astounding, with great feel and it's confidence inspiring.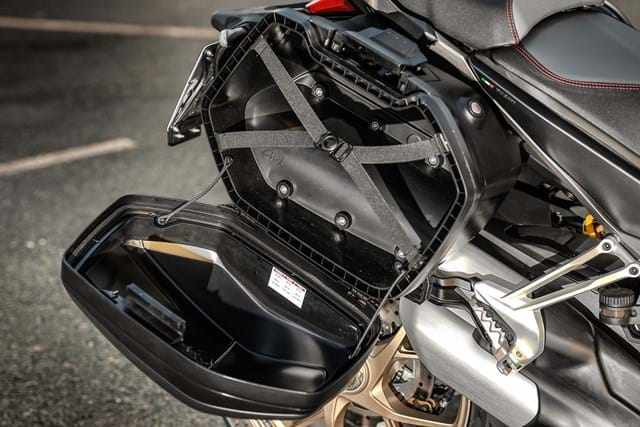 Storage
I didn't go for the top box, and while the nearside pannier is reasonably sized (it easily swallows my helmet) a decent amount of space is lost in the offside pannier to the exhaust. I'll see how I get on doing the Manchester Trek in June, but suspect I'll be adding the Kriega Pack on the tail.
The grey looks great and is relatively easy to keep clean, and I prefer the fact that the frame colour matches the body colour unlike the model from last year.
Mods
I am a bit of a tinkerer with the bikes, mostly cosmetic and have done a couple of things to the Multi to "enhance" her. I put on a Puig touring screen which gives better wind protection plus my helmet visor tends to stay bug and rain free with the screen in the upper position.
I've added radiator and oil cooler guards, upgraded the ridiculously pointless horn to something that someone might actually hear (Danali SoundBomb), Garmin SatNav and Camera, bar risers, a bigger side stand foot and just recently crash protectors from R&G. I also changed the bar end weights to heavier items to reduce vibration.
One gripe I have is that I have the heated grips installed, which work great but the heating elements are built into the grips! This is a pain for two reasons, firstly they are going to wear out and replacing heated grips is obviously more expensive than standard ones, and secondly, you can't put on aftermarket grips.
I wanted softer rubber and ultimately covered the grips with a cricket bat handle cover! Benefits, cheap, does what I need it to and when it wears out, I can cut it off and put a new one on. The heated grips still work perfectly.
Any Issues?
I've had one issue with her. At 300 miles in both panniers crumbled on the leading edge, it was only the outer plastic and Ducati replaced them under warranty, this wasn't really too much hassle but it was an unexpected niggle.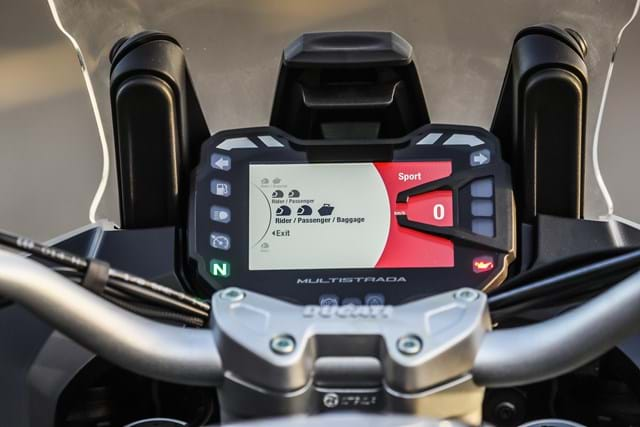 Suspension
The bike is equipped with Ducati's Skyhook suspension, on paper it seems a step down from the Öhlins offered on the Pikes Peak model, but in reality I think this is only a step down if you are a suspension god/ess.
The Skyhook suspension does it all for you, simple walkthroughs in the software show you the default settings for the different suspension, rider aid and power mappings but you can modify any of these to suit you.
As you switch between modes, Touring, Sport, Urban or Enduro, suspension, throttle mapping, power output, traction, stability and anti-wheelie control as well as quick shifter settings all adjust automatically to suit your selection.
On top of that you can tell the suspension whether you are one up, riding with a pillion, or rider, pillion and luggage, and ride height (sag) and suspension settings including preload on the rear all adjust to compensate.
I have in reality spent all of my time in either Touring or Sport modes, and the difference between the two is staggering. Sport is firmer, more responsive, the throttle mapping is sharper, exhaust note is noticeably more urgent, and everything just feels a bit sharper. Touring has you wafting along comfortably for hours, ironing out the bumps and creases.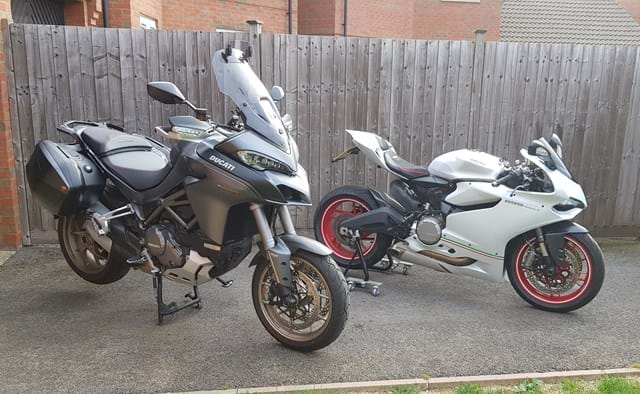 To Sum Up
Am I looking forward to my next ride? Most definitely yes, short ones to the office are a joy but I am really looking forward to the Lost Village of Imber ride on the 20th of April and the Manchester Trek in June. I'm also thinking of doing a long weekend in the lake district (Hardnott Pass) which I would never have considered on the Panigale.
Would I buy another Multistrada? In a heartbeat. The Panigale is beautiful and I won't get rid of it, but the Multistrada has taken my riding to another level, comfort, confidence, ability, both make me smile, but the Multistrada does it without causing me any pain!
- Darren S, 2019
Price Guide
Year
Dealer
Private
Part Ex
Mileage
2020
£15,550
£12,450
£10,900
3,700
2019
£14,250
£11,400
£9,950
5,100
2018
£12,950
£10,350
£9,050
4,900
How to use the price guide
Add Your Review
Do you own this bike? We would love to hear anything good, bad, unexpected or that you have changed plus anything that a prospective new owner might find interesting or useful.
More Info
Check out this video from mark pulling.