Triumph Tiger 1200 XRT Review
| | | |
| --- | --- | --- |
| Overall | | ★★★★☆ |
| | |
| --- | --- |
| ✓ | Engine, suspension, screen |
| | |
| × | Really heavy |
Triumph Tiger 1200 XRT For Sale →
What Is It?
The 2016 Triumph Tiger Explorer XRT is a premium road focused adventure style bike which was updated in 2018 and has an off-road equivalent in the Tiger Explorer XCA.
Engine: 1,215 cc Triple, 137 bhp
Economy: 40 mpg, 180 miles
Seat Height: 837 mm
Dry Weight: 254 kg
RRP: £15,100
What Is It Like?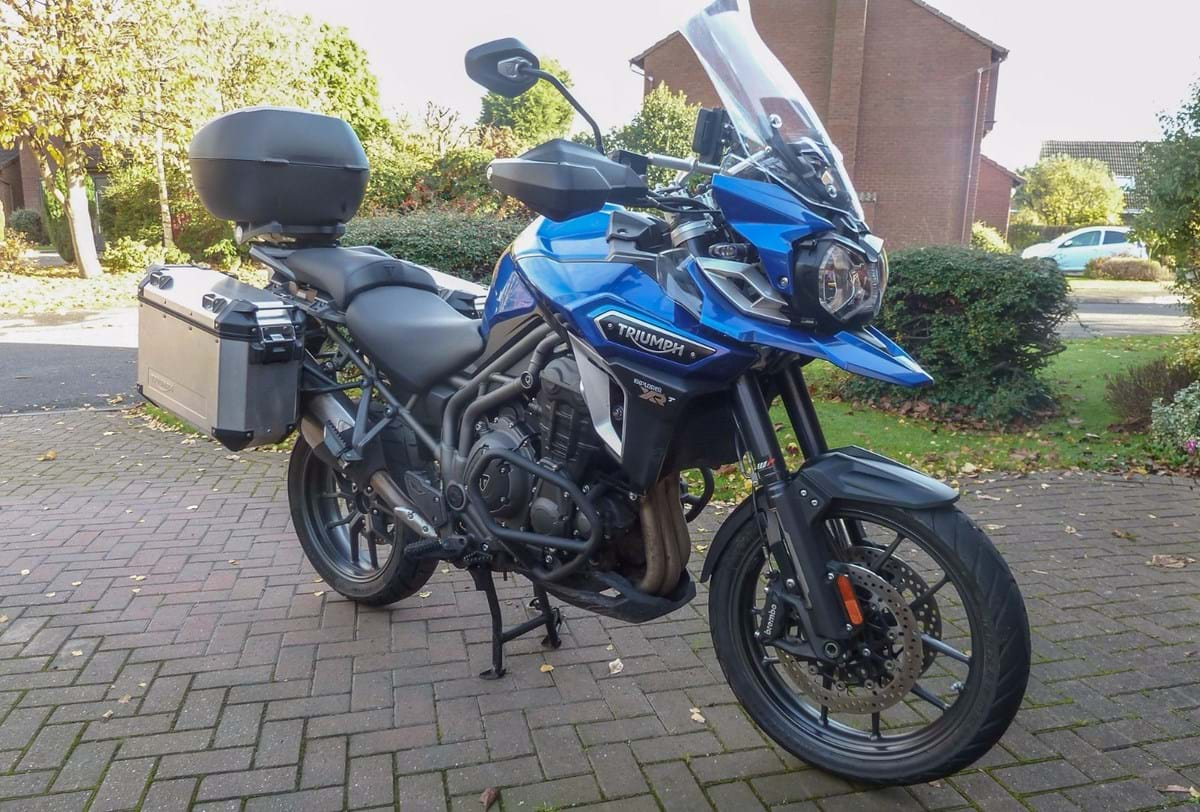 History
First registered as demonstrator by Bevan Motorcycles, Cardiff in March 2016. Purchased privately in September 2017 at 3,500 miles from the second owner: - Has now completed 4,800 miles
Specification
Standard bike complete with Triumph Expedition pannier rails, then fitted with Triumph Expedition sliding carriage, panniers & top box. Now fitted with (modified to suit) Givi Trekker Outback pannier racks, Givi SR6403 rack, & V40/E55 top boxes & Givi Smart Bar Accessory Mount.
Review
After what seems like a lifetime of multibike ownership the decision was reluctantly made to reduce the fleet to a single bike that may fulfil our modest need for speed, two up comfort & touring capabilities. After six happy, almost trouble free years & 20k plus miles with a Yamaha Super Tenere (amongst others), & having recently exported a disappointing Triumph Tiger Sport 1050, the focus was for more power, wider tyres/wheels & electronic suspension, as well as similar comfort, running costs & luggage capacity to the Yamaha.
Having dismissed KTM & Ducati options for perceived lifetime ownership costs & S1000XR for luggage, pillion provisions & possible vibration problems, & them all for dirty chain drive, the final shortlist comprised of only a BMW GS & the Triumph. Being old, impoverished & allergic to the exponential effects of depreciation, the final objective was to find a realistically priced low mileage version of either.
After viewing online reviews and visiting relevant dealers the Explorer was purchased from a nice man who had owned it for six months, completed one Euro-Tour and claimed that the sale was due to an unforeseen hand injury. Twenty four hours later I began to suspect that his wife had stamped on it! The problem was that the top box was mounted on the unnecessary sliding carriage far too far forwards, & at an extremely uncomfortable angle for the pillion which would have been exacerbated by fitment of a foam support, only to discover that the pannier racks were mounted so high & far forwards that there was no room for the pillion's diminutive legs & feet: - A domestically sensitive problem already endured with the Tiger Sport! Standard pillion comfort was so bad that a pre-arranged riding commitment on the following day was undertaken on the "good ol' Tenere", already spruced up & advertised for sale on line:- & the Explorer became very close to being the briefest bike ever owned!
Further internet research revealed that Triumph Expedition luggage is manufactured by Givi, adapted to accept Triumph locks & then modified to suit Triumph "designed" racks. By opening Givi & Triumph internet windows simultaneously it could be seen how differently the two suppliers mounted the corresponding Expedition/Trekker Outback luggage on the same bike. Ten days, over £300 worth of Givi racks & a top box later (plus a small fitting modification) we finally owned the bike we thought we had bought in the first place. A cynic may argue that someone was trying to use "smoke & mirrors" captive marketing techniques to snare unwitting customers.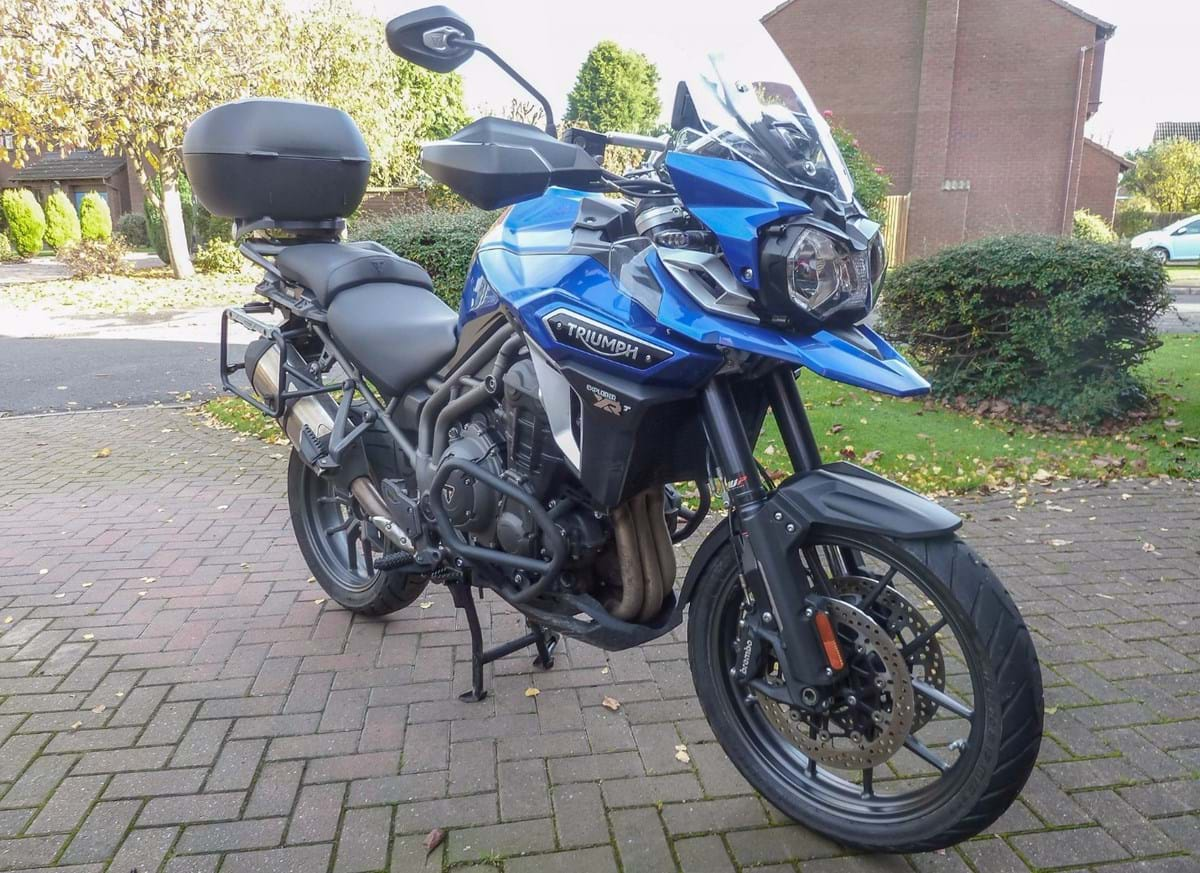 Having overcome a most unexpected and expensive problem:- Triumph claim that it handles better with their rack on, but they should ask my pillion to explain the irony in that, my attention could concentrate on comparing the perceived weaknesses:
Dated looks, too similar to the 2012 launch model
Top heavy weight distribution
Fiddly controls, identified by many of the journos' on launch videos
Tank range, when compared with the S.T.
With the anticipated gains from:
Abundant power from the triple engine
Improved road manners, from electronic suspension, wider tyres & the multitude of riding modes
Brembo front brakes
Electric screen & deflectors
Infotainment displays
Peripheral equipment, like automatic indicators, hill start, heated grips, heated seats, gear indicator, TPMS & "easyclean" cast alloy wheels
Common factors like transmission, comfort, cornering ability, minor controls, mirrors & component longevity.
The road test review was complied over a series of two up days out, enjoying such delicacies as "Ponderosa Breakfast Baps", city riding instructing for a family learner and a 300 mile solo return blast to Wales.
Dynamically, the first notable "quirk" is the very "Citroen like" self levelling/height setting characteristic of the semi active suspension which means that irrespective of load the bike appears to retain the same road geometry and not settle down as would be expected from traditional springs & shocks:- Maybe that goes some way to explain the alternative height models. With (very old) 32" inside legs, there are no problems with seat height but you are very aware of the stationary/low speed weight & high centre of gravity, particularly when catching boots against the standard engine bars.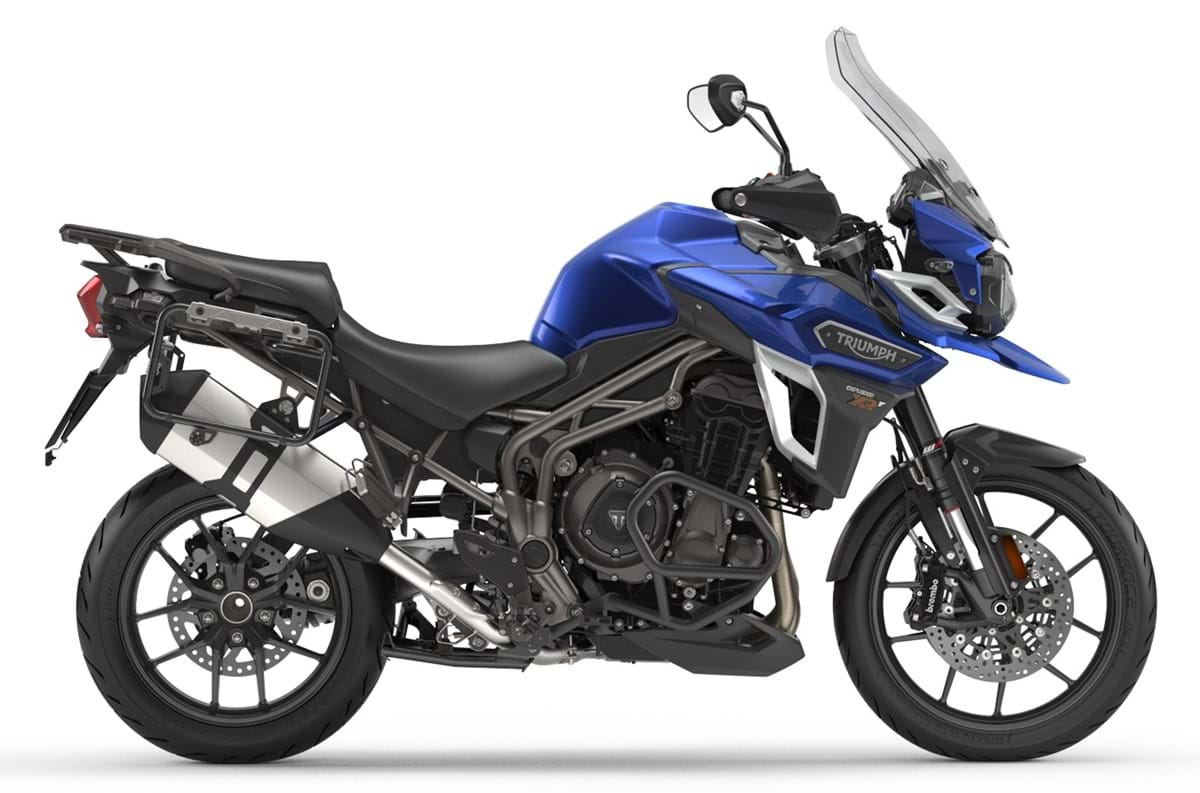 Once on the move the suspension comes into its own and the weight only exposes itself on fast pot holed bends (a growing phenomenon) but corrects itself very quickly, and there is a tendency to run wide after over enthusiastic two up roundabout entry. For one who spent years on sports bikes, and limits off-roading to French C roads (believe me, we once got stuck unexpectedly green lane-ing after following the satnav on a ZZR1400!), the plethora of power reducing riding modes are wasted, as I would prefer a simple "warp factor 5 boost" for overtaking lines of cars! Nevertheless, the triple engine, claimed by some to be too "buzzy", is absolutely delightful and the smooth gearbox is light years ahead of the Tiger Sport and: - Who needs quickshifters on a bike like this? The rather bulky final drive is harsh and noisy compared to the Yamaha one.

As far as the peripherals go, the 20 litre tank is disappointing for such a long distance tourer, with the warning lamp illuminating at around 160 miles (to the ST's 190 miles), the huge electric screen (and deflectors) is a major benefit, although the four screw mounting looks to be overloaded & has already worn out the mounting rubbers.
The heated grips are excellent, hand guards appear a bit flimsy, but the rider controls are less complicated than portrayed in "journo reviews", and Triumph value engineers should be applauded for rewiring stock plastic mouldings to fit all the new control gear which do take a little getting used to! Some of the standard stuff on this model, like automatic indicators (now disconnected), hill start, heated seats, engine bars and TPMS, are luxuries that I would not have chosen to pay for, particularly the TPMS which cannot be displayed simultaneously with the more important (to me) fuel countdown meter!
Summary
A great heavy weight touring bike badly let down by a very secondary weakness, with dated looks, although the 2018 model is getting the LED lighting this one should have had, as well as TFT display and maybe a quickshifter which will be more use for bragging rights.
- Richard E, 2017
Triumph Tiger 1200 XRT For Sale →
Price Guide
| Year | Dealer | Private | Part Ex | Mileage |
| --- | --- | --- | --- | --- |
| 2016 | £9,750 | £7,800 | £6,800 | 5,100 |
| 2017 | £11,400 | £9,100 | £8,000 | 3,700 |
More Info
Check out this video review from TheMissendenFlyer.