Triumph Daytona 675 Review
" The bike is so nimble, direct and loves to wheelie. It offers so much response on the road and if you haven't ridden one, you need to. "
✓Performance, handling
×Mirrors, lights
What Is It?
The 2006 Triumph Daytona 675 is a sports bike and was later joined by the R version which adds a quickshifter and Ohlins suspension.
Engine: 675 cc Triple, 126 bhp
Economy: 45 mpg
Range: 170 miles
Seat Height: 820 mm
What Is It Like?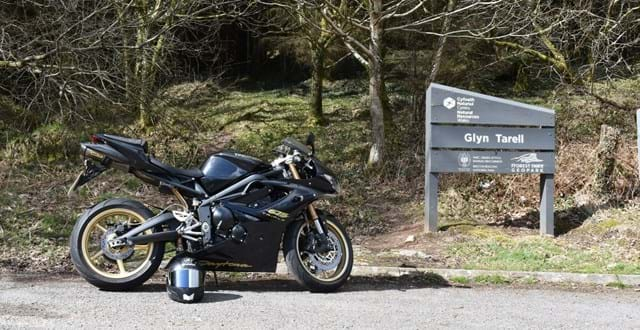 The 675
So, this is my Beautiful Triumph Daytona 675. As you can see it has the black and gold colour scheme, with a few carbon extras; front fender, rear fender, exhaust cover and passenger footrest blank plates.
Additional extras on this bike are the Arrow exhaust with no baffle and heated grips. Also I have only owned this bike for a short amount of time, roughly a month.
Ride
The handling tied in with the power is the reason I sold my K2 GSX-R750 for the Daytona. The bike is so nimble and direct that on the test ride I was sold.
It's not as fast as the 750 in a straight line but it offers so much response on the road and the Daytona makes up for it in every other way. If you haven't ridden one, you need to.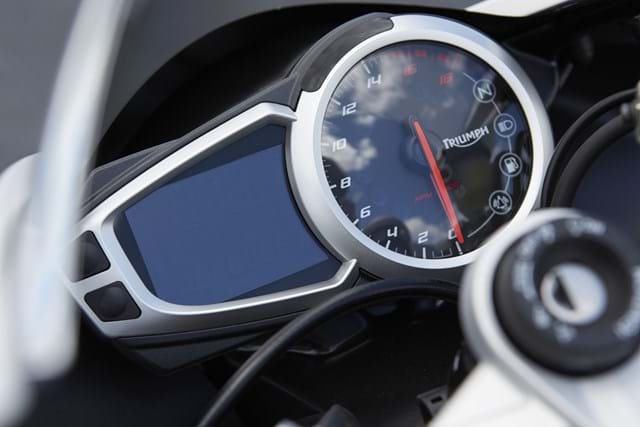 Dash
It's very appealing on this bike. Sometimes your speedo can be hard to read when it's really sunny, but otherwise it's spot on with a lap timer, fuel consumption, shift light etc.
Cost
Not really much difference in price compared to your other sports bikes. However, I believe things may cost more than the Japanese bikes.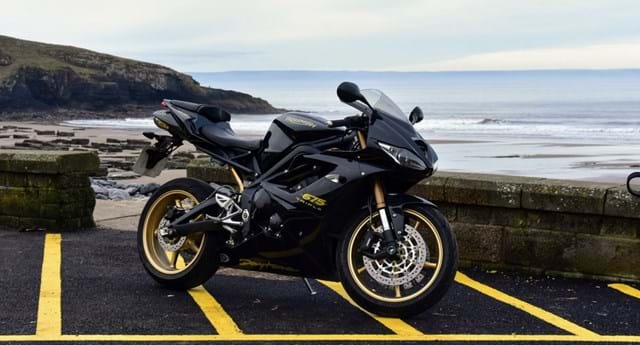 Any Downsides?
The only negative for me is wrist pain. I've owned and ridden my fair share of bikes but the wrist pain on this is noticeable.
To Sum Up
The Daytona is a great sports bike with amazing handling, power, sound and looks. I'll be taking this to Spain with me this year and I have every confidence it will keep me smiling!
- D Davies, 2018
Price Guide
Year
Dealer
Private
Part Ex
Mileage
2017
£7,350
£5,900
£5,150
4,600
2016
£6,950
£5,550
£4,900
6,600
2015
£6,550
£5,250
£4,600
8,400
2014
£6,200
£4,950
£4,350
10,200
2013
£5,850
£4,700
£4,100
11,800
2012
£5,500
£4,400
£3,850
13,400
2011
£5,150
£4,150
£3,650
14,900
2010
£4,850
£3,900
£3,400
16,300
2009
£4,550
£3,650
£3,200
17,600
2008
£4,250
£3,400
£3,000
18,800
2007
£4,000
£3,200
£2,800
20,000
2006
£3,700
£3,000
£2,600
21,000
Related Bikes
Triumph Daytona 675R - Range topping version with quickshifter, Ohlins suspension, Brembo brakes and lighter wheels.
The Second Opinion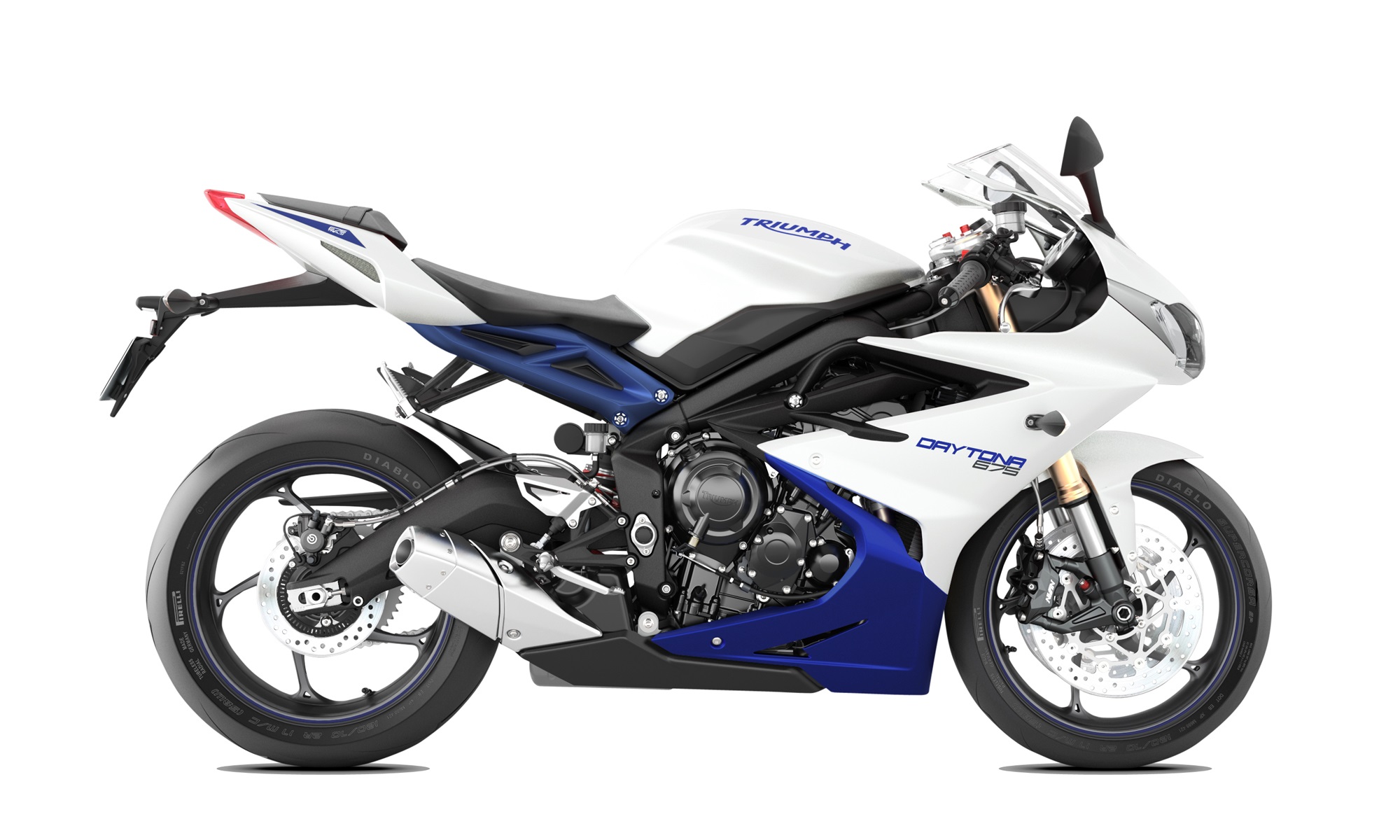 2010 Triumph Daytona 675
It was purchased new to replace 2008 Kawasaki ZX6R. I had taken an initial test ride and my first impressions were how light and narrow the Daytona was.
Seat height was a slight issue as I am only 5ft 7in so was a bit more on tiptoes than the kwak. I owned the bike for 18 months before trading up to 1000cc machine but here are my thoughts.
Engine
The bike came with the optional Triumph TOR can and the noise is intoxicating. The triple has a distinctive sound combined with a high pitch whistle. Compared to the four cylinder 600cc supersport machines the torque is fantastic and the bike will pull in most gears from low revs.
Want your ride out to be like a Moto GP race? The Daytona can handle it. Want the ride to be more of a nimble? The Daytona is happy to oblige.
Any Issues?
Only issue I suffered was at just over 1,100 miles when I noticed it had used quite a bit of oil. The dealer checked it out and the engine had cracked a bore liner.
It took Triumph 6 weeks to supply the part and it was only this quick because I personally wrote to John Bloor. However during this time the dealer was superb, loaning me a bike whenever I needed one.
Suspension & Handling
It's typically firm as most supersport bikes are, however the bike would drop into a corner at the slightest request and hold a line with no problems at all.
It came as standard with Pirelli Super Corsa tyres which give great grip in dry but were concerning in the wet due to lack of tread. Roundabouts in the wet were taken with minimal lean.
Riding Position
It's very heavy on the wrists due to the higher rear end and low clip ons. Not unmanageable but not as comfy as the Kwak or Gixxer 600.
To Sum Up
It's probably the best supersport for the road and certainly the best sounding. The rear seat pad is big enough to attach a decent bag to for short trips away with the only downside being the underseat can limiting other luggage options.
Best of all it's British and you do get the feeling that these bikes, although mass produced, are made with pride.
- Simon, 2016
Add Your Review
Do you own this bike? We are after anything good, bad, unexpected or that you have changed plus anything that a prospective new owner might find interesting or useful.