Suzuki GSX-S125 Review
| | | |
| --- | --- | --- |
| " | On the whole I would recommend this bike to anyone who has recently done their CBT and is looking for their first bike or anyone who is looking for a second bike for commuting and doing journeys through town. | " |
| | | |
| --- | --- | --- |
| REVIEW | | ★★★★★ |
| | |
| --- | --- |
| ✓ | Big bike looks, lights, turning circle |
| | |
| × | It's a 125, so not that fast |
So I've had my MotoGP Suzuki GSX-S125 for 5 weeks & 5 days and today I hit that 1000 mile mark & it's been 1000 miles of pure enjoyment.
I've wanted a bike for years but just never got round to getting one and then I had absolutely no idea what bike I wanted. It was between a cheap £500 second hand Chinese bike or a Yamaha MT-125 but then I went to a motorbike show, saw the Suzuki and just thought 'that's the one for me' so I trooped along to my local Suzuki dealership to enquire about it. Whilst there I also sat on the GSX-R125 model but I instantly knew it wasn't for me, don't get me wrong, it's a lovely looking bike but I wasn't a fan of the seating position and being 5 foot 10 I felt humongous on it.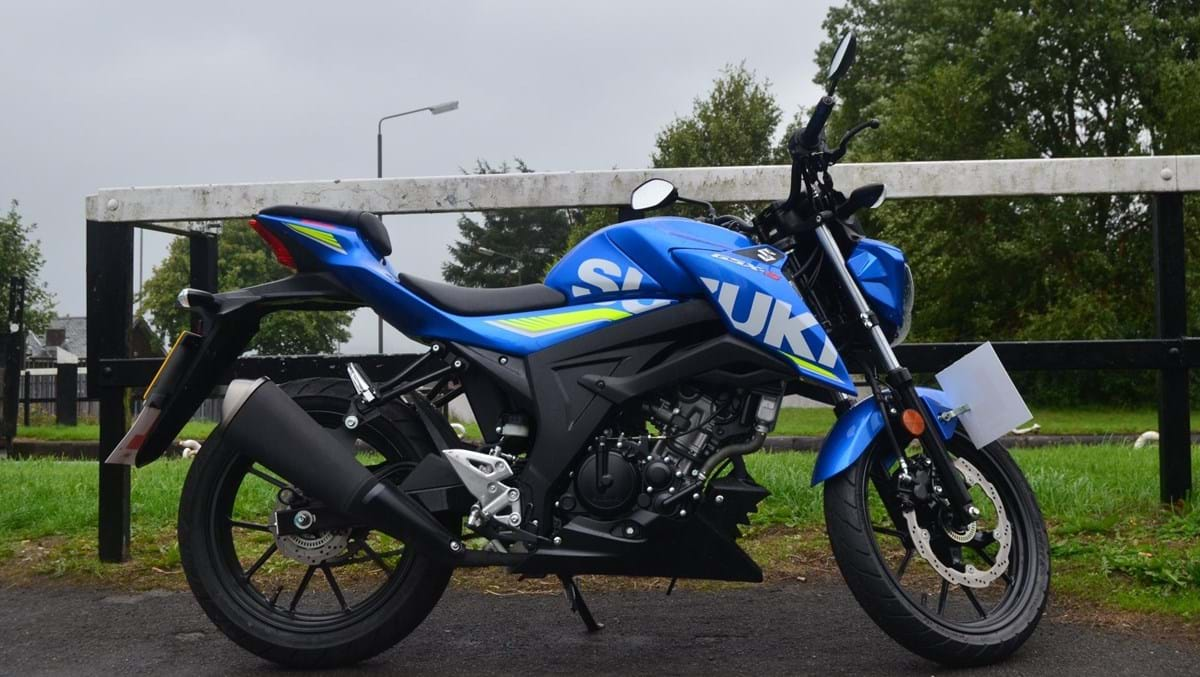 So, now I've been riding the bike for a while what do I like about it?
It's a small bike so ideal for commuting through town and you can filter through even the smallest of gaps! It's so light as well so before you know it you're hitting speed and on corners it's easy to lean. Another good feature is the gear indicator so you know what gear you're in, it's ideal for people new to biking and gives you a bit more confidence. The bike itself has had so many compliments from random folk regarding its looks and many can't believe it's only a 125cc.
Living in Scotland it's impossible to not take it onto county roads and the bike does well on the straights and twisty roads and will sit at 70mph quite comfortably.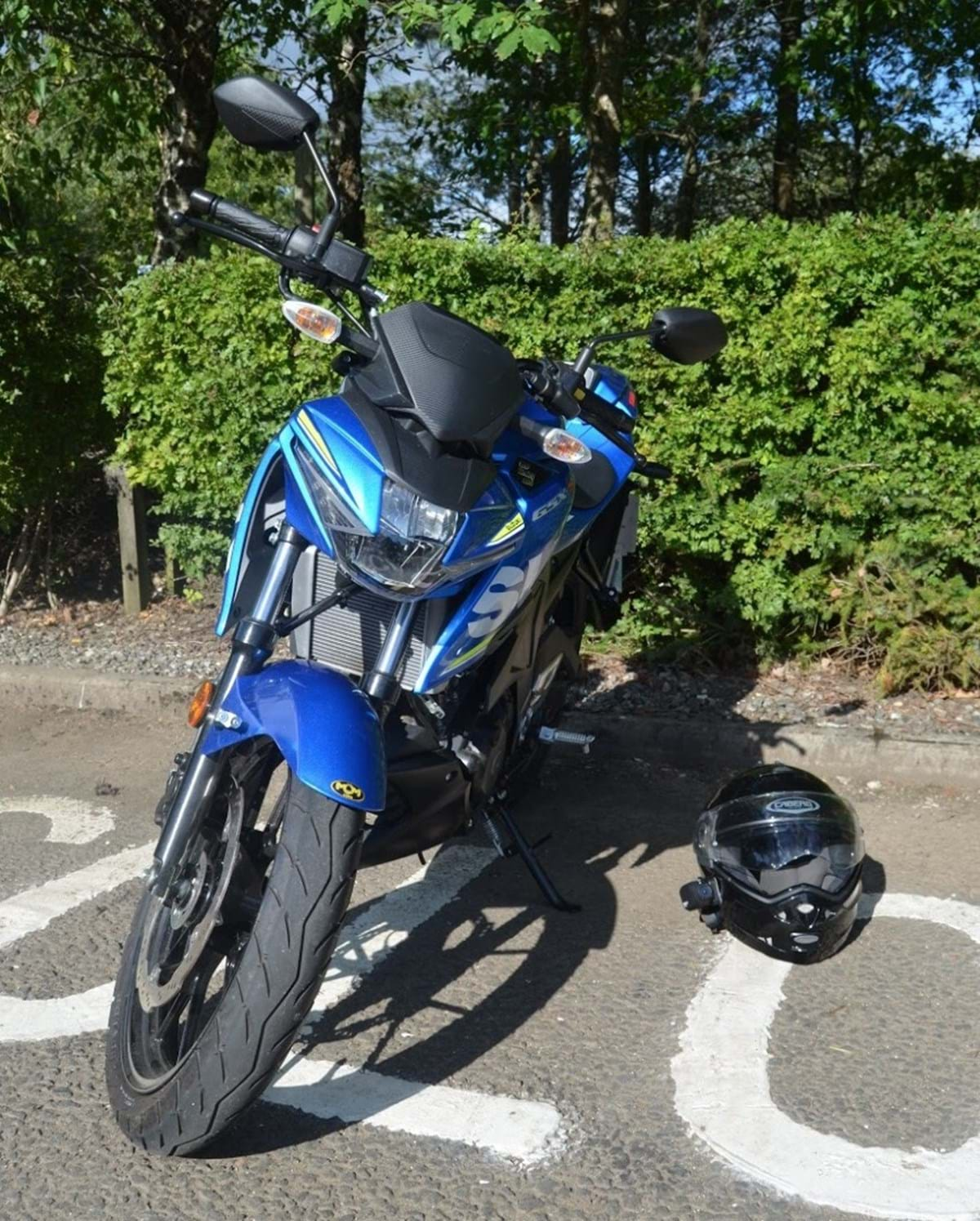 On the whole I would recommend this bike to anyone who has recently done their CBT and is looking for their first bike or anyone who is looking for a second bike for commuting and doing journeys through town. I'm getting around 90mpg currently which I'm pretty chuffed with and £10 will fill the tank and last a good while.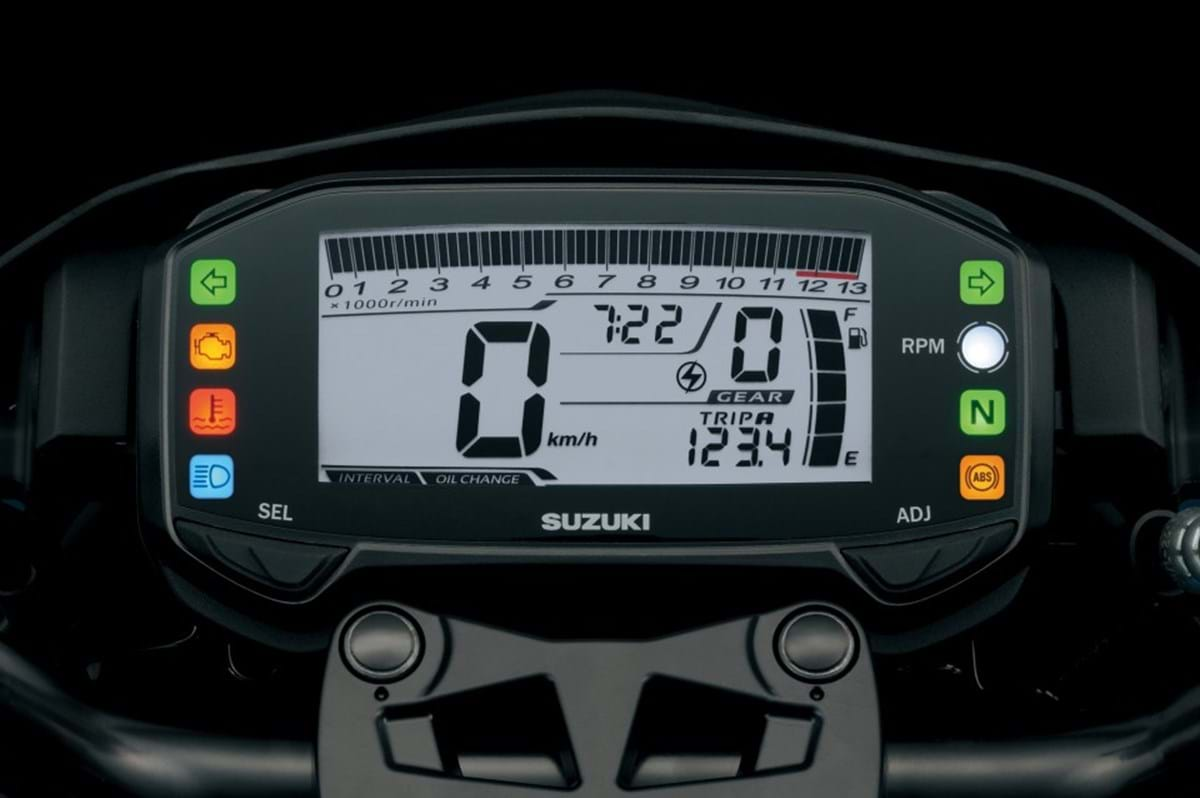 My plan is to keep this bike for the foreseeable but I may look at getting my full license next year and purchasing a bigger bike for the weekends and for going camping trips up north. Although the GSX-S125 is capable of doing those types of journeys I feel a bigger bike would be a more comfortable ride and I'd look at keeping the Suzuki for commuting and town journeys. "
- Jennifer M, 2018
Specs
Capacity: 124 cc
Power: 15 bhp
Top Speed: 85 mph
Seat Height: 785 mm
Wet Weight: 133 kg
Range: 220 miles
RRP: £3,700
Price Guide
| Year | Dealer | Private | Part Ex | Mileage |
| --- | --- | --- | --- | --- |
| 2017 | £3,250 | £2,600 | £2,250 | 3,700 |
| 2018 | £3,600 | £2,900 | £2,500 | 2,100 |
Related Info
GSX-R125 - Faired sports version with lower clip-on handlebars, more aggressive riding position and keyless start
The Second Opinion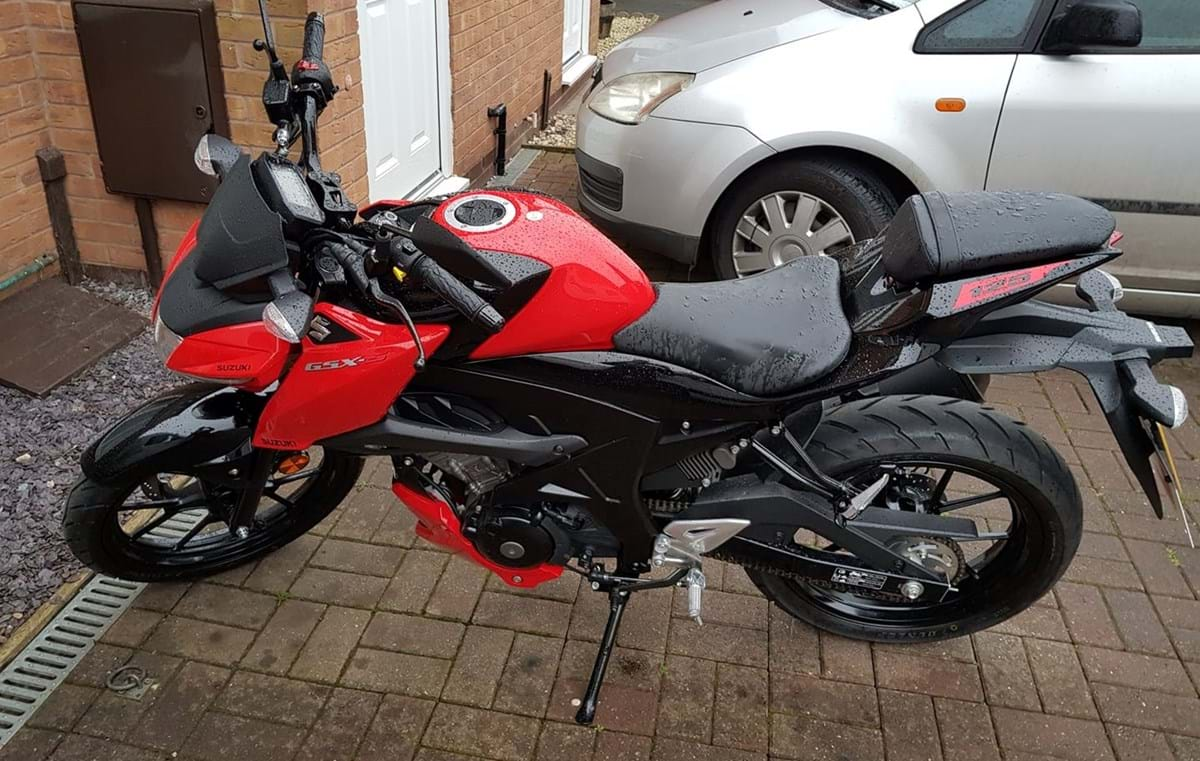 So I've owned the Suzuki GSX-S125 since march 2018 and in that time I have done just shy of 6000 miles.
After having a break from riding and being a fairly new rider getting a bike that was easy to ride and brought the fun into biking was essential so the choice for the 125 market was quite limited.
After about a month of deciding between either the GSX-S125 or the MT-125 I finally made the choice to go for the newer kid on the block with the GSX-S. Price was also a deciding factor as well, whether I could justify the £3,800 price tag for a bike that would be used for commuting and just a bit of fun when not at work. As soon as I left the dealership with keys in hand jumping on the bike I was hooked.
For a little 125 the GSX-S sure can move. You'll be through the gears in a flash looking down at the speedo thinking how did i get to this speed so quick on such a small machine grinning as you ride down the road.
After about 3 weeks of riding I had finished riding the bike in, I could finally open the bike up and see what the bike could do. It can happily sit at 70mph down dual carriageways and not effect the fuel economy that much, still getting around 95mpg.
After a few more months of riding through the streets of Birmingham commuting to and from work it was finally time to see what this bike could do on long distance journeys. Even though it's not the sportier counter part GSX-R125 the GSX-S can still keep up with the other sportier models whilst still maintaining the comfort of the upright seating style.
However there are some downsides of the GSX-S. One being that accessories for this bike are few and far between and if you were looking at getting official Suzuki parts you need to be prepared to pay a hefty price tag.
All in all the GSX-S125 is a perfect starter bike for people who are looking at getting into biking and who are looking for a bike which guarantees to bring a smile to your face every time you twist the throttle, even when its a smaller bike. It's a bike that wont disappoint you even if you think the price is a bit too high. You'll think every penny was worth spending.
- Jake S, 2018