Suzuki GSX-S125 Review (2017)
"
It sounds surprisingly good, it's wonderful to look at and is even more enjoyable to ride. I highly recommend this bike if you're a beginner.
"
What Is It?
The Suzuki GSX-S125 is a premium single cylinder naked bike and is powered by a Euro 4 compliant liquid cooled 124.4 cc single cylinder engine, producing 14.8 bhp at 10,000 rpm and maximum torque at 8,000 rpm.
Specs
Seat Height: Low (

785

 

mm / 30.9 inches)
Weight: Light (133 kg / 293 lbs)
Economy: Very good (90 mpg / 3.1 l/100km / 31.9 km/l)
Range: High (220 miles / 354 km)
Power to Weight: Low (0.113 bhp/kg / 0.084 kW/kg)
Top Speed: Average (85 mph / 137 km/h)
Pros
Big bike looks
Turning circle
Performance
Soundtrack
Lights
Cons
Budget for an aftermarket exhaust
Non-adjustable rear shock
Dash is only LCD
Seat
What Is It Like?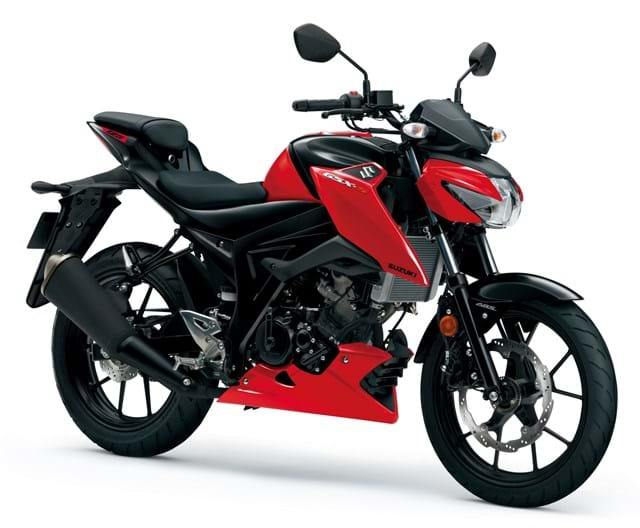 The Baby GSX-S
The Suzuki GSX-S125 is the baby of the group, but don't let that fool you. With its modern looks, specs and performance its no wonder Suzuki are proud of their little masterpiece.
A single cylinder DOHC liquid cooled engine is the beating heart of this machine. It's a surprising little powerhouse that produces 15 bhp, giving it the best power to weight ratio and acceleration of the street sport class. Also, its 6-speed gearbox ensures you're never short of power and performance.
Equipment
ABS comes as standard as well as a Shutter Lock System that keeps your ignition port nice and safe. Suzuki's Easy Start System works well and the LED lights keep everything nice and visible at night.
The LCD instrument panel is clear and gives you all the information you need, as well as the option for two trip computers.
Looks
Sharp and pointy edges, aggressive styling and three colour variants to choose from. It looks very good indeed.
The rear mudguard could be a little smaller for my taste and I'm not a massive fan of the stock exhaust, but these are customisable post-purchase if you wish to do so. The black wheels look great as does the detailing on the bodywork.
All in all, a very pretty machine. The looks are certainly the first reason I became interested and then subsequently purchased this particular bike.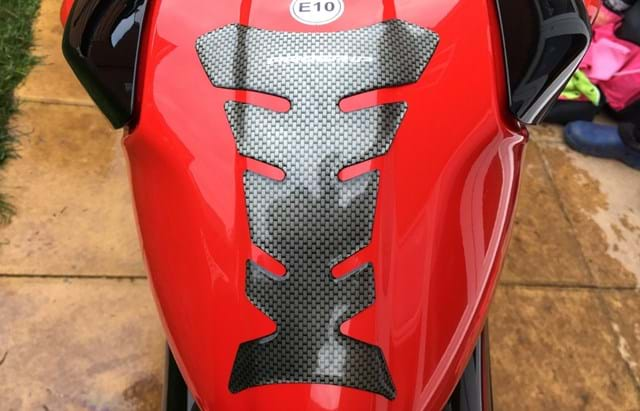 Handling
Comfort is good, as long as you're not in the saddle for more than an hour. It's nimble and a great joy to ride, perfect for navigating city streets; but don't be afraid to take it on a longer country ride either.
It also sounds surprisingly good and I highly recommend downshifting in a tunnel to enjoy the little symphony this bike has to offer.
Economy
With regards to costs, the starting price is £3,799 brand new, which, given all the equipment that comes as standard is more than fair.
It's cheap to run too, I average about 97mpg, the official specs say 122, but I do like to ride a little more aggressively at times. As it's a 125 the insurance won't cost you a kidney and the road tax is pretty much negligible.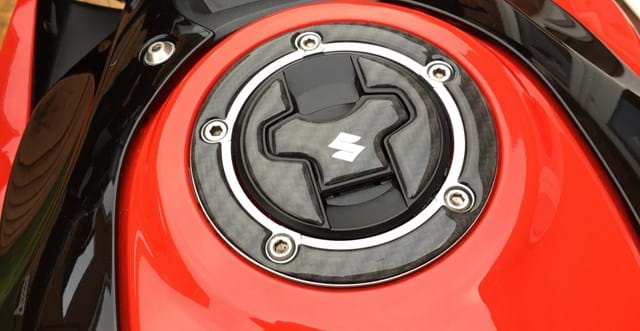 Mods
I purchased my red/black model in November 2017 and have been in love with it ever since. l will admit I have made a few changes though and plan to maybe make a few more. So far it's all been cosmetic:
Suzuki's own carbon fibre style protectors for the fuel filler cap and heel plates. These I bought straight from the dealer when I purchased the bike (£40 for both sets).
The lower engine cowling, previously red on the stock model, is now black and it's easy enough to remove with four easily accessible bolts. The assembly then splits into three parts: two red side panels and the central black grill however they are fiddly to separate.
Once that was done I sanded down the red side panels with fine sandpaper and and began spraying. First a primer, then three coats of black gloss paint, and finally two layers of protectant.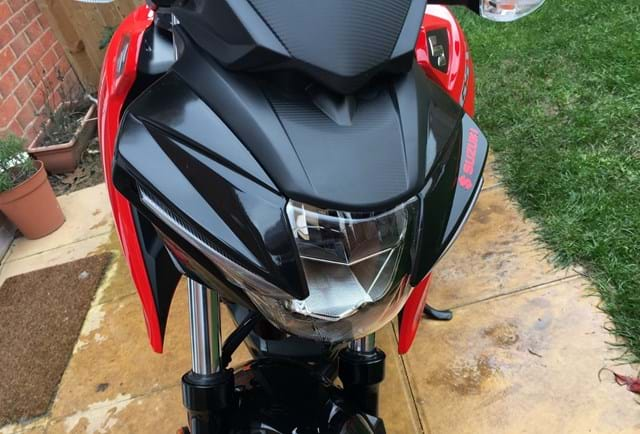 The head-lamp coverings underwent the same procedure. First I removed the Suzuki sticker and then repeated the same stages as before. Fairly straight forward to remove and then sanding, primer, colour and protectant. For both of these I used a spray paint designed specifically for plastics and automotive use.
I managed to find some vinyl decals on Amazon in red that, if I do say so myself, go quite well against the black backdrop and adds a nice mirror image to the rear 125 sticker under the passenger seat.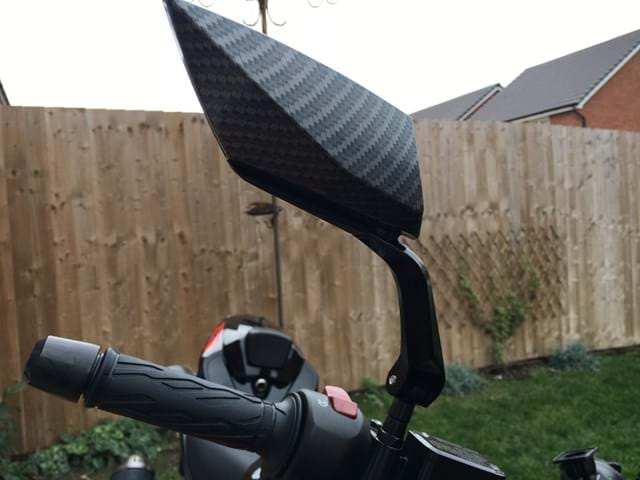 I have swapped out the rear view mirrors for a more angular pair and they have a carbon fibre look to them. A simple job that took about five minutes: simply unscrew the old ones and attach the new ones. The rear seat got swapped out for the plastic cover from Suzuki, in black, which I then decorated with a vinyl decal.
Lastly, the foot-pegs are a silver colour as stock, I have also turned them black following the same procedure as before, using a specialised paint for metal and automotive use.
To Sum Up
Overall, it's a great starter bike. It's cheap to acquire and run, easy to maintain and a joy to ride. Mechanically, I have had mine for just over a year and a half, with 2,000 miles on the clock and have had no problems what so ever. It's quick, nimble and looks great as you stare at your reflection in a shop window (what? we all do it!).
It's wonderful to look at and and even more enjoyable to ride. I highly recommend this motorcycle if you're a beginner rider.
- Tom K, 2019
Price Guide
Year
Dealer
Private
Part Ex
Mileage
2022
£4,200
£3,400
£2,950
1,200
2021
£3,600
£2,900
£2,550
2,100
2020
£3,500
£2,800
£2,450
3,700
2019
£3,450
£2,750
£2,400
5,100
2018
£3,350
£2,650
£2,350
4,900
2017
£3,250
£2,600
£2,250
6,700
How to use the price guide
Related Bikes
GSX-R125 - Faired sports version with lower clip-on handlebars, more aggressive riding position and keyless start.
The Second Opinion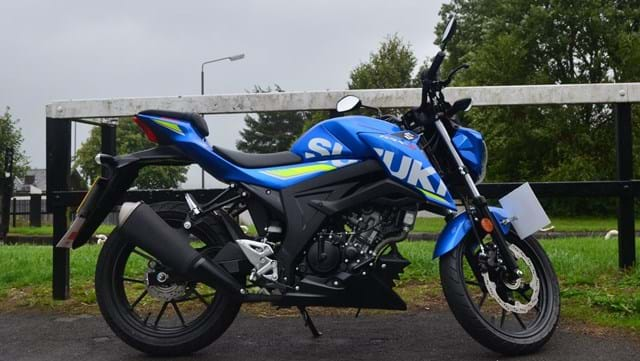 Choosing the GSX-S
I've wanted a bike for years but just never got round to getting one and then I had absolutely no idea what bike I wanted. It was between a cheap £500 second hand Chinese bike or a Yamaha MT-125.
Then I went to a motorbike show, saw the Suzuki and just thought 'that's the one for me' so I trooped along to my local Suzuki dealership to enquire about it. Whilst there I also sat on the GSX-R125 model but I instantly knew it wasn't for me. Don't get me wrong, it's a lovely looking bike but I wasn't a fan of the seating position and being 5 foot 10 I felt humongous on it.
What's Good?
So I've had my MotoGP Suzuki GSX-S125 for 6 weeks, today I hit that 1,000 mile mark and it's been 1,000 miles of pure enjoyment.
It's a small bike so ideal for commuting through town and you can filter through even the smallest of gaps! It's so light as well so before you know it you're hitting speed and on corners it's easy to lean.
Another good feature is the gear indicator, it's ideal for people new to biking and gives you a bit more confidence. The bike itself has had so many compliments from random folk regarding its looks and many can't believe it's only a 125cc.
Living in Scotland it's impossible to not take it onto county roads and the bike does well on the straights and twisty roads and will sit at 70mph quite comfortably.
To Sum Up
On the whole I would recommend this bike to anyone who has recently done their CBT and is looking for their first bike or anyone who is looking for a second bike for commuting and doing journeys through town. I'm getting around 90mpg currently which I'm pretty chuffed with and £10 will fill the tank and last a good while.
My plan is to keep this bike for the foreseeable but I may look at getting my full license next year and purchasing a bigger bike for the weekends and for going camping trips up north. Although the GSX-S125 is capable of doing those types of journeys I feel a bigger bike would be a more comfortable ride and I'd look at keeping the Suzuki for commuting and town journeys.
- Jennifer M, 2018
A Few More Thoughts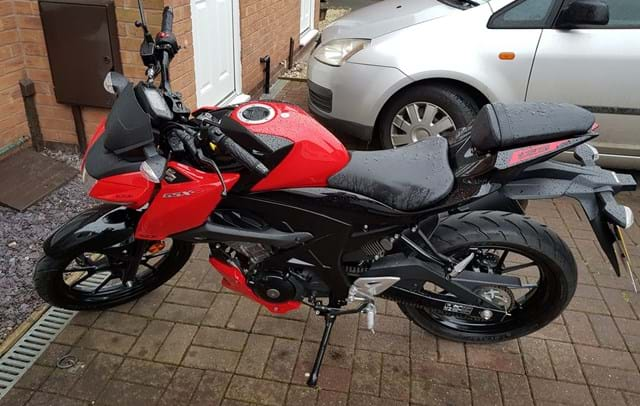 Choosing The GSX-S
After having a break from riding and being a fairly new rider getting a bike that was easy to ride and brought the fun into biking was essential so the choice for the 125 market was quite limited.
After about a month of deciding between either the GSX-S125 or the MT-125 I finally made the choice to go for the newer kid on the block with the GSX-S. Price was also a deciding factor as well, whether I could justify the £3,800 price tag for a bike that would be used for commuting and just a bit of fun when not at work. As soon as I left the dealership with keys in hand jumping on the bike I was hooked.
Handling
For a little 125 the GSX-S sure can move. You'll be through the gears in a flash looking down at the speedo thinking how did i get to this speed so quick on such a small machine, grinning as you ride down the road.
Economy
After about three weeks of riding I had finished riding the bike in, I could finally open the bike up and see what the bike could do. It can happily sit at 70mph down dual carriageways and not effect the fuel economy that much, still getting around 95mpg.
Long Distance
After a few more months of riding through the streets of Birmingham commuting to and from work it was finally time to see what this bike could do on long distance journeys. Even though it's not the sportier counterpart GSX-R125 the GSX-S can still keep up with the other sportier models whilst still maintaining the comfort of the upright seating style.
Any Issues?
However there are some downsides of the GSX-S. One being that accessories for this bike are few and far between and if you were looking at getting official Suzuki parts you need to be prepared to pay a hefty price tag.
To Sum Up
So I've owned the Suzuki GSX-S125 since march 2018 and in that time I have done just shy of 6,000 miles.
All in all the GSX-S125 is a perfect starter bike for people who are looking at getting into biking and who are looking for a bike which guarantees to bring a smile to your face every time you twist the throttle, even when it's a smaller bike.
It's a bike that wont disappoint you even if you think the price is a bit too high. You'll think every penny was worth spending.
- Jake S, 2018