Suzuki GSX-R125 (2017) Real World Review
" I use my bike to commute and it's just the job. It handles like a dream on the twisties, does well in the wet and the supplied tyres are really quite good. Not often you find that on a 125. "
✓Big bike looks, lights, turning circle
×Hard seat, range, parts availability, quiet exhaust
What Is It?
The Suzuki GSX-R125 is a premium single cylinder sports bike and is also available as a naked version in the GSX-S125.
Engine: 124 cc Single Cylinder, 15 bhp
Economy: 90 mpg
Range: 220 miles
Seat Height: 785 mm
What Is It Like?

Why The GSXR?
I have had my GSXR since march and it is my second 125 after a Mutt Mongrel. Both bikes were bought from 5-WAYS in Hull and John did a good job looking after me but the GSXR  simply fits my riding style more than the cafe racer like the Mongrel.
What's Good
I use my bike to commute and the GSXR is just the job. Economy is up in the 89-100 mpg range and it handles like a dream on the twisty corners. It even does well in the wet as the supplied tyres are really quite good. Not often you find that on a 125.
It cruises well at 70mph with minimum vibes through the bike or bars, is the lightest bike in its class and the ABS system is a handy addition.
Any Downsides?
My only downside to the bike is the fuel tank is a little small at 11 litres, when you have been used to a 13 litre tank and custom parts are hard to find at the moment.
Mods
Full Lextek exhaust system (sounds great)
Tail tidy
Wheel tape
- Papa P, 2018
Price Guide
Year
Dealer
Private
Part Ex
Mileage
2021
£4,400
£3,550
£3,100
1,800
2020
£3,650
£2,950
£2,600
2,100
2019
£3,550
£2,850
£2,500
3,700
2018
£3,400
£2,750
£2,400
5,100
2017
£3,200
£2,600
£2,250
4,200
Related Bikes
GSX-S125 - Naked version with higher bars, more relaxed riding position and no keyless start system.
The Second Opinion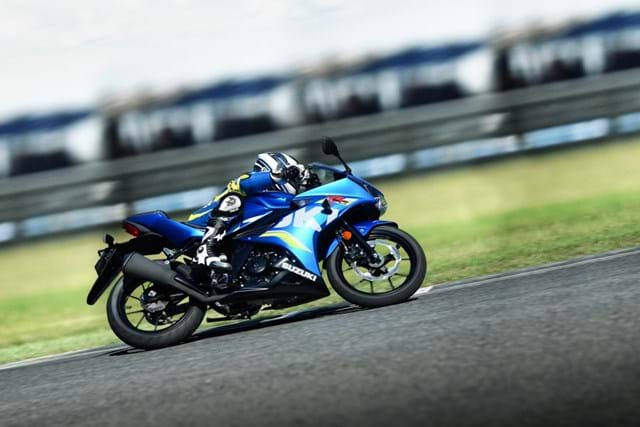 What's It Like?
The bike really feels nice and so much better than the CBR125R, especially the excellent brakes with ABS. The Keyless start is a nice feature for me and the seating position is comfy.
The engine seems really good, there's power in all the gears, handling is really good and the suspension is good. You can really feel the tyres are brilliant in the corners.
Also the dashboard looks really cool, includes the gear indicator and you can limited your rev counter to whatever level you want.
Any Downsides?
I do think the exhaust could be a bit louder though and that's one thing I'm going to change. Also the tail tidy could be shorter but it's not a problem.
To Sum Up
Overall you have to give the bike five stars. I don't think there any other 125cc bikes out there that look and feel this good; it's second to none.
- Rob G, 2019
A Few More Thoughts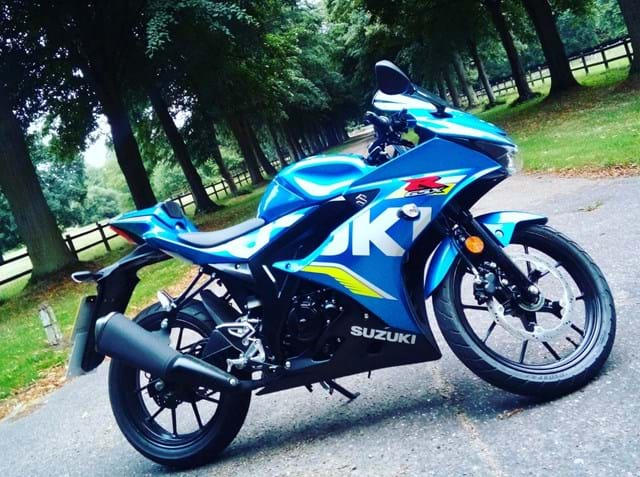 How Is The Riding Position?
Well the bike is well designed featuring an under yoke handlebar set up usually seen on bigger sports bikes and the preferred set up of the Moto GP bikes. The handlebars mean that you are more leaned forward allowing for a much more controlled and aggressive riding position.
The seat is hard but I personally don't get uncomfortable until I've been riding more than 4 -5 hours.
Mods
I've got the sports package for my GSX-R125 which gives it a little more show. I've also got multiple electronics running off the battery such as USB points, cigarette lighter, volt meter, neon lights, a speaker set and not struggled once to power all of them.
Any Downsides?
A lot of new GSX-R125s have a fault that causes them to cut out at idle which Suzuki are currently trying to fix.
- Gary B, 2018
More Info
Check out this video review from TheMissendenFlyer.