Kawasaki Z250SL Review (2015)
"
Am I happy with the Kawasaki Z250SL? Yes I am, I love it. I have had some amazing adventures on this bike so far.
"
What Is It?
The Kawasaki Z250SL is an A2 licence friendly naked bike and is powered by a liquid cooled 249 cc single cylinder four stroke engine, producing 27.6 bhp at 9,700 rpm and maximum torque at 8,200 rpm. It features a balancer shaft to keep vibrations to a minimum.
Specs
Seat Height: Low (

785

 

mm / 30.9 inches)
Weight: Light (148 kg / 326 lbs)
Economy: Very good (80 mpg / 3.5 l/100km / 28.3 km/l)
Range: High (190 miles / 306 km)
Power to Weight: Low (0.189 bhp/kg / 0.141 kW/kg)
Top Speed: Average (95 mph / 153 km/h)
Pros
Beginner friendly
Low seat
Handling
Filtering
Brakes
Tyres
Light
Cons
Lack of aftermarket parts
No gear indicator
Dash
What Is It Like?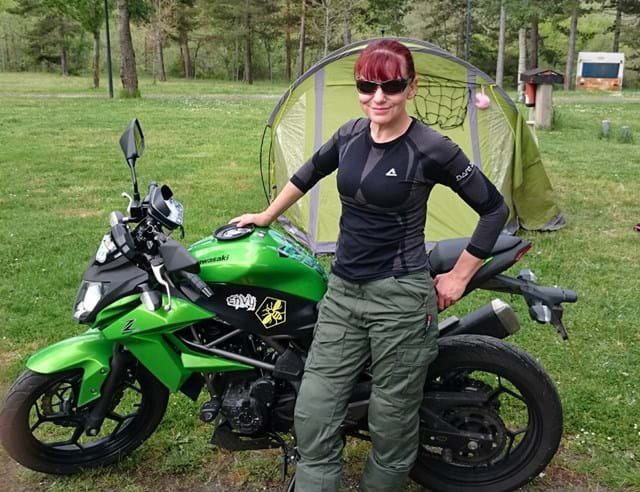 About Me
I am only little, 5 feet tall and around 49kg so I need two things when I am looking for a bike. It has to be low and it has to be light. In today's market that can be hard task, especially if like me the cruiser style of bike is not for you.
When I passed my full bike test at the age of 46 it was time to upgrade from my trusty, low and light Keeway RKS 125cc. On my list of possible bikes were the Yamaha MT-03 and the Kawasaki Ninja 300 but neither felt quite right for me. Then while in a motorcycle showroom I spied a nice looking bike tucked into the corner, the Kawasaki Z250SL.
Why The Z250SL?
I sat on it and I felt a bit like Goldilocks as it just seemed to feel right. It was easy to move around, SL stands for Super Light and at only 148kg wet it lives up to its name. I sat on the bike and although too tall to flat foot at its standard 785mm seat height I could tippy toe.
I decided to do a bit of research on the bike. The reviews I read were all extremely positive. Eventually I took the plunge and bought one for myself. I had the bike lowered with a Lust Racing lowering kit and crash bungs fitted before collecting the bike in June 2016 from Motorcycle Centre Orrell.
Reliability
At 600 miles the first service was done without any problems. The mechanic said he expected none as these bikes are usually bullet proof. This has proven to be the case as all other services have encountered no problems and I have now owned my Kawasaki Z250SL for nearly two and a half years and have put 16,000 miles on it. All these miles have been fun miles as I do not use this bike for my commute.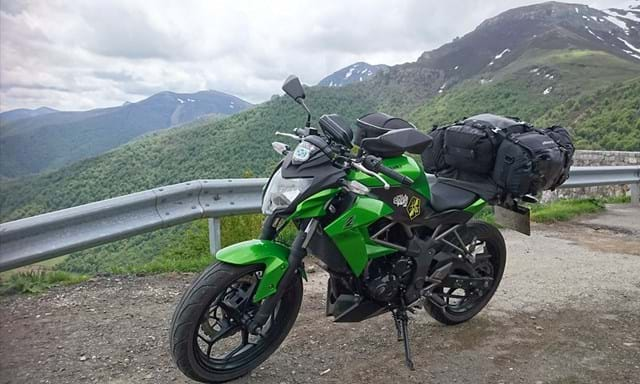 Where Have We Been?
I absolutely adore this bike. Do not think that a small capacity bike means that you have to limit your fun or your distance. Remember any bike is an adventure bike if you have adventures on it and this little gem is big on fun and handles big adventures.
In the first year of ownership I took it to Scotland for a camping trip - completing the NC500 route. This year I took it on the ferry to Northern Spain and rode the Picos Mountains and the Sierra De La Demanda. The bike handled like a dream on both of these trips, coping happily with twisty mountain roads, uneven surfaces and fast motorways. It is simply a joy to ride.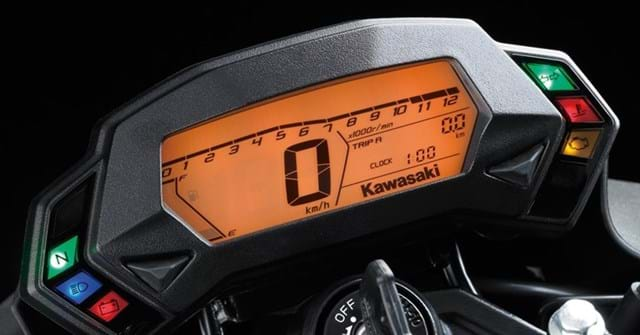 Dash
This is digital and has all the usual things you would expect, the speedometer and clock etc but no gear indicator. When I first rode this bike I missed a gear indicator terribly because I had one on my previous bike. I could not judge what gear I was in at first and seemed to be always in the wrong one when it came to corners.
However what initially felt like a disaster began to get better with time and miles. My ability to select the right gear improved immensely and I actually believe I ride better now that I listen to the bike to tell me what gear it requires rather than looking at an indicator.
Brakes
It has petal disc brakes front and rear which are extremely effective. I am most impressed by their smoothness and response.
Tyres
The standard Dunlop TT900 tyres gripped well both in the dry and in the wet, thus giving a feeling of safety and stability both when braking and cornering. When the tyres needed replacing I fitted Michelin Pilot Street and just like the Dunlops these have performed well in all weather conditions and are good for around 11,000 to 12,000 miles.
Mirrors
The mirror's viewing angles are adequate. The right hand mirror gives a much better side and rear view than the left. I personally have to move my head and lean over a bit while tucking in my elbow to get a rear view from my left mirror.
The mirrors reflect a nice sharp image even at speeds of over 70mph. The stability of the mirrors amaze me when you consider the fact that this bike is a single and therefore one would expect it to suffer somewhat in the vibration department... no not at all.
Gearbox
The gears are slick, easy to change and I have no problems with them at all.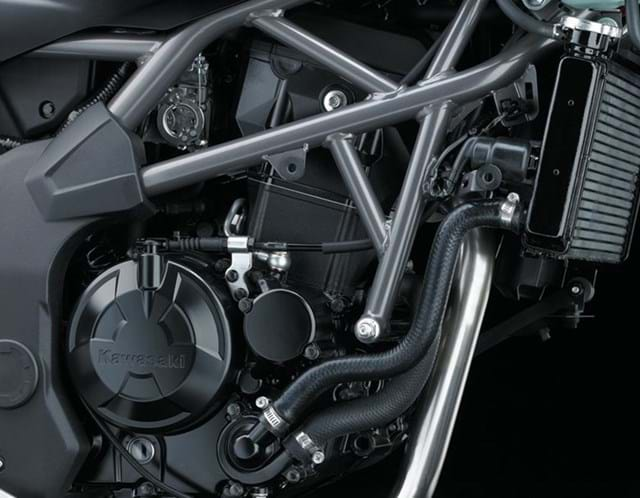 Engine
The Z250SL has a liquid cooled four stroke single cylinder engine, but this is no thumper. The balancer shaft works wonders to control the vibrations. So much so that cruising on a motorway at speeds of between 60 mph to 70 mph is a surprisingly smooth and comfortable affair.
It makes more of a content purring noise than a huge roar but I like that because my Kawasaki is a lady you know. You can of course coax a small satisfying growl out of the bike if you give the throttle a little blip. So the bike can please both for a grunt and smoothness. Whatever happens to take your fancy and however you like to ride.
It packs loads of torque into its small frame. Definitely enough to see you off for a quick start at the lights and it keeps on pulling right through, getting up to 70 mph with ease. A quick twist of the throttle and it is off.
Speed
I have so far taken the bike up to 82mph. This was not its top speed, it still had more left but without a screen you do get the full force of the wind blast. Even in 6th gear and at 70mph it does not require a down shift to pick up speed for an overtake. Just twist the throttle and it says ok is that 77 mph you want? Ok I am right there.
Amazing performance for a single 250 cc. Am I impressed? ... damn right I am. I am bloody blown away - literally. Up to date I have not got near its 10,500rpm rev limiter. So there is still more to discover as yet.
Manoeuvrability
You will see in the advertising for the Z250SL the word NIMBLE is used a lot. Well for once the advertisers are correct. This bike is nimble and incredibly responsive.
It was made for curves and bends. It is so responsive that at first you have to be careful it does not catch you out. Shift around in your seat and the bike moves with you. Once you know this you can work it to your full advantage. The bike and you really can become one.
You do not have to steer this bike around corners. You simply look at them and the bike is sweeping around the curve seemingly through mere thought transference. You don't even need your hard earned counter steering skills.
In fact too much effort to try and push this bike into a corner would probably result in your head being put into the hedge. You do not drag this bike into a bend, you think it into them. The bike's ability to corner far exceeds my current levels of skill and confidence, I know it is capable of far more. But I am more than thrilled with the potential I have discovered so far.
MPG
I was pleasantly surprised how frugal this bike is on fuel. At running in speeds and keeping the revs around 6,000 with speeds of 60mph and below the bike returned an impressive 100mpg. Taking the bike onto stretches of motorway with speeds of 70 mph found it still returning around 90 to 95mpg.
The small tank size of just 11 litres initially disappointed me but due to the excellent fuel consumption the range is not as low as I feared. So far I have managed 165 miles on a tank of fuel with the fuel gauge still showing one bar of fuel left. I never drop it below one bar but on rough estimate a full tank should get you around 185 miles easily.
Comfort
Although fairly thin the seat is surprisingly comfy, even on a full days ride. The leg position for myself is also spot on comfort wise.
The bars are slightly lent forward but once again for me this is perfect. Slightly forward is my preferred riding position. Too upright is uncomfortable on my tail-bone, too far forward I imagine would strain my wrists so this in between is just right.
Ride
Did I just say ride? Yes I did and that is why I kept the best until last ... this bike can ride and ride bloody well. The Z250SL is an absolute hoot to ride. It is a bike that brings a huge grin to your face and surprises you again and again. What ever you throw at it, it takes in its stride and it does it all with a great big fun factor.
To Sum Up
Am I happy with the Kawasaki Z250SL? Yes I am, I love it. I have had some amazing adventures on this bike so far.
I did not choose this bike because I am in any way scared of bigger bikes. I took my test on a Yamaha MT-07 and rode that easily. But for a bike to own I wanted something light, both in weight and on the pocket. This bike delivered on these accounts and on many more.
Whenever I have asked the Z250SL can you do it, it answers yes I can. Be that motorways, mountains, meandering, floods, pot holed tracks and switchbacks we have done them all.
I have no plans to swap this bike for another at the moment, it is just too much fun. This bike does everything I need it to and it makes me smile an awful lot. I think Kawasaki have put a lot of thought and engineering into the Z250SL to manufacturer a small single that can deliver big in lots of ways. Try one for yourself and get your own smile miles.
If you want to know more about the Kawasaki Z250SL and my trips on it plus loads more motorcycle related info please check out www.bikesandtravels.com
Mods
Lust Racing lowering kit
Side stand shortened
R&G Crash Bungs
R&G Bobbins
Evotech Radiator Guard
Kriega luggage system
Givi tank bag with tanklock ring
USB power outlet from battery to power battery pack and SatNav
Michelin Pilot Street tyres
Pros
Lots of torque for a small bike
Impressive handling
Super lightweight
Very economical
Fun, fun and even more fun
Cons
Can be difficult to source after market parts
Pillion seat is way too small
Wind protection
- Sharon P, 2018
Price Guide
Year
Dealer
Private
Part Ex
Mileage
2018
£2,800
£2,250
£1,950
4,900
2017
£2,800
£2,250
£1,950
6,700
2016
£2,650
£2,150
£1,900
8,500
2015
£2,400
£1,900
£1,650
10,300
How to use the price guide
Add Your Review
Do you own this bike? We would love to hear anything good, bad, unexpected or that you have changed plus anything that a prospective new owner might find interesting or useful.