Honda X-ADV Review
What Is It?
The Honda X-ADV is a premium maxi scooter with some serious touring and light off-road credentials.
Engine: 745 cc Parallel Twin, 54 bhp
Economy: 70 mpg, 200 miles
Seat Height: 820 mm
Wet Weight: 238 kg
Top Speed: 110 mph
RRP: £9,600
| | | |
| --- | --- | --- |
| The Review | | ★★★★★ |
| | |
| --- | --- |
| ✓ | Looks, comfort, economy, storage, excellent DCT gearbox |
| | |
| × | Check your full face helmet fits, quite pricey new |
Impressive and Capable
I purchased the Honda X-ADV 2018 in late July after contemplating a few options as my NC750X over two and a half years already had 85,000 miles on it and I am planning to ride to Europe from Bangkok, Thailand in 2019. After a few Test Rides I was convinced that this "Motorcycle " would make a great Touring Bike and so far it has exceeded my expectations.
When I put it on order at Honda BigWing in Bangkok, I set about purchasing all the accessories that I wanted to Install and my set up is based on Touring so I'm looking for protection, comfort and visibility. I contacted a friend who is a certified motorcycle mechanic and asked him if he could do all the installations for me and I would assist him to learn. It took two full days and making sure that all the lights and accessories were connected into the fuse box. The outcome was awesome.
The Ride
Once I upgraded the front fork springs, I could feel a difference especially off road and riding through Laos where on a recent 4,000 mile trip, four BMW R1200GS went down and one X-ADV slid off on a corner!!! No injuries.
I can ride comfortably up to 100mph for long periods which we did on the way to Zhangjiajie, China where they let us go on the highway. Normally riding is not allowed on highways in China. The stability is excellent and the bike feels very comfortable even at these speeds. I'm already at 8,700 miles in three months and I changed the front tyre but I can say that the stock tyres are excellent, hold well and not bad off road.
Performance
Awesome, with up to 80mpg it's pretty tough to beat and with the increased RPM it has a little more zip than my NC750X. Also the X-ADV has four DCT modes but I usually ride in D and use the paddle for shifting when I feel it needs it. DCT is a brilliant system.
Appearance
Well I get a lot of attention wherever I go because it's so different, looks scooterish but rides like a motorcycle.
Our recent trip to China was awesome and we went to the site where they filmed Avatar and the red Bull Wingsuit stunt flying through a hole in Tianmen Mountain. Long days, up to 460 miles per day but the comfort is great. We had five X-ADV on the trip, riding in pouring rain at 11C, going through Laos and crap roads and some construction zones of wet red clay, The X-ADV is up to the challenge.
Anyhow, I love this bike and looking forward to a ride in Myanmar in Dec and more in the New Year.
Here is a funny quote from an Ex BMW R1200GS rider who travelled with us and one of the best riders I have ever travelled with for the last four years. I asked him why he sold his GS and bought the X-ADV? "Less than half the price and twice the fun" and he rides it like he stole it!!!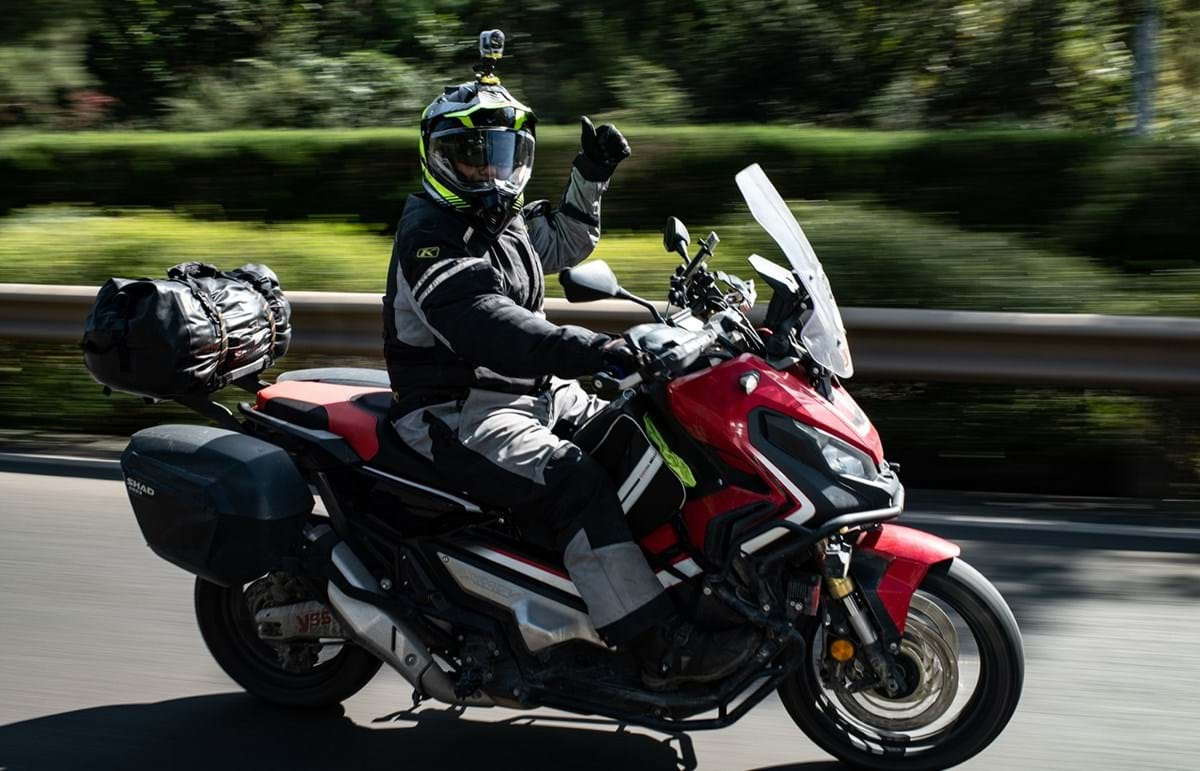 Honda X-ADV Accessories (about £2,400)
Adventure Pegs S Wolf
Handlebar Risers
Scott Oiler Touratech
Crash Bars S Wolf
Barkbusters Koala Rider
Driving Fog Lights Koala
White Flashing Lights from tart
Radiator Guard 2WT
Security Camera front & back Koala Rider
USB Accessory Plug, Koala Rider
Light wiring harness for Driving Lights, Koala
PIAA Horn from 2WT
Ram Mount 2WT
Ram Mount Ball attachment from lazada
Foot for Side Stand from Koala
Shad SH 23 Side Boxes , Racks, and Top Box Plate
Recharging Cable connection
YSS Front and Back Shock Upgrade
- Mike G, 2018
Price Guide
| Year | Dealer | Private | Part Ex | Mileage |
| --- | --- | --- | --- | --- |
| 2017 | £7,600 | £6,100 | £5,350 | 3,700 |
| 2018 | £8,100 | £6,450 | £5,650 | 2,100 |
The Second Opinion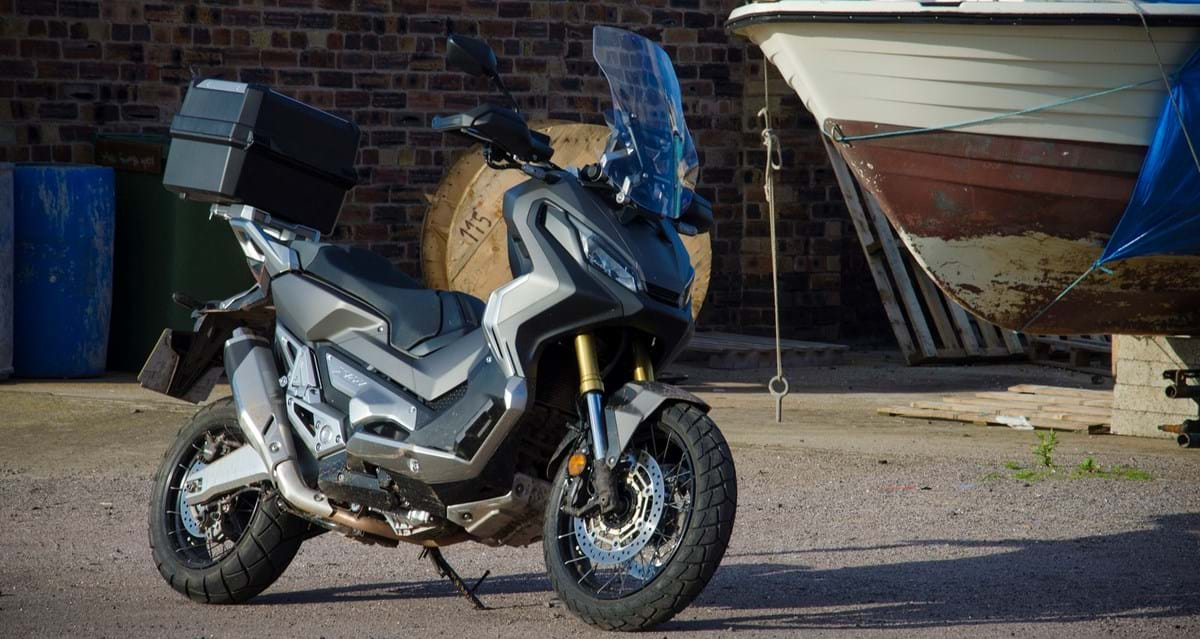 There's something weird happening in the motorcycle world. People are beginning to really believe the bulls**t when it comes to the marketing side of things. This is never truer than in the daft "adventure bike" class. What was once called "touring" is now called "adventure riding". Big traillies have been renamed "duel sport" which in turn became "adventure bikes." Great travel bikes such as the BMW GS/Africa Twin/Super Tenere etc are now getting called dirt bikes and there's more and more people buying these bikes, giving them a CR250's pasting then getting upset when their 250kg bike breaks. "But it's a dirt bike, it was designed to go over that huge jump!".
Aye mate, sure it was.
This brings me to Honda's new maxi scooter. I was given a shot of the bike for a couple of days while my bike was in for a service. I'll be honest, when the scooter was first released I laughed. Some marketing genius in Honda had named it the X-ADV, clearly cashing in on the current Adventure fashion. I mean, no one would be convinced that it was an off road bike just because it had ADV written on it, would they?
Putting my prejudices to one side I took the key. Which isn't actually a key. The X-ADV is keyless, so you only have to have the fob thing in your pocket. As long as you have it within the proximity of the bike you can open the fuel cap and lift the seat to access the big storage area beneath with a push of a button. The X-ADV has the same parallel twin engine and DCT gearbox as the NC750X. I was surprised how good it sounded when I fired it up. There was the normal clunk when I put it into "drive" and off I went.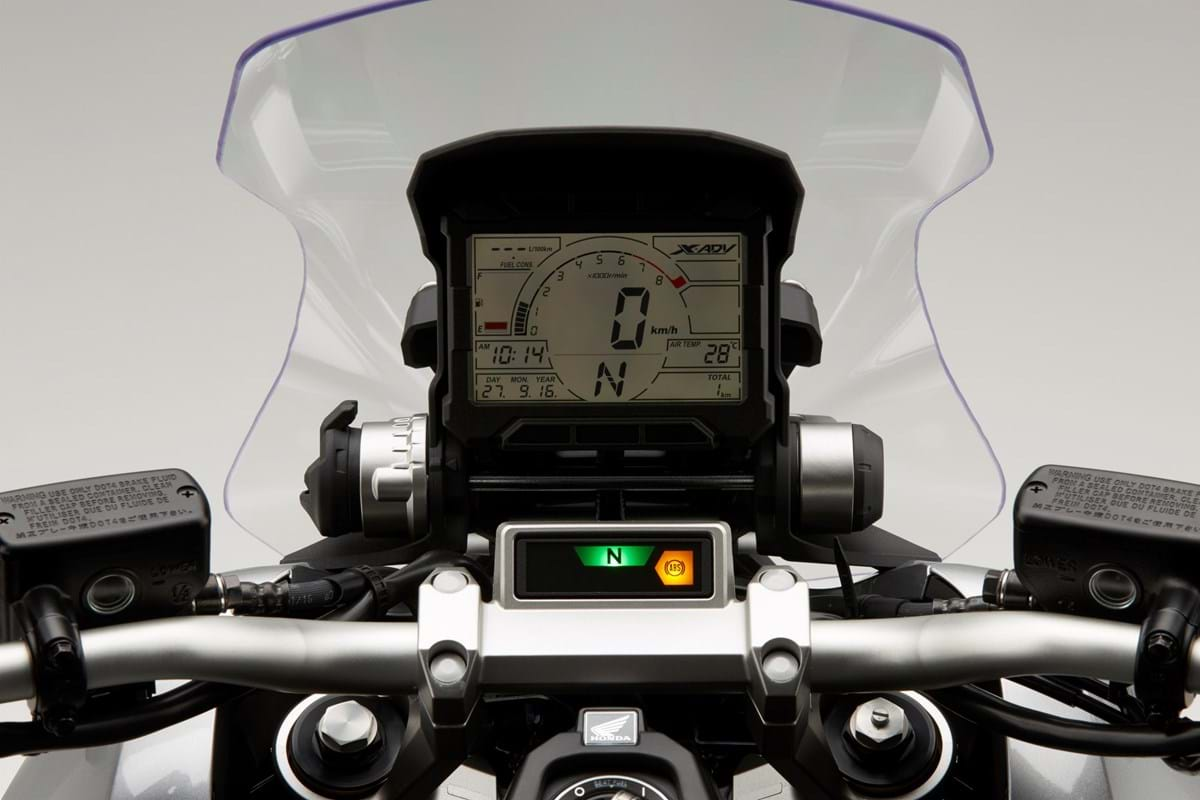 Now, reviewing bikes isn't really my strong point, I'm easily pleased. I mean, a sh**e bike is still better than no bike surely? My initial thoughts were "This is good!" But it really was! The X-ADV has a good turn of speed about it and the DCT box is smooth as. The handling is spot on and the brakes strong as they need to be. It was a bit weird chucking the big scooter about with nothing for my legs to hold on to.
The DCT box has three "sports" modes, one holding a gear longer than the last. I liked the regular drive mode and the first sports mode. You can also change gear playstation style with a trigger/thumb switch. I used this a couple of times but preferred the automatic modes to be honest. For me, the bike doing all the clutch work took the satisfaction away from manual shifting. All these modes are displayed with all the other relevant info you'd want on a fancy digital screen. I gave Bob a lift on the back, there's plenty room for a pillion and the bike handles an extra person fine. The young team even complimented the X-ADV's looks, although I doubt any Fireblades will be getting traded in any time soon.
So all in all, it's a well specced, practical, good fun, big scoot that's priced with the competition. Honda are saying: "The X-ADV's agility makes light work of the everyday ride through town traffic; come the weekend, you can set your sights much further afield." But the internet is already filling up with bizarre videos of folk standing up while riding the maxi scooter along a smooth dirt road and "X-ADV off road!!!!" reviews. It's a maxi scooter, not a dirt bike.
Never mind off road, if you take the X ADV along a rough dirt road there's a high chance something will break, especially if you drop it. If you want a dirt bike get a KTM 250 ECX. Think of the X-ADV as a commuter that'll take you down that bumpy road to the beach at the weekend.
www.WintonMassif.co.uk
www.PassingPlacesTours.com
- Mike T, 2017