Honda NC700X Review
" I am delighted at just how easy the bike is to ride with the DCT and it is now my commuting weapon of choice. "
✓Comfort, good weather protection, low end power, very practical
×Check your helmet fits, top end power, suspension, seat
What Is It?
The 2012 Honda NC700X is an adventure bike with an optional automatic gearbox and a cunning storage compartment where the fuel tank would usually be.
Engine: 670 cc Parallel Twin, 47 bhp
Economy: 70 mpg
Range: 220 miles
Seat Height: 830 mm
What Is It Like?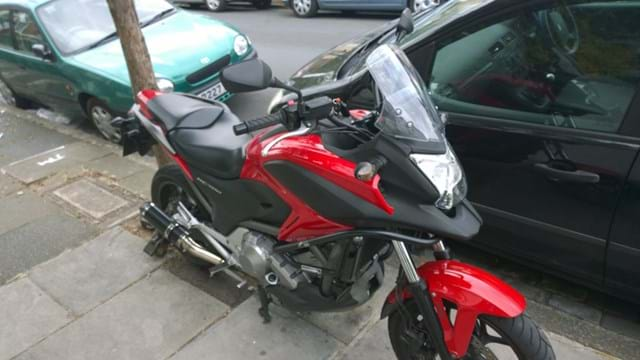 The NC700X
I've had the 2013 Honda NC700X DCT for less than six months now. I got it from John Riley's in Crayford with 16,000 miles on the clock, FSH, new pads front and rear, new chain and battery.
It only took me 15 minutes to get used to the DCT (yes, no clutch lever or gear lever) and away I went. The bike is a nice fit for me, I am 6ft5 or 1.96m tall.
Ride Modes
On to riding the bike. Well, in Drive mode it gets to 30mph in 5th and just trundles along on the wave of low down torque. It feels quite natural, but the gears do not drop down very quickly unless you prod the downchange button on the left handle bar array.
Sports mode is where the normal riding gearing is found with higher revs, quicker changes and it feels quite sporty. But it does redline at 6,000 RPM so much lower than I am used to and being a DCT you don't bounce off the rev limiter unless you accidentally (cough cough) prod it into manual mode.
To be honest, I just leave it in Drive for most of my riding, only engaging Sport when I want to make quicker progress, or feel like cornering a bit more aggressively.
Suspension
It's adequate. The bike is not something I would take on a track day as it is too softly sprung, but for London's potholed roads it is more than adequate.
Brakes
The brakes are nice and progressive, with decent enough feel and the ABS is a very welcome addition when stopping for pedestrians running across the dual carriageway in a 50mph zone...
Economy
Economy is pretty much the same in either mode through the city with a range of 65-69mpg, so healthy for a 680cc engine. I'm rather pleased with it and motorway work rewards you with over 70mpg if you keep speeds sensible enough.
I can get 200 miles on the 14 litre tank, albeit that the reserve starts blinking at around 160 miles in some instances and gets you a little worried when circulating the M25. I still had 1 litre spare after 200 miles covered, so a further few miles in hand.
Handling
It is surefooted enough. I have very little "chicken strips" on the tyre with normal riding and have been able to hustle the bike through traffic as quickly, if not quicker than a CBF500 I had before.
The centre of gravity is low, so the weight of the bike is well hidden and you can trickle along at walking pace in 1st gear with very little effort indeed.
Protection
I have ridden the bike in torrential rainfall on motorways and in city commuting. It coped admirably with poise and comfort. The little screen is more effective than it would appear to be, but I will fit bar muffs for winter riding.
Mods
I've added the SP Engineering exhaust as it was whisper quiet with the standard exhaust, no performance increase whatsoever, just a better road presence and yes, the baffle is firmly in.
I replaced the side stand plate as the Honda OEM side stand plate is too small in my opinion.
To Sum Up
I am delighted at just how easy the bike is to ride with the DCT and it is now my commuting weapon of choice. Yes, a SuperDuke R is going to give you more thrills, but the NC700X DCT is going to keep you riding through all weather, all year round and with a bigger smile on your face than you thought possible.
- makman, 2017
Price Guide
Year
Dealer
Private
Part Ex
Mileage
2014
£3,600
£2,850
£2,500
10,200
2013
£3,300
£2,650
£2,350
11,800
2012
£3,050
£2,450
£2,150
13,400
Related Bikes
Honda NC700S - Closely related naked bike with shorter suspension.
Honda NC750X - Updated version with more power from a smoother engine and a gear position indicator.
Add Your Review
Do you own this bike? We are after anything good, bad, unexpected or that you have changed plus anything that a prospective new owner might find interesting or useful.
More Info
Check out this video review from CagerOnTwoWheels.