Honda NC700S Review (2012)
"
It's great to have storage without having panniers, back boxes or carrying a back pack. There's room for a 14 inch laptop and not a drop of water gets in.
"
What Is It?
The 2012 Honda NC700S is a naked bike with an optional automatic gearbox and a cunning storage compartment where the fuel tank would usually be. It's powered by a Euro 3 compliant liquid cooled 670 cc parallel twin engine, producing 46.9 bhp at 6,250 rpm and maximum torque at 4,750 rpm.
Specs
Seat Height: Low (

790

 

mm / 31.1 inches)
Weight: Heavy (215 kg / 474 lbs)
Economy: Good (70 mpg / 4.0 l/100km / 24.8 km/l)
Range: High (220 miles / 354 km)
Power to Weight: Low (0.219 bhp/kg / 0.163 kW/kg)
Top Speed: High (120 mph / 193 km/h)
Pros
Comfortable riding position
Easy to use DCT box
Low end power
Very practical
Cons
Better suited to towns than A roads
Check your helmet fits
Top end power
Suspension
Hard seat
What Is It Like?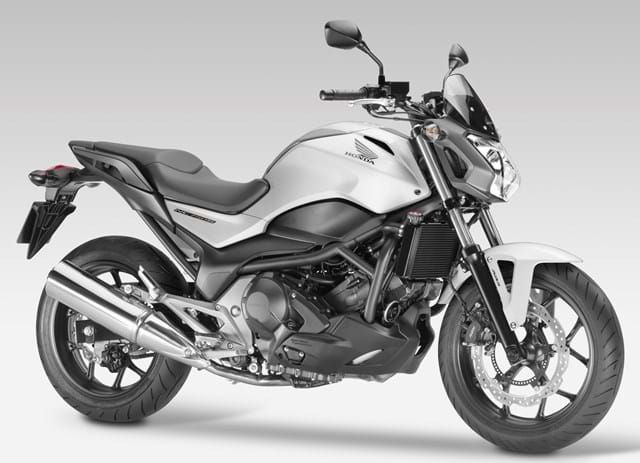 The NC700S
Having purchased this bike second hand I've now done a few thousand miles and I feel partly qualified to give some feedback on the bike, it's handling, performance and overall experience.
With 8,000 miles on the clock, and on a 12 plate, the mileage was certainly low and caught my eye. A few modifications also caught my eye like the boy racer reflective windshield and beast of an exhaust. I had some expectations about the sound and curb appeal.
Storage
It's great to have storage without having panniers, back boxes or carrying a back pack. The tank area is adequate and I use it for spare clothes, gloves, a few extra tools and a hub lock. I did recently remove everything and carried a 14 inch laptop and have room for a jumper and gloves too. Not a drop of water gets in.
Handling
The ride is smooth, and although the gear changes at around 6,000 rpm, the acceleration is great for getting away from lights, and dropping into gaps when riding defensively.
I have never felt safer on a bike thanks to it's responsive handling. You are soon up to 5th gear and riding at a good pace. 6th gear you can comfortably save until you're cruising and even at 70 mph, you have enough power to blip the throttle and get out of trouble. Dropping down a gear at 70 leaves you a lot of power and still 2000 rpm to play with.
Comfort
The seating position, despite the hard seat, is great and you feel in control with the well positioned handle bars. You can sit back a little and press yourself against the pillion seat when cruising, but again you do slide forward gradually. Adjusting your position makes for a more varied and comfortable ride overall.
Suspension
It doesn't adjust and is very stiff, but boy does it grip the road, particularly when cornering. If you did hit a bump, the bike doesn't bounce and I have to say I'm no Barry Sheen, but I can feel the grip and don't get nervous throwing the bike into corners.
Economy
Fuel economy is around 75 mpg and I do 50% in town, 50% on main A roads and motorways. In town I average around 14 mph due to London traffic. Out of town varies, but I suspect I average 50 mph, so in my opinion pretty decent fuel economy.
Looks
The bike does get attention. Even today someone pulled along side and commented on how smart the bike looked. The exhaust also gets attention and is enhanced further by a very loud horn!
Lights
The lights could be brighter, but they're adequate and the indicators are very vivid. You do have a hazard light button should you be one of the guys who filter with them on!
Mods
I changed the screen to deflect some of the wind and noise, as you do get head wobble at higher speeds and now I don't feel the wind or elements half as much.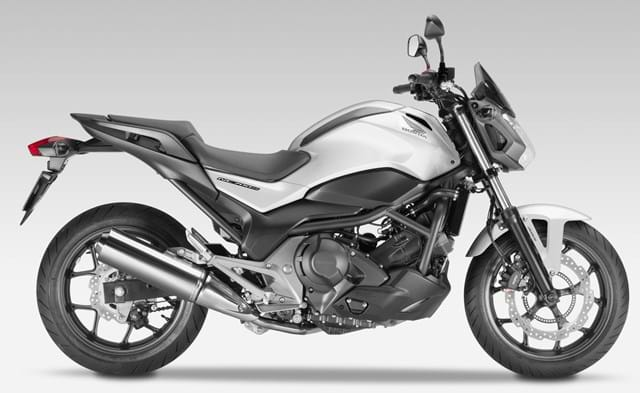 Any Downsides?
The seat is like sitting on a plank of wood after ten minutes, and it's quite slippery, so within minutes your trousers have ridden into your crotch where you've moved forward and your bottom is fast asleep. After a few thousand miles, have I got used to it? No - quite simply, although I'm about 30 minutes in now before I feel uncomfortable.
The re-positioning of the horn and indicators is difficult to get used to. It does make sense to move them around, as you use your indicators more, but I found myself indicating loudly to get people's attention instead of sound the horn! The high beam / flasher switch is a little awkward too, until you get used to it.
The rear brake position. I guess each time you change bikes you have to readjust but this one felt a bit odd for some time and I've only just got used to it. It felt too high, so I had to move my foot to the side of the lever when travelling, or sit awkwardly when filtering if I wanted to cover the brake. Again, I've got used to it, and I now feel confident with all of the controls.
The suspension is as hard as nails, so you need to relax a little when riding, else you'll jar your back!
To Sum Up
Overall, I am very happy with the bike. The biggest bug bear is the saddle but I'm looking to buy a gel seat and the best thing has to be the safe feeling you get due to it's handling and performance.
I suspect I'll be on this bike for many years before I think of changing. I do 16,000 miles a year and I suspect this bike will stay with me for some time.
- Paul W, 2018
Price Guide
Year
Dealer
Private
Part Ex
Mileage
2014
£3,450
£2,750
£2,400
12,100
2013
£3,250
£2,600
£2,250
13,900
2012
£3,050
£2,450
£2,150
15,700
How to use the price guide
Related Bikes
Honda NC700X - Adventure version of the NC700S with taller suspension, bars and seat height.
Add Your Review
Do you own this bike? We would love to hear anything good, bad, unexpected or that you have changed plus anything that a prospective new owner might find interesting or useful.
More Info
Check out this 16,000 mile in video review from Trucker Chin.