Ducati Scrambler 1100 Special Review (2018)
"
My wife has a Scrambler Icon, which is great fun to ride, but being 6 feet tall it's a little small for me. I tested the 1100 for a day, did over 100 miles and instantly loved the way it rode.
"
What Is It?
The Ducati Scrambler 1100 Special is one of three variants of the newer, larger, retro Scrambler bikes and is powered by a Euro 4 compliant air / oil cooled 1,079 cc V-Twin engine, producing 84.5 bhp at 7,500 rpm and maximum torque at just 4,750 rpm.
Specs
Seat Height: Average (

810

 

mm / 31.9 inches)
Weight: Heavy (211 kg / 465 lbs)
Economy: Average (40 mpg / 7.1 l/100km / 14.2 km/l)
Range: Average (130 miles / 209 km)
Power to Weight: Average (0.403 bhp/kg / 0.300 kW/kg)
Top Speed: High (130 mph / 209 km/h)
Pros
Low down torque
Looks great
Handling
Brakes
Light
What Is It Like?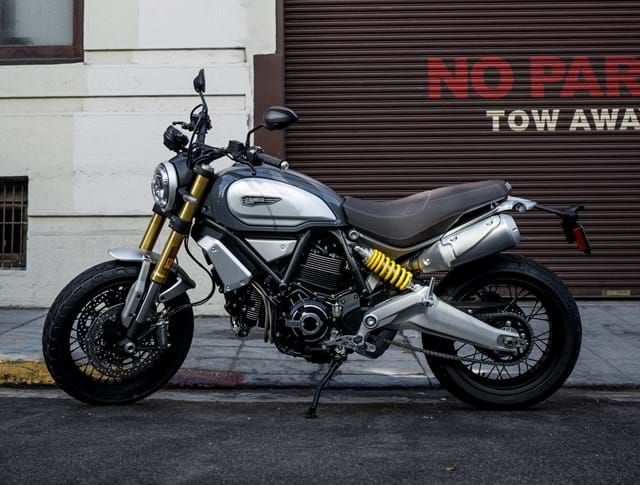 Choosing The Special
When Ducati launched the 1100 Scrambler, I was keen to see it and take one out for a test ride. Having been a Ducati owner for many years and already owning a Sport Classic 1000 S, I loved the classic looks of my bike but was less keen on its less than comfortable riding position so it rarely got ridden. My wife already has a 2016 Scrambler 800 Icon which is great fun to ride but being 6 feet tall, was a little bit small for me.
I first saw the bike at the NEC Bike show in late 2017 but took a few months before my local dealer had a demo bike. The opportunity to ride the 1100 came about when I had booked my wife's Scrambler in for its service - when I dropped her bike off, there was a yellow 1100 outside so asked if I could take the 1100 Scrambler out for the day.
That day, I did over 100 miles and instantly loved the way it rode – very similar to the smaller Scrambler but better suited to my size. The handling and comfort was way better than my Sport 1000 S.
There is plenty of torque and I could have fun without having to reach speeds in excess of three figures. I also have a Multistrada Pikes Peak which is a fantastic bike but is a license loser!
At the end of the day, I took the bike back and discussed part exchange etc - the numbers were not as good as I had hoped so decided to stick with what I had. Three months later and Ducati had introduced 0% finance so I went back to have another look.
I negotiated a better deal and agreed to get the bike on September 1st. You will be surprised to hear that I part exchanged my Multistrada and not the Sport 1000 S – however uncomfortable it is to ride I cannot part with it and it is going up in value.
Looks
I chose the Scrambler 1100 Special over the other models as I like the spoked wheels and Aluminium mud guards etc. I initially was not keen on the brown seat but it has grown on me and I now think that it suits the bike – it is a nice contrast to the grey paintwork. I have also now fitted brown handlebar grips to compliment the seat!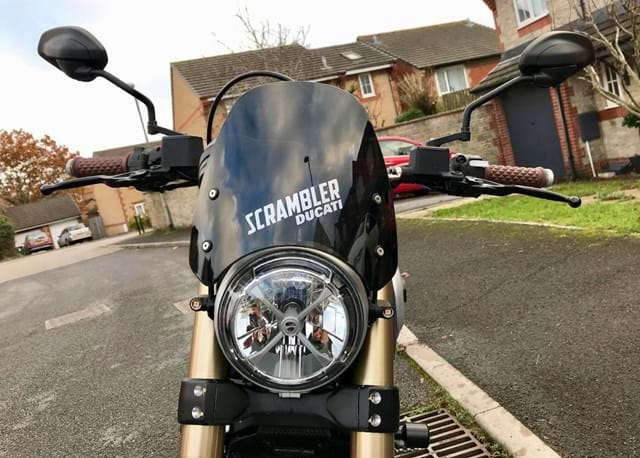 Mods
When I ordered the bike, I was disappointed at the lack of options that Ducati had available for the 1100 compared to the 800 – the bike is designed to be personalised but even now three months later there is very little available from them or after market.
I did include the R&G Tail tidy and Aero crash bungs - unfortunately, these were not yet available when I collected the bike so I picked them up later and fitted them myself. The crash bungs were easy but the tail tidy was a bit tricky and instructions / pictures could have been better.
At the same time I installed some LED micro indicators from eBay – these were not specifically designed for the 1100 so had to fabricate something to help secure them in place from behind. They are very neat, bright and already have built in resistors so no problem with flash rate.
I was also keen to get an oil cooler guard and sump protection. My wife has these from Evotech on her Scrambler 800. Finally Evotech released these for the 1100, they are an easy install and personally I prefer them to what is available from R&G.
At the same time, I ordered their mirror extender brackets as I wanted to see more than my shoulders in the mirrors! I rate Evotech parts and have had them on previous bikes.
I also added a small fly screen, more for cosmetic reasons, again from eBay and designed for the 800 for less than £30. It is the same as the Dart screen that is fitted to my wife's bike but a lot cheaper.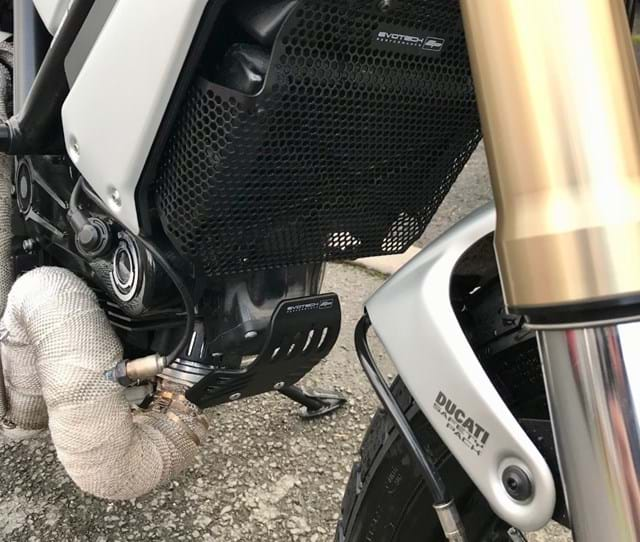 Exhaust
You will also see that I have wrapped the exhaust but this is only for cosmetic reasons and I know it will not be to everyone's taste. Personally, I am not keen on the chrome down pipes etc. that are fitted on the Special and much prefer the satin finish that the other two models have.
Also, I plan on changing the two rear silencers under the seat with something unique – currently like everything else there are very few exhaust options other than the Termignoni from Ducati, Arrow and now also Akrapovic.
Fortunately, I have found a specialist motorcycle exhaust fabricator near where I live and the bike is booked in for him to make my new system in the new year - I like the fact that it will be unique to me and is going to be far more cost effective than Termi's! I will probably need to get a remap or at least a Healtech exhaust servo eliminator but that's fine.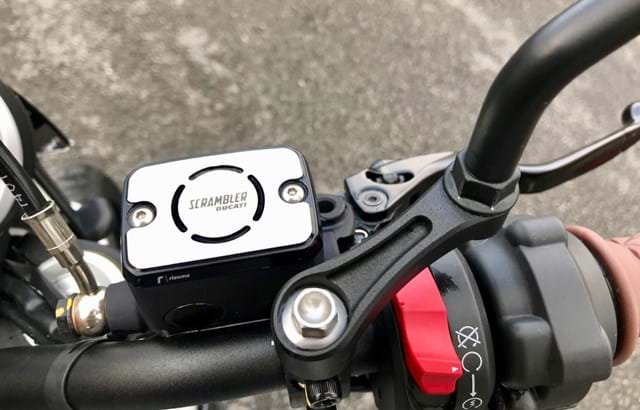 More Mods
The only official Ducati Scrambler mod that I have on the bike is the Hydraulic Front Brake and Clutch Reservoir covers made by Rizoma. These have only just become available and my wife liked them so much that I had to get one for her 800, which has a cable operated clutch. The part is not listed for the 800 but does also fit that bike.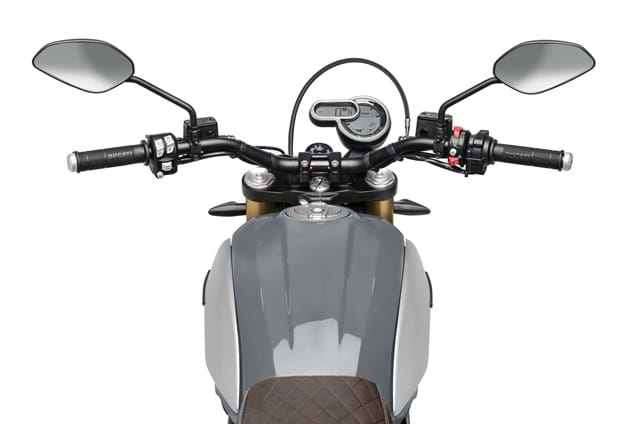 To Sum Up
The bike is a big change from my Multistrada but for the majority of riding that I do – country lane blasts and not touring the bike is ideal for me. It handles great, is very comfortable to ride and you can have fun a sensible speeds.
The bike has three riding modes: Active, Journey and City, cornering ABS and traction control - I mainly leave the bike in Active mode and have not personalised any of the other settings. I tried the Journey mode recently in the rain which just softens the power delivery but still provides full power. I believe it also changes the traction control and ABS settings but couldn't tell the difference.
The suspension front and rear is fully adjustable but so far have not touched this. I do miss the SkyHook electronic suspension on the Multistrada as that was great but overall, I am very happy with the bike.
- Greg C, 2018
Price Guide
Year
Dealer
Private
Part Ex
Mileage
2019
£9,200
£7,350
£6,450
5,100
2018
£8,700
£6,950
£6,100
4,900
How to use the price guide
The Second Opinion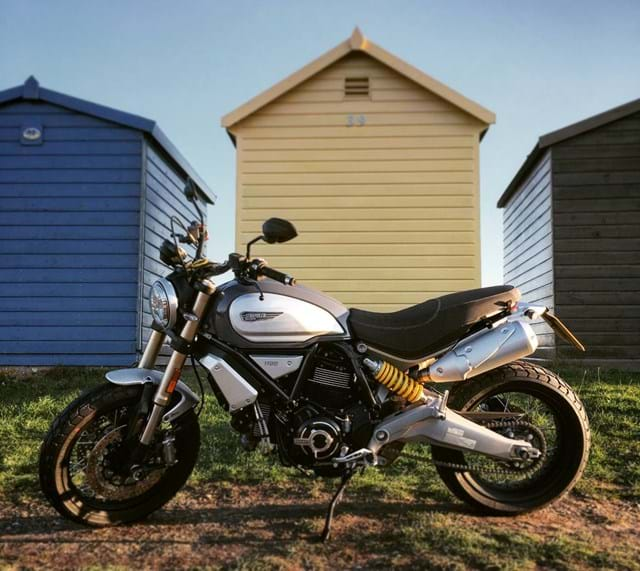 Choosing The Special
I've only recently come back to biking after 30 years and I guess I am that typical 50 year old who wants to find a way to feel young and cool again. But more importantly, I needed a to do something that was just for me.
I was in my early 20's the last time I owned a bike and that was my Suzuki GP100. It was cheap and gave me nothing but trouble, at a time when money was very tight. Things are much better now, I am self employed and have a few quid in my pocket.
With the help of the web I could search every bike, watch YouTube videos till my eyes bled, read industry reviews and more importantly, reviews by those that owned the bikes. I'm a photographer by trade and we geek out at equipment specs and reviews all the time so this was familiar territory for me.
Gradually I had whittled it down to one bike after months of research. That was the Kawasaki Z900RS retro with power and technology to match. So why did I change my mind and get the Ducati?
It was simple, the Ducati Scrambler 1100 Special won my heart the first time I saw it in the 'flesh'. I loved the design, styling and colour palette. It also had the ability to look aggressive, elegant and understated at the same time.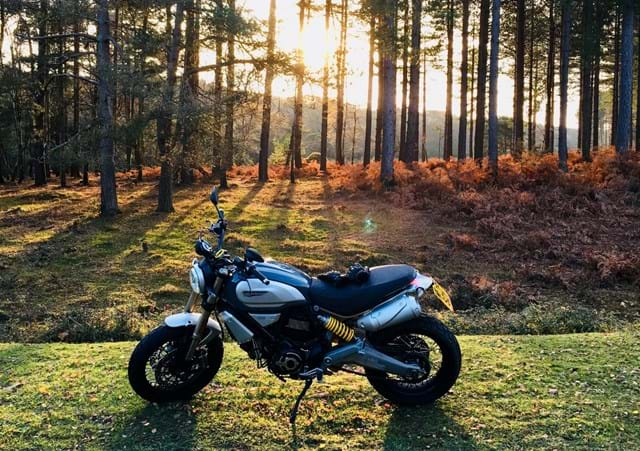 Ride Modes
Since day one the bike has felt like a gentle giant that has a quick temper when rattled. The three riding modes work well and I often change to city mode when riding in an town. I tend to use the journey mode at all other times. I'm not an aggressive rider and this mode works perfectly for someone newish to riding like me.
The traction control, cornering ABS and excellent Brembo brakes give me an additional confidence on wet UK roads. It is confidently stable around curves and also has a commanding presence in traffic.
Engine Braking
I have struggled with the engine braking when I ease of the throttle as the deceleration is quite rapid, even without the use of brakes. It's something I expect to get used to over time and even after having the bike for three months, I am getting to grips with it.
Comfort
The seat is very comfortable even on long rides but it's a naked bike so don't expect too much wind protection. This has yet to be a problem except on rainy days. I don't plan on adding a screen as I think it kills the look of the bike.
I am however, considering hand guards and heated grips for next winter. I will also be taking the bike for a camping weekend in the UK and have added a Hepco & Becker rear rack to carry gear. I have invested in a set of Kreiga tail bags which I am very pleased with.
To Sum Up
They've hit the jackpot with the scrambler range, selling masses across the globe. Ducati say that bikes are all about the Joy of Riding and I'd have to agree with them. Ultimately, this bike is about fun and it makes this 50 bloke feel like that 20 something again.
- Az R, 2019
A Few More Thoughts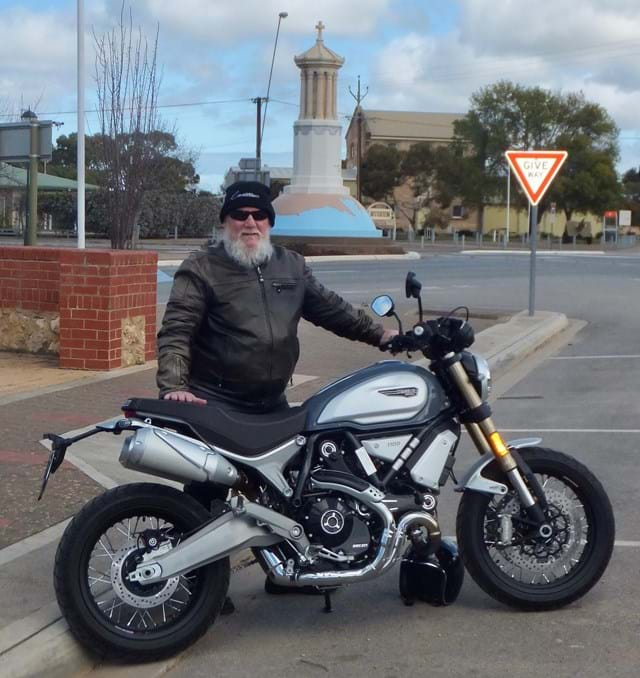 Ducati Scrambler 1100 Special 2018
Tell us a bit about you
I'm a 62 year old male, 5'9" / 1.75 m tall, with 50 years of experience on bikes and 46 years on the road. Between 40-50 bikes, but who's counting?
Why did you choose it?
The Scrambler is light, stylish and fun. It takes me back to my early days of riding.
What is good about it?
It is light, has great brakes and handles well on the road. It does everything "just right", but not "too much" and it sounds good.
My wife loves riding on it with me - we go everywhere on it and it just makes us happy.
What could be improved?
The seat is a bit of a brick after several hours in the saddle...it lets you know when it is really time to head home. That said, I have been thinking of some small saddlebags and the odd trip away for the weekend, so it's not that bad is it?
Any mods or upgrades?
Not a thing so far in 6 months of ownership. We are averaging around 620 miles  1,000 km a month which is not bad considering I work 6 days a week. There are things I would like to do but to be honest it is great really, just as it is out of the box.
What is the economy like?
The fuel economy has been very good but the best part is the "smiles per gallon".
How is the engine?
It is an air cooled engine so compared to our Diavel it is mechanically noisy. I keep it between 3 and 5 thousand RPM most of the time.
The bike is (although only quoted at 86 HP) powerful enough to carry our combined 200 kg selves with ease at all times.
How does it handle?
Handling is light and the bike tracks well in the twisties. In the traffic it feels a little "motard". It is okay on the highway and even dirt roads in good condition are not a problem.
What are the brakes like?
One look at the Brembos on the front of this bike let's people know it is not a trail bike. They are light, powerful and have already saved me once in a sudden stop situation.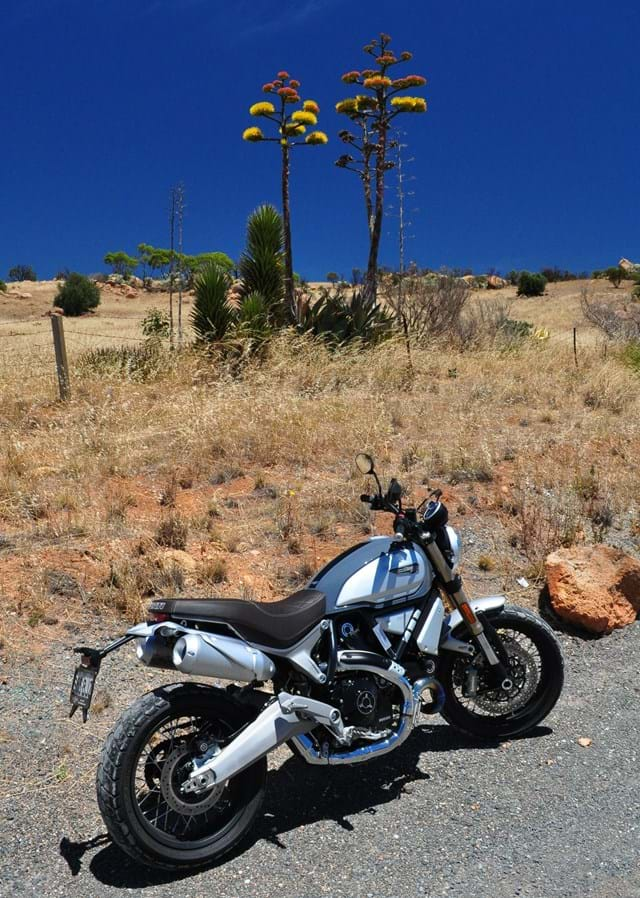 Is it comfortable?
Overall, yes it is comfortable. I traded my MV Agusta F4 on this bike as beautiful as she was my 62 year old self just needed more comfort and the Scrambler has plenty.
How reliable have you found it?
She has never let me down.
What's the servicing frequency and cost like?
Servicing costs for any new bike are not like they used to be when I started riding and although Ducati has improved their service intervals there is no getting around the fact motorcycle technicians don't work cheaply. I do some of my own service work and that helps keep costs down overall.
To Sum Up
We refer to her as Goldilocks because she is "Just right" in so many ways. I haven't had as much simple riding pleasure and enjoyment in years and I am really pleased to have finally found the "all rounder" for which I have searched for so many years - 10/10.
- Albert M, 2021
More Info
Check out this video review from TheMissendenFlyer.