Ducati Scrambler 1100 Special Review
| | | |
| --- | --- | --- |
| " | My wife already has a Scrambler Icon which is great fun to ride but being 6 feet tall, was a little bit small for me. When I dropped her bike off, there was a yellow 1100 outside so I asked if I could take it out for the day. I did over 100 miles and instantly loved the way it rode. | " |
| | | |
| --- | --- | --- |
| REVIEW | | ★★★★☆ |
| | |
| --- | --- |
| ✓ | Looks great, low down torque |
| | |
| × | No "retro" TFT dash |
When Ducati launched the 1100 Scrambler, I was keen to see it and take one out for a test ride. Having been a Ducati owner for many years and already owning a Sport Classic 1000 S, I loved the classic looks of my bike but was less keen on its less than comfortable riding position so rarely got ridden. My wife already has a 2016 Scrambler 800 Icon which is great fun to ride but being 6 feet tall, was a little bit small for me.
I first saw the bike at the NEC Birmingham Bike show in late 2017 but took a few months before my local dealer had a demo bike. The opportunity to ride the 1100 came about when I had booked my wife's Scrambler in for its service - when I dropped her bike off, there was a yellow 1100 outside so asked if I could take the 1100 Scrambler out for the day.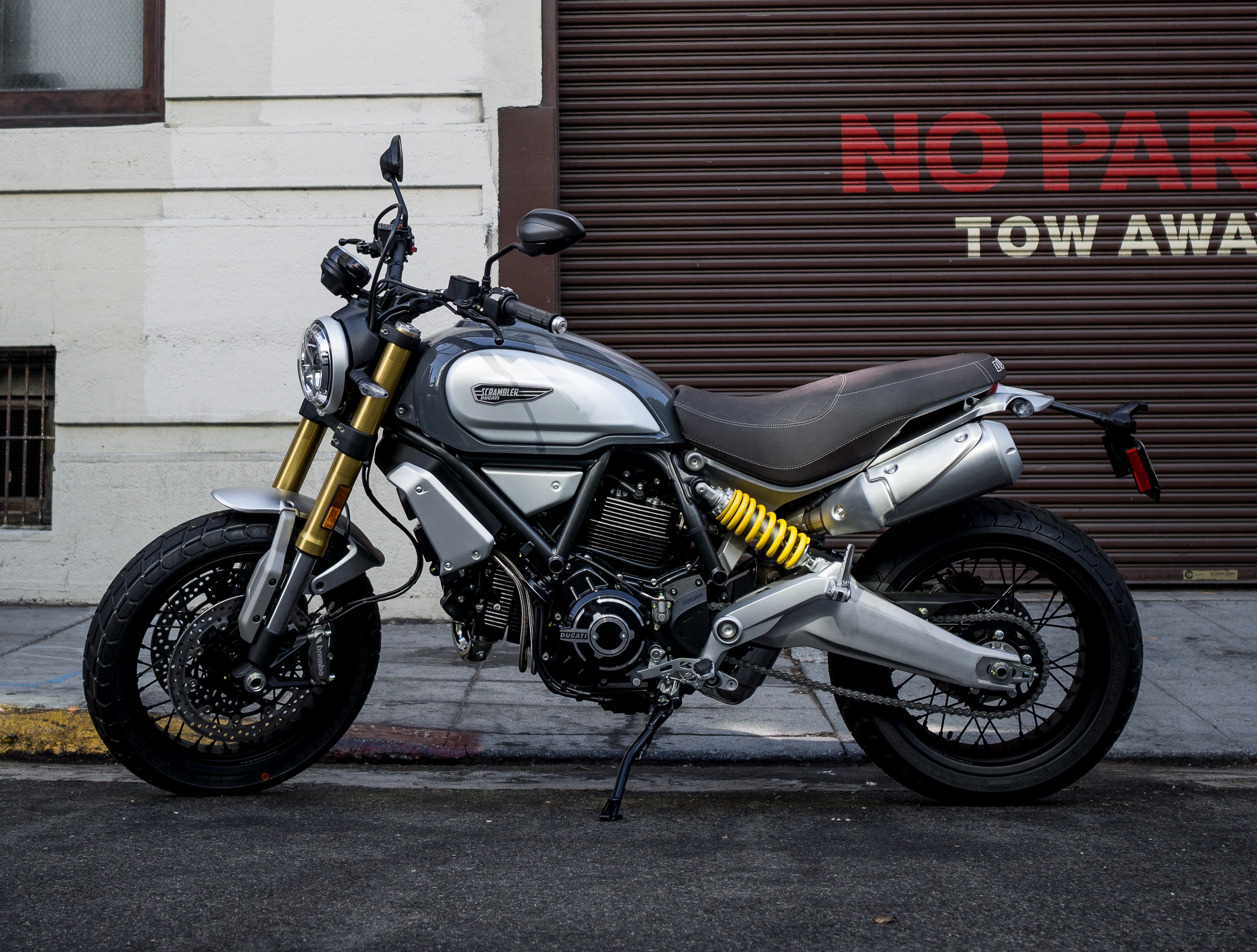 That day, I did over 100 miles and instantly loved the way it rode – very similar to the smaller Scrambler but better suited to my size. The handling and comfort was way better than my Sport 1000 S. There was plenty of torque and I could have fun without having to reach speeds in excess of three figures (I also had a Multistrada Pikes Peak which was a fantastic bike but was a license loser!). At the end of the day, I took the bike back and discussed part exchange etc- the numbers were not as good as I had hoped so decided to stick with what I had. Three months later and Ducati had introduced 0% finance so I went back to have another look. I negotiated a better deal and agreed to get the bike on September 1st. You will be surprised to hear that I part exchanged my Multistrada and not the Sport 1000 S – however uncomfortable it is to ride I cannot part with it and it is going up in value.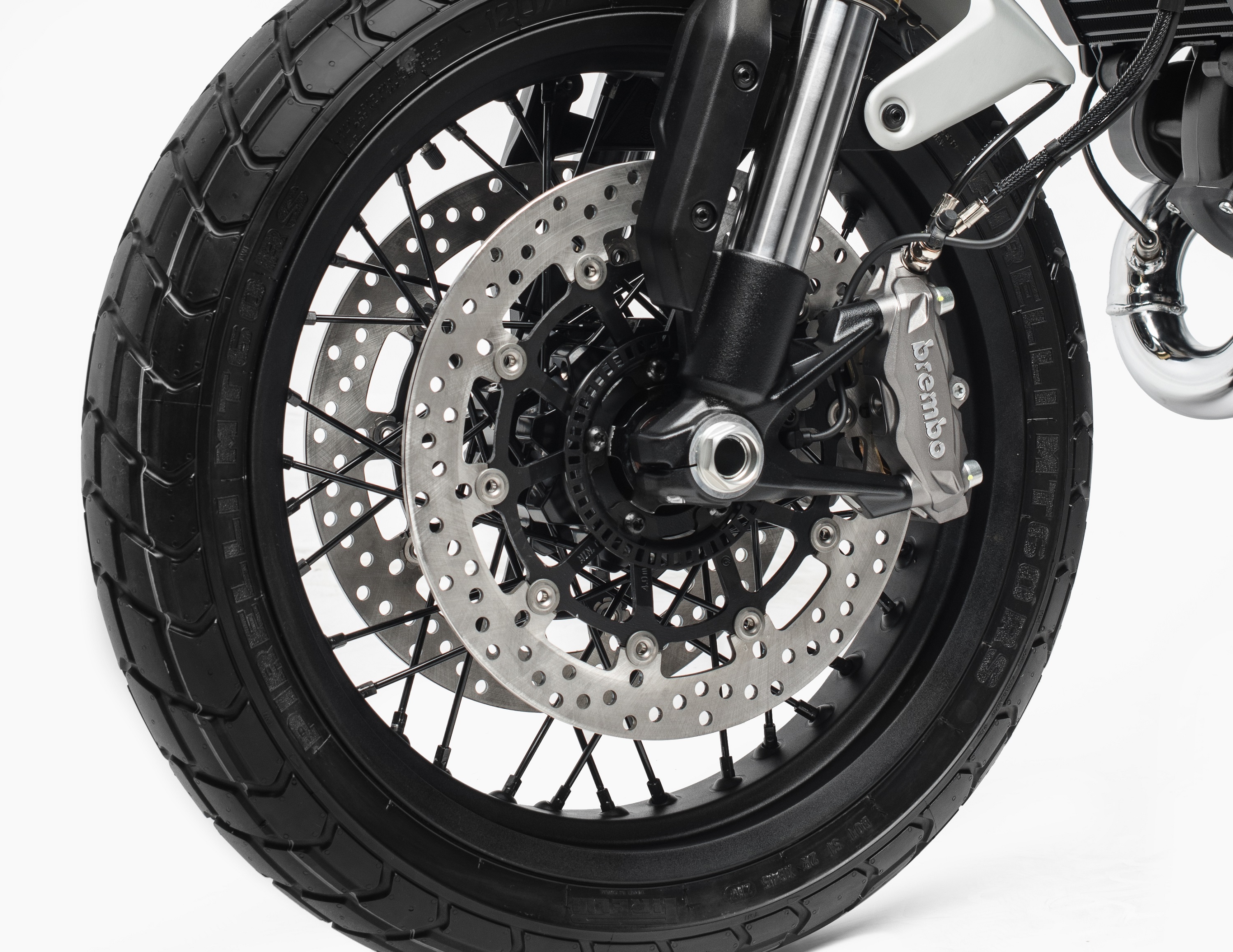 I chose the Scrambler 1100 Special over the other models as I like the spoke wheels and Aluminium mud guards etc. I initially was not keen on the brown seat but it has grown on me and I now think that it suits the bike – it is a nice contrast to the grey paintwork. I have also now fitted brown handlebar grips to compliment the seat!
When I ordered the bike, I was disappointed at the lack of options that Ducati had available for the 1100 compared to the 800 – the bike is designed to be personalised but even now three months later there is very little available from them or after market. I did include the R & G Tail tidy and Aero crash bungs - unfortunately, these were not yet available by the time I collected the bike so the dealer agreed to fit them during the first service at 621 miles (1000 km).
The dealer contacted me when the R & G Tail tidy etc. came in and rather than wait for the first service, picked the bits up and fitted them myself – the crash bungs were easy but the tail tidy was a bit tricky and instructions / pictures could have been better - if the dealer offers to fit them for you let them do it instead!!!
At the same time as fitting the tail tidy, I installed the LED micro indicators that I had bought from eBay – these were not specifically designed for the 1100 so had to fabricate something to help secure them in place from behind. They are very neat, bright and already have built in resistors so no problem with flash rate.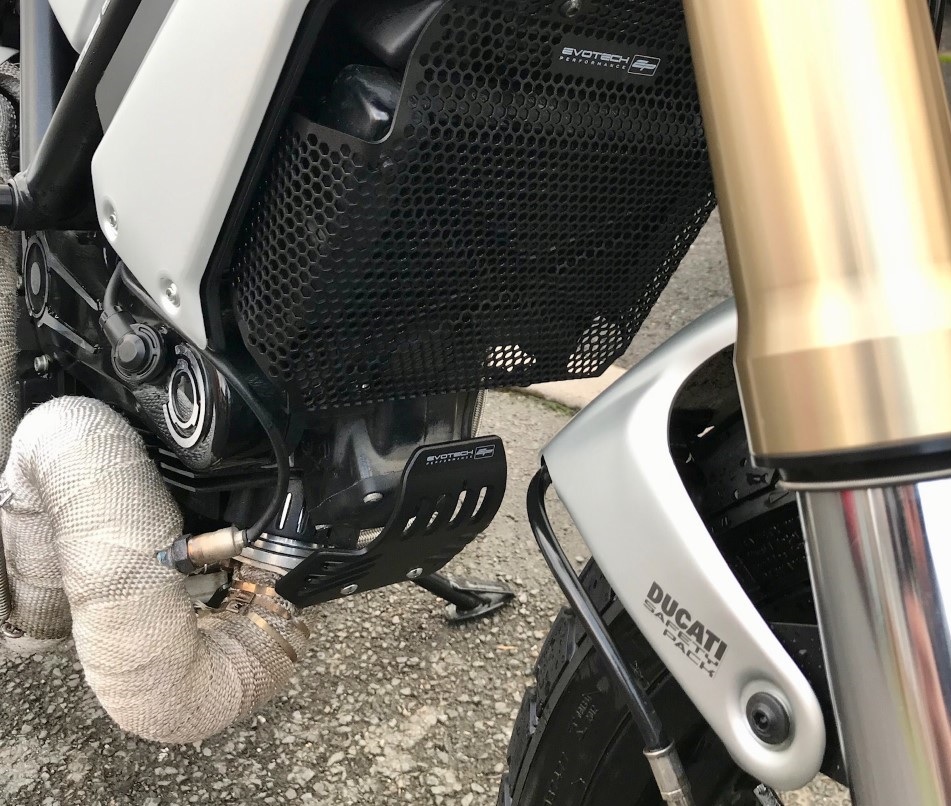 I was also keen to get an oil cooler guard and sump protection. My wife has these from Evotech on her Scrambler 800. Finally Evotech released these for the 1100 and they are an easy install and personally I prefer them to what is available from R & G. At the same time, I ordered their mirror extender brackets as I wanted to see more than my shoulders in the mirrors! I rate Evotech parts and have had them on previous bikes.
You will also see that I have wrapped the exhaust - this is only for cosmetic reasons and I know it will not be to everyone's taste. Personally, I am not keen on the chrome down pipes etc. that is fitted on the Special and much prefer the satin finish that the other two models have - there is no other chrome on the bike. Also, I plan on changing the two rear silencers under the seat with something unique – currently like everything else there are very few exhaust options other than Termignoni from Ducati, Arrow and now also Akrapovic. Again compared to the 800 there is very little choice. Fortunately, I have found a specialist motorcycle exhaust fabricator near where I live and the bike is booked in for him to make my new system in the new year - I like the fact that it will be unique to me and is going to be far more cost effective than Termi's! I will probably need to get a remap or at least a Healtech exhaust servo eliminator but that's fine.
I also wanted to add a small fly screen (more for cosmetic reasons) and to date, nothing is available so found one on eBay from china designed for the 800 for less than £30 – it is the same as the Dart screen that is fitted to my wife's bike but a lot cheaper. When I bought it, I was not sure if I was going to be able to fit it but was worth buying it at that price! As you can see, it does fit but to be able to install it, the headlight needs to be removed as it is impossible to remove the front indicators with the headlight in place (bolts from behind rather than visible bolts on the 800). At the same time as mounting the screen, I fitted the LED front micro indicators to match the rear. The screen has a Scrambler sticker put on it (again from eBay). I may wrap the screen in some Aluminium wrap I have at some point so that it ties in with the tank side panels etc.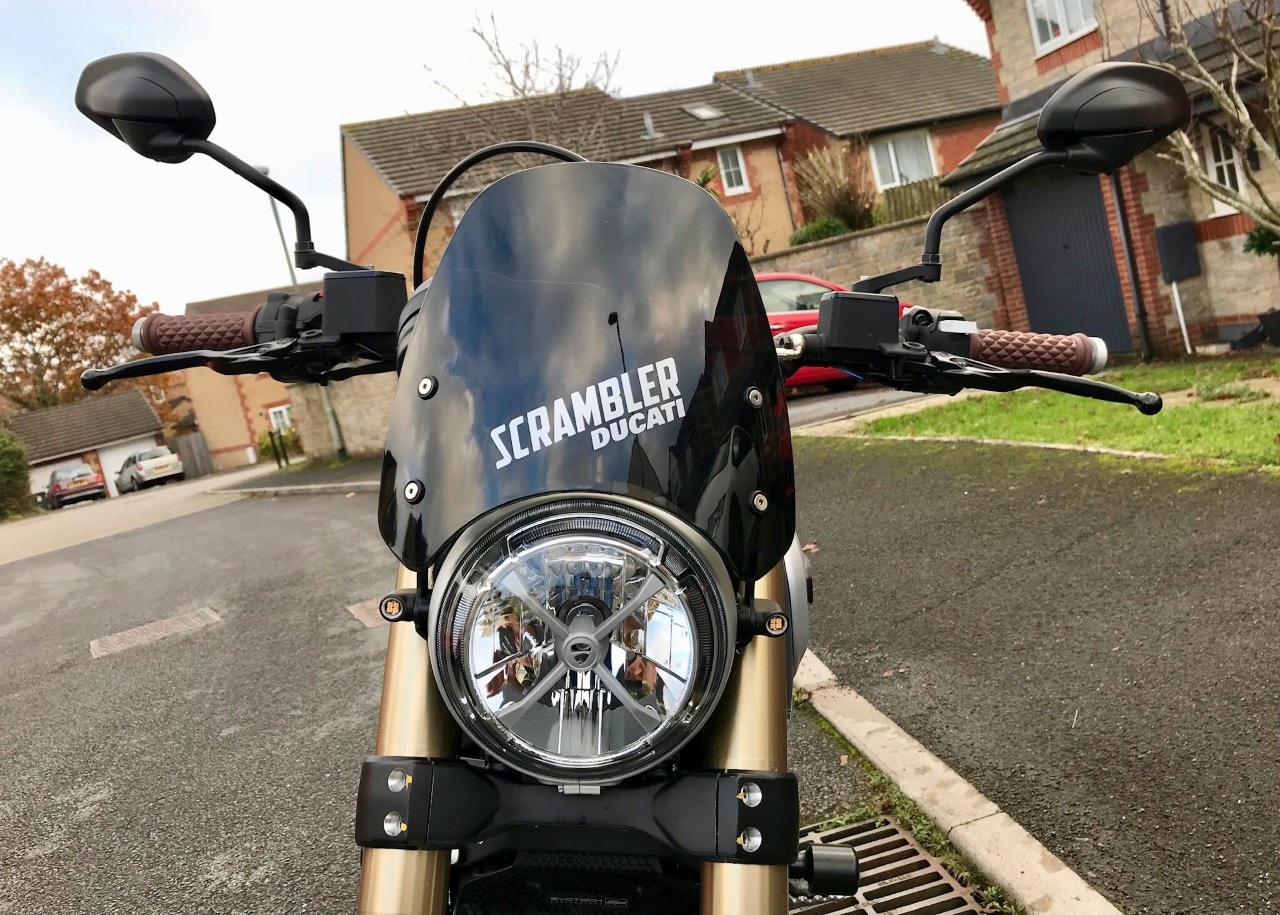 The only official Ducati Scrambler mod that I have on the bike is the Hydraulic Front Brake and Clutch Reservoir covers made by Rizoma - these have only just become available and my wife liked them so much that I had to get one for her 800 (has cable operated clutch), the part is not listed for the 800 but does also fit that bike.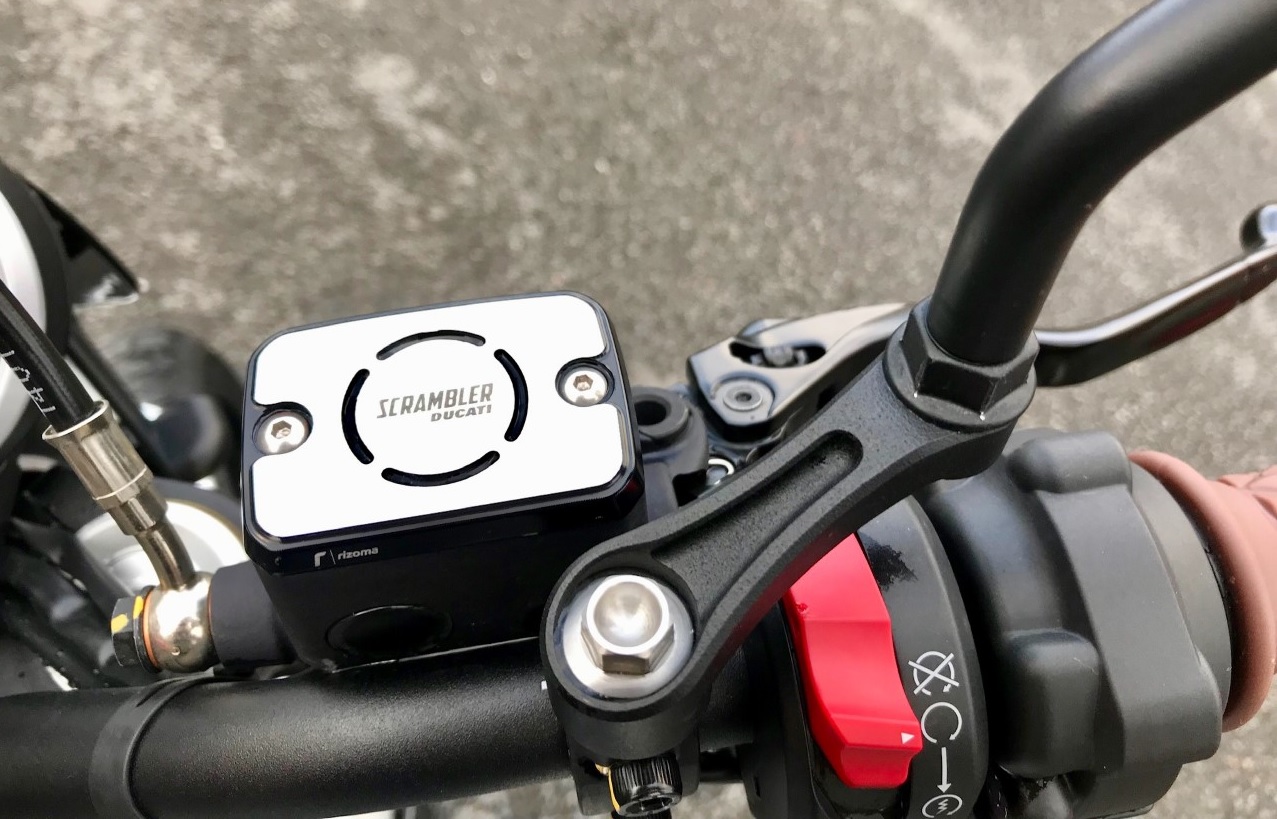 Mod wise, other than the new exhaust that will be fitted in the new year, I am happy now with how the bike looks. Despite that lack of parts currently available for the bike, with a bit of effort, I have managed to personalise the bike and at reasonable cost. I believe from my dealer that Ducati will be releasing more parts for the bike for example a screen but will also be a lot more expensive!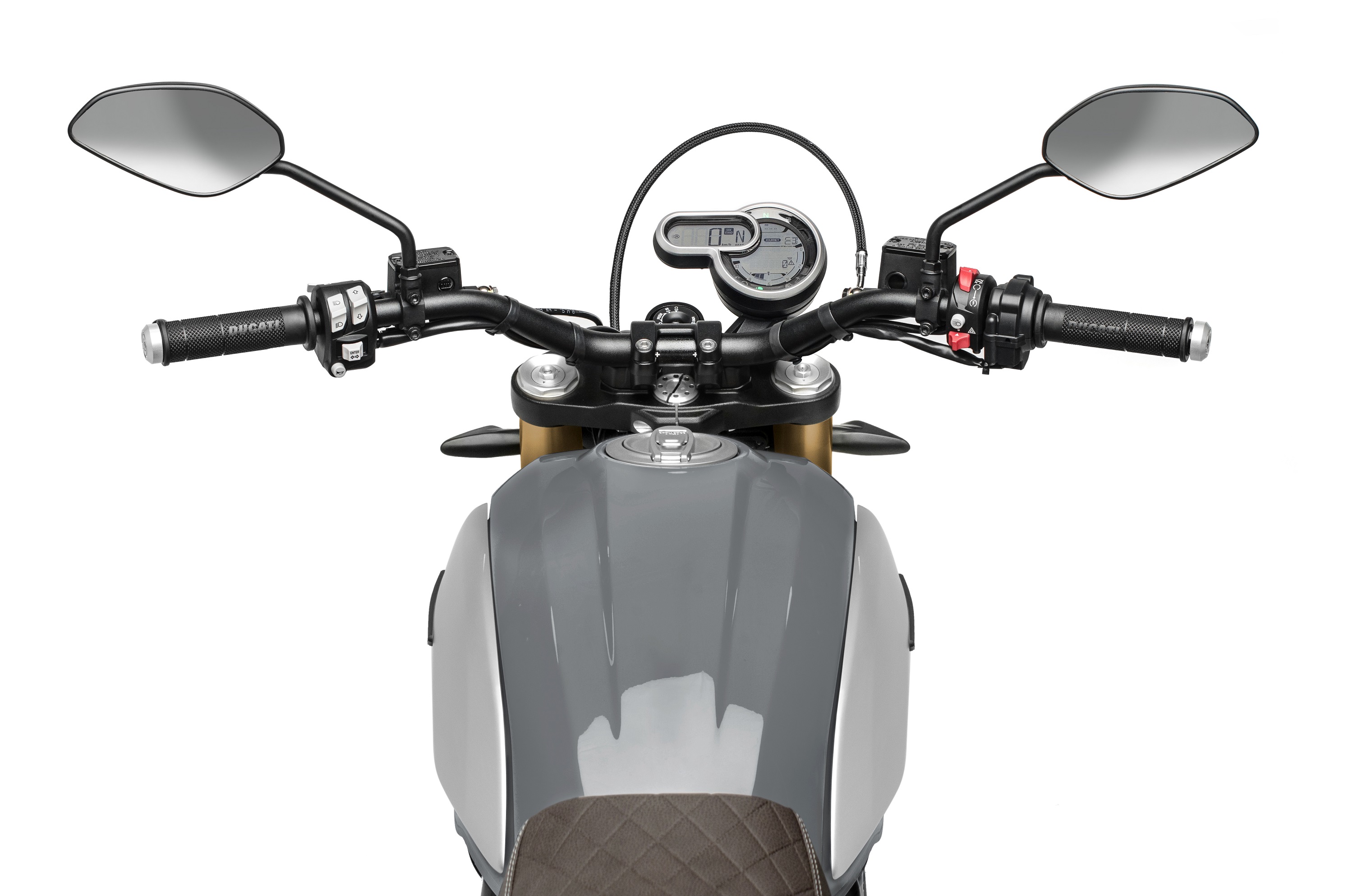 The bike is a big change from my Multistrada but for the majority of riding that I do – country lane blasts and not touring the bike is ideal for me. It handles great, is very comfortable to ride and you can have fun a sensible speeds. The bike has three riding modes: Active, Journey and City, cornering ABS and traction control - I mainly leave the bike in Active mode and have not personalised any of the other settings. I tried the Journey mode recently in the rain and just softens the power delivery but still full power (I believe it also changes the traction control and ABS settings but couldn't tell the difference). The suspension front and rear is fully adjustable but so far have not touched this – I do miss the SkyHook electronic suspension on the Multistrada as that was great but overall, I am very happy with the bike.
- Greg C, 2018
Ducati Scrambler 1100 Special For Sale →
Specs
Capacity: 1,079 cc
Power: 85 bhp
Seat Height: 810 mm
Wet Weight: 211 kg
Range: 130 miles
RRP: £11,500