BMW R1250GS Adventure Review (2018)
"
The Shift Cam technology is that clever you cannot feel any difference and the bike is just smooth all the way to the top speed.
"
What Is It?
The BMW R1250GSA is a premium adventure bike which can be spec'd up with all the toys and is powered by a liquid cooled 1,254 cc Boxer engine with Variable Valve Timing (VVT), producing 134.1 bhp at 7,750 rpm and maximum torque at 6,250 rpm.
Specs
Seat Height: High (

890

 

mm / 35.0 inches)
Weight: Very heavy (268 kg / 591 lbs)
Economy: Average (45 mpg / 6.3 l/100km / 15.9 km/l)
Range: Very high (300 miles / 483 km)
Power to Weight: Average (0.500 bhp/kg / 0.373 kW/kg)
Top Speed: High (125 mph / 201 km/h)
Pros
Maximum capability
Improved torque
Better economy
All the toys
Range
Cons
The best part of £20k with the options
Heavy
Tall
What Is It Like?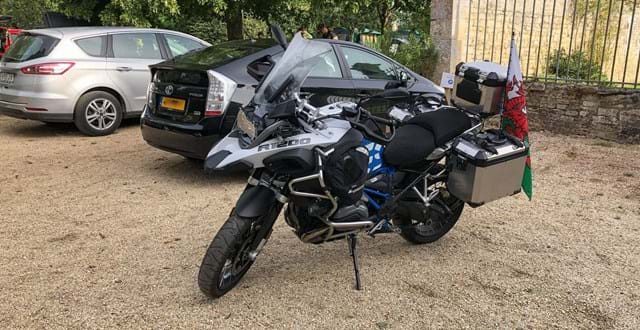 Upgrading
I changed my "old" 2015 R1200GS Adventure for a shiny new R1250GS Adventure Rallye TE in May 2019. The dealership told me that this was a massive step forward from the old bike, with a raft of updated and new features. So, I bought it, damn those BMW dealers are persuasive.
I got to the first 600-mile service then after just a few little runs it seemed to be pretty much the same as the previous one. Feeling a little bit cheated, I planned my first big-ish trip on it.
The Big Trip
So in early August it was myself on my R1250GS Rallye Adventure TE and my Brother on his 2017 R1200GS Rallye Adventure TE, giving us an excellent opportunity to ride both back to back.
The first thing I noticed is that not much has changed. The riding position is the same, the ride and feel of the bike is the same and the handling feels the same. So what's new?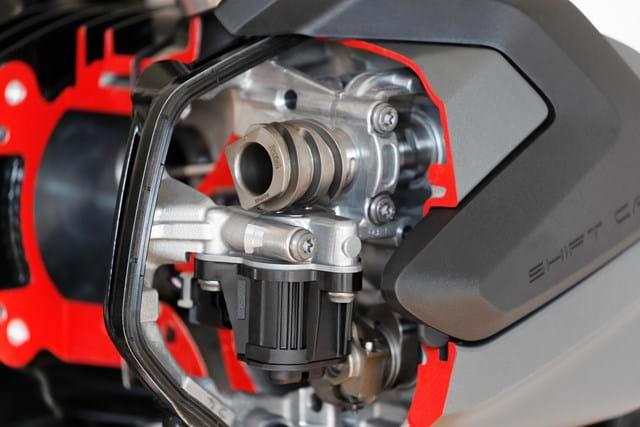 Engine
The 1250 seems to be easier to pull away, especially with a load on than the 1200, so that would be the extra torque and more power. Works for me.
Side by side doing the same speed etc, the 1200 does seem to get a better MPG than the 1250, consistently by around 4-5 mpg. I know this is not the most scientific test, but it is what most of us would gauge it by.
Equipment
The main differences between the 1250 and the 1200 are to be found with the extra technology and gadgets BMW have thrown at the bike; TFT screen, Hill Hold Assist, Gear Shift Assist, Dynamic ESA and rider modes.
For me I thought Hill Hold Assist and Gear Shift Assist were for amateurs, I can ride a bike so don't need these gadgets! Well how wrong can I be, both are very useful additions, especially the Hill Hold with a loaded up bike. Switch it to auto and if you stop on a hill the bike puts the brakes on until you pull away. Excellent. The Gear Shift Assist makes clutch less changes a breeze.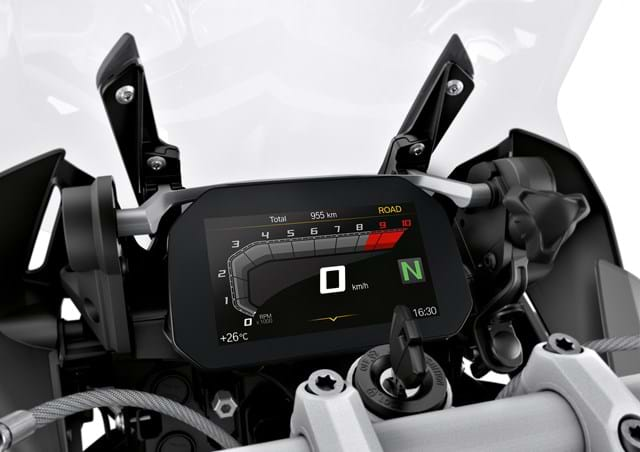 Dash
The TFT works much better than the old style clocks, especially if you actually want to see them while riding. The information is clear and easy to read, but you must keep the screen clean, as it shows every mark, fingerprint and water drop.
Usefully you can switch from MPH to KPH just by changing an option in a menu on the TFT so no more guessing how fast 110kph is.
Connectivity with phones and intercoms is easy to set up, via the menu button and wheel. It's easy to use the phone or listen to music without taking your hands off the bars.
I did find that using my SENA system and an iPhone, the bike did have a habit of forgetting the connections and needing to re-pair the devices once or twice across the week.
Lights
This bike has the dynamic brake light option and I found this very effective at getting the attention of the person behind. Brake hard and the light "strobes" but under extreme braking activates the hazard lights as well. It's a great safety feature.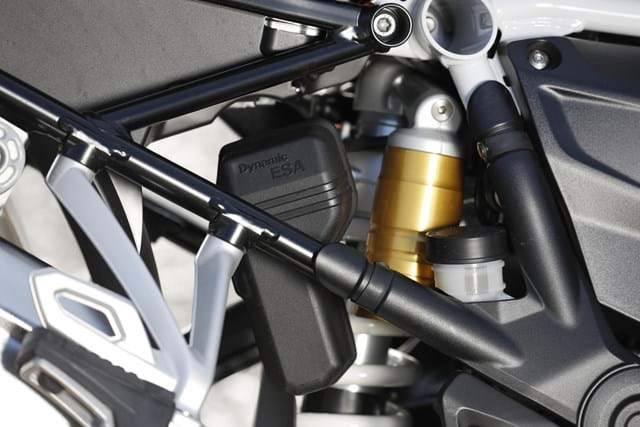 Suspension
The new suspension helps with the more vertically challenged amongst us as you are able to select the height you want the suspension and the bike automatically keeps it there regardless of load, however, if you select a low ride height while carrying a load the bike sits very upright if you use the side stand.
SOS
The bike is also fitted with the emergency call feature, this means that if the bike detects an accident it makes a call to the emergency services in the country you are in giving your location, or gives you the ability to just press the SOS button if you come across an incident while riding.
I found that this feature also works if you leave the disk lock on and drop the bike after travelling around 2 feet, once the bike detected it had been dropped, the system started warning me that a call was imminent unless I cancelled by pressing the button. It could be a real life saver.
To Sum Up
Other than these extra features the bike feels and rides basically the same as the 1200. The 1250 is definitely smoother from the moment you select first without the usual clunk. The Shift Cam technology is that clever you cannot feel any difference and there is no lurch forward when they change, the bike is just smooth all the way to top speed.
During our trip we covered motorways to loose surface tracks including cobbled streets and some sand / grass, neither bike had any difficulty with both feeling stable and secure despite the luggage and pillion.
Swapping between the bikes, there is little difference you can point at and say that is better, but adding all the little bits up, makes quite a difference.
The best advice is go and have a test ride on one!
- Darrall J, 2019
Price Guide
Year
Dealer
Private
Part Ex
Mileage
2021
£17,800
£14,250
£12,450
2,100
2020
£16,600
£13,300
£11,650
3,700
2019
£15,700
£12,600
£11,000
5,100
2018
£15,100
£12,050
£10,550
4,900
How to use the price guide
Related Bikes
BMW R1250GS - Essentially the same bike but without the 10 litre larger fuel tank, protection bars, hand guards, larger screen, wire-spoked wheels or longer travel suspension plus it's 19kg lighter.
The Second Opinion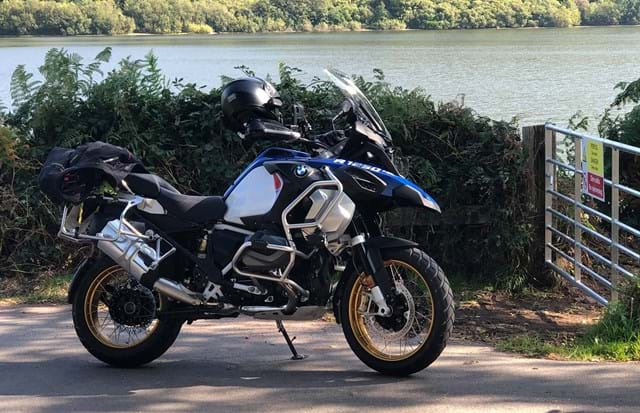 My Experience
Here is a review of my first 2,000 miles on my GSA1250 HP and why I purchased this bike. Some history, my first bike purchased was back in Saudi Arabia in 1985, a Kawasaki Z1300. I shipped this bike home to the UK but having ridden only for six months on UK roads, I realised this was not a bike for me and sold the bike on.
It was not until after working in and out of the Middle East for almost 30 years I returned to bikes. Long story and best for another day but in 2015, after having a major surgery on my back, repairing damage caused by years of active sport, I bought a Harley, found some kids my age and never looked back. Shipped this bike back to the UK and it's my life bike.
In 2018, I added a Goldwing to my stable, riding with a bunch of great friends who rode Goldwing's in the UK and enjoyed the experience and time on the bike with my buddies.
Only recently, returning from a ride around the Picos with a group of like-minded friends riding Goldwing's (I also own a lifer, being a 2015 Harley). My buddy and I were on our way home from Spain, just having unboarded the ferry and riding back to Cardiff and chatting about the roads we just experienced.
After talking through those awesome roads on our bike coms, we both agreed, there was no way our Goldwings could ever deliver the fun, thrills and incredible riding experience on UK roads. We both considered this for only minutes, and both agreed, why not try adventure bikes, giving us the same quality of road use but allowing us some off-road capability. The seed was firmly sewn even before we arrived home!
Choosing The GSA
Within days, even though my bike was less than 12 months old, we were both searching for our next rides. My buddy liked the Honda African Twin, so we both started there. We test rode two AT bikes, one with DCT and one without and I have to say, the DCT gearbox on the AT was genuinely impressive and interested me, not having ridden any other adventure bike.
To gain a fair comparison, we researched other adventure bikes and eventually settled for test riding the 2019 BMW GS & GSA bikes.
Again, we booked two bikes, the GS1200 and the GSA1250 HP. We both swapped bikes and road-tested both.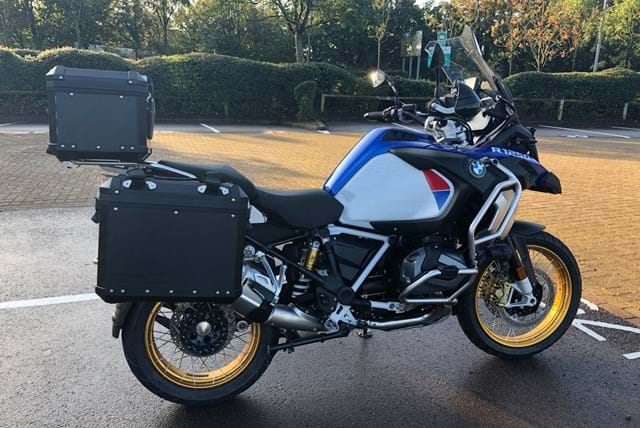 What's Good?
I road the GS first and then transferred after an hour to the GSA and wow, I was blown away with the smoothness, power, TFT display and all the electronics I could ever dream of on a bike.
I was sold, even before we got back to the showroom. Within days of reflection, I put down my deposit on a GSA1250 HP and haven't looked back.
As with my Harley, I am looking at this bike as a lifer, and consequently, Nippy Normans is making a mint out of my purchases and add on's but what the heck, we only die once but we live every day and finding kids my age having fun, has opened up a whole new chapter to my life.
If you have never test ridden an adventure bike, I would strongly urge you test ride the new BMW GSA1250, as it delivers everything anyone who rides bikes could wish for.
Ride safe, ride the bike that delivers and ticks your box and live the dream.
- Bob P, 2019
A Few More Thoughts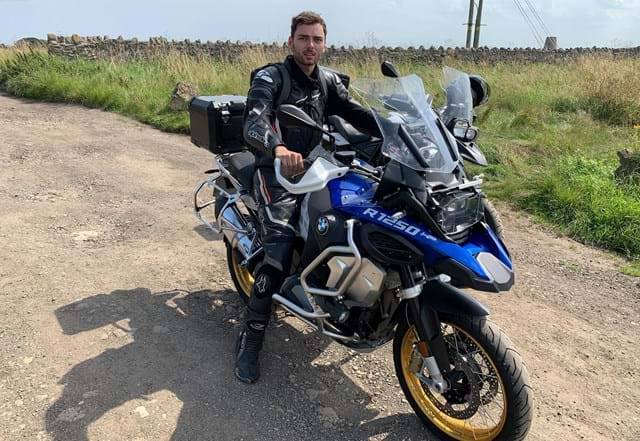 Any Mods?
The only thing I really added was a fender extended that's an extension to the front mudguard as the original is too short and causes crud etc. to be thrown into the front of the engine.
Also a mud slinger which is a moulded plastic extrusion to protect the rear shock absorber and a headlamp protector as headlamps are in excess of £1,000.
Bar end weights as I was having problem with vibration, hand guard extenders keeps your hands warmer in the colder weather and a toolbox that fits in behind the left pannier but that wasn't essential.
What's It Like?
In my opinion the R1250 is a massive improvement as far as the engine is concerned. It's smoother, has a more responsive throttle action and the TFT dash is the best I've seen
- Stuart AC, 2019