Yamaha MT-125 (2020) Real World Review
" It comfortably sits as one of the fastest 125s, while also offering a comfortable riding experience and arguably the best looks. "
✓Build quality, reliability, handling, economy, comfort, power, brakes, looks
×At the expensive end for a 125, large turning circle, tall seat, pillion provision
What Is It?
The Yamaha MT-125 is a premium learner friendly naked bike and is powered by a Euro 5 compliant liquid cooled 124.7 cc single cylinder engine with Variable Valve Timing (VVT), producing 14.8 bhp / 11 kW at 9,000 rpm and maximum torque at 8,000 rpm.
Launch RRP: £4,450
Top Speed: 80 mph / 129 km/h
Economy: 110 mpg / 2.6 L/100km
Range: 240 miles / 386 km
Seat Height: 810 mm / 31.9 inches
Wet Weight: 140 kg / 309 pounds
Power to Weight: 0.107 bhp/kg / 0.080 kW/kg
What Is It Like?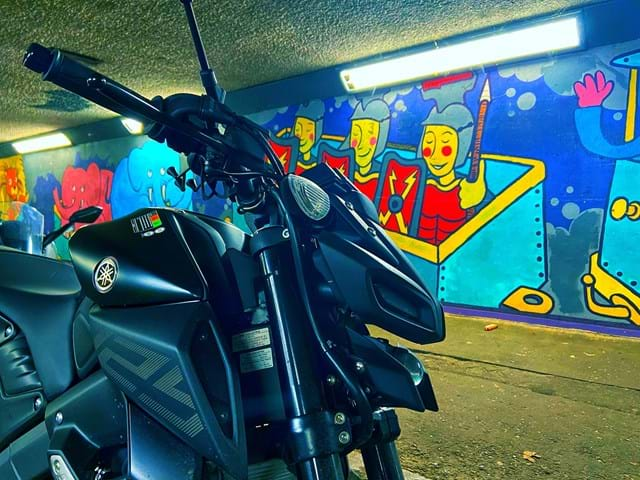 About me
I'm a 17 year old male, 6 foot, with 2 years experience over 2 bikes.
Why did you choose it?
Style
Insurance
Reliability
What is good about it?
From a stylistic point of view it is perfect for me. From my experience, people either love or hate the new headlight shape, however most fall under the former category.
The stock exhaust sounds as good as can be for a 124 cc 4 stroke engine. It is torquey (especially in the low end) and holds a great posture, while still presenting a sporty, more aggressive stance.
What could be improved?
The seat is generally comfortable, however, could have a little bit more padding. The stock tyres don't feel secure during cornering and the horn sounds quite sad.
What is the economy like?
Roughly £7.50 to fill the tank when appearing fully empty, even though it boasts a 10 litre tank. That lasts 180 miles comfortably but can be more or less depending on riding style.
How is the engine?
Completely reliable. It has never died on me (touch wood) and always starts straight away.
Power delivery is consistent throughout thanks to the variable valve actuation. Torque feels great at low speeds (for a 125) and the wheel happily comes up if wanted; without being something to be careful about if not wanted.
It will happily sit at top speeds for extended periods of time.
How does it handle?
The handling is good however I have little trust in the stock Michelin tyres. They seem to have a very sudden cut-off point where the bike wants to drop, which is significantly before the pegs may scrape.
Other than that, it handles much like a larger bike, possibly due to the very well placed weight distribution.
What are the brakes like?
Perfect. ABS rarely kicks in, but always does when needed. The rear is noticeable, without catching you off guard. The front brake is punchy but easy to get used to.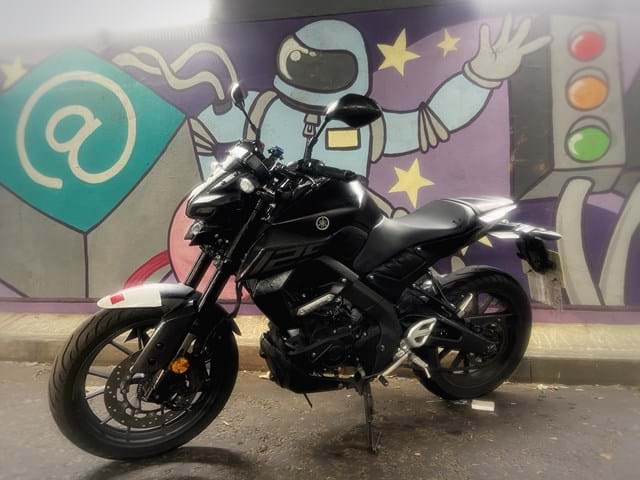 Is it comfortable?
It is, however it does give me a sore bum after a few hundred miles, a mix of the vibrations and the seat being amazingly comfortable.
Additionally, if the bike is left in the rain, the water droplets sit on the seat and won't run or be absorbed so you will be guaranteed a wet backside if not wearing waterproofs.
How reliable have you found it?
Perfect. No issues as of yet and very trustworthy.
What's the servicing frequency and cost like?
The first few services are carried out in short succession, however after that they are not too bad. The local Yamaha dealership deals with all servicing and clearly know their stuff, while charging at an affordable price. I have had no hidden costs and only ever had to pay for oil change and labour costs.
To sum up
The MT-125 is just about the best 125. For a 17 year old it is great, as it has the same amazing engine as the R125, with cheaper insurance due to it being a (*hyper*)naked.
Having raced all of the other common 125s on a private road, it comfortably sits as one of the fastest 125s, while also offering a comfortable riding experience and arguably the best looks.
- Dan T, 2020
Price Guide
Year
Dealer
Private
Part Ex
Mileage
2021
£4,500
£3,650
£3,200
1,800
2020
£4,400
£3,500
£3,050
2,000
The Second Opinion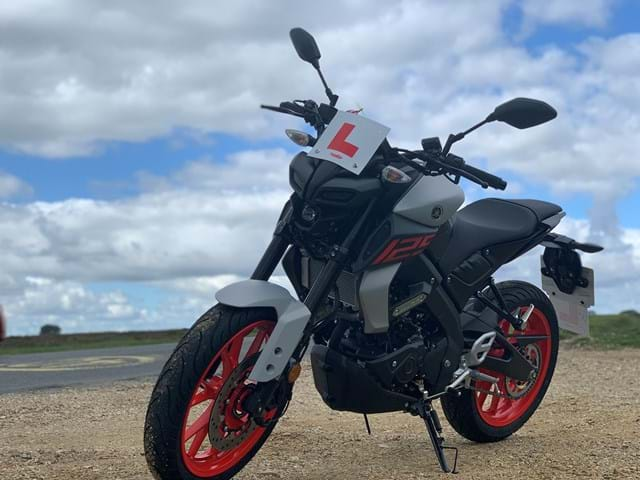 About me
I'm a 5'7" lady of 42 years. I've been riding since August 2019 and am on my second bike.
Why did you choose it?
It was one of the more powerful 125s available and it is a good looking bike.
What is good about it?
Some things I really like on the bike are the aggressive look, she's nimble, she came with excellent tyres and where the headlight array is comprised of three lights, my bike is more noticeable.
The headlight is nice and bright as well which aside from being visible, it lights up the road really well. My old bike was very bad at this so I am very pleased.
The MT-125 is a great fit for me, I'm 5'7" with a 31" inside leg and I can just about get my heels down on the ground. I could probably get a taller bike but I find this a very comfortable height. All in all, I am very pleased with my bike. I'm definitely a Yamaha fan now.
What could be improved?
The grab rail doesn't have any way to hold onto it so that area may just be for aesthetics and potentially needs a replacement part for taking a passenger (or use the waist handles which the rider wears).
What is the economy like?
She's great with fuel economy, when I was running her in my dash was reporting 200 mpg. Now I'm riding less gently that's reduced but still very economical.
Any mods or upgrades?
I would like to fit a fly screen and a top box as well but the bike is so new, there aren't many third party parts for it. The Yamaha top box covers the pillion seat which I will need kept free so I await these parts becoming available.
How is the engine?
The top speed is plentiful and she is quite happy at national speed limits although it doesn't fight the wind as much as I'd like.
How does it handle?
The handling is great, she's nimble and comes with great tyres so corners are less of a worry for me.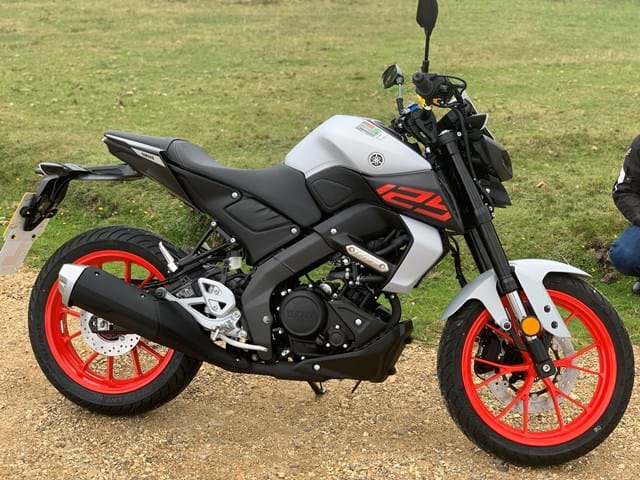 What are the brakes like?
Nice sharp responsive brakes, I find I can wait a bit longer to brake now I have gotten used to her.
Is it comfortable?
She is very comfortable to ride aside from the handlebars being a bit too straight for my liking.
How reliable have you found it?
She is very reliable even in the cold weather.
What's the servicing frequency and cost like?
The first service is at 600 miles. My dealer wanted every 1,800 miles but the manual states 3,500 miles which is more realistic at £140 for a standard oil change service.
To sum up
From the day I collected my MT-125A she has been a reliable and highly enjoyable bike. My very first thoughts were that I wouldn't be comfortable with it and I think if I had given her a test ride I may not have bought her.
The handlebars felt very low, the clutch has a long travel and she felt very light. When I arrived home from the 50 mile journey, my thumbs were sore and the seat's firmness had taken its toll but as with any new bike, I got used to it and haven't felt a need make any adjustments. That said, I would like to get handlebars with a little more inward bend as I don't like the outward angle my wrists are being forced into.

Fitting an alarm siren was a slight challenge because the bike has been so efficiently made, it doesn't leave much unused space. I did find an area thankfully and was able to trace the wiring tidily without too much trouble as I am blessed with small enough hands being of the female persuasion.
- Stella E, 2020
A Few More Thoughts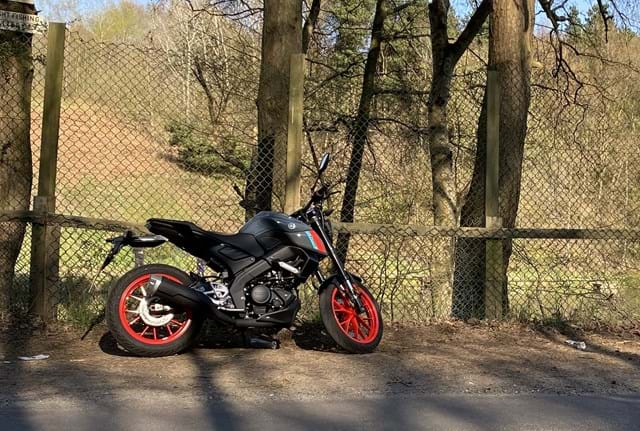 Yamaha MT-125 2021
Tell us a bit about you
I'm a 19 year old, 5'9 female. I've been into bikes since I was a kid and owned 2 bikes over 2 years.
Why did you choose it?
I chose the bike as the MT series has always intrigued me and after seeing the new shape I fell in love!
What is good about it?
It's a good height for a 125, extremely comfortable to. It can easily be mistaken for a 300 - had it happen to me a few times. It's got a lot of torque for a 125 and runs really smooth with a good top end of around 75-80 mph.
What could be improved?
The only issue I have with it is that the rear brake light switch tends to stick on and the fuel level sensor is not the most accurate.
Any mods or upgrades?
I've not purchased any myself however all I'm aware of that you can get is an exhaust system, LED indicators and a tail tidy.
What is the economy like?
I normally get roughly 180-190 miles to a tank of fuel. Sometimes more if I'm not thrashing her.
How is the engine?
It runs really smooth and has a nice tone to it.
How does it handle?
It handles amazingly, especially on bends. A really smooth ride.
What are the brakes like?
They're excellent! It comes with ABS which works a treat!
Is it comfortable?
I'd say so yeah. I rode 200 miles in one day and I still felt fine at the end of the day.
How reliable have you found it?
I've found it extremely reliable. Nothing has broken yet.
What's the servicing frequency and cost like?
The first service is done at 600 miles, then every 3,500 after that. I'm not sure on cost as I haven't done enough miles for it yet. All I've had is the first service which was £99.
How would you sum up the model?
The MT-125 is a very sleek and modern bike with an awesome riding style and a lot of torque for a 125.
- Lois T, 2021