Triumph Street Twin Review (2016)
"
I was immediately attracted to the clean lines and no frills approach with a nod to Meridian heritage.
"
What Is It?
The Triumph Street Twin is a popular beginner friendly retro style bike and is powered by a Euro 4 compliant liquid cooled 900 cc parallel twin engine, producing 54 bhp at 5,900 rpm and maximum torque at just 3,230 rpm. It's the same engine as the 2017 Bonneville T100.
Specs
Seat Height: Low (

750

 

mm / 29.5 inches)
Dry Weight: Heavy (198 kg / 437 lbs)
Economy: Good (60 mpg / 4.7 l/100km / 21.2 km/l)
Range: High (160 miles / 257 km)
Top Speed: High (110 mph / 177 km/h)
Pros
Novice friendly
Looks great
Handling
Low seat
Cons
Heavy for the power
No rev counter
Hard seat
Panniers
Mirrors
Levers
Stand
Tyres
What Is It Like?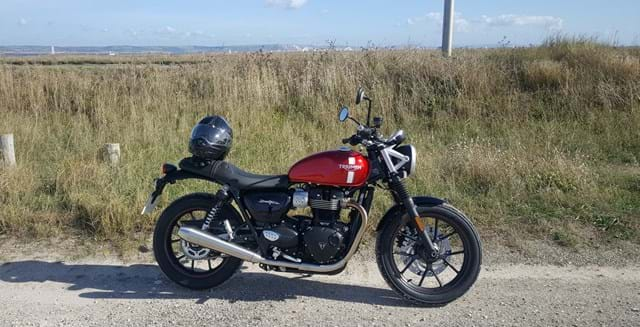 Choosing The Street Twin
I rode Triumph's Street Twin when it was first introduced over two years ago however it was a huge difference to my bike at the time, a much loved Triumph 900 Sprint. A heavy bike, but very capable and would do anything I asked of it.
Fast forward two years and the itch still needed scratching. When Triumph announced a 0% interest deal on the Street Twin, Cup and Scrambler I gave it some serious thought and decided to go for it.
I went to Total Triumph at Taunton who agreed to take my beloved Sprint in part exchange and the deal was sealed. I picked up my new Street Twin a couple of weeks later, arranged to have the first service 10 days later and set off on my new bike with a huge grin on my face.
First Impressions
The first 500 miles were a learning curve and I found the lack of rev counter a little disconcerting but I was able to ride quite comfortably by the feel and sound of the engine. It felt a little tight and I was gentle with it, but I was also running in both brakes and tyres so this presented no problem.
At the 500 mile service I asked for a small fly screen and centre stand to be fitted. Both for practical rather than aesthetic reasons and I consider it money well spent, the fly screen proving to be remarkably effective. The engine too, following it's oil change felt much nicer and I was able to explore the upper limits of what it could manage.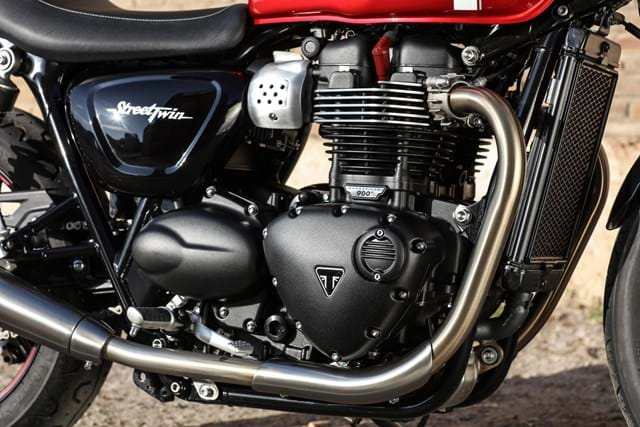 Power
For a 900cc bike of just 54 bhp progress on the road is a pleasure. The handling is light and neutral, very similar in many ways to a Meriden 750 Bonneville without the vibration and bits dropping off.
The controls all come easily to hand and the clutch is very light and responsive. It is simply a joy to live with and although I miss that triple engine I have no regrets.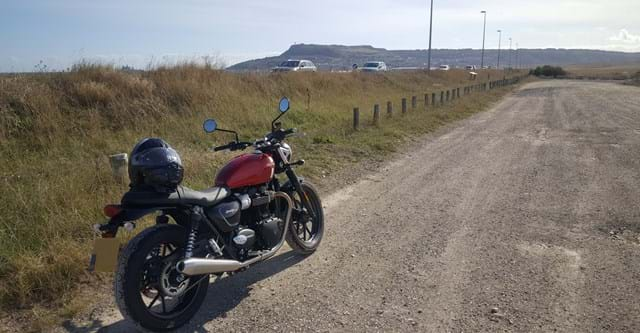 Mods
I don't plan on altering the looks much, if at all, but I will be getting rid of the cat when warranty allows. I will also be buying Hepco and Becker hard luggage as I have a few continental trips planned for 2019. Possibly also a gel pad put inside the seat to improve the comfort as I find the seat a little hard.
Any Downsides?
I do have a couple of niggles. I've noticed a small amount of condensation inside the speedo unit. This is most likely a warranty point and will be dealt with ASAP.
The other main one is tyres; in my opinion the stock tyres are simply awful and track really badly. This bike is made for filtering through traffic but the way the tyres react to the slightest white line or banding is worrying. Many of the Triumph Bonneville forums have said much the same thing and I will be changing the tyres at the earliest opportunity after Winter to Avon Road Riders which have been recommended.
- Charlie H, 2018
Price Guide
Year
Dealer
Private
Part Ex
Mileage
2018
£6,800
£5,450
£4,750
4,900
2017
£6,550
£5,250
£4,600
6,700
2016
£6,450
£5,150
£4,500
8,500
How to use the price guide
Related Bikes
Triumph Street Cup - Cafe racer version with a seat hump, headlight fairing, low clip on bars and a more aggressive riding position.
The Second Opinion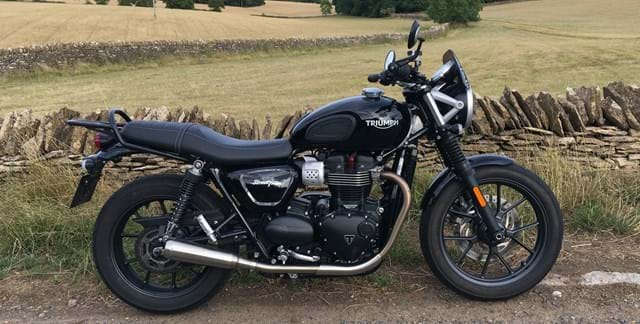 About Me
First, bit of background. I've been riding for 50 years, starting with a 250 Royal Enfield Continental GT, and in that time, I've owned and ridden everything from Japanese commuter bikes and Italian exotica up to Formula 1 race bikes.
I currently have a Triumph 900 Sprint as my year-round daily ride and was looking for a retro style naked Summer fun bike when Triumph announced the new liquid cooled Bonneville range.
Choosing The Street Twin
I tried the new Street Twin and the T120 back to back. While the 1,200cc engine was impressive, I fell in love with the stripped-back look, nimble feel and eager torquey engine of the Street Twin.
With the money I saved by not having the bigger motor I was able to specify some factory options when I ordered the new bike. So, I ended up with a Jet Black Street Twin with leather panniers, bar end mirrors, barrel grips, knee pads, short fly screen, luggage rack and tank pad.
What's Good?
I like the light(ish) weight which the bike seems to carry low, giving great manoeuvrability. It tips into corners eagerly with its sharp steering head angle, and the ABS helps make it a confidence inspiring ride.
The standard Pirelli tyres seem perfectly adequate and allow footpeg-scraping cornering without dramas.
Any Downsides?
Since I got the bike in November 2016 I've done 3,500 miles and it has exceeded my expectations. The panniers are disappointing as there's no means of carrying them when they're off the bike and the shape severely limits the amount of stuff I can get in them. If only someone made a parallelogram-shaped laptop!
Things I'm not keen on are the limited colour range, childish graphics, lack of rev counter and the fiddly locking filler cap (since replaced with a Monza type).
Nothing's broken or fallen off since I got it, but it did develop a tendency to stall when engaging first gear from stationary, followed by a slight hiccup when accelerating. The problem was quickly diagnosed by my Triumph dealer as being caused by faulty plug caps. These were replaced and she's running sweetly again now.
Mods
From the test ride it was quite clear the standard mirrors were inadequate and the bar-ends I had fitted are a huge improvement.
The standard exhaust is a little quiet and tinny for my taste, so I've fitted a pair of Tec slip-on cans which have given it a deeper note more in keeping with how a 900cc twin should sound.
One other thing I've done is replace the cheap looking standard levers with a pair of shorty black ones.
To Sum Up
I love my Street Twin, and when I'm not riding it I'm thinking about riding it!
- Andy B, 2018
A Few More Thoughts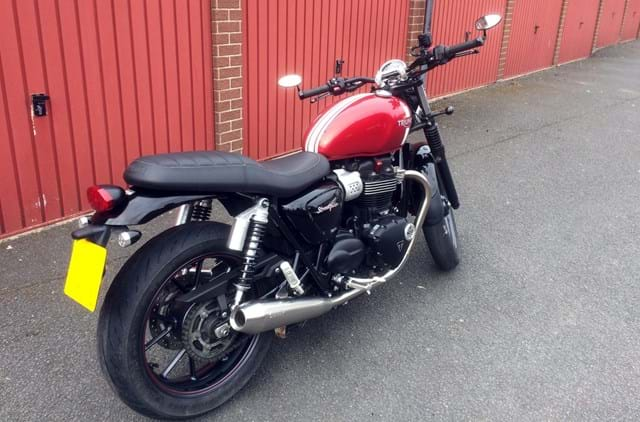 Economy
I've done nearly 12,000 trouble free miles in just over a year and the bike has run faultlessly throughout sun, rain, snow without missing a beat and returning nearly 70 mpg.
Mods
I placed my order in November 2016 for delivery in March for a 17 plate which left me four months to keep revisiting the options list.
I ending up with a centre stand, heated grips, fender extender, engine badges, CNC master cylinder reservoir, US Vance & Hines cans, bar end mirrors and LED indicators. Total cost about the same as a stock Bonneville with a two tone tank.
Since then I have added TEC brake levers, clutch bracket, oil filler cap, rear shocks, progressive springs and pre-load adjusters.
I changed the tyres at 5,800 miles as the Pirelli Phantoms seemed to have become tricky in the wet and I lost confidence in them, still about 2mm left on the rear. I went for the Avon Storm 3D XM as they were recommended as an option for the Street Cup and have been delighted with the improvement, especially combined with the suspension upgrade, compliant over potholes and planted on the twisties, rear still had over 3mm after 6,000 miles.
To Sum Up
Overall an it's an easy, grunty, agile machine with enough performance to exhilarate without terrifying.
- Richard C, 2018
More Info
Check out this video review from Captain Rambunctious.